In recognition of the best culinary talents in Bangkok, Phuket and Phang-Nga, guests are invited to celebrate the 2019 Edition of the MICHELIN Guide Thailand with international and local chefs who will collaborate on an enthralling five-course dinner.

Kicking off the first course is Chef Jimmy Ophorst from PRU restaurant at Trisara Hotel, Phuket, Thailand. We catch up with Chef Jimmy to ask him a few questions about the Phuket abalone as well as where he got his inspiration and cooking philosophy from.

Q. Tell us about yourself and your restaurant's cuisine.
Chef Jimmy: I was born in the Netherlands, I am 29 years old at the moment and I've been in Thailand for nearly 6 years.

I am the Chef de Cuisine of PRU Restaurant at the Trisara Hotel in Phuket. The name PRU Restaurant comes from Plant, Raise & Understand which is also the philosophy behind the restaurant and our cuisine.

We offer guests more than creative farm-to-table cuisine - we also support the local community by helping them create better products which, in the end, results in us getting better ingredients and better dishes in our restaurant.

Our menu is mainly vegetable-based as I believe vegetables can have an important role in cuisine. In Thailand, there's a lot of great produce at the moment in terms of vegetables and that's what we want to highlight at PRU.

In terms of the whole philosophy at PRU I think it's more than just the kitchen and the cooking - it's more about the whole picture. To cook something great, you need to have great products and to have great products you need to have great farmers, and to have great farmers you need to have a great community. So if you want to ask what our philosophy is in our cuisine, it all starts with the farmers. Without farmers we cannot do anything.

Chef Jimmy at PRU farm.
Q.You spent some time in Gaggan's kitchen, what was it like there?
Chef Jimmy: My time at Gaggan was a good time, but if you take Gaggan restaurant and PRU restaurant, I think both are totally opposite from each other. For me it was good to see how he manages and operates his kitchen.

Gaggan runs his kitchen like a family. The thing that stood out was that you don't always have to manage with a hard-hand. That's the most important thing I learned there.

Chef Jimmy cooking in the kitchen at PRU.
Q. As you grew up in The Netherlands, tell me about your connection with the North Sea? How does it inspire you?
Chef Jimmy: My house in the Netherlands was 2 kilometres away from the sea, so I basically grew up on the sea. The first memory I have of the sea and being on the beach is that we used to go in the summertime with our small net to catch small grey shrimps and just eat them raw on the beach.

Having this connection from a young age has inspired me to know that there are no limits. The sea is powerful and limitless, and as a chef, you should always think in the same way. Today, I live in Phuket – right by the sea. Our restaurant is in a hotel next to the ocean, so the sea is still very much with me.

Chef Jimmy is always all smiles, especially when his eyes gaze out into the sea.
Q. What's so special about seafood in Thailand? How would you compare it to other countries in the world?
Chef Jimmy: Regarding seafood, Europe and Thailand are two opposites. In Europe you have a cold ocean and in Thailand you have a warm-water ocean. It takes a very different mindset to work with local seafood in Thailand.

If you're talking techniques, in Europe we won't steam much fish so in Thailand it's a lot of steaming and grilling with a lot of spices and herbs to highlight the taste of the fish. In Europe, the restaurants tend to go for pan fried because the flavours are better with the European fish.

Never far from water, Chef Jimmy collects abalones at the abalone farm.
Q. This particular dish you're cooking for the gala, what's the connection to you and the sea?
Chef Jimmy: So the dish that we will cook at the gala dinner is smoked abalone with duck egg. Phuket abalone is a very rare to find in Thailand. The abalone was almost gone from Thai oceans until about 20 years ago when they started this project to try to bring them back.

Since then they're able to grow enough to sell, so we decided to work with them as the money goes back to financing the abalone project.

We take the abalone then smoke it to get the best flavour and combine it with pickled duck eggs. The duck eggs are salted eggs or kai kem and are actually inspired by Surat Thani cuisine in Thailand's south. We interpret it a little bit in our own way to create our own salted eggs and finish the dish off with wild herbs and eggplants from our own farm just to showcase the best ingredients available on the island.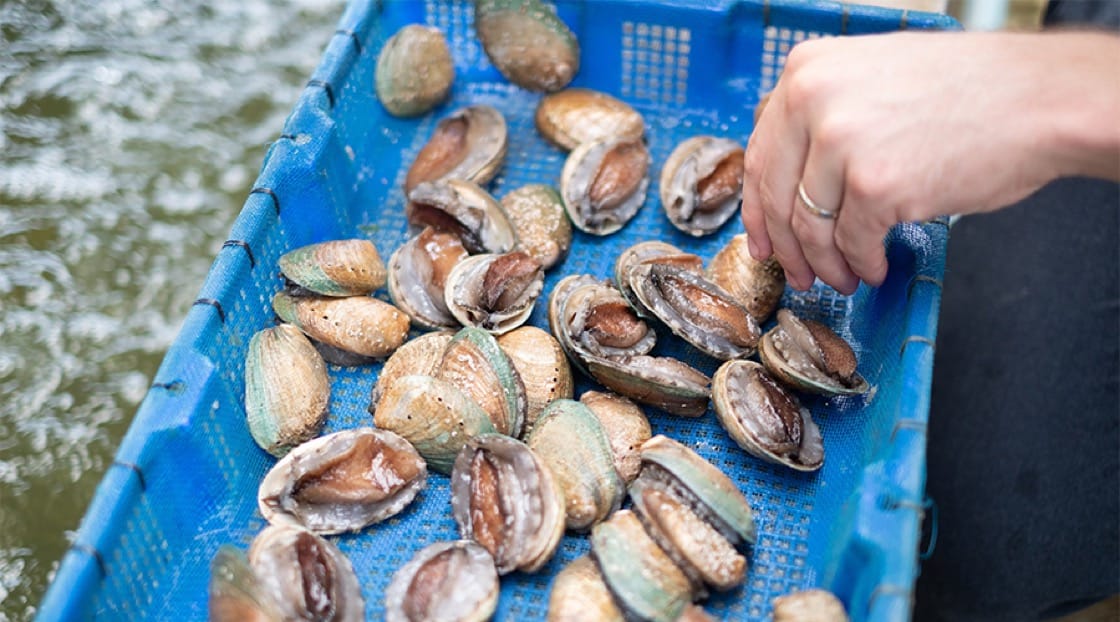 Fresh abalones from the abalone farm.
Q. What do you think will be the impact of the MICHELIN Guide's arrival in Phuket?
Chef Jimmy: Phuket today is seen as a touristic island. However, there's a lot of places with a lot of talented chefs. Right now, they're a little bit scared to cook what they want to cook, as they're all catering for tourists.

With the guide's arrival, Phuket will get more recognition and, of course, it will take the cuisine to another level. I think that would not only be good for chefs but the local producers as well.

Phuket abalone with pickled duck egg, charred eggplant and wild herbs.
Q. What's the most satisfying part of what you do?
Chef Jimmy: In the end it's all about happy guests! But it's more than that actually. For us, it's great to see a farmer being happy that you're buying their products and that you're showcasing their products. It is as important for us to see happy guests leaving the restaurant.

Chef Jimmy running errands at the local market.
Q. Which chef/s do you look up to?
Chef Jimmy: I will always say Richard Ekkebus from Amber in Hong Kong. First of all, he's a Dutchman. Second, he came to Asia like 14 years ago without anything and he's cooking two Michelin stars for the past ten years. We share a similar story – I come from a small village in Holland and I grew up working hard.

Chef Jimmy selects the ingredients at PRU farm with care.
Q. What advice do you have for the chefs in Phuket and Phang-nga?
Chef Jimmy: Just cook what you love to cook and cook something that you believe in 100%. Try to be different. I always say it's not a sprint, it's a marathon, so it will never be done in a few years. If you believe in something and you're sure that this is the philosophy behind it, just go for it.