If recent selections from the MICHELIN Guide Bangkok, Phuket and Phang-Nga 2019 have anything to show, it's that locally-grown ingredients are becoming the true stars of Thailand's foodscape. We speak to the chefs of Bo.lan (1 Michelin Star), Canvas (1 Michelin Star), PRU (1 Michelin Star) and Bunker (Michelin Plate) who are spearheading the Thai locavore movement.

"Sourcing locally was always our intention from day one," says Chef Dylan of Bo.lan, "For us to have a Thai restaurant in Thailand and use imported ingredients just seems ridiculous. Thailand has a huge amount of diversity and quality in the food that is grown and produced here. The sustainable aspect was also always important to us, but we were triggered to be more vocal about it by our dealings with farmers and producers who were dealing with the problems caused by climate change head on and also by the amount of single use plastic waste we encountered by being a restaurant in Bangkok."

Chef Dylan (left) and Chef Bo (right) of Bo.lan. Photo Credit: Bo.lan.
Chef Dylan believes that sourcing locally should be part of every restaurant's mission.

"I don't think we have the luxury anymore of calling our current situation a trend or a scene. The reality is, if everybody doesn't start acting in a more environmentally mindful way our whole food system as we know it will be irrevocably changed for the worst. Good, clean and fair food practices supporting local food networks and indigenous foodways is the only way!"

Fine slices of salted-beef served with mixed mushrooms relish and selection of fresh local veggies. Photo Credit: Bo.lan.
PRU, the only Phuket-based restaurant to win a star this year was founded upon the concept of sustainability. The restaurant gets much of its produce from PRU Jampa Farm, a 16,000 square-metre plot of land converted to grow vegetables and herbs that otherwise would have to be imported to the resort island.

"I think growing a garden full of high-quality ingredients is definitely more difficult than running a kitchen," says Chef Jim Ophorst of PRU. "You can control 99% of the kitchen, but with a farm you are never sure what the weather is up to!"

Chef Jim Ophorst at Pru Jampa Farm.
Dishes on PRU's menu incorporate foraged goods from the island's jungles and diners are given a unique taste of the land, despite the fact that no dish can be considered 'traditional' Thai cuisine. Ophorst sums it up by saying, "We call it modern creative farm-to-table—local ingredients presented in a European way."

Back in Bangkok, locavore venues have been budding for some time as the city's markets become a hub for regionally-grown and foraged ingredients. Finding truly organic and rarer products becomes the main challenge for chefs.

PRU's signature Phuket abalone with pickled duck egg, charred eggplant and wild herbs.
Chef Riley Sanders of Canvas—a new 1-Michelin Star restaurant known for its seasonal menu and progressive use of Thai ingredients— champions the locavore movement.

"Using local ingredients is deeply important to me," says Sanders. "It's the very identity of Canvas. I really believe that I'm getting the best products here in Thailand over nearly anything imported."

Hailing from Texas, Sanders knew that he had to work harder to understand what he was working with in Thailand. "I was going to the market daily, tasting everything and picking up new ingredients. I would ask our Thai cooks what it was, what it was used for, the seasonality of it. More specifically, some of the ingredients here are quite strongly flavoured due to the climate. Adjusting the cooking to the ingredients was part of the process."

Chef Riley Sanders. Photo Credit: Canvas.
"I'll go to Khlong Toey Market twice a week, particularly for the ingredients in the Isaan (northeastern) section. Goong from Organics & Co. has been incredibly helpful in sourcing products from the northeast. We use Khlong Phai Duck from Khao Yai, Thai Wagyu from Best Country Beef or Himawari produced by Big thru KRBB, and Sloane's for pork products that focus on high welfare, Farm Suk by Aor provides flowers and a few rare things like swamp algae or bamboo jelly. Our sourcing is a combination of visiting markets daily, relying on suppliers to bring us great quality products, and continually researching."

Lychee Orchid, Roselle. A pre-dessert of roselle flower shaved ice with fresh lychee, coconut cream, and orchids candied with palm sugar. Photo Credit: Canvas.
At Bunker, which was awarded The Plate distinction in this year's guide, the new menu designed by Chef Tim Butler takes local sourcing seriously by creating a fully local set menu.

"We currently use 95-98% locally-sourced produce, 85% of which is organic, and that number continues to increase," says Chef Butler. "With Chefs Lorin Janita and Nithit "Lenk" Nithikampol in the kitchen, we're hoping to serve up larger grilled shareables and more sustainable ingredients-driven dishes that clients can relate to. The wine programme will put more focus on small producers with biodynamic and interesting varietal offerings that complement the menu."

In order to combat the variables of changing seasons, Bunker has come up with a solution that would make our grandparents proud. The biggest challenge is maintaining consistency in the orders and growing cycles. More often than not, various forms of preservations and fermentation are used to get the most out of the seasons and to express the vegetable in different ways.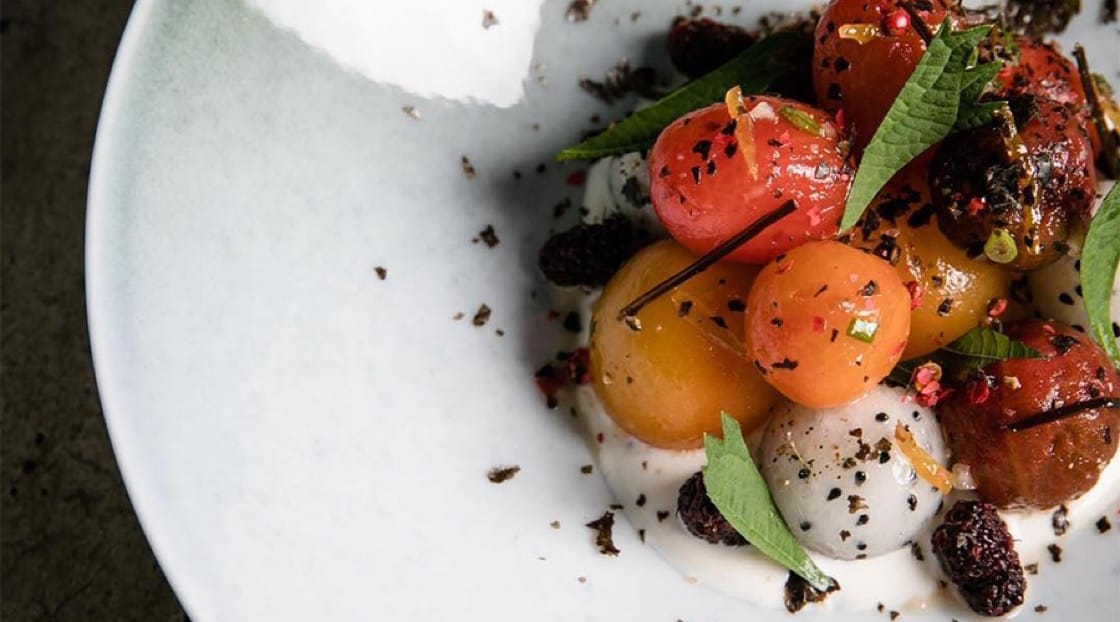 Chiang Mai Tomato Salad, served with Mulberries, candied Yuzu, dragon fruit and a house made almond ricotta. Photo Credit: Bunker.
Whether it's sourcing locally, foraging in the jungles or putting seeds to the ground, Thailand's chefs are finding new ways to keep things fresh. The locavore movement benefits everybody from growers to diners. It inspires a new form of creativity befitting of the tropical environment conducive to year-round agriculture. It also brings to light, a method for sustainability that has perhaps, all this time, been right under our tables.

Here's What Our Inspectors Said About Bo.lan (1 Michelin star)
Chef couple Duangporn Songvisava (Bo) and Dylan Jones (lan) have been serving royal Thai dishes to much fanfare for nearly a decade. The heritage of the cuisine is respected, but there is a touch of modernity in the presentation. Real care and effort is put into the ingredients and flavour, along with a zero-carbon goal - choose from two degustation menus that demonstrate the chefs' passion. The attractive and intimate villa is charmingly run.

Here's What Our Inspectors Said About PRU (1 Michelin star)
Tucked inside a luxury resort, PRU stands for 'plant, raise, understand', and it is this ethos which underpins every aspect of this sophisticated, intimate and romantic restaurant, a stone's throw from the sea. Many ingredients are sourced from their own 96-hectare organic farm; even the butter is made in-house with milk sourced from Krabi. Dishes are delicate and neatly presented; 'carrots cooked in soil' is a signature dish.

Here's What Our Inspectors Said About Canvas (1 Michelin star)
With a beautiful oversized canvas on the wall, this restaurant is where art meets food and every dish looks like a masterpiece. Driven by premium local produce and a variety of techniques, Chef Riley has created an inspirational seasonal menu. A tasting menu of 6 or 9 courses takes diners on a real culinary journey; the live action in the kitchen can be enjoyed from the counter seats. Tables and a bar upstairs offer privacy and intimacy.

Here's What Our Inspectors Said About Bunker (Michelin Plate)
The modern interior is a stark and stylish space. Start the night with a creative cocktail at the granite bar before moving to a table near the open kitchen - the best place to sit. The chef's travels inform his 'modern American' cuisine; the beautiful looking dishes come with an array of textures and flavours, with influences from far and wide. The eight-course tasting menu includes all the highlights and service is polished.

Hero image: photo by courtesy of Bo.lan.