Blending harmoniously with the natural landscapes that surround it, the Croatian capital also delights visitors with all the attractions that you'd expect of a major city.
Here, you'll find art, culture, entertainment and, of course, excellent cuisine. And whether you spend time relaxing amid the greenery of Maksimir Park, strolling along Ilica St, riding the Uspinjača funicular to Gornji grad (Upper Town), or sitting at one of the city's cafés on a Saturday as part of "the Zagreb špica" (the word translates as "rush hour" but is used to describe the time of day on a Saturday when everyone is out and about), you're guaranteed a wonderful experience.
Zagreb is the artistic and cultural centre of Croatia, boasting beautiful architecture and fascinating monuments, most of which are situated in the city centre and are easily accessible.
The circular Meštrović Gallery worths a visit; designed by the sculptor Ivan Meštrović in 1938 and initially used as an exhibition space. It was converted into a mosque during the Second World War and is now home to the Croatian Artists' Association. If you're a fan of art and science, don't miss the Hazu Palace, a neo-Renaissance building dating from 1880 which houses the Croatian Academy of Sciences and Arts.
In addition to these famous and beautiful attractions, the city boasts less obvious sights which will delight those in search of hidden treasures. Of particular interest is Zagreb's Solar System, which began with the sculpture "The Grounded Sun" by Ivan Kožarić and continued with an installation by Davor Preis and which now includes sculptures representing the solar system in miniature dotted all around the city. All nine planets (including Pluto) plus the sun are represented by works of art that perfectly respect the actual positions of the planet in relation to one another in the galaxy.
The oldest pharmacy in Zagreb, perched at the top of Kamenita Street, is also fascinating. It is said that Niccolò Alighieri, great-grandson of Dante Alighieri, the author of The Divine Comedy, once worked here.
Zagreb is also famous for its picturesque courtyards, especially those in the Upper Town, and for its 214 romantic gas lamps that have been illuminating the city's streets for over 150 years.
In recent times, there has been a real flourishing of street art in Zagreb, with many talented artists contributing to the numerous colourful murals dotted around the city.
The Croatian capital is also an important city for art and culture, with museums housing art works from many different periods, as well as more than 30 working theatres and various festivals that add an interesting flavour to the city's cultural life. Prime examples include the National Croatian Theatre, a magical venue that enriches the city's nightlife with performances of ballet, opera and theatre; the Archaeological Museum, home to a mysterious linen-wrapped mummy of a woman from Thebes in Egypt; and the Strossmayer Gallery of Old Masters, which boasts an important collection of works by famous artists and is a must for any art enthusiast interested in European Art from the 15C-19C.
If this isn't enough to whet your appetite, here's a list of our top ten unmissable sights in Zagreb, which naturally includes some of the city's top-quality food options.
A good place to start your visit is St Mark's Square, home to the Croatian Government, the Parliament Building, the Constitutional Court and the splendid and previously mentioned Church of St Mark's, the Upper Town's jewel in its crown. You could then continue to the so-called "Lenuci Horseshoe" (in Croatian, Lenucijeva potkova), which comprises a U-shaped belt of squares and urban parks in the city centre, designed by town planner Milan Lenuci in the late 19C.
Another unusual sight is the Mirogoj, a magnificent cemetery which also acts as an open-air sculpture park and a peaceful oasis in the city.

Our fourth suggestion is the shortest funicular ride in the world. Part of the city's public transport network, it has connected Zagreb's upper and lower towns since 1890. Fans of green spaces will particularly appreciate our fifth recommendation, Maksimir Park. Opened in 1794, this English-style park is one of the country's most beautiful public gardens and is dotted with lakes and pavilions, as well as housing Zagreb Zoo.
Our sixth attraction is the neo-Gothic-style cathedral, the largest religious building in Croatia. From here, you can make your way to the Špica, a charming pedestrianised area between Ban Jelačić and Petar Preradović squares. The latter is also known as Flower Square and is famous for its many cafés – the perfect spot to sit and enjoy a quiet coffee.
Also making Zagreb's top-ten sights is the Lotrščak Tower, one of the best-preserved sections of the old fortifications, which houses the Grič cannon that is fired every day at noon. Meanwhile, if you're looking to spend some time in nature, we recommend a visit to the northern district of Zagreb, where you'll find an unspoilt nature park at the foot of the Medvednica mountain, a popular day trip for locals.

Food-lovers should not miss the colourful Dolac market. This is a traditional open-air and covered market situated in the Gornji Grad quarter of Medveščak, just a few dozen metres from Ban Jelačić, the city's main square. This market is the most popular and most visited in the country, exuding a unique bustling energy and atmosphere and where you can easily get lost amid the myriad colourful market stalls.
The large red umbrellas that provide shade for its stalls are a striking sight and make a perfect background to any photo.
This historic site has been the city's main commercial centre since 1930. Farmers, smallholders, livestock breeders and craftspeople from the villages outside the city come here to sell home-made food products, as well as fresh fruit and vegetables.
The covered market is home to butchers, fishmongers, stalls displaying local cheeses and cured meats, fresh pasta, and home-made bread baked that very morning. Outside the market hall, you'll find displays of flowers, fruit, vegetables and cakes, as well as the region's legendary traditional lace which is as beautiful as any work of art (much of the lacework is in fact framed like a painting).
The market is open mainly in the morning, on Mondays to Saturdays from 7am to 3pm and on Sundays from 7am to 1pm.
If you're hungry after your visit to the market but you don't want to cook yourself, there are three superb, welcoming restaurants here, all of which make a point of showcasing Dolac market's fresh ingredients on their menus.


Bistro Beštija - Dolac market's fresh ingredients
Our first recommendation is bistro Beštija (Masarykova ul. 11/1), where chef Ivan Baruncic oversees a young, close-knit team. Here, ingredients are of paramount importance in dishes which reveal a mix of traditional and contemporary influences. The ambience in this casual bistro is friendly and relaxing, making it a perfect setting in which to enjoy some excellent cuisine.

The menu changes every season and because the cuisine is inspired by what's available at Dolac market, there are also new dishes on the menu every day. The philosophy here is one of zero waste – the chef and his team are convinced that food waste is a problem that can be overcome with commitment and by making ethical choices, without sacrificing quality and flavour. Creativity and imagination are used to make the most of every ingredient, from its roots to its leaves.

The bread here is particularly tasty and includes freshly baked focaccia, while the carefully prepared dishes include steak (from Dolac market) with a timbale of fries and a honey and thyme demi-glace; duck liver parfait with purple onion marmalade and baby tomatoes with toasted hazelnuts and bread; and salmon trout with cardoon cream and lemon vinaigrette. Don't miss the many vegetarian options, such as bulghur wheat with vegetables, roasted carrots and marinated tempeh with a vegetable demi-glace, while the delicious desserts include chocolate and orange mousse with tonka beans, hazelnut cream and pistachio sponge cake.

The wine list here has a real regional focus, with an emphasis on organic and natural wines. One of the highlights is the superb Sontacchi Kitokret (an organic wine from the Slavonia region), one of Croatia's most interesting Cabernet Franc wines – the perfect accompaniment for meat dishes thanks to its fruity, balsamic notes, its earthy hints and complexity on the palate. As summer approaches, so the menu at Beštija becomes even more colourful and plant-focused, making a visit here an absolute must!


Bistro Beštija_Rice
Beštija - Interior
Fresh local ingredients and organic wines are also the focus at Pod Zidom (Pod zidom, 5), a bistro-cum-wine bar with an attractive outdoor space for summer dining in the heart of the old town. The chef tells us: "We describe our cuisine as 'market fresh' because we source our ingredients on a daily basis from the wonderful Dolac market, which always has something to surprise us. Our common aim is to share our love for top-quality food and wine".
With its exposed brickwork and simple yet beautiful decor, this restaurant offers a relaxing ambience far from the frenetic noise and activity of the city.
The name "Pod Zidom" (which means "under the wall") comes from the fact that an old road once stood here which ran along the left bank of the Medvešćak river, following the old Kaptol wall. Although the wall was demolished in 1920 and Dolac market later built in its place, the restaurant has preserved the memory of the past in its name.

Here, too, the menu focuses on seasonal ingredients, making use of whatever is available in the market that day, with particular attention paid to small artisanal producers.
Specialities include home-made pasta with rabbit ragu, radicchio cream and wild garlic-flavoured oil; steak with oyster mushrooms, celeriac and black truffle; and slow-cooked oxtail with Carnaroli rice, parsley root, chives and radicchio. The menu features strong flavours such as pork with grilled cabbage, cauliflower and parsley purée, as well as more delicate dishes such as white fish from the Adriatic with cauliflower purée and parsley or with burrata, beetroot, radicchio, walnuts and reduced grape must. If you prefer vegetables, dishes such as the glazed aubergines with white bean hummus, herbs, toasted seeds, walnuts and kefir will be particularly appealing.

The changing seasons represented on the menu at Pod Zidom provide a real feast for the senses for nature-lovers, in carefully prepared dishes which are beautifully presented and full of flavour.
Wine-buffs will also be in their element at Pod Zidom, where the wine list showcases the country's diverse terroirs, its local varieties and the different philosophies of Croatian wine producers. Most of the labels are organic and natural and are the result of tireless research and effort.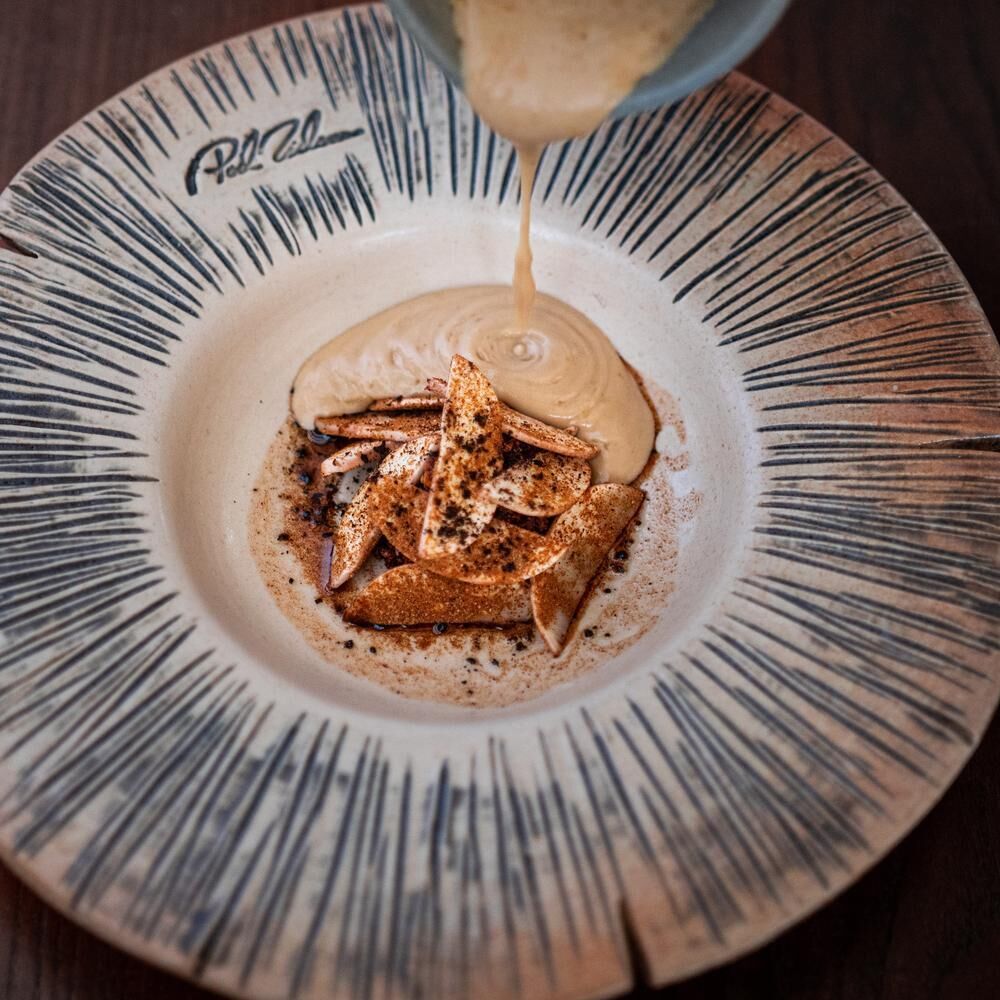 Pod Zidom - M. Zlomislic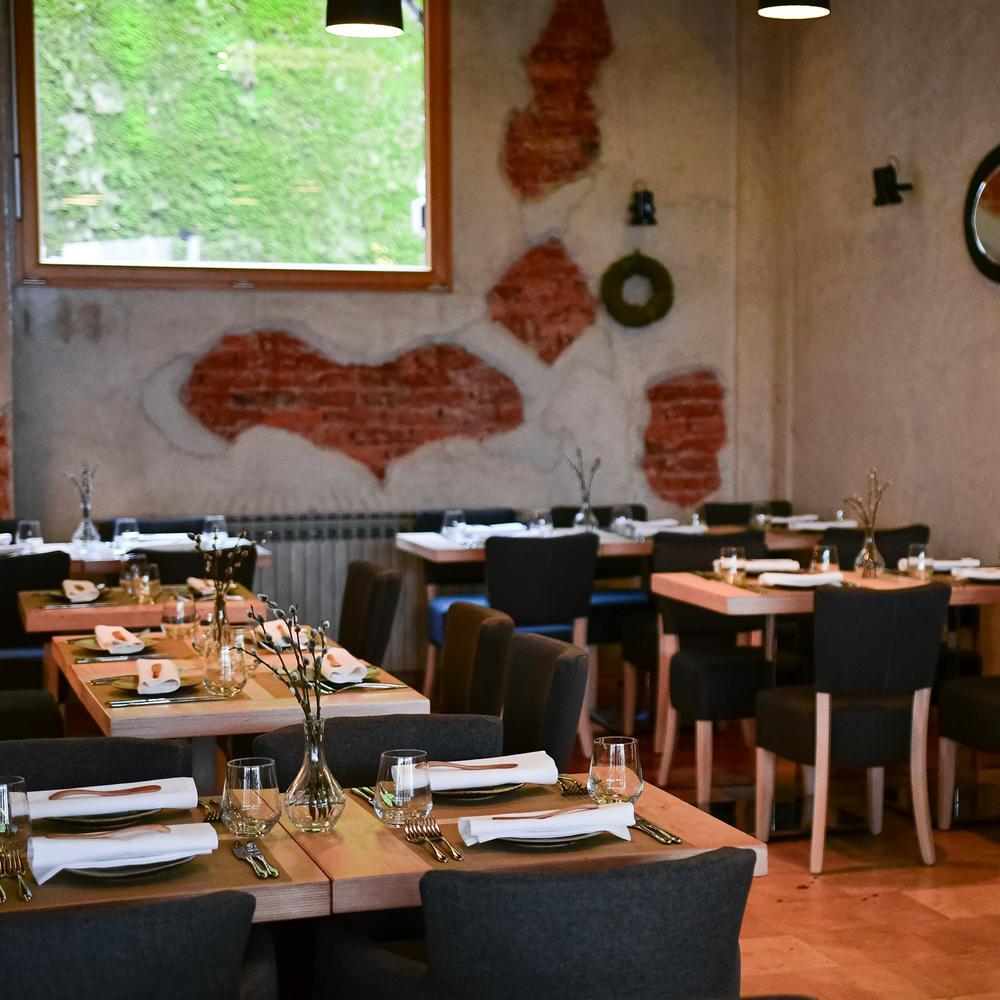 Pod Zidom - M- Zlomislic
Another highly recommended restaurant near Dolac market is Boban. Situated in the pedestrianised zone, this smart, welcoming restaurant with a charming brick-vaulted ceiling is a peaceful oasis serving excellent cuisine right in the heart of the city.
The restaurant opened in 1995 with the aim of showcasing Mediterranean cuisine (with an Italian influence) while also making the most of the excellent Croatian ingredients available in the nearby market. Everything here is strictly home-made, from the bread to the pasta and the desserts, and there are two outdoor terraces where guests can enjoy the warm weather in spring and summer.
You may like to start your meal with an abundant mixed platter of San Daniele prosciutto, Felino salami, smoked goose breast, Pata Negra, truffle-flavoured cheese, pecorino and sundried tomatoes, aubergine parmigiana, and casarecce pasta with turkey, porcini mushrooms, cherry tomatoes and guanciale.
Its many meat and fish specialities include steak with roast potatoes, rocket, red radicchio and cherry tomatoes; marinated grilled pork fillet; lamb chops; and octopus with cauliflower and gorgonzola. As well as natural and organic Croatian wines, Boban also offers a good selection of champagnes, with a focus on carefully selected and unusual labels which are the perfect accompaniment for the restaurant's Mediterranean cuisine.

Like so many other places in Croatia, Zagreb is full of life, creativity and fascinating contrasts, with an infectious and positive energy that will definitely entice you back to the city time and time again!


Boban - M. Lacan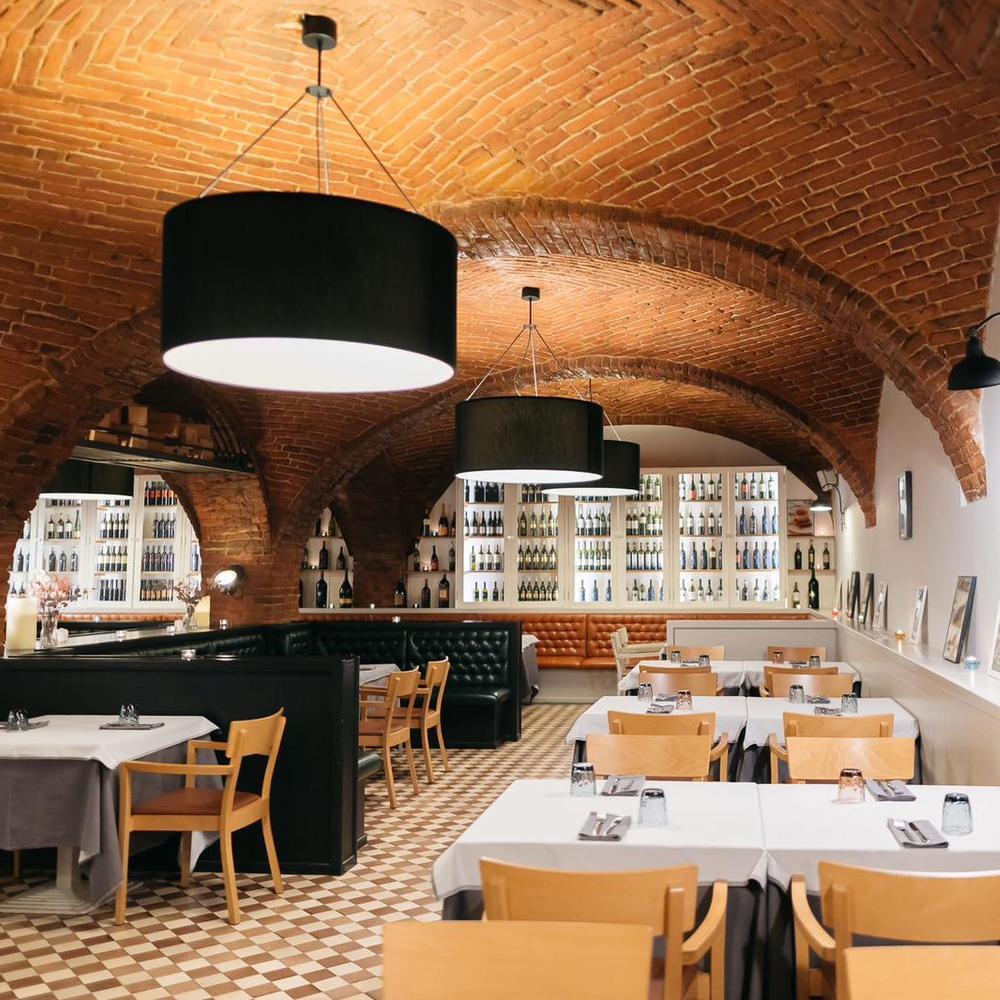 Boban - M. Lacan
Illustration image: Pod Zidom - M. Zlomislic

This post is brought to you in partnership with Croatia