Julia Momose is on a mission. Helming the bar at two-Michelin-starred Oriole in Chicago—and partner/creative director of upcoming sister restaurant Kumiko—she's determined to add a new word to the dictionary: spiritfree. ("That's the ultimate goal, anyway.")

Spiritfree [spi-rit·free]
noun, plural spiritfrees
Any variety of stimulating nonalcoholic mixed drink made of diverse and distinct ingredients.

Indeed, Momose has had it. So much so that she wrote a brief manifesto stating her beliefs to spread the word:

In honor of the considered nonalcoholic cocktail, a stimulating beverage of diverse and distinct ingredients, I would like to petition that we cease referring to the nonalcoholic mixed drinks we serve as "mocktails" and assign a name more befitting the care and the skill that goes into creating the beverage.

The very term "mocktail" evokes negative feelings. The word is merely the combination of "mock" and "cocktail." So then, is it a mockery of a cocktail, a disappointment since it isn't a "real" cocktail? Looking at the definition of "mock" in the Merriam Webster Dictionary, one may tend to agree that the connotations are negative. I do not want to serve, nor do I want to be served, a mockup of a beverage or an attempt at a cocktail. I want a proper drink! Something made with care and thoughtfulness, that takes into account the ingredients, balance, technique, and, most of all, the person for whom the beverage is made.

Stating that words like "virgin cocktail," "zero proof cocktail," "nonalcoholic cocktail," et. al, include an adjective that implies the drink is somehow weak or lacking, Momose suggests that the restaurant industry adopt her aforementioned proposed alternative.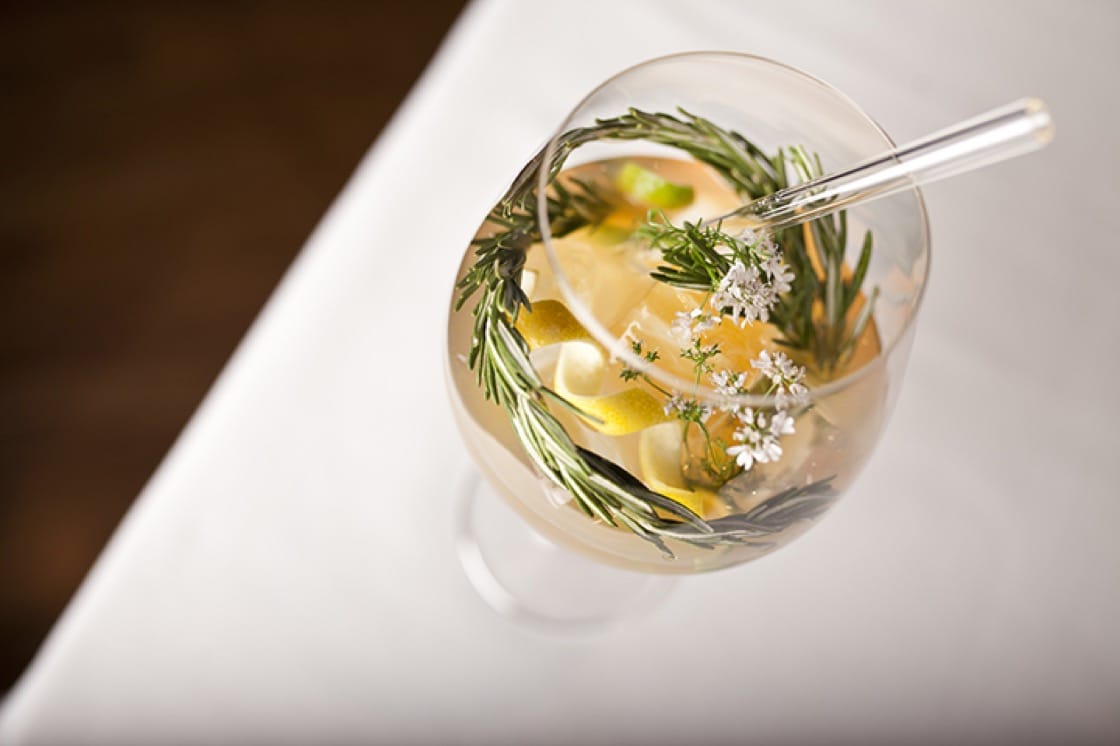 The juniper tonic at Oriole. (Photo: Sammy Faze Photography)
At Oriole, guests have the option for a line-up of spiritfree cocktails to pair with executive chef/owner Noah Sandoval's tasting menu, with Momose treading ever so lightly to not over-dilute her creations. "Water opens up spirits in cocktails, but it's the opposite with spiritfrees," she says. Thus, a strong base of numerous spices, herbs and teas is created for a variety of cocktails. For example, dehydrated shiitake mushrooms have been used to craft the earthy notes you might expect from an older red wine. Momose will use this and pair it with things like pomegranate molasses and hibiscus to develop rich red fruit flavors. "It's trying to find these flavors and notes in a wine or spirit that I'm trying to emulate."
Related: Meet the Man Behind the Self-Proclaimed World's First Non-Alcoholic Distilled Spirit

For à la carte dishes, Momose creates cocktails that can stand up on their own while finding a key balance between acidity and sugar. As lemon juice plays a regular role in the kitchen, she must get creative to find a substitute. "It's a big one for me—too much lemon juice or lime juice can overpower everything," she says. Momose cleverly uses ingredients like vinegar, verjus and pickling liquid as a substitute.
The Beausoleil oyster and jamón Mangalica course on the tasting menu is a favorite at Oriole. (Photo: Sammy Faze Photography)
Most of Momose's spiritfrees are served neat and in wine or coupe glasses. The juniper tonic is inspired by the classic Spanish gin and tonic and served in a bold Burgundy wine glass over large chunks of ice. The botanical structure of the cocktail featuring coriander seeds, two kinds of peppercorns, yellow mustard seeds and osmanthus flowers is developed to complement Sandoval's famed Beausoleil oyster and jamón Mangalica course, which has elements of Mangalica consommé, smoked finger lime, borage, black walnut, egg yolk and quince. "These elements are going to pull out the flavors of the jamón," she says. "The layers and layers of aromatic flavors will slowly open up as the ice melts."

Aside from landing the term "spiritfree" in the Oxford dictionary, another goal for Momose is a spiritfree cocktail book; her recipe library will only increase with the opening of Kumiko. She spreads the word whenever she can, posting on her social media accounts as well as a website she created when she left GreenRiver last year. "I want to change the way people talk about really carefully crafted non-alcoholic drinks."

Try your hand at her juniper tonic at home:


Juniper Tonic
Recipe courtesy of Julia Momose, OrioleIngredients
20 grams juniper berries, toasted and ground
7 grams coriander seeds, toasted and ground
1 gram white peppercorns toasted and ground
2 grams Sichuan peppercorns, toasted and ground
5 grams yellow mustard seeds, toasted and ground
2 grams osmanthus flowers, plus more for garnish
500 milliliters water
Granulated sugar
Ice, for serving
Club soda, preferably Fever-Tree brand, for serving
Bitter lemon soda, preferably Fever-Tree brand, for serving
Rosemary wreath, for garnish
Lemon and/or lime twists, for garnish

Method

1. Make the tonic base: Place juniper berries, coriander seeds, both peppercorns, mustard seeds and flowers in a pot; add the water and bring to a boil. Reduce heat and simmer for 10 minutes. Strain, weigh and add 25% sugar by weight. Reserve in the refrigerator for up to a week.

2. To make the cocktail: add 1.5 ounces of tonic base to a Burgundy glass filled with ice; add a splash of both sodas; garnish with rosemary wreath, flowers, manicured lemon and lime twists and serve immediately.