On Sunday, January 21, chef/partner Daniel Humm and business partner/co-owner Will Guidara will open the doors to their widely-anticipated—and super luxurious—NoMad LA in the heart of downtown Los Angeles.

In the works for three years now, the new space in the former Bank of Italy building at Giannini Place is outfitted with 241 rooms and suites, 10,000 square feet of event space, a rooftop pool, a coffee bar and an all-day café, all of which gives a nod to the building's Italian roots. (Guests will be greeted to a fully-restored gold and blue ceiling in the lobby.)

For the city's culinary enthusiasts, the pièce de résistance is the formal restaurant located on the Mezzanine. Here, executive chef Chris Flint helms the kitchen, hailing from the Big Apple where he was most recently chef de cuisine at Humm and Guidara's three-Michelin-starred Eleven Madison Park. (He was also on the opening team of NoMad's one-starred sibling in Manhattan's Flatiron District.) Expect lighter dishes using California's local bounty and the menu to evolve through the seasons.

The interior at NoMad LA. Photo courtesy of Benoit Linero.
For more casual dining, head to the Giannini Bar located off the lobby, which will have bar snacks and cocktails, craft beers and wines available by beverage director Leo Robitschek.

Aside from being in a new city, there are a few other firsts for the Make It Nice team, like the Venetian-inspired coffee bar located in the lobby showcasing pastries by chefs Mark Welker and Brad Ray. "They've been working on a selection of croissants," adds Humm. "We've served some of them in New York, but now in Los Angeles we can expand the offerings even more and I'm very excited." The coffee is provided by Devoción: "We love what they do."


Though all the menus are still being finalized, some dishes, like at the New York location, will stand out among the rest: "We serve breakfast, lunch and dinner, and have multiple types of restaurants in the space, so it's hard to pick a few," Humm says of the menu. "But those that come to mind are the
fruits de mer
with local seafood, hummus with whipped fava beans and herbed ricotta, and black cod with red kale and horseradish." And NoMad fans rejoice: the famous whole-roasted chicken for two with foie gras and black truffle will also be available in the City of Angels.
Executive chef Chris Flint will run the kitchen at NoMad LA.
When the project first started three years ago, Humm first got the word out via the Nomad food truck, building relationships and becoming a part of the community. "It gave us a chance to meet other chefs, purveyors, and guests, all while gearing up for the opening," he says. "It feels like we've only scratched the surface though, and we're looking forward to expanding on the existing relationships we've built and developing new ones." The food truck is now only available for catering.

Though Humm split his time between both coasts to get everything up and running, he notes that several members of his team, including Flint and director of operations Jeffrey Tascarella, have been on the ground preparing as well. "They've been a part of our team for years, and I couldn't be happier having them carry the torch in Los Angeles," states Humm. "I'm here to support them now, not run things, because when I head back to New York, they'll be running the restaurant.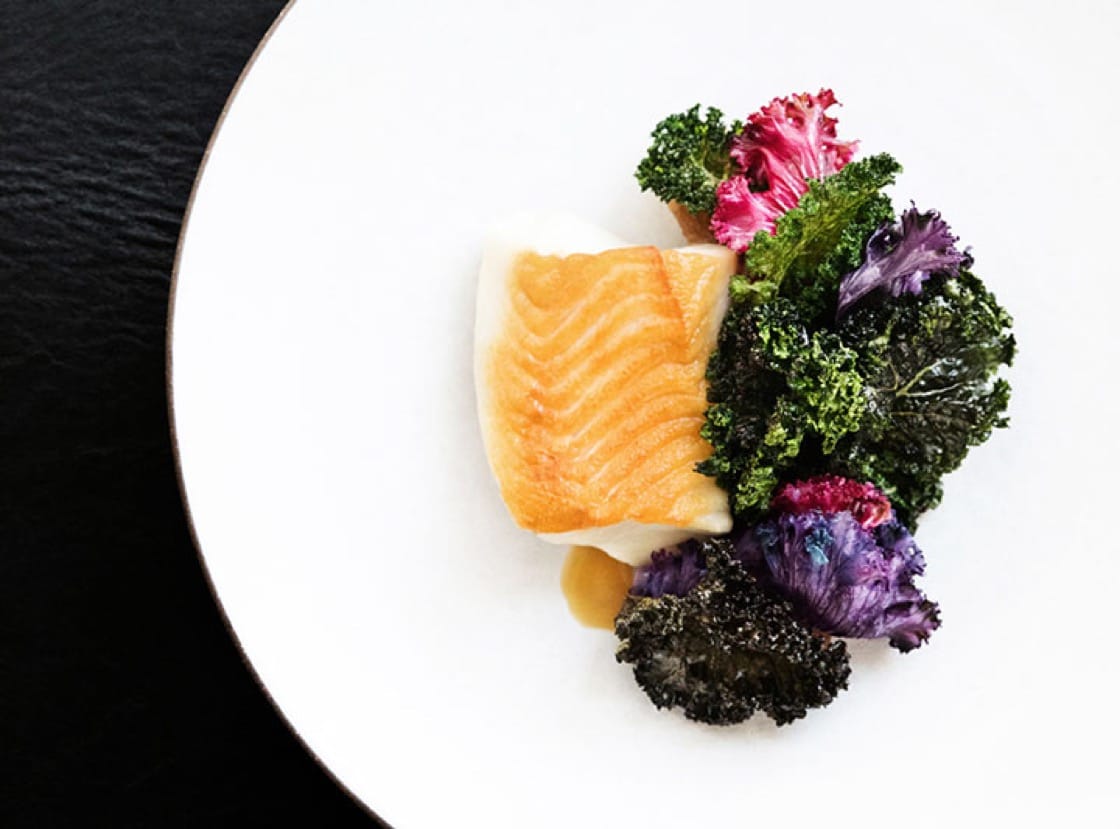 Black cod with red kale and horseradish is noted as a stand-out dish at NoMad LA.
Eventually, the team will have a menu available at the 5,178-square-foot rooftop café and cocktail bar. "We cannot wait to offer food up there," says Humm. "It's such a beautiful space with remarkable views and landscaping—it'll be a nice addition to the hotel."

Reservations for NoMad LA—opening on Sunday, January 21—are now available.

Welcome to the neighborhood.

Food images courtesy of NoMad Los Angeles.