Halloween celebrations are packed with scream-worthy haunted house attractions and ghoulish-looking cocktails and food.

If that seems too kiddish for you, then up the scare factor by having a spirited meal at a haunted restaurant. Plagued with a gruesome history, these five eateries might send shivers down your spine—and it has nothing to do with the air-conditioning.
(Photo courtesy of Raintr33 Hotel.)
Singapore
Founded in 1935, the Changi Hospital has been widely regarded as one of Singapore's spookiest spots, with encounters of deranged spirits and strange sightings reported over the years. Located next to the colonial building is the equally ghoulish Changi Commando Barracks, where many British and Australian prisoners of war lost their lives during World War II. Despite its ghastly past, the building has been refurbished into the 50-room Raintr33 Hotel with two food and beverage spots. The Red Beret serves Western and Asian dishes, while Cedro is a sports bar with alfresco seating that opens out to the surrounding lush foliage. The majestic building, which sits on an idyllic 9,665-square-meter garden filled with pine trees and bushes, also hosts business events and weddings.
Hong Kong

Murray House, a 160-year old restored three-story colonial building, is a seaside gourmet and shopping hotspot in Stanley outfitted with a seafood and tapas restaurant and beer hall. However, the building, which was first located in Central and reassembled in Stanley in the early 2000s, has a dark past. The iconic Murray House started out as a quarter for British army officers, and was taken over by Japanese forces during World War II. During the 44-month occupation, the site witnessed many executions. After the war, the building housed various government departments; hauntings were so rife that exorcism ceremonies were carried out in the 1960s and 1970s. In 1982, the historic building was dismantled and shifted to Stanley. Today, despite its long history, the beautiful building is a popular dining spot among eaters who are looking for a seafront view. Couples also use it as the backdrop of their pre-wedding photos.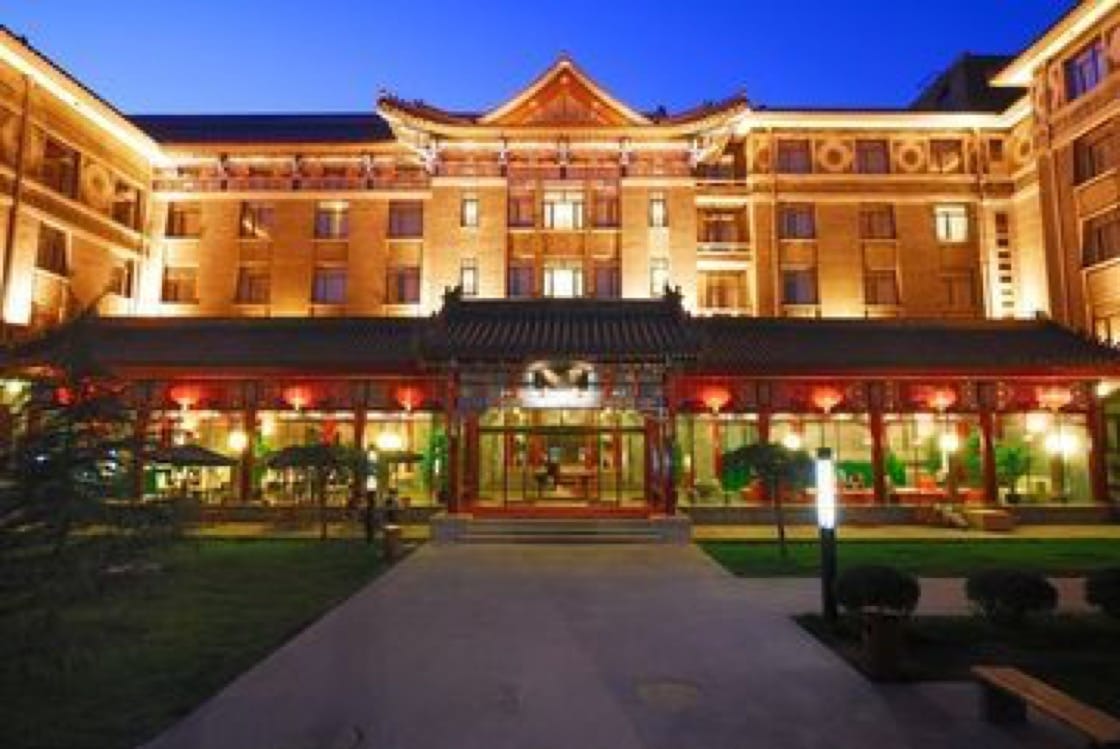 (Photo credit: Pinterest.)
Beijing
Formerly known as Buma Inn, the hotel in Beijing's central Dongzhimen district has attracted years of hushed whispers. Rumor has it that the hotel's restaurant, which opened in 1953, is haunted by a spirit of a diner who was poisoned by the restaurant's former head chef, who then proceeded to stab himself to death. The vengeful spirit, which is nicknamed the "Berserker," is still roaming the hotel in search of the chef who took his life away. In 2007, the premises were taken over by a new management and overhauled to become a three-star hotel that is near a bustling shopping street and market.
(Credit: Beardslee Castle)
Little Falls, New York
Mysterious happenings have plagued this 150-year-old Irish-style stone castle in Little Falls for decades; its paranormal sightings, which include shattering glasses, slamming doors and objects moving bizarrely, were brought to light in the hit reality television show
Ghost Hunters
. The castle, which currently houses a restaurant that serves American food, has been certified haunted by the New Hampshire Institute for Paranormal Research, which concluded that there are two spirits roaming the castle. Legend has it that Native Americans were killed on site in the 1700s; other unfortunate incidents include suicides and an untimely death of a bride-to-be who died the night before her wedding. These days, the castle proudly markets its ghostly past with events including a murder mystery dinner theatre and a psychic fair featuring numerology and tarot card reading sessions.
(Photo courtesy of Ear Inn website.)
New York City
One of the oldest bars in New York, the cozy Ear Inn, located in far West SoHo at Spring Street, celebrated its 200th anniversary last year. Back in 1817, the Ear was first dubbed the James Brown House, named for a local tobacconist of the same name, who was also an African-American aide to George Washington during the Revolutionary War. (It's been said Brown is depicted in Emmanuel Leutze's famous "Washington Crossing the Delaware.") Since its debut, the James Brown House has changed owners, and housed the aforementioned tobacco shop, as well as a number of saloons and bars and survived prohibition. It was finally renamed the Ear in the late 1970s, when its current owners covered the rounded parts of the B of the 'Bar' sign, leaving it to read "Ear"—an effort to get around the Landmark Commission's new signage review.
But at the turn of the 20th Century, the Ear—located a stone's throw from the Hudson River—was a regular hangout for sailors passing through the city's ports. Legend has it that one such sailor living upstairs was hit by a car in front of the bar and died; it's said that the ghost of "Mickey" still haunts the Ear today. Per the Ear's website, "Mickey" has been "patiently waiting for his clipper ship to come into the harbor for the past hundred years."