Tablet Hotels is the official hotel selection of the MICHELIN Guide. Together with the announcement of this year's MICHELIN Guide Washington D.C. selection, we're celebrating the Tablet Plus hotels in that city—truly exceptional properties providing VIP upgrades and amenities to Tablet Plus members. Tablet Plus hotels shine above the rest, and we're happy to give them the recognition they deserve. Here are the 2021 Tablet Plus hotels for Washington, D.C.

Thompson Washington D.C.
Thompson
The Thompson hotels have been Tablet favorites since the beginning, and though they've grown far beyond their indie beginnings, they've lost none of their knack for crafting inspiring, memorable spaces. Even in a town where style is rarely a primary concern, the Thompson Washington D.C. is dazzling; the capital-based Studios Architecture and the New York firm Parts and Labor Design have created a brand-new luxury boutique hotel with the mid-century resonances that are the Thompson hallmark.


Park Hyatt Washington D.C.
Park Hyatt
Washington's got a reputation as a slightly buttoned-up town, and a bit of an inferiority complex about things like nightlife, thanks in large part to its status as a government town. One place government towns excel, however, is hospitality. These people are professional guests, and while they're not demanding in quite the manner of a room-trashing rock star, they are a discerning audience. So you can expect a place like the Park Hyatt Washington D.C. to put its best face forward.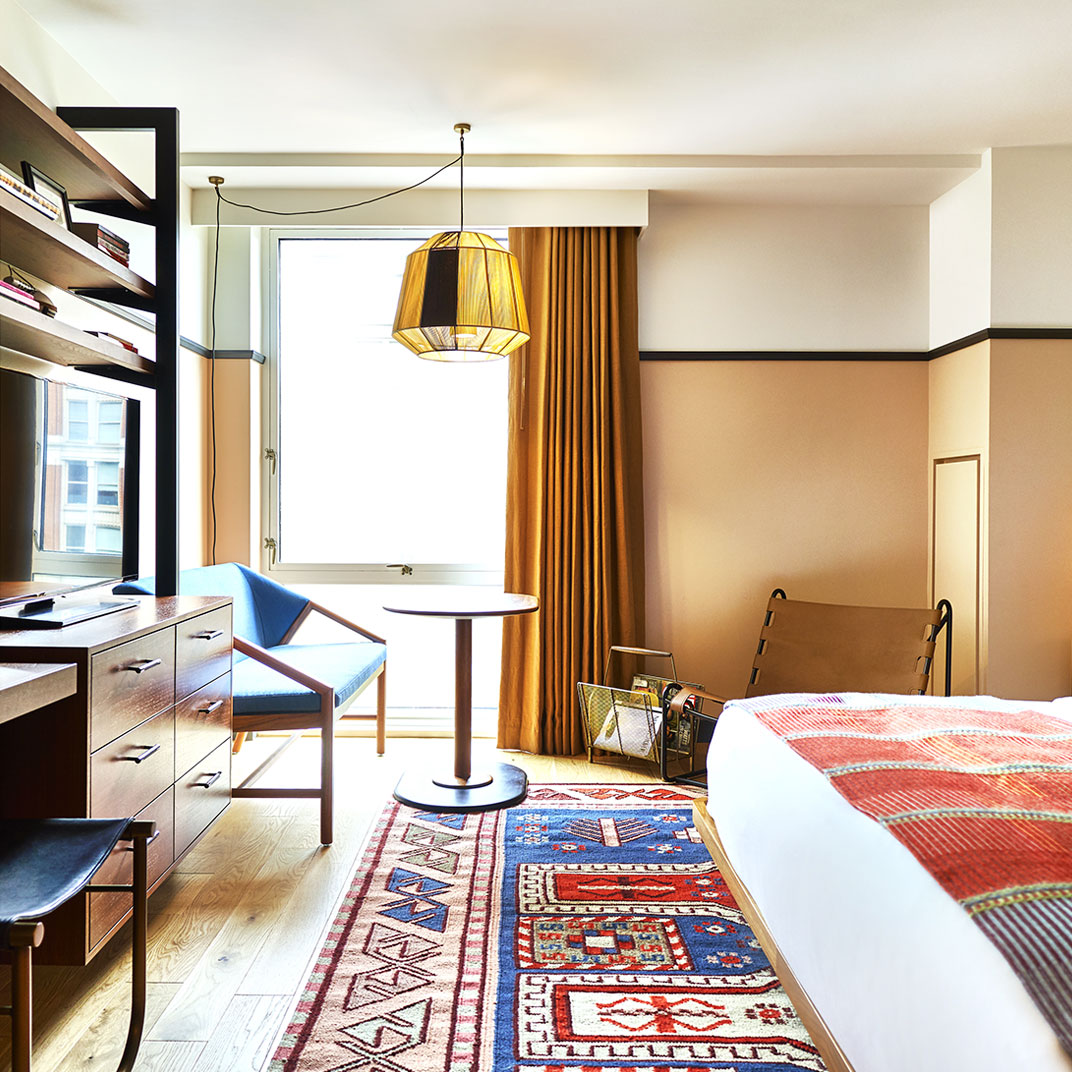 Eaton DC
Eaton
We're finally going to make it all the way through the description of a Washington, D.C. hotel without any wisecracks about the capital's aesthetic conservatism. The Eaton Hotel is impervious to that line of criticism—this isn't just the hippest hotel in Washington, but one of the most impressive new boutique hotels in America, and it's thanks in large part to the fact that its founder, Katharine Lo, isn't given to half-measures.

Dupont Circle Hotel
Dupont Circle Hotel
In a town as traditional as Washington, a little bit of modern design goes a long way. The newly redesigned Dupont Hotel is, in its subtly stylish way, one of the hippest hotels in the nation's capital. It's the only hotel on Dupont Circle, in a neighborhood better known for dining, nightlife and entertainment than for monuments or institutions—which, provided you're not here with your high school history class, is definitely a good thing.


Yours Truly DC Hotel
Yours Truly
Finally, we take back everything we said to the contrary about the nation's capital. Washington, D.C. has plenty of youthful style, if you know where to look—and in the hospitality world, one of the natural places to start is Yours Truly. This is one of the new breed of boutique hotels that aims to create an atmosphere of approachable sociability, rather than luxe elitism, and while its modernist, industrial architecture may recall the first wave of high-design boutique hotels, its interior decoration is warm and eclectic, and feels more collected than consciously designed.

Viceroy Washington DC
Viceroy
If there's one hospitality brand that's capable of perfectly threading the needle between too-hip boutiques and too-normal business hotels it's got to be Viceroy. It helps that their aesthetic takes liberal inspiration from mid-century modernism, which is a style anyone can love. And it also helps that they've got a keen sense of what comforts are essential, elevating their creations beyond mere eye candy. Viceroy Washington DC makes the most of this bipartisan, across-the-aisle approach—it's luxe enough to tempt luxury-hotel partisans and stylish enough for the boutique crowd as well.


The LINE DC
The LINE
When in Rome, do as the Romans do. In Los Angeles, the LINE put a thoroughly contemporary design spin on a mid-century hotel building in the newly hip neighborhood of Koreatown, and made it into a culinary destination with help from local hero Roy Choi. The LINE DC Hotel translates this concept into a language Washington understands: a century-old church in Adams Morgan provides the venue for a boutique hotel in an of-the-moment bohemian-eclectic style, complete with restaurants and bars that make it a central player in the neighborhood's dining and nightlife scene.


The Jefferson
The Jefferson
As the capital city of the United States it's only natural that Washington D.C. should be home to a fair number of grand, historic luxury hotels. Not all of them are quite as old-world as they seem, though. The Jefferson certainly has all the opulence and historical atmosphere you'd expect from one of the original grand dames, and the fact that it's mostly the result of a 2009 renovation is neither here nor there.


Hotel Zena
Hotel Zena
Continuing the project that began with the 2017 Women's March, the Viceroy hotel group has made a statement with what used to be Washington D.C.'s Donovan—after a large-scale renovation it's been renamed Hotel Zena, and is now a grand feminist gesture, dedicated to celebrating the accomplishments of women at every turn. As gestures go, it's not a subtle one—a pair of female "Warrior Guardians" adorn the exterior, and an enormous pointillist portrait of the late Ruth Bader Ginsberg dominates one of the walls of the lobby lounge.


Riggs Washington DC
Riggs
It's not every day a 19th-century Romanesque Revival bank building in Washington's Penn Quarter district reopens as a hotel, especially one as stylish as Riggs. It's another sign of a new era for the nation's capital — there's more character here than in all of D.C.'s hotels circa 2000 put together. It starts with the well-preserved bones of the stately old bank, but this is no mere restoration—they've taken liberties, using the city's history as their inspiration, and the result adds a welcome note of playfulness to the elegance you expect from a Washington D.C. luxury hotel.


Tablet is your source for booking the world's most exciting hotels—places where you'll find a memorable experience, not just a room for the night. For over twenty years we've scoured the earth, evaluating hotels for every taste and budget, creating a hand-picked selection that's proven and inspired.
Hero image: Riggs Washington DC