There are two interpretations of edomae sushi—one literal, one figurative. Nigiri style sushi, the combination of only fish and rice, is the former. Its proliferation in the U.S. offers the foundation of what most Americans know of edomae. But the belief of what edomae stands for offers a subtler understanding, rooted in its history and its name. "Edo" references Tokyo, which was known as Edo in Japan before 1868, and "edomae" translates to "in front of Edo [Tokyo Bay]."
At the beginnings of edomae, roughly some 200 years ago, Tokyo fishermen would sell their fresh catches to small stands at the bayfront to be made into "edomae" sushi. This early interpretation of nigiri was very affordable and eaten by the masses as a snack on the go. Only local fish was used, and the sushi chefs labored over different techniques to bring out the natural flavors of each fish variety while prolonging its shelf life.

Chef Tatsuya Sekiguchi grew up with this belief of edomae sushi, and still carries it with him today at his newly opened Omakase Room by Tatsu. Back in Japan, he visited the local fishermen to personally pick out the day's offerings for his family's restaurant, Fuku. Now, in New York City, he has taken the contrarian approach to sushi by using 60% local fish—like bonito and Spanish mackerel—instead of pricey Japanese imports favored by most sushi chefs in the city. "Each sushi chef must grow into their own style," chef Tatsu says, mild and calm amid his mid-afternoon prep. "Edomae is still relatively young—there are no set rules. Seventy years ago, uni and ikura (salmon roe) weren't served, but now they are widely accepted. For me, I think it's better to use the local fish."
At 10-seat Omakase Room, chef Tatsu handles all of the fish himself, varying the day's preparation based on subtleties many others would overlook. For instance, he starts guests with a light-bodied fish dressed in salt and lemon for a mild, temperate day; on a very cold, winter day, guests would start with a warmer, fuller-bodied fish dressed in soy. Beyond the fish, Tatsu maintains the original use of red rice vinegar—a milder vinegar made from sake lees—in his rice instead of the more common white rice vinegar for a lighter flavor. Together, the fish and rice must be one: the same texture, consumable in the same number of chews, coating the tongue and mouth with equal force and variance. It is imperative each piece does not have "too much of anything."

Chef Tatsu preparing shima-aji (striped jack).
Chef Tatsu's sushi is very much a reflection of his own soft, worldly personality. His passion and talent for sushi, combined with his gentle persona has earned him scores of loyal followers, many who have followed him from prior posts. "You meet him and immediately you feel calm. You can see everything he does has a purpose . . . you feel you can trust him," Omakase Room's general manager Hiroko Hidaka tells me. "His fans are extremely dedicated—we have guests who will eat here three times a week when they are in town."
The most poignant story of chef Tatsu's charm follows a young man over 10 years. "He told me he fell in love with chef Tatsu while he was still at Sushi Yasuda, but he could only afford the least expensive lunch set, and only as takeout," Hidaka explains. As the years passed and the diner's career progressed, he began to dine in for lunch and order new options. After chef Tatsu opened Omakase Room, the same diner found the chef and surprised him with news he had gotten engaged—and invited Tatsu to the wedding. Naturally, the couple-to-be had their pre-wedding dinner at the restaurant. Chef Tatsu smiles fondly as he recounts this tale.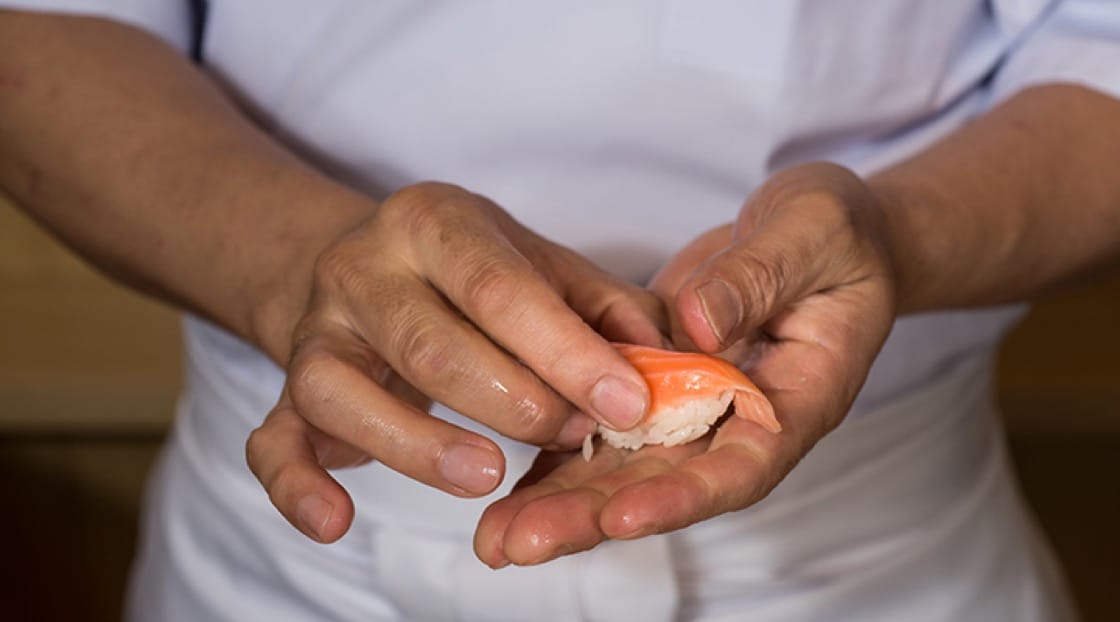 Chef Tatsu preparing sockeye salmon.
"Customers are what makes a chef grow," he says. While chef Tatsu was intimately familiar with the culture and customers back in Japan, coming to the U.S. offered him a new opportunity to learn how to read and interpret his guests' expressions throughout the course of an omakase. "It's in the eyebrows," he confides, "because their words are usually the same."
He decides each of the guests' pieces on the spot, thoughtfully observing their eating pace, facial expressions and verbal cues. He watches extra carefully on certain, pivotal pieces—if he serves someone a clam and they respond enthusiastically, he will continue with something of a similar texture. But the guests' reactions sometimes surprise themselves—many who come wary of certain varieties are deftly converted after a single piece. "We've had people come who tell us, 'no mackerel,' so we ask them to simply try one piece. After that, they'll eat all three preparations of mackerel chef Tatsu has made that day," Hidaka says, looking proud.
To chef Tatsu, curating each guest's experience is like conducting a symphony. There are infinite permutations—from the seafood's texture, fat content and oiliness to the cooking time and temperature—but only with the combination of technical skill and emotional rapport does chef Tatsu find the right pairings for each guest. He calls this the "endless pursuit," making memorable experiences composed of perfectly paired fish and rice. Humble as ever, Chef Tatsu professes, "I'm still learning. I'm still chasing that pinnacle, that final state, the future."
Photos by Jai Nima Idowu.