At the 2018 MICHELIN Guide Hong Kong Macau press conference last month, 36-year-old Stéphane Gortina walked up to the stage to represent Rech by Alain Ducasse to receive its first Michelin star, as his mentor Alain Ducasse sat and watched with pride from below.

To Gortina, working under Ducasse truly broadened his horizons and opened his eyes to a whole new world of cooking.

"I joined Ducasse when I was 25 and started off with all the basics: food preparation, cleaning, learning and understanding different produce, etc." says Gortina. "Throughout the journey, I have learned the importance of fresh produce, seasoning, various cooking methods and haute cuisine."

Gortina, who was born in Nice, France, has always loved eating and cooking since he was young. He spent much of his time helping his grandmother and mother in the kitchen, and developed a fascination for the beautiful plates of food placed before him whenever the family ate out at fine dining restaurants.

He then entered culinary school at the age of 14, and at 15 began his formal training in kitchens, working under names such as Jacques Maxim, who eventually introduced him to Ducasse.

Joining the Ducasse Empire

Gortina first worked at three Michelin-starred Le Louis XV in Monte Carlo before being promoted to Ducasse's sous chef at one Michelin-starred La Bastide de Moustiers in Provence. He then moved to Japan to join the opening team of Le Comptoir de Benoit, before he went on to SPOON des lles in the One & Only Resort Le Saint Géran on the island of Mauritius.

Before becoming executive chef at Rech by Alain Ducasse, he spent two years at SPOON by Alain Ducasse, the original restaurant at the InterContinental Hong Kong.

"The different foods from around the world have captivated me," adds Gortina. "What people eat, why they eat it, and how they eat it is woven into the fabric of their culture. I also like exploring local markets and restaurants to find inspiration."

Pan-seared large sole with half-salted butter and tiny potatoes.
His Views on French Cuisine

Gortina also has fixed ideas on what defines French cuisine: "I learned about Ducasse's style from chef Franck Cerutti of Le Louis XV and it's about the delicacy of the cuisine rather than fancy flourishes. In Asia, I learned to adapt our French tastes to Chinese palates—for instance, we reduced the richness of traditional French sauces. In the Middle East, we also used local spices and ingredients to create a fusion cuisine type."

At Rech by Alain Ducasse, Gortina recommends three must-have dishes, the first being the Grenobloise-style skate wing. "It's very rare to find skate wing in Hong Kong," he says. "This is directly imported from a French fishmonger in Brittany to ensure quality, with the cartilage removed. The cooking-style is the traditional Grenobloise-style, which means using a browned butter sauce, capers, parsley and croutons. At the bottom, there is a bed of sautéed baby spinach."

The second dish he recommends is the pan-seared large sole with half-salted butter and tiny potatoes. The last is Mr. Rech, a hazelnut-chocolate dessert named after the founder, Adrien Rech. The sweet treat consists of two thin slices of French meringue sandwiched around a hazelnut parfait and hazelnut ice-cream and finished with crunchy hazelnut shards and a warm low-sugar chocolate jus.

The Mr. Rech: hazelnut ice cream and chocolate sauce sandwiched between two thin slices of French meringue.
Here, we speak to the chef about his encounters with the MICHELIN guide.

When did you first learn about the MICHELIN Guide?
At the age of 10 when I was eating out with my parents.

How did you feel when your restaurant first received a Michelin star?
I was happy and proud of what my team has done this past year. It's a team effort and every single one of the team members plays an important role here.

How did you celebrate?
By opening a bottle of Champagne with my team!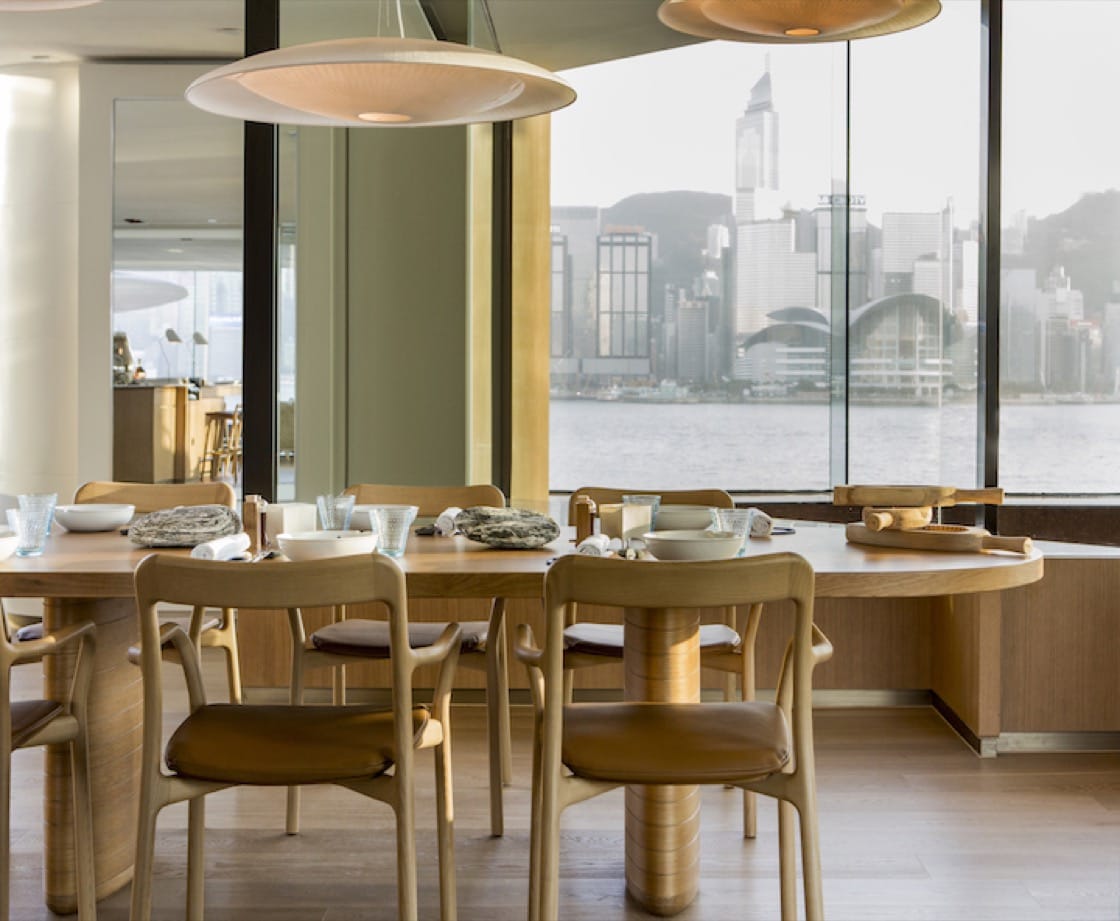 The interior of Rech, flooded with natural light.
How has the MICHELIN Guide affected your career?
It has given me the motivation to work harder and better every day and it's a recognition of all the hard work put in by my team and I.

What is your advice to young chefs who want to obtain a Michelin star for their restaurant?
My advice would be to work hard, be passionate about what you do, be interested and be curious on all things around you.

---
This article was originally written by Mandy Li and translated by Meryl Koh.