Congratulations to Lead Sommelier John Haffey of One MICHELIN Star Aubergine and the 2023 MICHELIN Guide California Sommelier Award Winner presented in partnership with Wine Access! A place where luxury meets delicious bites, this contemporary Californian spot will seem like it's ripped right out of a fairy tale. Below, we chat with Haffey on his favorite non-alcoholic beverages, dispelling misconceptions, and the ideal wine pairing.
---
What are you drinking these days?
Lately I've been really enjoying champagne, German Riesling, Northern Rhône Syrah, and Green Chartreuse.
Favorite non-alcoholic drink?
I keep it simple- my favorite non-alcoholic drink is either kombucha or just plain sparkling water.
What's your ideal meal and pairing?
At Aubergine, it's when the nuance and complexity of the dish is accentuated by the flavor and texture of the wine, so your lasting impression is the flavor of the food. One of my recent favorites is the local lettuce bundle served with pistachio, allium cream and kaluga queen caviar, paired with a La Rogerie La Grand Vie, a Grand Cru blanc de Blancs champagne.
At home, my ideal meal is simple. A roast chicken with crispy skin or a grilled pork chop with young red burgundy, shared with people I love. But, I would be happy forever drinking champagne while eating French fries.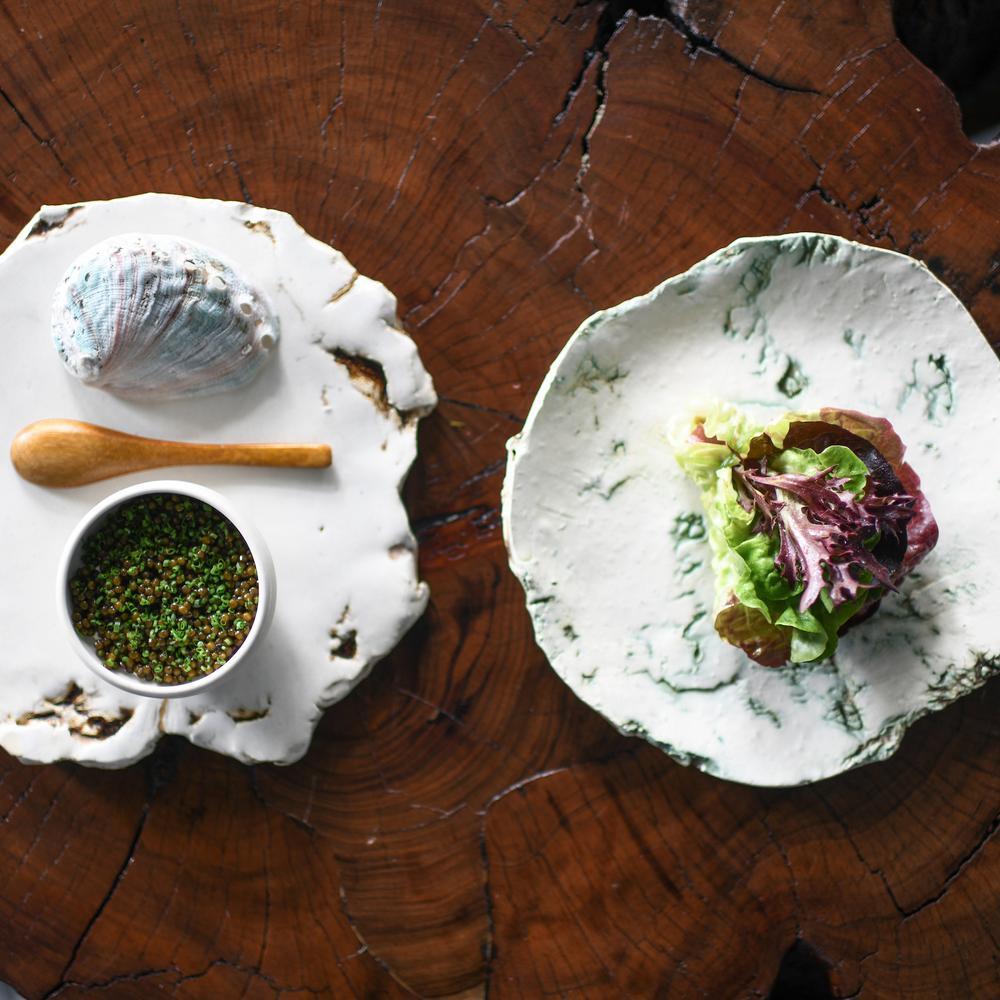 Bonjwing Lee/Aubergine
What's the biggest misconception about being a sommelier, or wine in general, that you'd like to dispel?
A misconception about sommeliers is that we are unapproachable. We want to make sure you have a great time. We encourage questions! We love to share, whether it's information or a wine we're really excited about. Wine is not a separate part of the dining experience. Sommeliers, in general, love hospitality and taking care of people. Wine service is just a small part of a much larger overall picture of making sure that our guests get everything they need and enjoy their experience.
Some misconceptions about wine are that white wines shouldn't be decanted (I decant almost all white wines) and that champagne should be drunk in flutes and not larger glasses (opt for the burgundy glass for the good stuff!)
What's your criteria for adding a new wine to your list?
It needs to work with the food. Versatility with the menu is most important. The wine also has to have some value factor to it. Whether it's a bottle of Muscadet or a bottle of Grand Cru Burgundy, I want my guests to feel like they're getting a bit of a deal. And finally, it needs to be responsibly farmed. I want to focus on the families that choose to do the hard work of farming responsibly with a focus on organic, biodynamic, and/or regenerative agriculture.
Favorite wine-related film, book, magazine, etc?
I have a soft spot for Somm: Into the Bottle. This is the film that piqued my interest in wine at the very beginning of my journey. Outside of that, I love "Inside Burgundy" by Jasper Morris for reading, and the I'll Drink to That Podcast by Levi Dalton.
---
Hero image: Josh Rose/Aubergine
---