At MICHELIN Three Star SingleThread in Sonoma County's bucolic 'burb of Healdsburg, haute gastronomy and sustainability are synonymous. This combination is what earned the restaurant a coveted Green Star since the award's inception, boldly dashing the stereotype that fine dining must be defined by serving certain ingredients, rather than by showcasing the seasons and terroir of the place in which a restaurant is found. At SingleThread, offering a culinary experience in which the relationship between farmer and chef is more than a side story, beginning at their 24-acre regenerative farm.
---
It's a brief drive from SingleThread's downtown Healdsburg location to the restaurant's farm on Dry Creek Road—farm-to-table incarnate—but I enjoy every moment along the winding, open road shaped to the nearby creek. Between the vineyard-lined rolling hills, a series of modern, black structures appear standing out among the farmhouses and faux-Tuscan villas I've passed along the way. This is the Farm Store, a space imagined and created by SingleThread's Head Farmer and owner Katina Connaughton. "[It's purpose is to] support a vibrant ecology that not only serves an agricultural purpose, but also provides a community and educational benefit."
After reaching their limits on the original 5-acre farm, SingleThread expanded this space in late 2020. "The property had some glorified gardens on it, but due to the inefficient layout and confusion with irrigation, etc., we ended up wiping the slate clean and starting all over," says Connaughton. Their learnings from the original farm came in handy, creating a foundation from which they could focus their knowledge and maintain best practices in a similar but new environment. "We are on the valley floor in Dry Creek where the winds whip around, the frosts are bitter, and the heat of the summer is striking and intense."

I meet with farmer Ariel Adair in the breezy, open-air shop, filling a reusable tote with the day's freshly-picked vegetables, a jar of the restaurant's popular Chunky Ya-Lu sauce, and a burlap-wrapped bouquet of wildflowers. I leave the bag for later, trailing my guide toward the cultivated part of the farm, where greenhouses and tilled plots await.
SingleThread's menu is informed by what they grow, and thus, the seasons. "We lean into seasonality and let nature guide our creativity," explains Connaughton. This approach pulls double-duty making for a diverse set of dishes, but also bringing balance to the environment. "Our farm, as well as others in the area, strive to bring as much biodiversity to the region as we possibly can. Biodiversity, inclusive of all manner of culinary crops, herbs, flowers, trees, and shrubs, et cetera help us to support habitat whilst strengthening our ecosystem."
Sonoma County's climate means growing is possible throughout the year—and not just for grapes, the local monoculture. I ask Adair if there's anything that's always growing, and she leads me to a plot where green onions appear to be in bloom. "SingleThread has our flower-like emblem, and that's actually from this vegetable right here," Adair tells me. It's called negi, a Japanese spring onion, which is the perfect nod to Connaughton and her husband, chef Kyle's rich backgrounds in Japanese culinary traditions and ingredients.

Photo: Kim Carroll
---
---
The rest of the farm tour is a delightful foray into organic produce, from bright and bold flowers to a hive full of bees getting ready for Spring pollination. Underscoring every stop on the tour is Connaughton's commitment to not just organic farming practices, but regenerative ones. "It seems our biggest role as farmers these days is to adapt," she says of the natural disasters and rapid changes in climate that have been haranguing California. She's found that weathering the storms, droughts, and the pandemic is best dealt by moving forward with humility and deep respect for nature. "We work every day to reduce waste and turn offcuts, offshoots, and excess into opportunity."
Photo: Kim Carroll
Walking through the carefully cultivated rows of lettuces and legumes reinforces the superb dining experience SingleThread is known for. It's a living demonstration of their ethos, a worldview in which an impeccable plate must be derived from a harmonious relationship with nature. "I can't accept a path where fine dining and sustainability are mutually exclusive," says Connaughton. "Perhaps fine dining needs to be redefined by seasonality, the support of good food systems, equitable-nurturing work environments, and a space where quality time can be had by guests to make meaningful memories. Gone should be the days where these experiences are marked by unseasonable and unsustainable opulence. We must and can do better than that." And SingleThread is doing that, one negi at a time.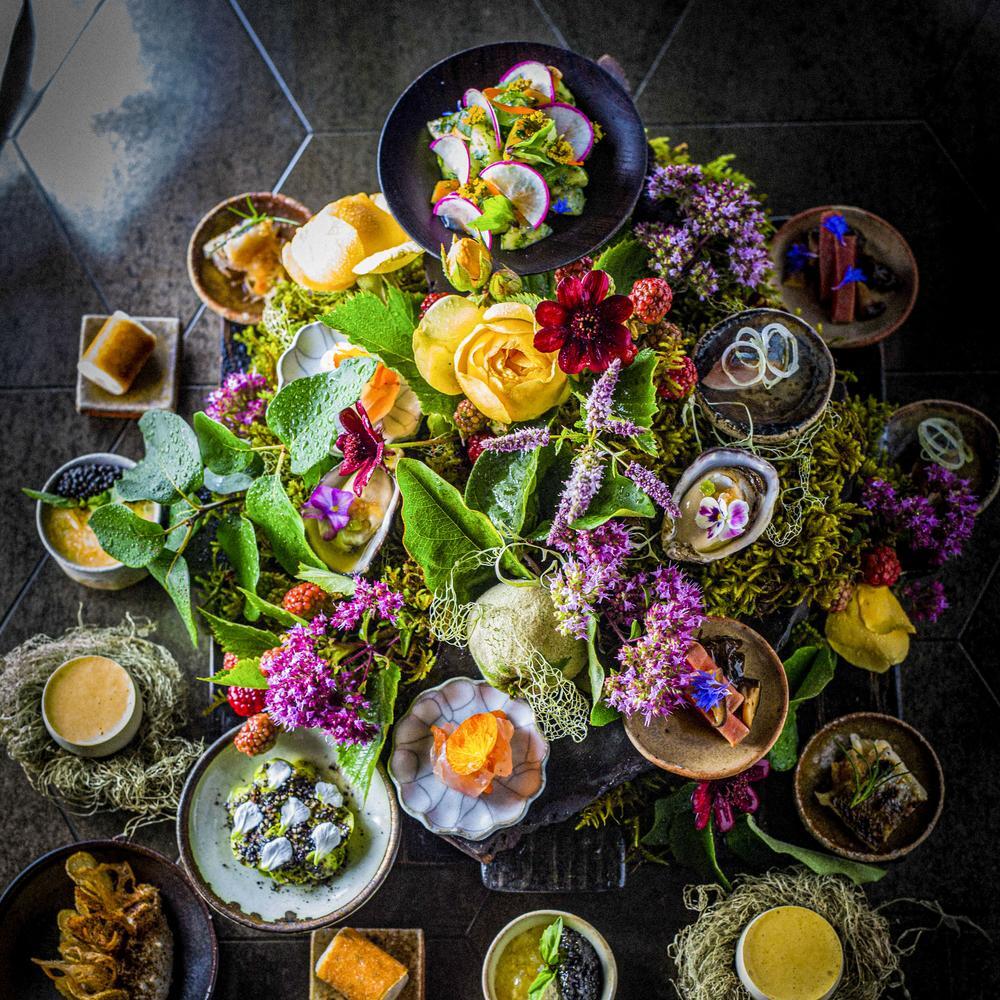 John Troxell/Single Thread
---
---