It's rare to feel right at home the second you step into a restaurant. It's even rarer when said restaurant is one of the hottest tables in town, tucked in the heart of Soho. But from the moment you enter C as in Charlie, an overwhelming sense of welcoming washes over you; like you've been there before and have known the owners for years. That familiar feeling is largely due to the fact that C as in Charlie's founders are lifelong friends who miraculously have transported their carefree, youthful vibes into the present through one of the most enjoyable dining experiences in New York City.
To read our Inspectors take click here, and below, prepare yourself to be immersed in a world filled with fabulous food, thoughtful drinks, and oodles of fun.

---
Upon entering this Bleecker Street hotspot, the trio's vision is clear—you're here for a good time. My first hint? The complimentary shot of sake when I take my seat. The space is intimate, about 40 covers, but it's perpetually bustling. "The phrase 'good-time Charlie' perfectly encapsulates the essence of our restaurant," says David JoonWoo Yun. David (Operations), along with brothers Eric JaeHo Choi (Chef) and Steve JaeWoo Choi (Finance), make up the three headed dragon that is C as in Charlie, and all are transplants from Atlanta, Georgia. "Just like the term suggests, we are all about embracing pleasure, entertainment, and a vibrant social experience. We want to provide a carefree and fun-loving atmosphere where our guests can indulge in pure enjoyment."
The goal is to invoke the spirit of "Jeong", referring to the strong sense of togetherness in Korean culture. "By fostering a sense of community, we can proudly showcase the richness of Korean cuisine, traditions, and customs," David adds. "We hope that our restaurant serves as a platform to celebrate and share these aspects of Korean culture, creating a vibrant community that appreciates and embraces our heritage." To that end, the menu consists of a directional, yet edited 14 dishes that marry Korean classics with southern influences, all meant to be shared and each representing the trio's collective experience.
Tim Dongho Yun
Despite the refreshingly streamlined menu, the 14 dishes (including two desserts), pack flavorful punches and inventive takes on childhood favorites. The Seoul'sbury Steak is a playful twist on the American classic, while the Oxbone Cream Pasta is a tribute to David's mother's version of Seolleongtang. "My mother felt a bit embarrassed about our childhood experience. She felt sorry for my sister and me during that time," shares David. Growing up in the south proved to be challenging for David's mother, who was unable to source the traditional Korean-style wheat noodles, and instead substituted them for spaghetti noodles. So what does Mother Yun think? "She's grateful and delighted to witness how we have transformed that memory into a menu item and something positive." The dish, made with spaghetti, bacon, and scallions, is a local favorite and a menu staple.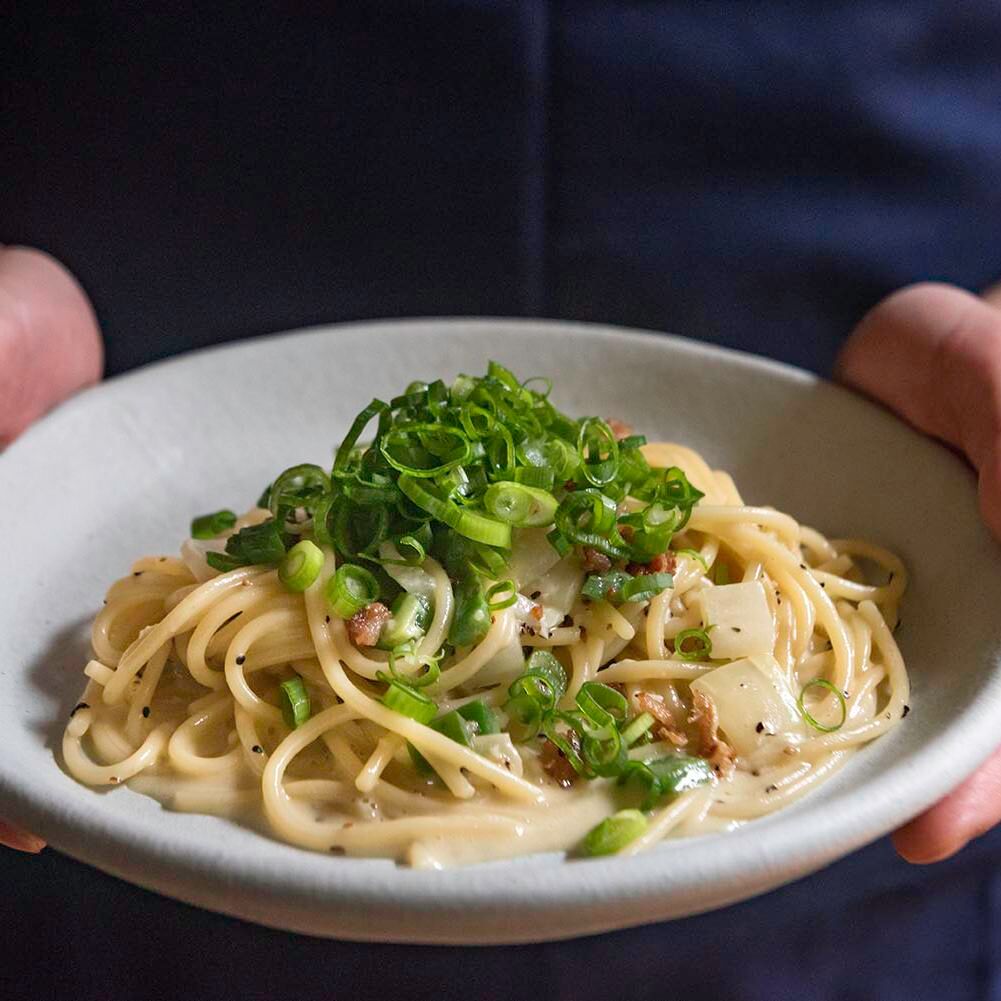 Will Blunt/Star Chefs/C as in Charlie
Other favorites spotted at countless tables were the toast roll (shrimp, sweet chili, and citrus onion) and mushroom bibimbap (hen of the woods, shimeji, and egg). "Our upbringing in Atlanta, with its distinct cultural landscape, has contributed to the formation of our restaurant's identity," David says. "It inspired us to embrace our Korean heritage, while infusing elements of southern American culture into our culinary creations. We take pride in representing the fusion of these two worlds, celebrating the diversity and richness that emerges from the intersection of cultures." To the trio, this was their story of being Korean and growing up in a southern state.

Tim Dongho Yun
"Initially, people were perplexed about the unique and unfamiliar blend," says Eric. "Some even considered it gimmicky." This provided the impetus for the trio to push things even further and highlight their shared experiences on the plate. "We don't see ourselves as purely Korean or American," David continues. "We have navigated through moments of identity crises in our younger years, but today we confidently identify as Korean-Americans with a unique blend of Korean and southern American influences."

And those flavors extend to the aforementioned desserts—a bagel and banana pudding. But like with everything else here, they're deceptively simple in appearance. Charlie's Deli Bagel (monk, cream cheese gelato, jelly) looks like a traditional bagel, but take a bite and you're instantly met with cream cheese flavored ice cream and homemade strawberry jelly—the perfect balance of sweet and savory. For David, it's what he'd be on the plate. "People often make assumptions about me based on my beard and tattoos, assuming that I am masculine and tough. But they quickly discover that these outward appearances do not define my personality. Just like our bagel dessert, I am genuinely caring and sweet, offering a pleasant surprise to those who take the time to get to know me." The other dessert, B as in Banana (banana pudding served with misugaru, creme anglaise and meringue), invites guests to decorate the white canvas with their own masterpieces, post on social, and potentially score a bottle of sake or natural wine.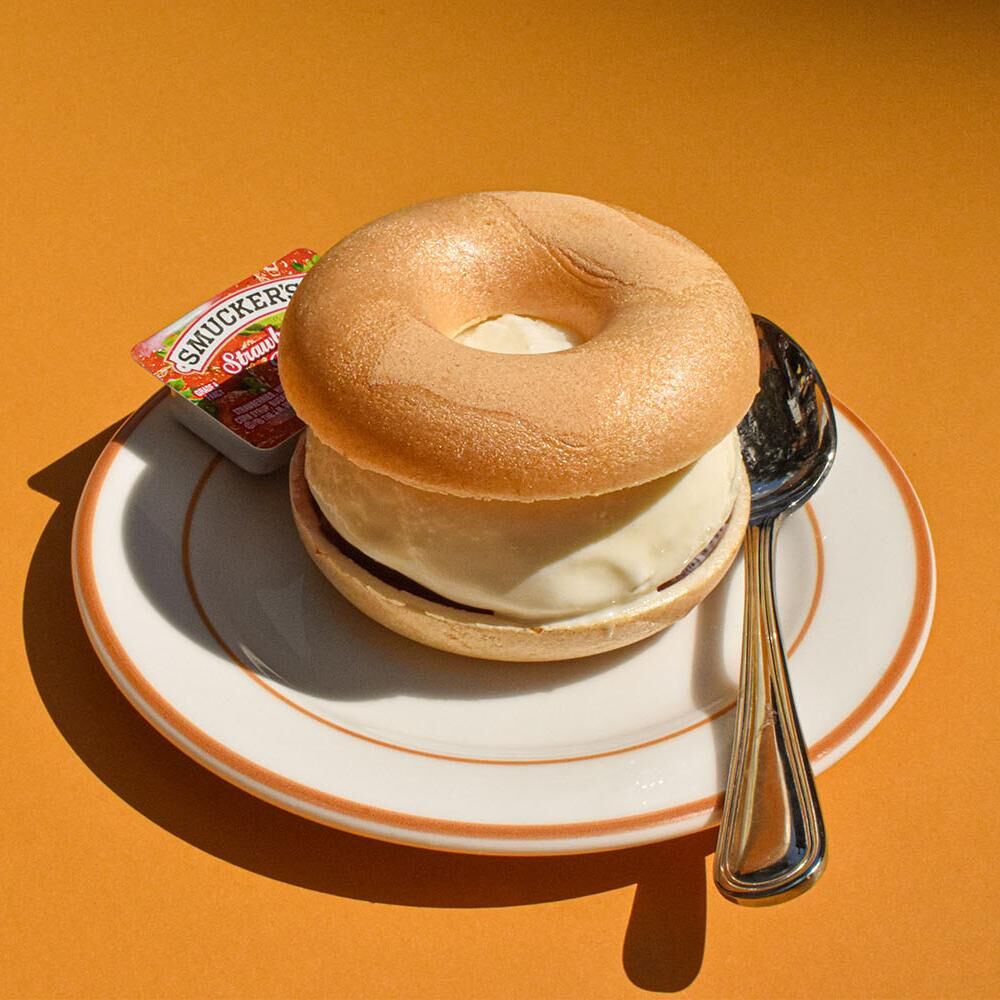 C as in Charlie
Besides the menu, the restaurant itself is also filled with little Easter Eggs from the threesome's friendship. One comes in the form of the bathroom projector, where a recording of a man reciting prime numbers is broadcasted. While some may find this odd, there is actually a deeper meaning behind it. Like prime numbers, the friendship between David, Eric, and Steve can't be divided.
Growing up in a foreign country as immigrants with limited English proficiency and perceived as fresh off the boat (FOB), it was difficult for the trio to connect with others who were born Americans. "This shared experience brought the three of us closer together," says David. "We helped each other maintain our connection to Korean culture amidst our evolving American surroundings."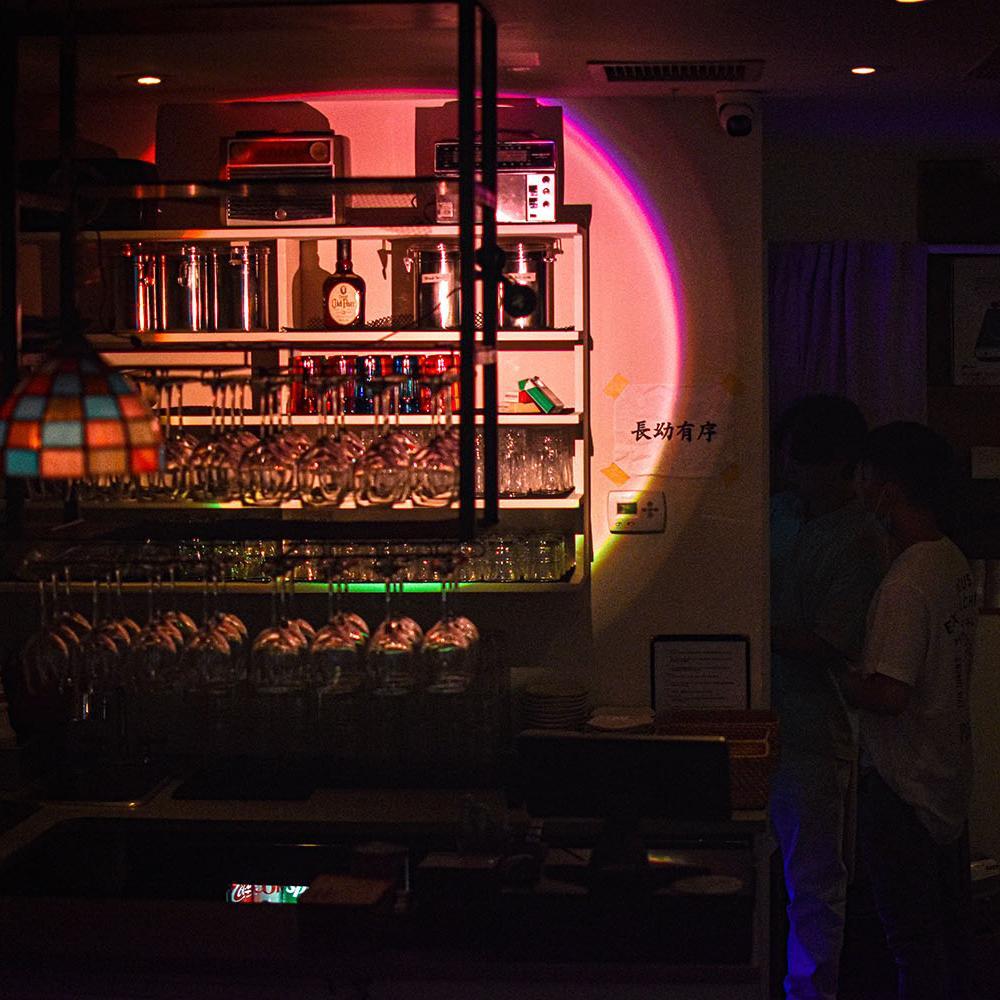 C as in Charlie
If it isn't apparent, C as in Charlie is a love letter from three lifelong friends to their heritage and upbringing. Even the name of the restaurant pays homage to their native Korean parents. "Our parents often struggled with pronouncing the letters 'C' and 'R'," David adds. "They would resort to saying 'C as in Charlie', and 'R as in Romeo'."

You're not just here for another night out. At C as in Charlie, you're here to celebrate the merging of cultures. You're here to have fun after years of isolation and uncertainty. You're here to be part of a family. So if you're ever looking for something more than just food, C as in Charlie is the spot for you. Just be prepared to take some shots and share some deliciously fun dishes.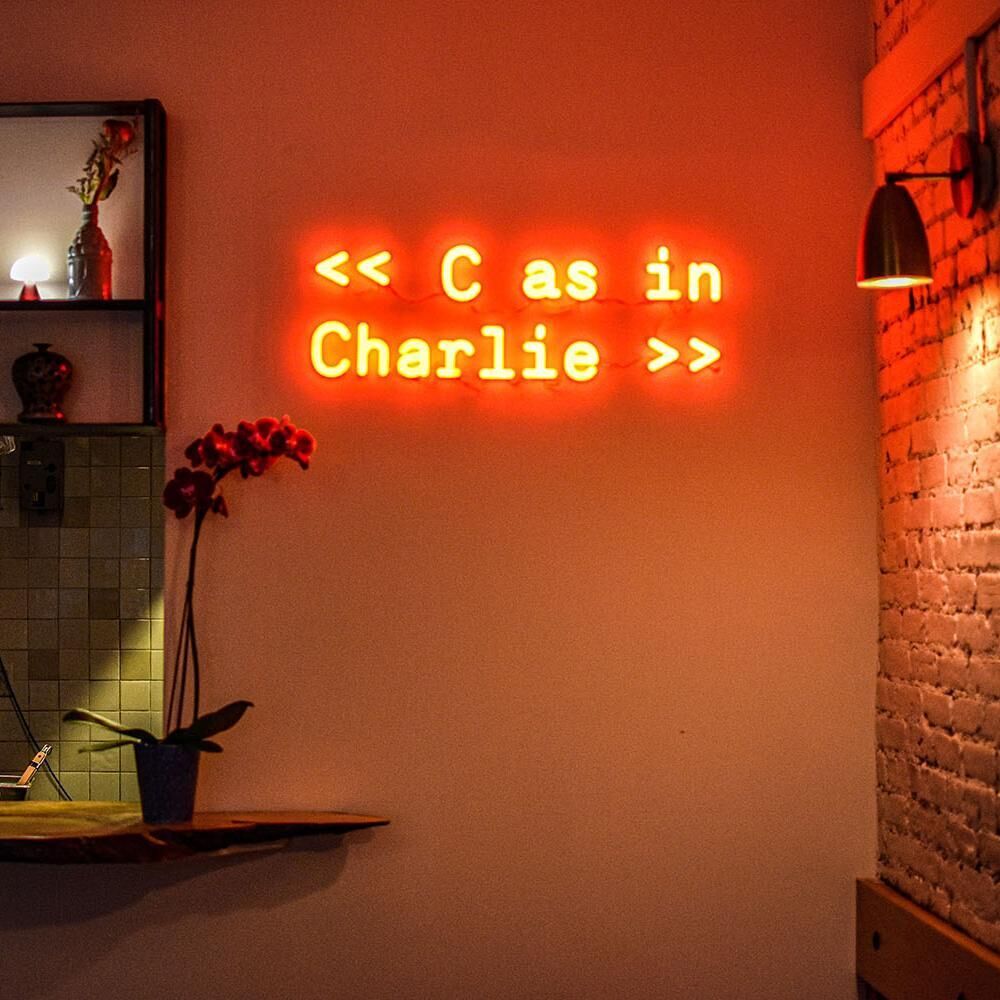 C as in Charlie
---
---