"Where are you going to eat?" That's a question typically asked when a traveler is headed to New York, San Francisco or New Orleans. But Washington, D.C.? Not until now.

So why now?

A perfect storm of well-compensated young professionals who prefer city living, a diversification of businesses, population growth, a cadre of young chefs coming out of the city's best kitchens and national recognition have coalesced to turn D.C. into a dining destination.

The MICHELIN Guide first came to the city in 2016, and a galaxy of stars continue to shine on the area. Patrick O'Connell's Inn at Little Washington, which just celebrated its 40th anniversary, got three stars, and Robert Wiedmaier's Siren by RW and Ryan Ratino's Bresca received their first stars in the most recent edition of the guide.

Cured ocean trout at Bresca, which received its first Michelin star this year. (Photo by Rey Lopez.)
"Receiving the third Michelin star is the culmination of a life-long dream for me," says O'Connell, "but its significance goes beyond any one chef, restaurant or city."

"At last, the world's most trusted authority in gastronomy has acknowledged that the United States has finally arrived and taken its rightful place on the world's stage," O'Connell continues. "For the first time, Michelin has made it official—America now has restaurants that are on par with the greatest anywhere. As an American-born chef, I am immensely proud to have played a role in our country's culinary evolution."

Nevertheless, O'Connell's third star made D.C. chefs in particular stand a little taller and bask in the reflected glory.

"Michelin created a global awareness of D.C. as a culinary destination," says Wiedmaier. "It was huge for all the chefs. It's the highest award you can get, especially for guys who were trained in Europe. Now everybody here is dying to get stars."

"For me it was icing on the cake," he recalls. "I only wanted a Michelin star. It was the biggest joy of my career." Siren, his yearling seafood restaurant, got the star. Now his sights are set on earning not one but two stars for Marcel's, now in its 20th year. A nod from Michelin is particularly impactful in attracting international tourists. Wiedmaier was overwhelmed with requests when the news was announced but he made a business decision to hold the number steady at 80 reservations nightly to maintain quality.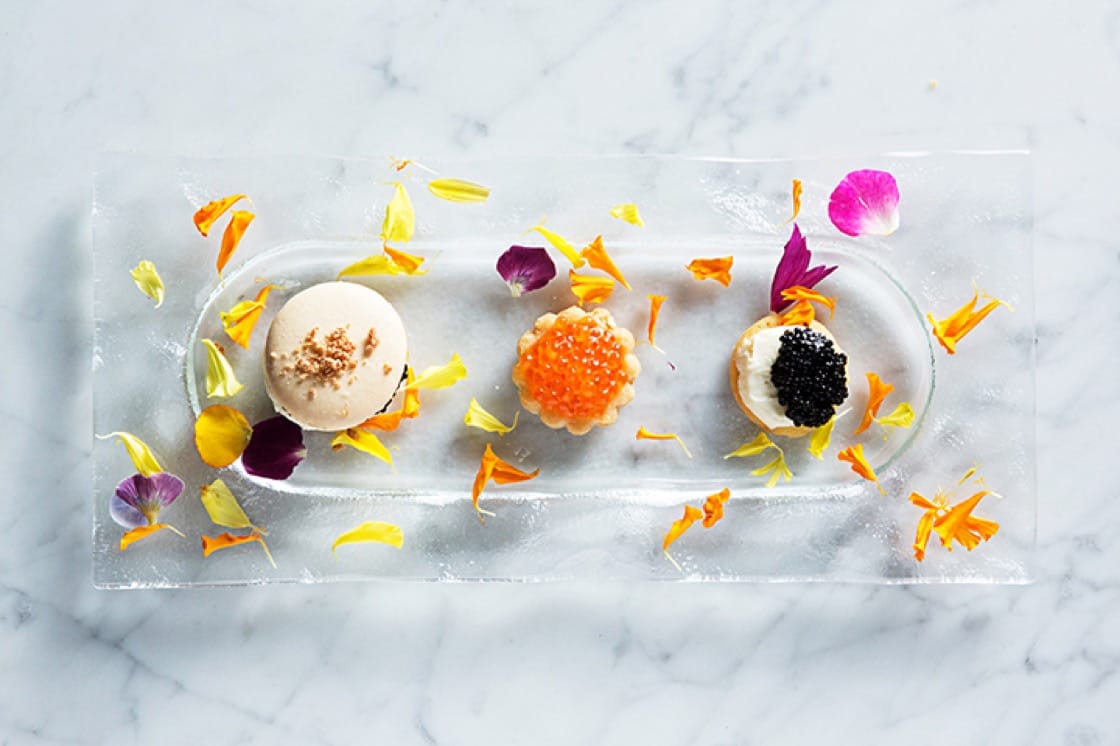 The caviar cookie trio at Siren by RW is a play on the "black & white," macarón and linzer cookies. (Photo by Scott Suchman.)
Washington Post food and dining editor Joe Yonan says a number of restaurateurs have mentioned to him that "Michelin recognized D.C. as a viable destination for something other than monuments and the seat of government." He also believes that the Obamas "brought a glamor to the restaurant scene as they were very public about where they ate."

In 2016, Bon Appétit named Washington, D.C. restaurant city of the year. This year it named the live-fire cooking Maydān, where spiced lamb shoulder with sumac onions shines, as one of the nation's best restaurants. It seems everybody loves a campfire: The James Beard Foundation and GQ also lauded Maydān, and it was designated a Bib Gourmand establishment in the MICHELIN Guide Washington, D.C. 2019 selection.

"A lot of things came together in D.C. in a very serendipitous way for the restaurant industry," says Maydān owner Rose Previte. "The Obamas came, millennials happened, the recession happened, the recessions ended and large-scale developments planned for years started to open, drawing people back into the city from the suburbs. Those developments also created cool spaces that made people want to move here from other cities. Almost overnight, D.C. finally became 'cool' and we got national attention. This made it safe for chefs from other cities to finally set up shop here."

You can trace the capital city's ascendance all the way back to Jean-Louis Palladin at the Watergate in the late 1970s. The energetic Frenchman's arrival had an almost messianic quality to it and he set in motion the now universal farm to table movement.

It was Jean-Louis Palladin—the youngest chef at the time to have two Michelin stars at La Table des Cordeliers in his native Condom, France—says uber chef Daniel Boulud, "who convinced so many suppliers to grow, harvest and fish for him. He was all about the ingredients and the quality of those ingredients. He was trying and succeeded in recreating the excellence of French cuisine in America." Boulud, who had briefly worked in D.C. before establishing his empire in New York, opened a branch of his DBGB Kitchen and Bar brasserie in Washington three years ago.

Palladin was also a mentor to Le Bernardin's Eric Ripert. "Jean-Louis Palladin was the first chef I worked for in the United States," says Ripert. "He was obsessed by the quality of local products and ingredients and developed incredible relationships with the source: farmers, fishermen, hunters, foragers."

Cookbook author and longtime Washingtonian Joan Nathan has similar recollections.

"When Jean-Louis first came to Washington, he was the IT chef. Chefs from all over came to see him and talk to him. At the time, even the chef in the White House was using dried herbs, not fresh. It was shocking to me. And then Jean-Louis came and he liked American ingredients, which French chefs had disdained. He liked our crab and our corn and local things like John Jamison's lamb, whatever the farmers would bring him. He even loved Jiffy cornbread." And if you've ever seen a diver scallop on a menu, you can blame Jean-Louis.

"To me, Washington has been, for a long time, a city with amazing chefs," points out José Andrés who has been a force of nature since he opened Café Atlantico and Jaleo in the now trendy Penn Quarter. "In the '80s and '90s, we had the rise of superstars like Nora Pouillon and Jean-Louis Palladin, as well as chefs like Alison Swope, Mary Richter, Ann Cashion and Ris Lacoste. They are the generation that educated and inspired the boom in chefs and restaurants today."

But as Wiedmaier points out: "We have transformed from a handful [of establishments] to now [having] a restaurant on every corner."

Jaleo has been a Penn Quarter mainstay for two decades. (Photo courtesy of ThinkFoodGroup.)
"This is happening all over the country," observes Nathan. "It just took us a little bit longer. Everybody's a foodie now. I was eating at Tail Up Goat last week and the couple next to us was asking us what our favorite restaurants are."

Indeed, the transformation took some time. Washington was once seen as a steak and potatoes kind of place. But now, says retail restaurant broker John Asadoorian, president and principal broker of Asadoorian Retail Solutions, "Washington is no longer just a sleepy government town. Jean-Louis was my first client and I've spent the last 35 years trying to convince people of the potential of Washington."

Some outside forces helped him. Other industries, most notably tech, brought in young professionals with money to spend and a desire to live in the city. Asadoorian calls it urbanization. "People are moving to the city because of the quality of life and one of the things that defines this are good places to eat."

The year 2008 was pivotal. While the financial crisis stopped most cities in their tracks, it was a boon for D.C. because of the stability of government jobs and the industries supporting government. "More people were coming to Washington because the government was growing and the economy was better here," says Asadoorian.

According to the D.C. Policy Center, "Liquor licenses for bars, clubs and restaurants in D.C. have increased by over 50 percent since 2008 and expanded the footprint of the District's nightlife, broadly in step with gentrification patterns."

"In 2008, D.C. had just over 800 bars, clubs and restaurants. In 2016, there were nearly 1,300. Over this general time span, the District population grew by over 100,000 (from 580,236 residents in 2008 to 681,170 in 2015) and its median income rose from $57,936 to $75,628. The influx of well-off professionals with money to spend led to a boom in the city's nightlife and restaurant scene."

St. Anselm opened in Washington D.C.'s Union Market neighborhood last month. (Photo courtesy of St. Anselm.)
The district has seen an influx of big names like Stephen Starr (Le Diplomate and St. Anselm), Michael Mina (Bourbon Steak), Michael White (Osteria Morini) and David Chang (Momofuku CCDC). Next spring Danny Meyer, who already dipped his toe in the water with Shake Shacks, will open a Union Square Café and Daily Provisions.

D.C. has welcomed chefs from other cities such as Succotash's Brooklyn-born Edward Lee who made his chops in Louisville.

"There is both a pedigreed history of fine dining and a new wave of young risk-taking chefs," says Lee. "That creates a really exciting energy that's rare to find in big cities."

The city has seen chefs who were trained in the kitchens of local top toques such as Patrick O'Connell and José Andrés set up shop on their own.

Some chefs like Fabio Trabocchi (of Michelin starred Fiola and Del Mar) and Aaron Silverman (of two-star Pineapple and Pearls and one-star Rose's Luxury) left town for a while and then came back.

"This is my home," says Silverman. "I wanted to live here and make it a better place to dine."

Pastry chef Christina Tosi, one of Fortune's 40 under 40, made her mark in New York and maintains her base there but she has opened three Milk Bars in D.C. "I grew up outside of D.C. but it didn't have the infrastructure of food community when I graduated from college so I moved to New York," she explains. But now she can bring her talents back home and is proud of providing jobs with an R&D kitchen and a classroom at the flagship store.

The Dabney's Jeremiah Langhorne has Mid-Atlantic roots but honed his skills with Sean Brock at McCrady's in Charleston before coming home.

"The quantity and variety of restaurants opening here over the past few years has been remarkable," says Langhorne.

Admittedly, not every aspiring chef or restaurateur succeeded.

"Everybody who has a closet full of Edison light bulbs and reclaimed wood thinks they can open a restaurant," Asadoorian quipped "but it's not that simple."

But on the positive side, the cost of doing business is less in D.C. than in New York, the competition is less cutthroat and there's a growing young customer base eager to be fed pickled fennel and turmeric aioli. In the words of Asadoorian, "you can still make some noise here."

Hero image by Rey Lopez.