In a day and age when even great restaurants come and go as quickly as you can say "rent hike," lasting four decades—much less spending the majority of those years atop a throne of accolades and best-of lists, including maintaining three Michelin stars since the San Francisco Guide's launch in 2007—is no piece of cake. But that's exactly what Yountville's The French Laundry, which celebrated this landmark birthday back in February, has done, most prominently under the tutelage of chef Thomas Keller.

It was chef Jonathan Waxman, then running Table 29 in Napa Valley, who tipped Keller off about the relatively unknown restaurant. Before Keller took over as chef/proprietor in 1994, Don (then town mayor) and Sally Schmitt opened the doors to The French Laundry—once a French steam laundry—in 1978 as a family-operated spot open four days a week for Napa Valley locals and visitors alike to get a good meal—when they could. "Back then people still struggled to get in," says Keller.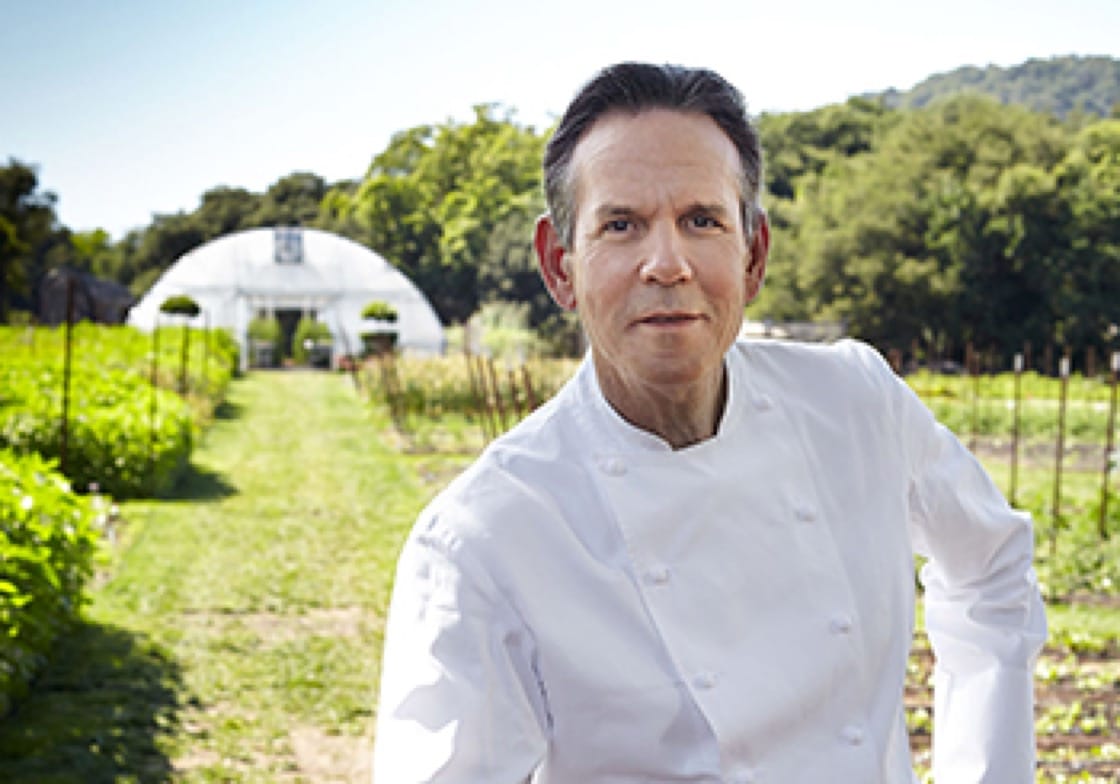 "Napa is unique in the way that it attracts visitors who come for the food and wine—and no other purpose than that. When Don and Sally [Schmitt] started the restaurant, Napa Valley was a bit unknown. The Schmitts realized there was a great opportunity." And it was an opportunity Keller seized upon, too.

Not that the journey from local to legendary was without its share of snags along the way, starting on night one: "The worst night we ever had was opening night. I hadn't cooked for two years. There were four of us in the kitchen. We didn't own a sauté pan; we cooked everything in sauce pots." It was a night one of Keller's chefs likened to the sinking of the Titanic.

But Keller—no stranger to challenge—was up for it. "When I lost [NYC restaurant] Rakel, I was lost for three and a half years. It was a true struggle. Don't ever let anyone tell you can't do something." But just as Keller found his way back into the kitchen after the East Coast setback, the next day The French Laundry team returned with the right pans and a new menu.

"One of the most important things we did was change our menu every day," says Keller. Gone were the days of a simple, 4-course menu (then just $47). Instead, Keller ushered in a tasting menu in the mid-'90s designed so that no one ingredient appeared more than once. "We were in the restaurant until 3 a.m. writing menus for the next day. We were very ambitious. Ambition still drives us."

Photo by Michael Grimm.
The turning point for the restaurant, Keller says, was a write-up in the San Francisco Chronicle from social columnist Herb Caen in 1995:

"Last Sat. night, I finally got into The French Laundry in Yountville. Don't laugh. All of a sudden this small (62-seat) restaurant in the gray stone house on the main drag is the toughest culinary ticket in the Bay Area. "I put myself in your hands," I said compliantly to the chef-owner, Thomas Keller, whereupon the most amazing assortment of dishes emerged from the tiny kitchen with one stove, three aides (Ron Siegel and Kristina and Stephen Dufsel) and two dishwashers."
"Everybody who read the Chronicle read Herb Caen. It was an extraordinary moment for us. It enlightened everyone in the Bay Area about The French Laundry. His reach was universal."

Living up to the hype created by Caen and others in the following years is something Keller credits to the team around him. After all, it's the people that matter most. "The teams that have been through this restaurant have been extraordinary. You give people the opportunity to take initiative, to succeed and fail, and you're surprised what comes out."

And no one has been more important to the success of The French Laundry—or Keller—than Laura Cunningham, Vice President of Branding and Creative Development for the Thomas Keller Restaurant Group. "Laura is The French Laundry. She is an extraordinary woman. She's the one that really defined the service, the attitude that is The French Laundry. That generosity and graciousness." Cunningham has been with Keller since the opening of The French Laundry and during the initial opening phase of NYC's Per Se, and was in charge of hiring and training dining room personnel as well as establishing its service procedures. Since then, she has also aided in the opening of each Bouchon Bistro and Bouchon Bakery property, Ad Hoc, and, soon, The Surf Club Restaurant in Miami.

"Chef Keller is one of these people who has a real talent at building teams and forging relationships with people," says Diane St. Clair, farmer and butter maker at Animal Farm dairy, the smallest licensed creamery in Vermont, and one of Keller's most trusted purveyors. Her butter is just one example of the care The French Laundry puts into sourcing the finest ingredients. "It's great to go there and see how the butter is presented, and the care everybody there gives to the food, and the deep appreciation they have for the ingredients and the people who supply them with those ingredients. It's a very moving experience," says St. Clair.

With a strong team by his side, Keller has managed to keep things fresh by balancing a rotation of new and hyper-seasonal dishes with old favorites such as his salmon cornet with sweet red onion and crème fraîche, which was inspired—a word Keller does not take lightly—by none other than a trip to Baskin Robbins, of all places.

"I'm influenced by a lot of things but not inspired. Inspiration is not the same as influence. True inspiration happens infrequently."
Photo by Michael Grimm.
There's also the Oysters and Pearls, a sabayon of pearl tapioca with Island Creek oysters and Regiis Ova caviar, and the Coffee and Doughnuts for dessert. Keller equates a meal without these dishes to going "to a Rolling Stones concert and they don't play 'Satisfaction'—you have a responsibility to the fans," Keller says.

In that sense, Keller has been the lead singer of a band that's been around almost as long as the Stones themselves. "Day to day it's like watching your child grow. You see them every day and one day they're an adult," says Keller.

Forty years later, The French Laundry is truly hall-of-fame worthy. It's a place that "felt just as special then as it does now, even though it's not this tiny restaurant anymore," says St.Clair.

Hero image by Michael Grimm.
Portrait of chef Keller by Deborah Jones.