Whether you're eating sushi or a grilled cheese sandwich, sake, also referred to as Japanese rice wine, is an elegant alternative to the glass of wine you might have ordered. And with so many different flavor profiles, finishes, and textures, we asked four beverage directors and one sake enthusiast at Wine Access the what, why, and how of pairing. Below, we share their insights and what sakes they're serving. Kanpai!
Eduardo Dingler, VP at Wine Access, has two favorites: "For Imayotsukasa BLACK, Junmai Niigata, which offers savory notes and precision, [an] ideal pairing is a grilled Tomahawk steak on the rare side with only salt and pepper." The second is Takachiyo 59 Miyamanishiki Junmai Ginjo Nama, and Dingler proclaims, "you have to be dead not to enjoy this one. [It's] bright and full of energy [and] an ideal pairing for scallop crudo or uni carbonara."
Takachiyo 59 Miyamanishiki Junmai Ginjo Nama and Imayotsukasa BLACK, Junmai Niigata © Wine Access
Ian Cobb, GM/somm, Nisei in San Francisco
"At Nisei we have both a wine pairing and a sake pairing, and I approach both in the exact same way: the perfect pairing is when you cannot tell where the food stops and the sake begins.

There are so many sakes with a variety of of rice, yeast, and brewing styles. [We have] familiar high rice polish sakes such as Junmai Daiginjo's on our list, [but] I try to find sakes with unique brewing methods such as Yamahai's, Kijoshu's, and Bodaimoto's, to name a few, which can lend themselves to flavors of umami, earth, and high levels of lactic acid. I try to have a sake for every dish or section of the menu that we have currently, and as we grow the list I try to find sakes that would pair with dishes in the future."
Ian's favorite sakes
"The first is for our fried squab with black curry and chanterelle mushrooms. I love to pair the Mana 1751 'True Vision' from Fukui. This sake is a Yamahai, which means they are essentially allowing spontaneous fermentation from ambient yeast—think IPA vs kager. You get savory and umami-rich compounds which spring out and compliment the earthy flavors of the mushroom and the savory fried goodness of the squab.
The Kawatsuru, 'Olive,' from Kagawa is the only sake in the world to use olive yeast to ferment, as the area of Kagawa is known for its olive production. While the yeast does not make it taste exactly like an olive, is has a freshness of honeydew melon and salinity, which is why we pair it with our matsutake mushroom with crab and winter melon. The brewery is located on the island of Shikoku, and the saline-driven air gives it the acidity and saltiness of an Albariño [grape] from Rias Baixas. It's a Junmai Ginjo sake, so enough fats and proteins have been polished away to have a floral cleanness. I find that sakes brewed on the coast have a lovely salinity that pairs well with our seafood forward menu."

Nisei GM/sommelier Ian Cobb © Brianna Danner/Nisei
Iori Kataoka, sake specialist/co-owner, Yuwa in Vancouver
"We aim to provide our guests a tailored list of exceptional nihonshu (sake) from both traditional and innovative sake breweries that exude qualities that complement and enhance our menu. We approach our sake selection the same way that we do our wine: we take into consideration the aroma, taste, body, and regionality of each sake, but also look for unique selections to pique the curiosities of our guests.
We offer various styles of sake—from the Junmai's and Honjozo's to Ginjo's and Daiginjo's—in an effort to offer different flavors and expand our guests' knowledge and interest in sake as an alternative to wine."

Iori's favorite sakes
"Tengumai Yamahai Junmai has a richer and drier profile and is extremely versatile; you can enjoy it hot or cold. I love to pair it with mushroom and meat dishes, such as our shiitake nikuzume (chicken-stuffed shiitake mushrooms) or our red wine miso stew. It also goes well with richer seafoods such as ankimo (monkfish liver) which I like with hot sake. The acidity of Tengumai Yamahai Junmai aids in cutting through the richness of the dish without compromising umami; you can also enjoy this sake with heavier dishes such as schnitzel, or even with cheeses and cured meats."

"For people who enjoy something lighter, Daiginjo like Kaze no Mori Junmai Daiginjo Alpha type 3 is elegant and refreshing. This fruity and refreshing sake is best enjoyed chilled, and I like to pair it with lighter seafood or vegetable dishes such as our hirame usuzukuri (thinly sliced flounder) and local oysters (not to mention our sashimi and nigiri selection). You can also enjoy this sake with lighter Western seafood dishes such as poached cod. It also may be interesting to enjoy such a Daiginjo as an aperitif before dinner with some caviar, as it is lightly effervescent."

Tengumai Yamahai Junmai © Yuwa
"The first thing I always consider when selecting sake for our list is drinkability — does the sake have enough balance to stand on its own?"
Emmeline Zhao, GM and sommelier, Silver Apricot in New York
"Our beverage program at Silver Apricot is 100% domestic, highlighting American producers—many of whom, like us, are women, immigrants, or first-generation children of immigrants. There aren't nearly as many sake breweries in the US as there are wine producers, but their ranks are growing and they are making some incredible American sake.
The first thing I always consider when selecting sake for our list is drinkability—does the sake have enough balance to stand on its own? I always look for food-friendly wines, but you can't control what people eat, if at all, with the beverage they order. I pretty much always have food with sake, because I lean toward items with a lot of acid and brightness, which balances the oft-richness of sake.

While every sake is different—as a result of type, style, brewer, rice, water, etc—sake overall has substantially less perceivable tartaric acidity than wine, but significantly more succinic acid, one of the acids responsible for umami. The lactic acid produced from fermentation also gives it a luscious creaminess and texture. A really great sake isn't unlike a really great dirty martini — there's salinity, viscosity, floral qualities, and a hint of sweetness. It tends to pair well with things that are higher in acid, as well as things that are umami-rich and/or lactic.

Emmeline's favorite sakes
A sake-food pairing I love right now is Brooklyn Kura's BYx Yamahai and our Peking grilled cheese, which is two slices of flaky pancake sandwiching duck confit, ginger-apricot duck sauce, Asian pear, and caramelized cheese curds. The BYx is Brooklyn Kura's take on the classic Yamahai sake brewing method, in which sake is allowed to develop its lactic acid naturally over the course of a few weeks, rather than manually inoculating lactic acid. This bottling is bold and a little wild, with surprising acidity that cuts through the richness of the grilled cheese, but also with slight, deeper notes of five spice and lifted tropical flavors of banana and lychee, which are just begging to be friends with the duck and orchard fruit in the dish.
Silver Apricot GM and sommelier Emmeline Zhao © StarChefs/Silver Apricot
Jennifer Bañagale, chef/co-owner, Kadence in Orlando
"We actually made a point of only serving sake and beer (no wine or liquor) in our restaurant, to influence more people to try sake and help them learn more about it.
In selecting the sake for our menu, I like to choose a wide range of flavors and styles to be able to cater to the palate of our guests; even if they think they don't like sake, I'm able to find at least one they can enjoy. [And], as our menu changes a little bit very day, I need a wide range on hand to be able to match the dishes we have at the moment."

Jennifer's favorite sakes
"One of my favorite pairings is Fukucho Forgotten Fortune from Hiroshima (prefecture with the most oyster beds in Japan) with oysters and shellfish dishes. The sake uses an heirloom rice that had gone extinct; Miho Imada, their female brewer, who has twice come to our restaurant now for our sake event, spent many years recultivating and bringing it back to life, hence the name "forgotten fortune"
With a sashimi course, I like to serve Kirinzan Junmai Ginjo or Daiginjo from Niigata. Known as snow country, sake from this region tends to be very clean, light and dry. The fresh melted snow provides a pristine water just perfect for sake brewing. I look for a clean and dryer style to go with sashimi so as to complement and not overpower the flavors of the fish; the [sake's] dryness helps to cleanse the palate."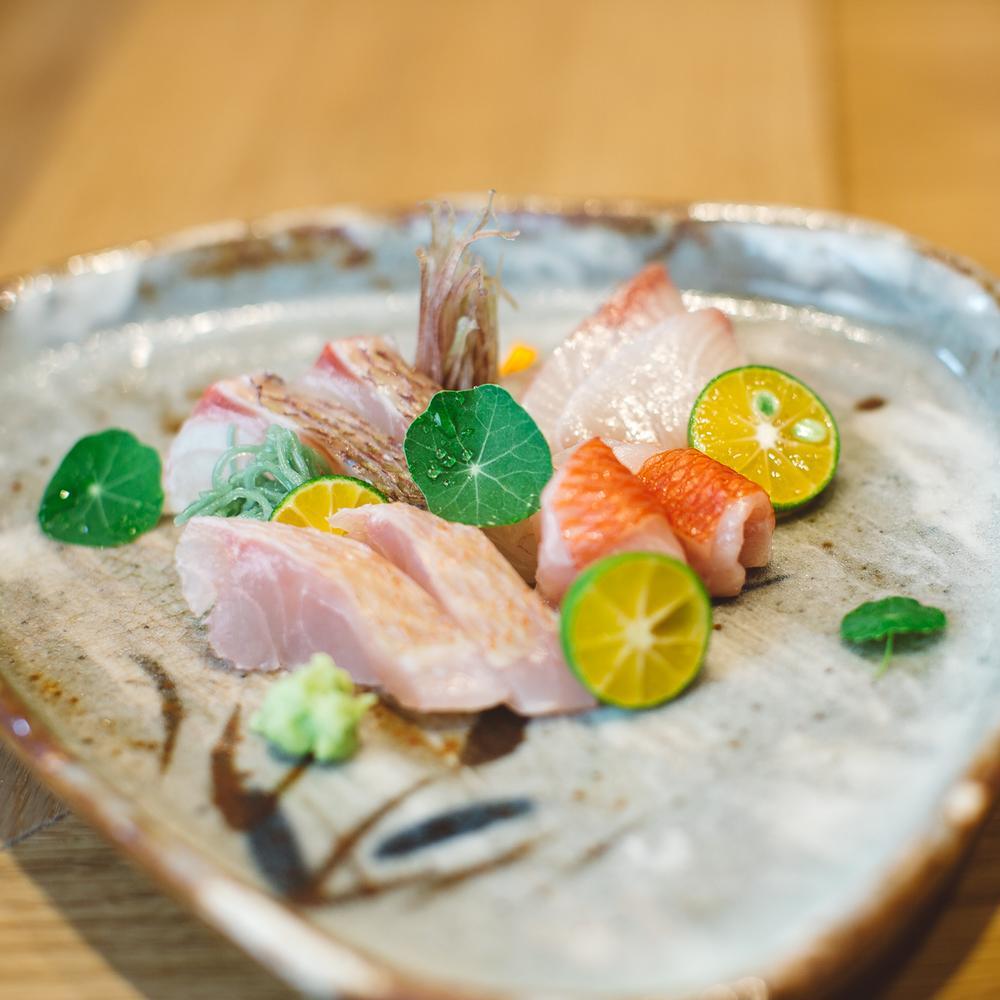 Kadence's sashimi © Michael Mitra/Kadence
Hero image: Nisei's grilled eel, eel tare, fried eel bones, furikake rice, grated daikon, tsukemono paired with sake
© Brianna Danner/Nisei