Chef Jean-Georges Vongerichten is known for a great many things: always being dressed in crisp chefs' whites, delivering classic French technique with a smattering of Asian influences, and having the ability to bring out the best possible flavor of any produce he gets his hands on.

Ruth Reichl made note of it in her glowing New York Times review shortly after Vongerichten opened his eponymous fine-dining restaurant on Central Park West, telling tales of a bowl of purple chives that would act as a vehicle for young garlic soup, and tender asparagus that was dressed with creamed morels. "Mr. Vongerichten is at the top of his form," she said. "He introduced simplicity to four-star cooking at Restaurant Lafayette (now closed), intensifying flavors by using vegetable juices and broths in place of butter and cream." She gave the restaurant four stars right out the gate.

Throughout his storied career at his platoon of restaurants under his global umbrella, vegetables have unapologetically stood in the limelight. Wild mushroom and coconut soup makes a welcome start to dinner at Perry Street (NYC) while fresh tagliatelle gets tossed with sautéed Brussels sprouts and basil-pistachio pesto at Market (Paris). And then there's abcV in New York City's Flatiron District, Vongerichten's strictly plant-based restaurant that even doles out an array of cold-pressed juices.

And late this summer, the Alsatian-born chef now champions an entirely vegetarian tasting menu at his two-MICHELIN-starred eponymous fine-dining haven on Central Park West. Vongerichten says the idea started a decade ago when he launched ABC Kitchen (also located in Flatiron). "I was always forward with vegetables," he says. "I was always doing vegetable juices at Lafayette in '86. And then we opened JoJo. And when I opened ABC Kitchen, we're a half a block away from the Union Square Greenmarket. And [then ABCv] came three years ago, I think by popular demand."

Vongerichten states this "plant movement" seen in recent years has led to a surge in vegetarian and/or vegan diners; some 20 to 25 percent of his customers ask for vegan or vegetarian options per night. So when time came for a kitchen overhaul at Jean-Georges, the formula was changed to offering an omnivore and vegetarian tasting menu, four or six courses at lunch and six or 10 courses at dinner. During the late months of summer, diners were treated to corn ravioli with cherry tomato salad and summer vegetable minestrone. Now in the midst of fall, the menu has shifted, with plates like warm mushroom salad with herbal pine nut dressing and Romanesco cauliflower with green curry taking centerstage.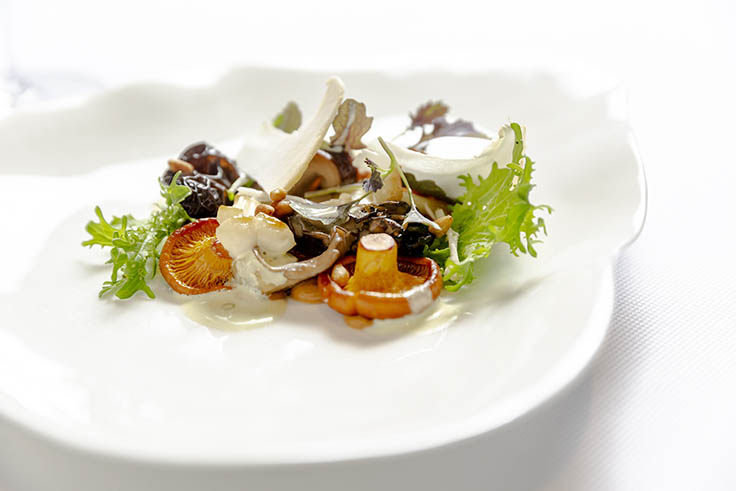 Foraged mushrooms, mustard frills and pine nut emulsion. (Photo by Mark Abramson.)
The creative process for the Jean-Georges team is simple: follow the seasons. "I feel like the food groups are kind of limited," he says. "If you think about it, with meat you have veal, beef, pork, lam, vison and game. When you look at vegetables, herbs and plants, there's thousands of them. And it's the same with seafood. It keeps your mind in motion." As we gear up towards the colder months, the chef and team will turn to pickling—a Vongerichten favorite. "Pickled cabbage is my life," he adds. "I'm a big fan of celeriac and cauliflower, beets, potatoes . . . in Alsace as well, we do a rutabaga with salt and a little vinegar, and then braise it." Vongerichten is also looking forward to working with greens, chestnuts, and berries, like huckleberries and pomegranates, during the winter months. And yet taking another nod from abcV, a juice pairing will be implemented at Jean-Georges in the near future.

Of this plant movement, Vongerichten says it's an exciting time for the dining scene, casual and upscale alike. "I feel like we're going back to Native American times—lots of medicine [came] from plants or herbs or extracts," he adds. "I really believe that food [acts] as medicine, and that's a good model to go with."

Hero image by Mark Abramson.