A secret dish of Stuffed Crab Shell at three-MICHELIN-Starred restaurant Le Palais. (Photo: Ming Ling Hsieh)
Le Palais: Stuffed Crab Shell

At three-MICHELIN-starred Le Palais, the off-menu special by executive chef Matt Chen is surprisingly a dish that is ubiquitous at other Cantonese restaurants: Stuffed Crab Shell. A dish that goes back decades, it is thought to be one of the first Chinese fusion creations featuring Western elements. A mixture of fresh crab meat, onion, and cream sauce is stuffed back into the carapace, covered in breadcrumbs then deep-fried to create this iconic dish.

This is a dish often ordered by L'Hotel de Chine Group chairwoman Koo Huai-ju when she visits with family. Two kinds of crab meat are used: Alaskan king crab and mud crab, combined with minced Chinese ham for an extra layer of umami. The mixture is stuffed into the shell of small spanner crabs, chosen for its size such that the portions are not overwhelming, and then baked instead of fried. Why would such a delicacy not be spotlighted on the menu? Chen explains that live Alaskan king crabs are expensive and prices fluctuate so much that the cost of such a dish is difficult to estimate, and so only available on special request from those in the know.

Ya Ge: Osmanthus Fish Maw

The secret menu dish at one-MICHELIN-starred Ya Ge is Osmanthus Fish Maw, evolved from the traditional dish of Osmanthus Shark's Fin. Osmanthus Shark's Fin is made by scrambling eggs with shredded shark's fin so that the yellow pieces of egg resemble osmanthus petals. As more diners began to eschew shark's fin for sustainability reasons, it was replaced with shredded fish maw instead.

Yet, the true value of Ya Ge's rendition does not lie in the premium fish maw, but in the osmanthus eggs, says executive chef Tommy Cheung. The most technically challenging part of the dish is frying the eggs so that they "bloom" into light, fluffy pieces. "The eggs are slowly cooked over a small flame for about 10 minutes," he explains. "A novice cook might feel his hands ache from the continuous stirring. The eggs are cooked until they break into pieces like the petals of an osmanthus, and the pieces should be of uniform size, neither oily nor burnt, with an eggy fragrance."

Cheung got his start in the kitchen in his early 20s at Macau's famed Wing Lei Palace, where he first learned to cook this dish, and it is only now, almost 20 years later, that he would call himself competent in its execution. And that is the reason why Osmanthus Fish Maw is not on Ya Ge's menu, as Cheung will only cook and serve it personally at the restaurant to maintain its standard.

The off-menu dish of Fried Tiger's Tail at 1 Star Tien Hsiang Lo. (Photo: Chen Jingyi)
Tien Hsiang Lo: Fried Tiger's Tail

There are more than 70 items on the menu at one-MICHELIN-starred Tien Hsiang Lo, but executive chef Yang Kuang Tsung has more tricks up his sleeve. His recent off-menu item is Fried Tiger's Tail, so named because of the striped tail of the rice paddy eel that features in the dish.

Many of the more famous eel dishes from the regions of Jiangsu and Zhejiang utilize only the front halves of eels, and in the spirit of zero-waste cooking, the chef turned the unused portion of the eels into a delicious creation served specially to regulars.

Only fresh, chilled eel is used at Tien Hsiang Lo, so that the flesh is tender but does not disintegrate; meaty but delicate, with its bones intact. The sauce is rich with the aromas of Sichuan peppercorn and hua diao wine, in which the eel is stir-fried in. Because the dish is of Huaiyang origins and not Hangzhou cuisine, which the restaurant is known for, it is not on the menu, but a must-order for regulars in the know.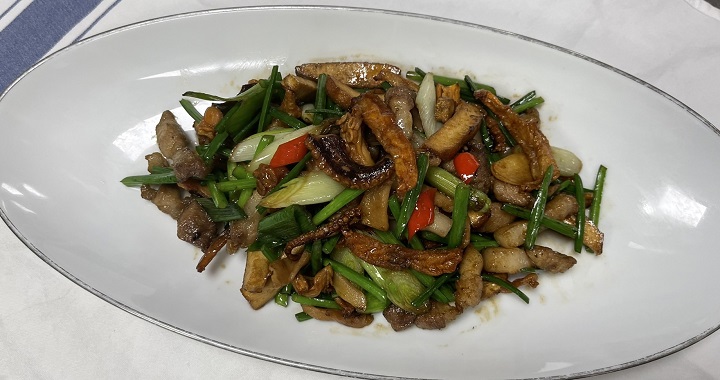 Spicy Stir-fry is one of the secret dishes found in one-MICHELIN-Starred Mipon. (Photo: Mipon)
Mipon: Spicy Stir-fry

At one-MICHELIN-starred Mipon, head chef Chen Yong Hua's off-menu secret dish that only regulars know about is the humble Spicy Stir-fry. The flavorful Hakka cuisine dish's homely appearance belies the quality of ingredients in it: grilled Tainan shrimps, Penghu dried scallops, organic beancurd, black pork belly from Yunlin, chive flowers, Chiayi preserved cabbage, and Yilan garlic sprouts are stir-fried with garlic and peppers until fragrant and aromatic, absolutely moreish with bowls of white rice and as a savory accompaniment with alcohol.

"We have regulars that come so often to entertain their guests that what's on the menu can no longer satisfy them, so we come up with specials to surprise them," explains Chen. "Although this dish is not complicated and can be served quickly, the ingredients change according to what's in season, so we cannot list it permanently on the menu."

On Silks House's secret menu: Shuangdong Lamb Belly (Photo: Chen Jingyi)
Silks House: Claypot Shuangdong Lamb Belly

A must-order off-menu dish for SHG chairman and restaurant owner Steven Pan at Silks House, newly listed in the MICHELIN Guide Taipei Taichung 2021, is the Claypot Shuangdong Lamb Belly. Claypot lamb is a common dish and usually uses frozen imported lamb ribs on bone, says executive chef Wo Hoi-ming. "Lamb ribs look hearty, but once you remove the bone, you're left with a third of the meat, and it's just not as easy to eat."

For his dish, the chef selects the deboned belly meat of locally weaned lamb from the Chiayi region and cooks it with winter bamboo shoots, shiitake mushrooms, yuba, water chestnuts, and other ingredients. The sauce is flavored with two types of fermented beancurd (nan ru and fu ru), oyster sauce, and chu hou paste (fermented soybean sauce with garlic, ginger, and sesame seeds), and the dish arrives at the table piping hot and fragrant, revealing tender lamb meat in a rich stew with no gamey flavors. Portions are limited and the cost fluctuating, and so the dish has been squirrelled away in a hidden menu.

Shang Palace: Stewed Chicken Soup With Bamboo Pith And Fish Maw

The secret dish at MICHELIN-listed Shang Palace was also created specially for its owner, Douglas Hsu, chairman and CEO of the Far Eastern Group, who enjoys having hot soup with his meals. Once executive chef Victor Ho receives a reservation from Hsu's secretary, he sets about to work brewing the Stewed Chicken Soup with Bamboo Pith and Fish Maw. Wholesome and nourishing, the soup, which contains fish maw, bamboo piths, whelk, Napa cabbage, goji berries, chicken, dried scallops, and superior stock, takes about two hours to prepare.

Costing upwards of NT$1500 (around US$54) per bowl, the soup is a luxury that few will order, and so it remains a secret dish that only makes an appearance when the chef personally brings it out.

This article was written by Chen Ching-yi and translated by Rachel Tan. The original article can be viewed here.