When it comes to dining destinations in Southeast Asia, Bangkok is right up there with the likes of Singapore, Hong Kong and Japan. Loved for its wide array of street food offerings and bold spicy flavors, the capital city of Thailand has also, in recent years, become home to many top chefs from around the world.
"Bangkok is a bubbling and delicious cauldron," says David Thompson, chef/owner of Nahm. "You have local Thai chefs who worked everywhere in the world. Then there are westerners who want to escape to Thailand. There's a buzz, an energy about it all coming together."
And after December 6, the vibrant city had its very first MICHELIN Guide. The prestigious red book has graced southeast Asian cities such as Hong Kong and Singapore, and is now setting the Thai food scene abuzz, shining a special spotlight on local chefs.
"If I say I'm not excited about the MICHELIN Guide launching in Bangkok, it would be a lie," says chef Thitid Tassanakajohn—aka, Ton—of Le Du and Baan, two exciting restaurants in Bangkok. "There is a buzz among chefs here now. You know, some chefs, they like the idea—some don't—but everyone is excited. Every chef, no matter what their opinion is, would not say no to a star. Everyone, deep inside, would want it."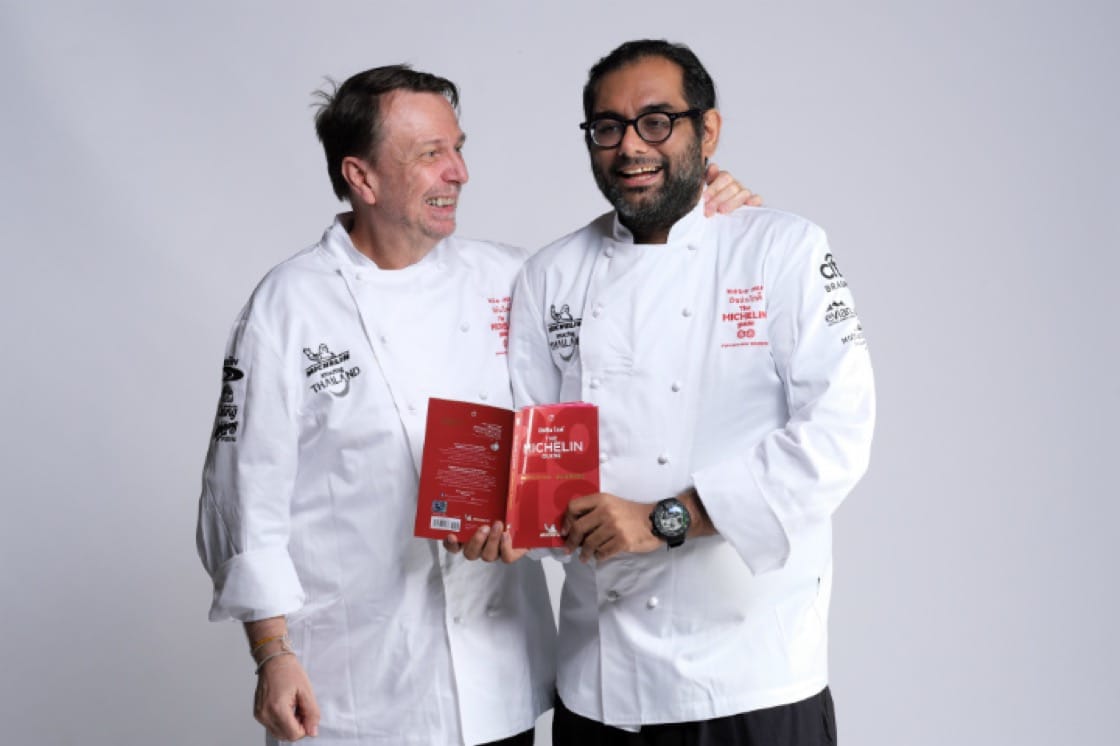 "Michelin will bring to light all these heroes of unsung songs, unsung music—chefs and restaurants who were not noticed will suddenly come into the light."
- Chef Gaggan Anand from Two Michelin Star Restaurant Gaggan
Bangkok is no stranger to awards: San Pellegrino's 50 Best list, for instance, has helped put restaurants such as Nahm, Gaggan, Restaurant Suhring and Le Du on the international map.
"Dining awards in Bangkok really started to bloom not so long ago. We remember when we arrived 10 years ago, there wasn't that many," says Mathias Suhring, co-founder of Restaurant Suhring with his twin brother Thomas. "It grants restaurants an exposure that helps them to evolve with the city. And it contributes to the competitive spirit that makes restaurants strive to be better each year."
"The MICHELIN Guide has always been a trusty restaurant recommendation for travelers since 1900," says Suhring. "We hope that Michelin will look for restaurants that contribute to the diversity of the Bangkok culinary scene as we think it is one of the strengths of this city."
For Gaggan Anand, chef/owner of his eponymous restaurant, he believes that the launch of Bangkok's first MICHELIN Guide is more stressful for the inspectors and the red book rather than himself.
"If I was a new restaurateur and a younger, more ambitious chef, I would be very, very nervous. The stress is on the Michelin side, not mine—if they [don't] come up with a fair list, they'll be judged," he says.
One thing all chefs hope for, though, is that the inspectors will base their selection on an in-depth recognition of Asian culture.
The arrival of the 2018 MICHELIN Guide Bangkok is also set to shine the spotlight on Bangkok's growing fine dining scene, which has only recently started to blossom.
"People now are more open to fine dining. Not just locals, but tourists are also more willing to come to Bangkok and eat in restaurants rather than just street food," says chef Ton. "Now, when I tell diners that a fish is from a local fisherman from a certain region, they get excited. Before, it would be: "Do you have salmon?"
"I think with the MICHELIN Guide, more chefs will dare to open their own restaurants, rather than working for other people, because now they know there's recognition and there's a higher chance of survival," Ton continues.
Gaggan sums it up eloquently: "Michelin will bring to light all these heroes of unsung songs, unsung music—chefs and restaurants who were not noticed will suddenly come into the light."