A small province in the southeastern part of Thailand, Ranong is rich with mineral resources with both land and marine national parks where tourists can enjoy exploring the mountains and learn about sea life in one visit. These valuable natural resources have helped Ranong gain popularity among visitors over the years. Whether you are looking to indulge in diving and snorkelling, cruising among the mangrove forests, unwinding next to the waterfalls, or enjoying a soak in the hot spring, Ranong has got you covered.
Enchanting Andaman. Indulge in the Peranakan Flavours.
The name Ranong is derived from "Rae Nong", which means "filled with minerals" in Thai - a name which reflects the province's abundance of natural hot springs. The most popular hot spring in Ranong is the Raksa Warin Public Park, which was the very first hot spring to be discovered in Ranong. It is acclaimed as a popular health tourism spot in the South of Thailand thanks to its pure, sulphur-free hot spring water. At 65 degrees Celsius, visitors may enjoy the hot spring by taking a full dip or indulge in a foot spa. Another attraction is 'The Healthy Park', where the hot cement surface placed over the current of the hot spring makes for the perfect spot for hot yoga, or even just laying down to stimulate one's blood circulation and muscle rejuvenation.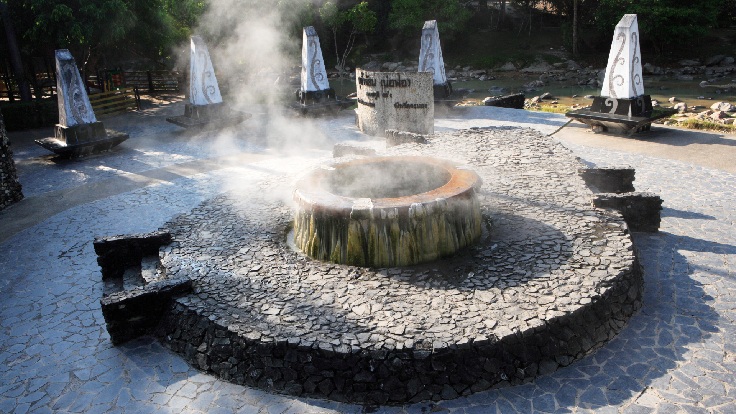 Raksa Warin Public Park
With a rich geography of minerals, mining has always been a major profession of the locals. Back in the days, the miners mainly consisted of Chinese workers who emigrated from Mainland China. The first Governor of Ranong, Kho Su Chiang, who was a Hokkien-Chinese, was later appointed as Phraya Damrongsucharit Mahison Phakdi, or Chang Wang Mueang Ranong, and was the first ancestor of the 'Na Ranong' Family. The city's Chinese heritage is also reflected in the city's beliefs, traditions and cuisine. Dishes; such as, Yao Ye and Chun Piah are good examples of the acculturation between the Malaysian and Hokkien-Chinese, i.e., the Peranakan culture.

Yao Ye, the oldest local healthy snack of Ranong, can be traced back to its Hokkien-Chinese origin. The ingredients of this Spicy Water Spinach Salad may vary according to each family's recipe, with some adding meat and some using only fried tofu with hard-boiled egg. The key ingredient of Yao Ye is blanched water spinach (Phak Bung Luak). Some restaurants may add quick boiled shrimp and/or squid with sliced fried dough stick and dried shrimp tempura before topping with a special salty, sour, sweet and spicy sauce. Yao Ye can be considered a healthy menu thanks to its combination of the 5 major food groups. More importantly, this is a must-try dish as one will get to enjoy the full flavour of the fresh seafood while tasting the flavours of Chinese culinary culture in one bite.

Another Hokkien derived menu is Chun Piah, whose appearance resembles the popular fried Hoi Cho (deep-fried crab meat roll). Chun Piah is deep-fried soft bean curd sheet (or tofu skin) with a savoury filling. In the past, pig entrails were used instead of the soft bean curd sheets. The filling comprises minced pork, liver, and crab meat, which are seasoned and mixed well until they can be shaped into a roll. The filling is then wrapped with the prepared soft bean curd sheet and fried till golden brown before serving with sweet and sour sauce. Those visiting Ranong should try and see the difference between Chun Piah and Hoi Cho, as both are deliciously crispy and flavourful in their own unique ways. Both Chun Piah and Hoi Cha are made of succulent shrimp, crab meat and squid, as Ranong is located next to the stunning Andaman Sea, which is a wonderful source for fresh seafood. Aside from juicy seafood, Ranong boasts beautiful beaches and shores that should not be missed.

Visit Ko Phayam, which is said to be a paradise for sea lovers. A charming island with fine, white sand and a clear blue sea, with beautiful coral reefs, visitors can enjoy diving into the azure water or lounging peacefully on the beach. It is also home of the Moken, a group of ancient seafaring people who have roamed the Andaman Sea for thousands of years. Today, the Mokens make their living from guiding tourists around the national parks for snorkelling and sightseeing activities, though some also work as fishmongers. The highlight of Ko Phayam is at Ao Yai, a 4-kilometre-long stretch of soft sandy beach with a unique two-tone, yellowish grey beach. For those who prefer quieter beaches, a visit to Ao Mae Mai, Ao Kwang Pip, Laem Hin and Ao Muk, or a stroll along the 2-kilometre-long beach of Khao Kwai Beach (Buffalo Bay) will offer an unwinding experience. The two-tone sand here is pinkish white from the shells of Hoi Taptim or Button Tops (sea snail species), which are scattered across the beach. The island also features Hin Thalu, a small hill where the end has corroded into an open hollow.

Ko Phayam
Aside from the stunning blue sea and white sandy beaches, Ko Phayam is also known for Kayu or cashew nuts. The distinct sweet and crunchy taste of Ranong's Kayu is known as Kayu Wan or Sweet Cashew. Roasted and peeled cashew nuts are one of the important products of Ranong. It can be used in various menus and boasts a lot of medicinal properties. For the people of Ranong, Kayu Leaf, especially its young leaf, or Yot, is also eaten as a vegetable. Yam Yot Kayu or Spicy Young Kayu Leaves Salad is one of the ancient menus that is still served today. This menu employs Ranong's top three products in one dish: Kayu (cashew leaf), Kapi (shrimp paste) and sun-dried shrimp. The salty shrimp paste and crunchy dried shrimps are balanced with the slight harsh taste of the young leaf, while the creamy roasted coconut and the zesty tamarind paste add more depth. Ranong's shrimp paste is one of the best in Thailand, as it provides good quality Koei (a type of small shrimp), which are used to make Kapi, or shrimp paste. Kapi and sun-dried shrimps are thus the two souvenirs from Ko Phayam that should not be missed.

Another famous menu made from Kapi is Pla Thu Thot Kapi or deep-fried Pla Thu topped with Kapi sauce. The dish features fried short mackerel fish (Pla Thu) topped with a special sauce made by stir-fried chopped garlic cloves with Kapi, cane sugar and a small amount of water before adding pounded black pepper, sliced shallots, oyster sauce and cilantro roots. After topping the fish with Kapi sauce, the dish is garnished with sliced red and green Phrik Chi Fa (Cayenne pepper). The dish is best enjoyed with hot steamed rice.

Located 568 kms from Bangkok, the province can be reached by car, bus and plane. For those travelling by car, the best route is to take the Asian Highway No. 35, which is accessible via the Rama II or Thon Buri-Paktho Road and the AH 4 (Phetchkasem) to Ranong. Those who prefer taking the bus may opt for the 8-hour ride of the Bangkok-Ranong air-conditioned bus, which leaves the Southern Bus Terminal in Bangkok several times daily. For those looking for breathtaking attractions and flavourful, fresh Thai dishes that cannot be found elsewhere, Ranong is a destination one should visit at least once in their lifetime
Must-visit
Raksa Warin Hot Spring and Public Park.
Pay homage to the largest Reclining Buddha of the South at Wat Wari Banprot.
Ko Phayam, meet the Moken or Sea Gypsies.
Namtok Punyaban
Hat Chan Damri, worship the Kuan Im image in the water.
Rattanarangsarn Palace, teak wood City Hall
Namtok Ngao National Park


This post is brought to you in partnership with Tourism Authority of Thailand