Resting along the sleepy banks of the Mekong and Huang Rivers, the secluded province of Loei is a hidden treasure, ripe with natural parks and charming cultural excursions. With a mountainous terrain and deep valleys, Loei is one of the least populated areas in the Kingdom of Thailand; its remote location helps to preserve the local culture and cuisine of its inhabitants. With influence from both Vietnam and Lao PDR., dishes here share a colonial touch as well as Chinese and ethnic hilltribe influences. One of the most unique groups native to the area is the Tai Dam people who migrated into Thailand during the early 1900s under the reign of King Rama V the Great. Their descendants can still be found today in the areas of Ban Pa Nat, Khao Kaeo sub-district, and Chiang Khan district.

Ban Na Pa Nat, a Tai Dam village. Photo credit: TAT.
The typical Tai Dam meal is rustic, comprising indigenous vegetables and herbs served fresh or boiled with Nam Phrik or Chaeo (chilli paste or dip). The main protein consumed is usually freshwater fish that is either grilled or preserved with salt. Dining is a social event, where participants family and friends gather upon mats placed at ground level. A variety of dishes are served together along with glutinous rice placed in woven reed containers to maintain their warmth. Similar to the dining practices of Thailand's Far North, many small plates of side dishes are often presented on a Phan Khao or Pha Khao, a woven pedestal tray made of bamboo. This type of meal is sometimes referred to as Pha Khao Laeng Isan or the Isan-style Khan Tok.
A Moving Feast in Loei
It's easy to love Loei, as the charming provincial capital (Amphoe Mueang) makes a perfect base to explore the nearby attractions and towns. In contrast to the usual stillness, once a year on the first weekend after the sixth full moon, the nearby town of Dan Sai comes to life with the spectacular Phi Ta Khon Festival (colourful mask festival). During the rest of the year, nature lovers will enjoy visiting Loei's varied landscapes like Kaeng Khut Khu, a set of islets in the middle of the Mekong River where one can charter a boat, or Suan Hin Pa Ngam known for its tall limestone karsts.

KaengKhutKhu. Photo credit: TAT.
Start off your day like locals do with a Loei-style breakfast at Ma Kan. This spot is known for their Kai Kata Khanom Pang (pan egg and bread) that is cooked to order and served with baguette-style bread filled with pork. The star dish, however, is their traditional Tom Lueat Mu (pork blood curd in clear soup). Served with cooked rice, this savoury broth uses pork blood curd as well as innards to create a rich flavour. The shophouse restaurant has been open for nearly 40 years and is still going strong, as it can get quite crowded in the mornings.

Be sure to make a stop at the Chaopho Kut Pong City Pillar Shrine, known as the oldest shrine in Loei. Made of gilded gold leaf and black lacquer, the Shrine is dedicated to Chaopho Thong Kham, a guardian spirit that protects the city.
For lunch, head to Khao Piak Sen, another favourite that has stood the test of time for over 25 years. If you're having trouble finding this spot, it may be because locals refer to it as "Khao Piak Pak Ma" ("pak ma" literally translates to "dog's mouth") as a friendly jab at the owner who is notorious for playfully teasing his customers. The signature dish, Khao Piak Sen is also known as Kuai Chap Yuan (Vietnamese rice noodle soup), and this spot offers both rice and glass noodles, served with your choice of pork or fish.

In the afternoon, head to Ban Na Pa Nat, a Tai Dam village, where you'll find a traditional Tai Dam vernacular house that has been converted into a museum. Families can participate in activities; such as, riding the Chaeng Chae (local tractor), dressing in traditional Tai Dam costumes, learning about folk games and creating their own Tam Nok Tam Nu, a Tai Dam home decoration that is used as an offering to guardian spirits. For dinner, visitors to the village can participate in the traditional Tai Dam's Pha Khao Laeng, an Isan-style Khan Tok dinner. The festivities start with a Paeng Khwan ceremony (Bai Si Su Khwan ritual) to ask for blessings for all participants. Tai Dam dishes will be served on a handmade Khan Tok tray, and diners can enjoy a traditional Tai Dam cultural show.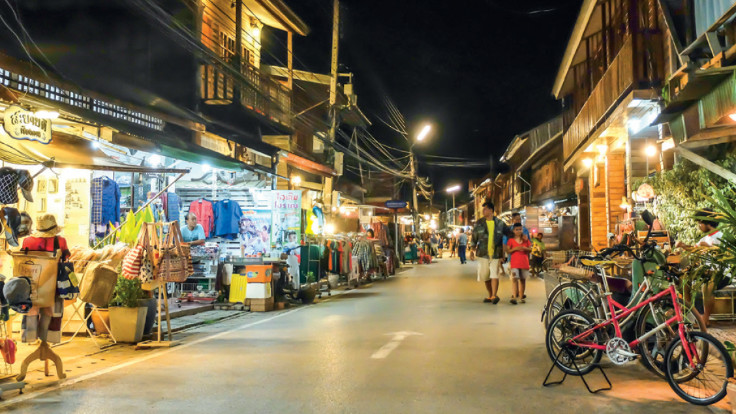 Chiang Khan Walking Street. Photo credit: TAT.
Late into the evening, visit the Chiang Khan Walking Street. This picturesque street is lined with old wooden homes, and on weekends and holidays, it is filled with interesting stalls that sell local street food. This is also a great place to find souvenirs to take a little bit of Loei back home with you. Popular edible souvenirs include Loei's Maphrao Kaeo (candied coconut strips) and locally-grown coffee beans.
This article is brought to you by the Tourism Authority of Thailand.
To know more about the Tourism Authority of Thailand, please visit https://www.tourismthailand.org/
Addresses:
Ban Na Pa Nat, aTai Dam village
Mu 4 Sun Watthanatham Thai Dam Ban Na Pa Nat, Na Bon - Song Pueai Road, Tambon Khao Kaeo, Amphoe Chiang Khan, Loei, 42110
Tel.: +66 (0) 8797 3368 6
www.facebook.com/ThiDaBanHea/
Khao Piak Sen
339, Mu 1, Sri Chiang Khan Road, Tambon Chiang Khan, Amphoe Chiang Khan, Loei, 42110
Tel.: +66 (0) 8544 7381 2
Ma Kan
2/48-49 Chumsai Road (Opposite the Royal Inn Hotel), Tambon Kut Pong, Amphoe Mueang, Loei 42000
Tel.: +66 (0) 4281 1379