It's hard not to be stunned by the diversity of dining in Bangkok. Whether one is looking for the cuisine of Bhutan or Belgium, Syria or Sweden, North Korea or New Zealand, from hyper-modernist experimentation to cosy Thai regional dishes, the culinary niches that are being fulfilled are seemingly endless.

Yet one area that has been somewhat lacking has been Greek cuisine. Greek restaurants have opened and closed, to varying levels of success, in Bangkok for years, but it is hardly something familiar to the average member of the Thai dining public. This might seem especially odd, given the popularity and prominent role of Greek cuisine in countries like America and Australia, and also given Greece's position as a major destination for lovers of food and wine. Not to mention the fact that Greek food displays a great many similarities with both Italian and Middle Eastern cuisines, both of which are readily available across the city. However, it might make a certain kind of sense. Unlike countries like Germany or Britain, there isn't a particularly large Greek expatriate population that could support native restaurants. Furthermore, unlike Italy or France, the cuisines of which have been gentrified and incorporated into global haute cuisine, Greek cuisine has remained resolutely and proudly close to its peasant roots, with a heavy emphasis on quality local produce. Fussy presentations and luxury ingredients are a secondary concern – the main emphasis is on cooking with love.



The fun ambience at the Greek eatery in Sala Daeng Soi 1 in Bangkok. (© Aesop's, Akkapat Inthuprapa/ MICHELIN Guide Thailand)
Becoming Aesop
Enter John Gamvros and his MICHELIN-listed restaurant Aesop's, down an alley in Bangkok's Silom neighbourhood. Born in Sydney to Greek immigrant parents who ran the original Aesop's, he grew up in the kitchen, working alongside his family through high school, before going overseas into the marketing world in cities like Hong Kong and Singapore. That is, until he saw an opportunity to bring his culinary experience to Bangkok and to do what every immigrant parent working in the restaurant industry fears the most for their children – to abandon his comfortable corporate job and enter the always-risky world of hospitality.

"My mother was absolutely distraught that I was quitting my relatively high-paying job. They sent me to university. I got a degree in marketing. I got a great job," Gamvros related. "Dad echoed her concerns, but I could see deep down he was quite proud and quite excited that his legacy was going to continue in a place like Bangkok, which was a big challenge, but a big story."

Sharing Greek culture
So how has Aesop's succeeded and managed to draw crowds despite an unfamiliar menu? To Gamvros, the answer can be boiled down to one Greek word, philoxenia, which roughly translates to "friendship to strangers", describing the intimacy and warmth of Greek hospitality.

"When you go to Greece, and you go to a restaurant, the waiter will sit down at your table... You might even have a drink with him, it feels like a friend is sitting at your table, asking you what you want to eat, making recommendations, taking you to the kitchen, have you meet the chef, take a look at the produce, Greeks have this need to share our culture, share our cuisine with the world."



But, unlike so many Greek restaurants in the diaspora communities of the English-speaking world, Aesop's doesn't try to recreate the old world taverna atmosphere. Rather, the mood is distinctly modern, with a plethora of Instagram-friendly design features and menu items, craft cocktails using traditional Greek spirits like ouzo and mastika (a liqueur with a singular taste reminiscent of pine needles and lemons, made from the resin of a pistachio-type tree native to the Greek island of Chios), nightly plate-smashings in fine Greek tradition, and a soundtrack that features far more '70s disco (and late-night dancing on tables to match) than traditional bouzouki music.
"It's not fine dining, it's fun dining" is how Gamvros described it, with party vibes, screams of "oppa!", and plates designed for sharing, with a heavy emphasis on samplers of different dishes that allow Greek food novices to sample a wide variety of items.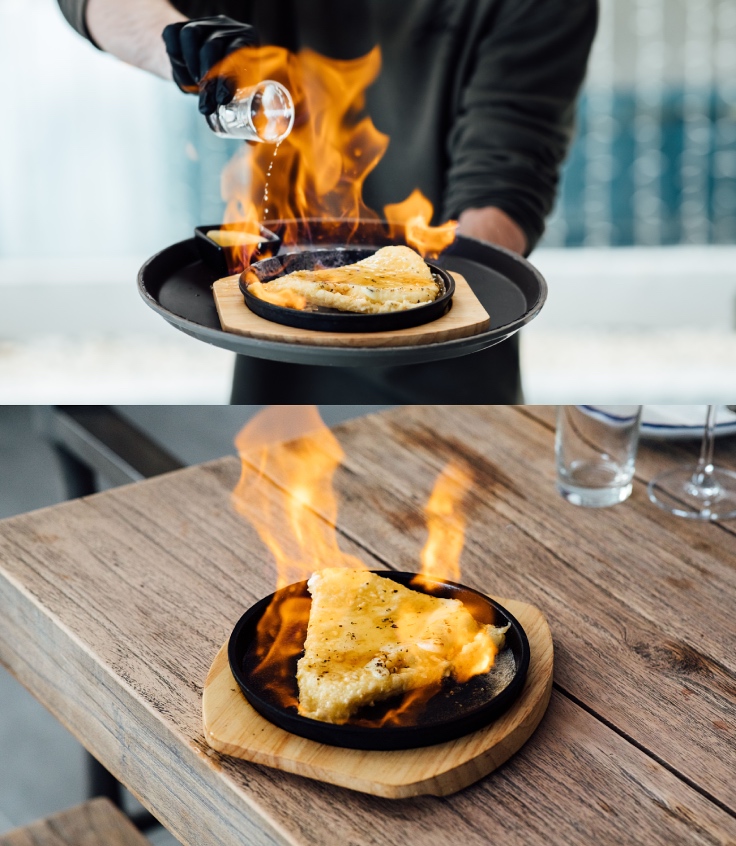 Have you tried this Greek dish? (© Akkapat Inthuprapa/ MICHELIN Guide Thailand)
Flavour meets Instagram
As for the food itself, while the language in the menu might be unfamiliar, easy analogies can be drawn between top-selling dishes and items that Bangkok locals have long been familiar with. One of their bestsellers is a slow-cooked lamb shoulder served with garlic yoghurt that, at its core, is not that different from similar offerings at Indian or Middle Eastern restaurants. Other top dishes include sampler plates like a mixed grill of chicken, beef, and pork souvlaki which speaks to the near-universal love for grilled meat on skewers; an assortment of dips featuring melitzanosalata, an eggplant dip not too different from Arabic baba ganoush; and taramasalata, a cod roe dip that will surely appeal to lovers of Japanese mentaiko. As for more unfamiliar dishes like the flaming saganaki, in which kefalograviera, a hard Greek cheese, is soaked in honey and brandy and lit aflame, what could look better on a social media post?

Their signature grilled octopus. (© Akkapat Inthuprapa/ MICHELIN Guide Thailand)
There are, of course, challenges. Some concessions must be made to provide more familiar dishes, as Gavros readily admitted. "If I had this restaurant in Australia, I wouldn't have falafel and hummus on the menu." Furthermore, some menu items require a bit of explanation. "Many times, especially with the Thai customers, they would order dolmades," he pointed out, referring to the classic Greek and Middle Eastern dish of rice and other ingredients like ground meat and herbs, wrapped in grape leaves. "I would walk up to the table and see the grape leaf unwrapped, left on the plate. They just eat the insides. And I understand why they do it, because of the banana leaf... So there's a little bit of education that has to be done, particularly with the dips, like taramasalata is a fish roe dip, and many times, the customer won't know that, but Thai local customers love the taste, so when they actually try it, they love it They say it's amazing, but they may not have ordered it if we hadn't said this is a fish roe dip, so if you like seafood, you'll like this flavour."

The formula seems to be working. With a predominantly local customer base and a packed house on weekend nights, Aesop's has, against the odds, managed to acquaint a generation of Bangkokians with Greek food. Whatever apprehensions one might have are quickly dissolved with a nice dip, homestyle service, and by the end, a few smashed plates and perhaps a few too many ouzo shots.