Growing up, Australian chef Christopher Millar, culinary director of lifestyle and hospitality company
1-Group,
relished biting into classic candies like fantales, which are chocolate-covered caramels in wrappers printed with celebrity trivial, and freckles, which are chocolate cookies coated in rainbow sprinkles.
Little did he expect to find these nostalgic childhood treats among 20 types of sweets studded in gigantic heaps of cattle feed during a visit to
Mayura Station
, a full-blood wagyu farm in South Australia last October. Among piles of hay, wheat and corn silages are shards of chocolate bars, gummy bears and Arnott's biscuits.
He says with a chuckle: "It was quite hilarious because they were sweets that I used to eat as a child in Australia. When the cattle eat the feed, they actually look through for these sweets as they love the sweetness."
At Mayura Station, chocolates and sweets make up one-fifth of the cattle ration during the last four months of their lives. About 40,000kg of this quirky feed, which is affectionately referred to as "lollimix", is consumed every month.

The farm's second-generation owner Scott de Bruin explains: "We include some novel things in our feed, which are all about producing a unique flavour profile. Adding sweets and chocolate gives a beautiful sweetness and nuttiness to the meat."

This is just one of the many eye-opening aspects of Mayura Station that Millar picked up, along with Felix Chong, head chef of Monti, a contemporary Italian restaurant that is part of 1-Group.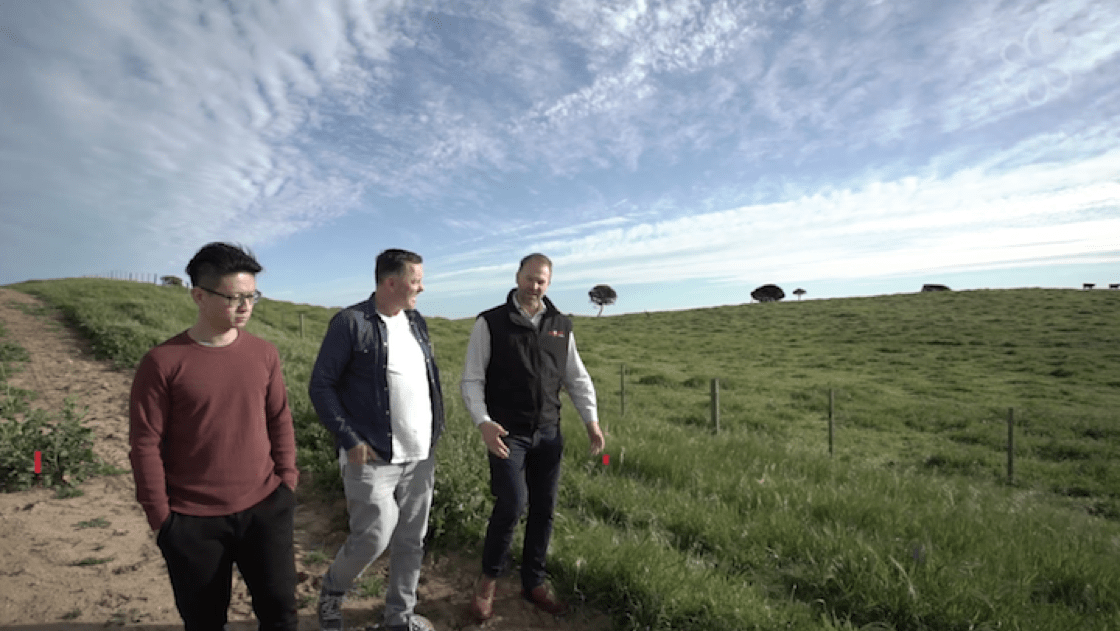 During the five-day trip, the chefs were immersed in a farm experience to get an in-depth understanding of what goes into cultivating full-blood wagyu. They saw how the cattle feed is grown and distributed, scoured for new-born calves on a roving van to tag them and took part in an Aussie-style barbecue. They also jetted to Melbourne, where they met veteran chef Guy Grossi, who helms
Grossi Florentino
, an iconic Italian fine-dining restaurant to pick up tips on cooking a Tuscan-style Fiorentina steak.
The visit is a prelude to a cooking collaboration between Chong and Grossi to be held from 25 to 29 March at Monti. The Four Hands Dinner With Guy and Felix will feature dishes such as the Mayura Wagyu Fiorentina, Roasted Bone Marrow with saffron risotto cracker, 18-hour sous vide Mayura wagyu beef short ribs, and Plancha Maine Lobster Tail accompanied with eggplant caponata.
Maintaining Consistency Through A Single-Source Operation

Perched near the fringe of the Limestone Coast, the vast 2,500-hectare farm is home to about 3,000 full-blood wagyu breeding cows. The de Bruin family runs Mayura Station, which is named after one of the earliest leased pastoral land in South Australia that dates back to 1845. In 1998, they brought over 25 black-haired full-blood wagyu cattle from Japan to Australia. Full-blood wagyu is renowned for its superior quality and high amount of marbling as it boasts no evidence of cross-breeding and a pedigree that directly descends from Japan.

Besides being born and bred in Mayura Station, the cattle embark on a grain-feeding programme that spans at least 500 days. The cattle feed, which include corn, rye, oat, hay, is calibrated into three types of ration, each serving different purposes — for growth, marbling and flavour.

De Bruin says: "This slow-growth technique develops the fine textures of muscle fibres in the meat that gives the beef a silky mouthfeel and enhances its marbling."
He proudly points out that Mayura Station stands out as a single-source farm operation — everything, from grain to grass, is cultivated in-house, while every growth stage of the cattle herd is closely monitored.

Every day, a tagging specialist searches for the freshly-born calves in the sprawling farm — some of them are still wet mere hours after popping out of their mothers' wombs. Information such as the year of birth and details of the each calf's parents are also tracked.

For the first six months, the calves suckle on milk from their mothers, who can identify their young using their sharp sense of smell. Later, they are weaned from their mothers and placed in a free-range feeding environment. The cattle are rotated around the 270 paddocks in the farm every six weeks, where they graze on a variety of grasses grown on calcium-rich soil. Besides grazing in 10-hectare paddocks, they receive a curated ration with grains and wheat that are all grown on-site.

De Bruin adds: "Being a single-source operation, we manage all the inputs that ensures that the cattle receive the same nutrition, in order to achieve a consistent quality of beef."
Soaking Up The Goodness of The Limestone Coast

Mayura Station also taps on the unique terroir of the Limestone Coast. The verdant undulating grasslands blanket a labyrinth of underground limestone caves. This allows rainwater to be enriched with calcium as it seep through the porous limestone caves and gets pumped into drinking troughs by solar energy.

Its rural location also means that the air is fresh and salty as the winds blow in from the Southern Indian Ocean. The winds also ensures that the climate across the farm is kept between 5 to 24 degree Celcius, which contributes to the steady growth of the cattle.

Millar says: "I am Australian but I forget how huge this country is. This is one of the most pristine and perfect environment for agriculture."

Mayura Station produces 450,000kg of beef annually. According to de Bruin, about 65% of its beef production is exported to Asia, with China and Singapore being key markets. He adds that Asian consumers are more accustomed to the more marbled texture of its beef, which can hit up to a marbling score of nine and above for Mayura Station's flagship label, Mayura Signature Series.
The Secret To A Good Fiorentina Steak

Besides immersing in an hands-on experience in Mayura Station, Millar and Chong also visited Grossi Florentino in Melbourne to see how the Tuscan classic, Fiorentina steak is cooked.

Chef-owner Guy Grossi looks out for Fiorentina steaks that have a good weight of about 1.2kg, so that the steak has a nice girth or thickness. This results in a gloriously chargrilled crust without overcooking the meat. He adds that the steak also needs to have good intramuscular fat and firm muscles.

Grossi believes in sticking to tradition when cooking the Fiorentina steak. He explains: "We bring the steak up to room temperature, season it lightly with salt and add a layer of oil to give it a bit of a massage." He chargrills the meat for eight minutes on each side, before cooking the steak bone-up. After the grilled steak has rested, it is garnished with lemon, rosemary and a little olive oil.

On his secret to cooking a good Fiorentina steak, he says: "Have patience and a lot of care. Don't put the meat on the grill and walk away. Let the meat do its thing and cook and rest it well."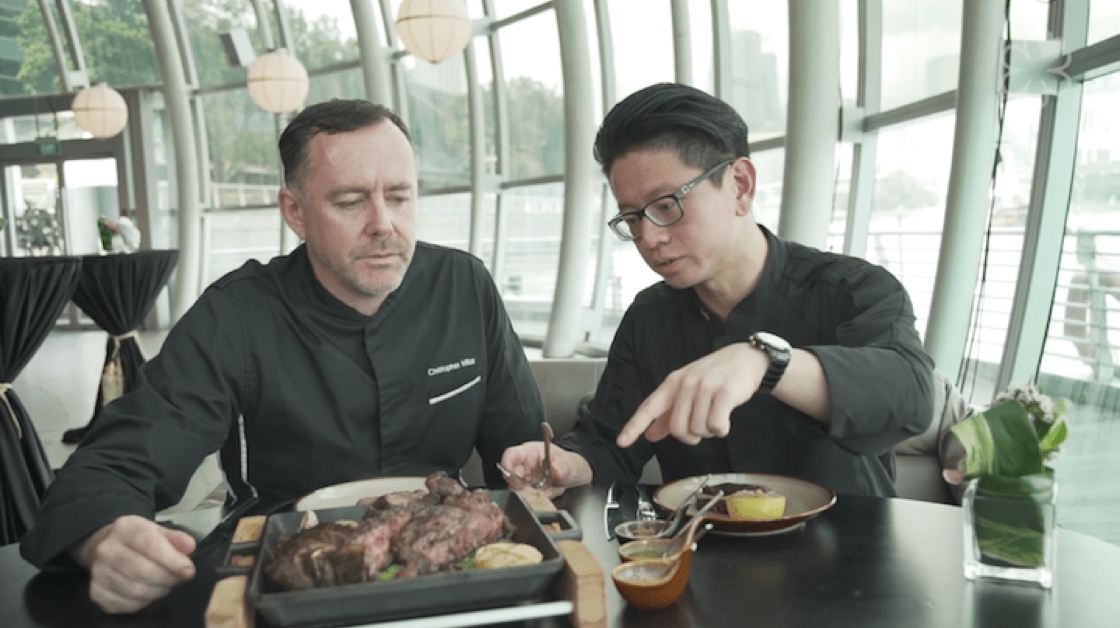 An Insightful Farm Trip

Reflecting on his visit to Australia, Millar says: "Visiting Mayura Station has changed Felix's and my understanding of wagyu and what goes into producing such a premium cut like the Fiorentina steak."

One of his most memorable experience in Mayura Station was tagging newborn calves. "While driving around the farm, we saw calf that was born 10 minutes ago struggling to stand on its feet and I cherish the amazing opportunity to lift a calf, put it on a weighing scale and tag it."

By immersing in the farm experience, Millar and Chong learnt closely about the factors that influence the quality of the beef, from the cattle feed, breeding environment to techniques.

Millar says: "We feel more invested like being custodians of the produce. We come away feeling much more confident and this translates into more passion and ultimately, it leads to the best presentation of the Fiorentina steak for diners."