(Photo: MICHELIN Guide Asia)
TAIPEI
Ah-guo Soup Noodles (New)
Having moved to this address in 2022, the shop famous for Qie Zai noodles (greased noodles with bean sprouts and crispy scallion, in either a flavoursome pork bone broth or dressed in sweet and sour sauce), is now enclosed in an air-conditioned space with a glass shopfront and the kitchen at the back. On top of the signature noodles, specialities like deep-fried pork marinated in red yeast rice, and braised pork knuckles are still on the menu.
(Photo: MICHELIN Guide Asia)
Chuan Mu Yuan (New)
Tucked down a little alley, this shop always attracts a long queue of office workers and shoppers at peak hours. Behind the glass wall by the entrance, chefs are busy making dim sum, dumplings and noodles to keep pace with the piling orders. Regulars adore their beef pancake roll and red bean paste pancake that are golden and crispy. Moo-shu fried noodles made with freshly made knife-cut noodles are also popular.

(Photo: MICHELIN Guide Asia)
Jen Ho Yuan (New)
Since 1956, this restaurant has been attracting loyal fans with its authentic Yunnan fare. In 2022, it moved to this new address, with its bright, airy main dining room and private rooms. Rest assured the menu and food stay the same – try the steam pot chicken, the sliced pork cheek cold appetiser, or the green peas in chicken fat. The true showstopper is string beans stuffed with minced shrimp, for the intriguing contrast of textures and layered flavours.

(Photo: Little Tree Food (Da'an Road))
Little Tree Food (Da'an Road) (New)
There's no shortage of vegetarian restaurants in Taipei, but not many position themselves as a vegetarian equivalent of an American bistro. The head chef has experience in Sichuan and western cuisines, so his menu shows eclectic influences in addition to burgers and pizzas. Spicy dumplings with tofu filling are Sichuanese inspired; fried cauliflower is enrobed in Korean gochujang glaze; pad krapow burning bowl is a Thai-style salad.

(Photo: MICHELIN Guide Asia)
Yuan Wei (New)
Tucked down a small alley behind the train station and without a proper sign, this eatery with over 70 years of history and just four tables is easy to miss. Even the interior feels more like a wood carving store than a restaurant. The menu is easy to navigate, with only 20-odd choices. Stir-fries are the must-try items – Yuan Wei fried rice, and pork jowl, characterised by remarkable wok-hei. Cash only and expect a long wait at peak hours.

(Photo: Chi Chia Chuang (Changchun Road))
Chi Chia Chuang (Changchun Road) (Promoted)
Chicken features heavily on the menu and the owner is picky about them – he uses only pullets from 5 to 6 months old for their tender meat. Specialities include the classic three-cup chicken that imparts rich aromas, perfect with the chewy pork blood cake. The crispy deep-fried chicken rolls, and the rich, flavourful chicken soup are also worth trying. Don't forget to end the meal with their homemade egg pudding. Service is warm and friendly.

(Photo: Bamboo Country)
TAICHUNG
Bamboo Country (New)
As its name suggests, the décor here features plenty of bamboo, a symbol of modesty and moral integrity in Chinese culture. The noble plant also has a strong presence on the menu – rice steamed in Moso bamboo exudes a unique fragrance, while tilapia with pickled bamboo shoots tastes rich and flavourful. Melt-in-your-mouth braised pork with cartilage is a must. The restaurant's perfect for a meal before or after hiking in the nearby Dakeng region.

(Photo: MICHELIN Guide Asia)
Feng Chi Goose (New)
For decades, this simple shop has been attracting hungry diners with its signature sliced goose platter boasting juicy flesh and wafer-thin skin. The second-generation owner intentionally leaves some bones and gristles in for diners to gnaw on. Goose offal, marinated meat and other sides are also popular. For starchier dishes, order plain noodle soup, or jazz it up with cuttlefish and thin, flat e-fu noodles.

(Photo: Hello VietNam)
Hello VietNam (New)
This cheerful restaurant is run by its Vietnamese owner. The menu tips towards the Northern end of her home country, and cilantro is used sparingly to cater to local taste. The speciality bun dau mam tom consists of rice noodle squares, pork intestines, pork feet, blood sausage, deep-fried tofu and leafy greens, alongside fermented shrimp paste, or a fish sauce dip. Nem ran (fried spring rolls) and pork skewers are also worth trying.

(Photo: Mr. Good)
Mr. Good (New)
This simple eatery run by the owner couple opened its doors in 2019. The full-flavoured food is mostly Jiangzhe and Taiwanese in origin, perfect with steamed rice. Signatures include baby Napa cabbage with shiitake mushrooms and crab roe, and braised boneless chicken with taro. As the kitchen is manned by the husband only, allow some time for your food to arrive. Reservations via social media and pre-ordering of dishes are highly recommended.

(Photo: MICHELIN Guide Asia)
Niou Jia Juang (New)
This 60-year-old household name is undergoing an 18-month renovation and is temporarily operating at a spot 50 metres from the original shop. From the cartoon cow on the sign to cow-shaped decorations inside, beef is obviously the staple offering here. Local yellow beef is cooked nose-to-tail in traditional Hakkanese ways and the offal is unmissable – try scallion bone marrow, and cold beef tripe dressed in sweet and sour sauce.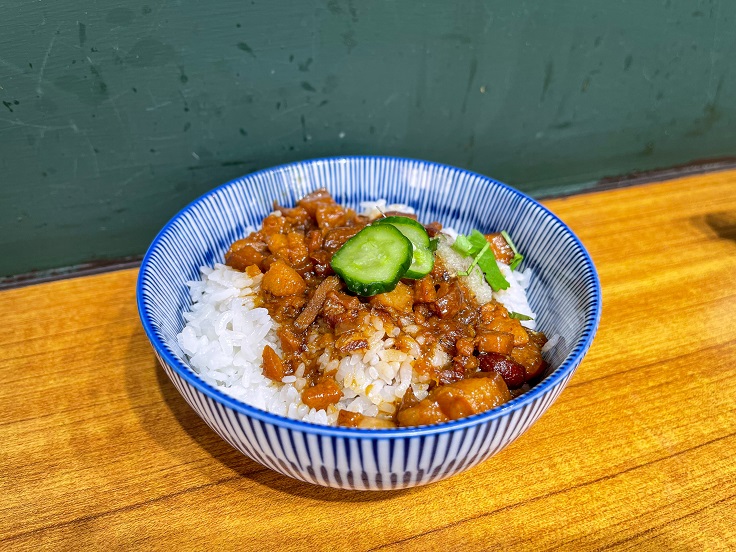 (Photo: MICHELIN Guide Asia)
Xiao Chu Den (New)
The owners opened a cosy shop in 2018, specialising in Taiwanese light meals and snacks, before moving to this spot in 2020. With just two tables inside and one outside, this tiny gem is always busy. Braised pork on rice boasts an addictive gelatinous texture and deep flavours, while thickly sliced braised beef noodle soup is another must-try for noodle lovers. Certain items tend to run out early so consider pre-ordering your food by phone.

Download the full list of Bib Gourmand Selection 2022 here.