They're one of our oldest, most reliable, and most diverse forms of sustenance. With their diverse range of flavours and applications, it's not surprising that beans have become cooking staples in cuisines all over the world.
Here's a primer to the seven of the most common types and how to prepare them.
Creamy white bean soup
1. Great Northern Beans

They're often mistaken for cannellini beans or its smaller navy bean sibling but Great Northern beans are lighter in density and more nutty in flavour, making them ideal candidates for soups and purées.

Prep tip: Rinse the beans, put them in a saucepan, cover with an inch of water, and bring to a boil. Once the water boils, put the lid on and let them soak for an hour off the heat.
2. Fava Beans

Fava beans can be purchased fresh in the pod, dried, canned, frozen, or as a fresh sealed cold pack. Most forms need to be peeled before eating and can be quite a hassle to prep. But if you power through, the result is a buttery, sweet and nutty bean that are marvellous in a fresh salad or charred alongside asparagus.

Prep tip: Unless you buy them canned or in cold packs, fava beans require double shelling. After removing them from their pods, quickly blanch them in generously salted boiling water for a minute and shock them in ice water. This makes the "skin" easy to remove while keeping the beans fresh and green.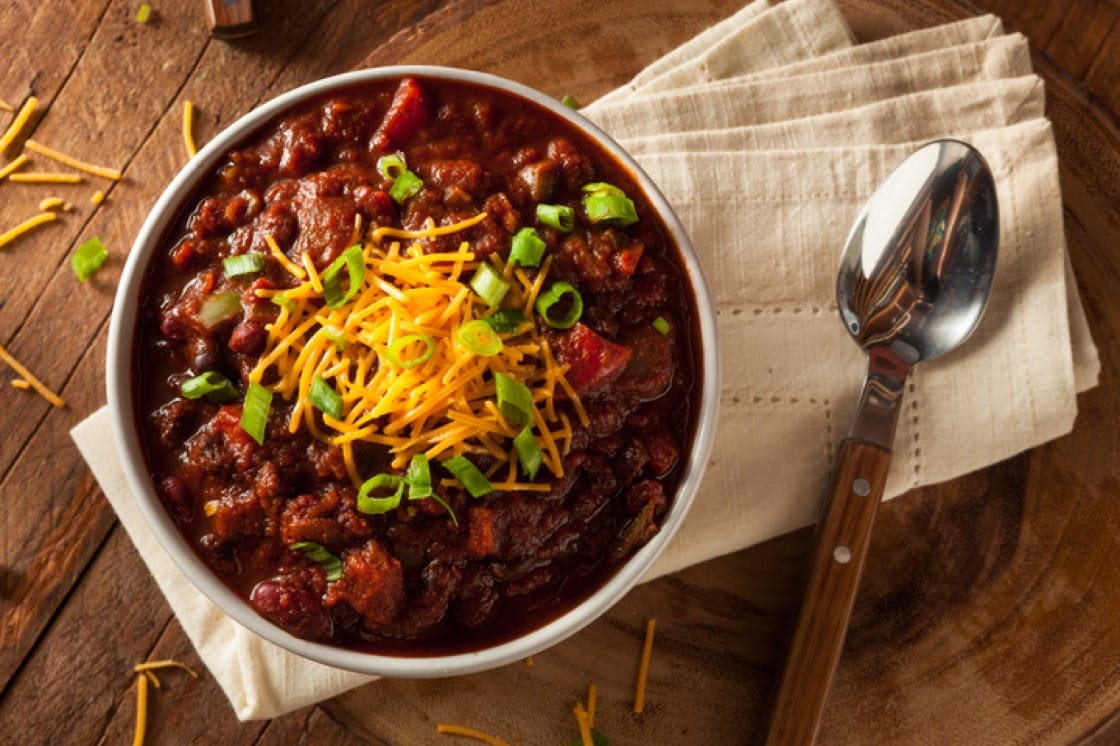 Chili con Carne with red kidney beans
3. Kidney Beans

They're so named for the shape they take, the kidney. It comes in a dark red colour as well as white – most will know the white kidney bean as a cannellini bean. They're packed full of protein, heart-healthy omega-3 fatty acids and iron, and lend beautifully to a variety of dishes; pasta e fragioli, minestrone soup and of course, chili con carne, just to name a few.

Prep tip: Dried kidney beans need soaking and should be cooked carefully because they contain toxins on the outer skin, which are rendered harmless by boiling. Canned kidney beans have already been cooked so they simply require draining, rinsing and reheating.
Raw navy beans are smaller than the cannelini and rounder than the Great Northern
4. Navy Bean

Also known as haricot, pearl haricot bean, boston bean, white pea bean and pea bean, the navy bean is probably one of the most commercially consumed beans. If you've had a version of an English breakfast, chances are you've had processed navy beans (read: baked beans) smothered in a savoury tomato sauce.

Prep tip: Use three cups of water for each cup of uncooked beans. Best season the beans by adding bay leaves, herb sprigs, or garlic cloves to the cooking water. Mild in flavour and creamy in texture, navy beans are ideal for absorbing the flavours of other ingredients.
Refried beans is a dish of cooked and mashed beans and is a traditional staple of Mexican and Tex-Mex cuisine
5. Pinto Beans

In its natural state, the pinto bean is certainly one of the prettiest. Sporting a maroon-speckled exterior, the pinto is so named for its appearance - pinto is "painted" in Spanish.
Prep tip:
Pinto beans require soaking for several hours before cooking, preferably overnight. Add a teaspoonful of bicarbonate of soda to speed things up. An even quicker method is to bring them to the boil in a pan then turn the heat off and soak them for about an hour with the lid on.
The black turtle bean is a small, shiny variety of common beans, especially popular in Latin American cuisine
6. Black Bean

Mild, slightly sweet and creamy when cooked, black beans like pinto beans are very forgiving and malleable in recipes. From soups and chilis to enchiladas and salads, the possibilities for black beans are seemingly endless.

Prep tip: Like the pinto, black beans require to soaking prior to the cook. It'll take some time to get it prepped for cooking but don't cut any corners. The absence of a pre-soak will leave you with a bowl of pebbles instead of a luscious, creamy stew. A bowl of black beans with some rice, bread, or greens is a meal in itself.
Chickpeas, also known as garbanzo beans, is the main ingredient in hummus
7. Chickpeas

Also known as the garbanzo bean or Egyptian pea, chickpeas are buttery, starchy in texture and nutty in flavour. You'll usually find two main varieties of the bean: the larger Kabuli, which is common throughout the Mediterranean, and the desi, which is grown primarily in India. Both are delicious.
Prep tip:
Garbanzos hold up particularly well to canning and make great additions to salads, pastas, and curries. And don't chuck the water that your canned beans come in; that
aquafaba
will lend itself well to vegan-friendly recipes.