Paul Longworth of one-MICHELIN-starred Rhubarb in Duxton Hill is all about cooking with both intention and purpose. "What matters for me is that whatever we put on the plate, it needs to have a purpose, and it needs to be put out there with one-hundred-percent intention. It doesn't matter whether we're talking about the quality of the ingredients, the actual cooking, or the presentation of the dishes. There needs to be a vision; there needs to be a direction and a goal, and we need to be very clear about that," he says with conviction.

This vision of Longworth's is indeed crystal clear, as manifested in a very special dinner paired with Perrier-Joüet champagnes. According to Longworth: "I have to say, Perrier-Joüet is one of the nicest champagnes out there. It's very easy to drink and very clean-tasting. The champagnes are so good paired with something quite fresh, like green apples, caviar, lobster, scallop, and all seafood. Champagne also goes well with chicken and guinea fowl; strawberries and white chocolate."

Chef-owner Paul Longworth of 1 Star Rhubarb Le Restaurant focuses on tried-and tested-flavour combinations and techniques. The restaurant has held a MICHELIN Star since 2016.
Longworth says that he believes that dishes need to represent what they fully and truly are, based on their purpose in the menu. As a snack, it can be small, but it needs to be full of flavour. And when it comes to the main course, Longworth says that the dish has to be rich, interesting, and exciting.

"For this very special menu that we've designed for Perrier-Joüet, we are keeping the dishes a bit more natural and simplistic because the most important part is the star of the show, which is going to be the Perrier-Joüet champagnes, so we have to let them shine. Again, it all comes back to intention and purpose, and that, for me, is a driving force here at Rhubarb," explains Longworth.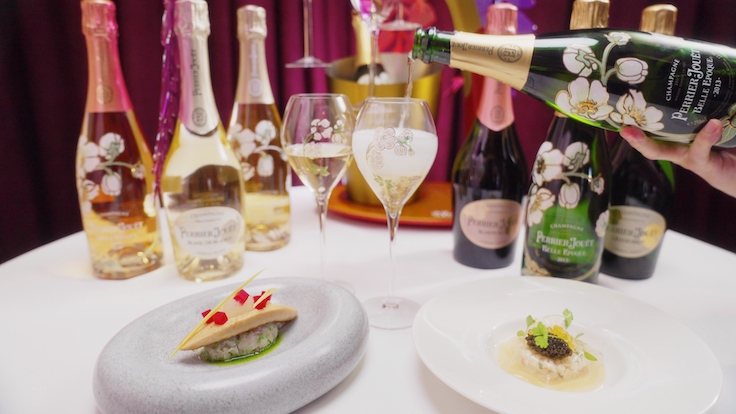 "We went through the tasting notes of the Perrier-Joüet champagnes, and we've used flavour combinations that we know, so they have been tried and tested. And then, we've adjusted the food to fit the champagne's profile. For example, if a dish has a bit more earthiness to it, to the point that it could overpower the champagne's delicate flavour notes, we tweaked the dish slightly. This is a champagne pairing, after all, so the champagne needs to be the star."

A dish of crab, taramasalata, verjus, and caviar is paired with the Perrier-Jouët Blanc de Blancs
"In the Perrier-Joüet Champagne Menu, we serve the Perrier-Joüet Blanc de Blancs with a refreshing dish of crab with tomato, taramasalata, verjus, and caviar. The vibrance and freshness in this particular champagne complements the sweet flavours of the crab really well," says Longworth.

The Perrier-Joüet Belle Epoque 2013 is paired with a dish of foie gras with fermented radish, smoked yellowtail, bergamot, and horseradish for a refreshing finish.
"For the iconic Perrier-Joüet Belle Epoque 2013, we matched this champagne's elegance with something on the richer side — foie gras served with fermented radish, smoked yellowtail, bergamot, and horseradish — to provide a beautiful balance on the palate," he explains.

Langoustine served with black barley and beetroot risotto is paired with the lush Perrier-Joüet Blason Rosé, which bursts with flavours of ripe red and black fruits; whereas the rare and aromatic Perrier-Joüet Belle Epoque Blanc de Blancs 2006 makes an appearance and is accompanied by Miyagi scallops, chicken leg, cauliflower, and a white chocolate purée. To end the meal on a sweet note, a classic pairing of strawberries and champagne served with fromage blanc sorbet, lemongrass, and olive oil, paired with Perrier-Joüet Belle Epoque Rosé 2012, which boasts flavours of white flowers and wild strawberries.

Longworth says, "With champagne, it's either you need it or deserve a glass of it. Regardless of life, if you are sad, have a glass of champagne. If you're happy, have a glass of champagne. I believe that champagne is the perfect drink to have everyday. There's always a reason to have a glass."

This post is brought to you in partnership with Perrier-Jouët