Dining at one-MICHELIN-Starred JAG along Duxton Road, according to our MICHELIN inspectors, is akin to embarking on an Alps-inspired culinary adventure — and for good reason.

Stepping inside the quaint space, one is greeted by an open kitchen with a high ceiling. Installed on the left is the cornerstone of chef/owner Jeremy Gillon's cooking — an edible catalogue of over 40 types of indigenous herbs from Savoie in the French Alps. This treasure trove of herbs is also known as Gillon's personal "herb library", and it is often referenced back to as each dish on his omakase-style menu is served.

At 1 Star JAG, chef/owner Jeremy Gillon pours his focus on seasonal produce and herbs from the Savoie region in the French Alps.
"My parents owned a ranch back in Normandy, where I am from," says Gillon. "My mum (I call her mamoune) used to cook for a lot of people, and we also made our own apple cider using the fruit from our own apple trees. We brewed it the old-school way, with the huge wheel that you turn, and it was such a great childhood memory of us together," reminisces Gillon. "That was where my passion for cooking started. I liked seeing my mom cook for these big groups of people, and they would be so happily gathered around the ranch's huge table that could seat 60! When I was 14, I told her I wanted to be a chef, and the rest is history."

Jeremy Gillon and his herb library
Having lived in Singapore for over nine years now, Gillon has become a self-confessed chilli and durian convert, but his vision remains as clear as day. "I wanted to open a French restaurant that allowed diners to experience my region through herbs and vegetables. In terms of seasonality, I wanted to showcase the best produce during a particular time of the year. A good example is summer, which is when tomatoes and strawberries are at their peak, so we place them on JAG's summer menu," Gillon explains. "My process is also very calculated. I list down all the vegetables of the season and then attach a certain treatment to that vegetable. Then, I arrange according to progression — will I follow a light dish with a creamy one? That's how I plan the menu here," he shares. "But what I believe adds a special touch to the dishes at JAG are the herbs."


Christophe Valaz, Gillon's "herb whisperer", has also been a close friend for over 16 years.
"My introduction to herbs was actually from a medicinal perspective," shares Gillon. "My close friend of 16 years, Christophe Valaz, — I call him my 'herb whisperer' — I met him in Savoie during one of my farm visits, and he told me about the herbs he harvests and the medical properties each of them possessed. When I met him for the first time, he told me he never worked with a chef before, so I found that interesting because the herbs he showed me were all very unique in terms of aroma and flavour."

Gillon told Valaz that he wanted him to supply herbs for cooking, and according to Gillon, Valaz was quite surprised with the idea of it. "Being the first chef he's worked with, Christophe introduced me to a world of herbs, starting with the ones that were in season. We went to his farm, and he showed me the herbs that were edible and told me about how they were beneficial to one's health. He walked me through the process of how each herb was harvested, and how they would taste freshly-picked compared to dried." Pre-pandemic, Gillon mentioned that he would fly to France and hand-pick the herbs himself with Valaz, but due to restrictions, they have found a way to have the herbs airflown without affecting their quality.

"Christophe's passion lies in herbal therapy, and he has so much respect for the herbs. As an expert and specialist in the field, he hand-plucks the herbs at altitudes of between 500 and 1800 metres, and he also developed a certain drying method where the herbs don't get burnt; therefore, the vitamins and nutrients are preserved along with the essential oils, which provide more flavour," says Gillon.


Salsify, also known as Oyster Plan because of its similar flavour profile, is one of Gillon's favourite vegetables.
When asked about his favourite vegetables, Gillon excitedly answers, "I like heliantis, it's similar to a Jerusalem artichoke. I also like salsify. It's a very underrated vegetable. We used to eat a lot of salsify in school growing up, but it had no flavour since they were always overcooked in boiling water. However, things have taken a turn with how I view salsify thanks to my team."

"I have the chance to walk back and rediscover herbs and vegetables in a certain light and say, 'wow, it's so amazing how far we can take this type of food'."
Gillon also shares his top seven must-have Savoie herbs, as well as alternatives that one can acquire from the neighbourhood grocery store. "Each herb is quite versatile and entirely depends on which expression or course of the menu I choose to incorporate the herbs in. Autumn has arrived a bit earlier this year, and we are expecting Jerusalem artichokes, parsley roots, and salsify. These herbs will complement the flavours very distinctly," Gillon shares. "For proteins, it will be interesting to work with light white meat with a sweet and delicate taste to balance the choice of herbs and their flavour profiles. Noir de Bigorre pork, which is the oldest pig breed in France, poulet de Bresse, scallop, Atlantic cod, and sole are perfect for this selection."


Jeremy Gillon's 7 Must-have Savoie Herbs
1. Reine des Prés (Meadowsweet)
Olfactory Notes: Very refreshing and floral
Alternative: Jasmine or White Orchids
Meadowsweet, or Reine des Prés, is traditionally picked and used for colds, bronchitis, stomach problems, heartburn, and joint disorders. Part of the rose family, this wildflower sprouts creamy white florets when in full bloom. At
JAG
, Gillon constantly experiments with both the flowers and the leaves, to extract its sweet and bitter flavours.
2. Asperule Odorante (Woodruff)

Olfactory Notes: Hint of vanilla, hazelnut
Alternative: Hazelnut and Vanilla

Sweet woodruff is commonly used to calm the mind and body. It exhibits notes of vanilla and hazelnuts on the nose, which is further intensified on the palate. In Savoie it is interchangeably used in place of vanilla while making desserts, liqueurs, vinegars, and syrups.
3. Berce (Cow Parsnip)

Olfactory Notes: Fresh, citrus
Alternative: Mandarin Skin

Used in tonics for colds and sore throats, berce is actually the seed of a flower. It tastes citrusy and bitter, like the skin of a mandarin.

4. Achillée Millefeuille (Yarrow)

Olfactory Notes: Pungent, herbaceous
Alternative: The closest will be chamomile

Commonly used in a number of remedies and medicines, this herb has a bitter honey flavour and slightly floral taste.

5. Verveine (Verbena)
Olfactory Notes: Citrusy with hints of mint
Alternative: Lemongrass or Lemon
A versatile herb that's always harvested wild in Savoie for
JAG
, verveine is used to treat sore throats and burns. In cooking, the herb offers great undertones to stocks and sauces, bitter notes to sweeter dishes, and makes a great tea.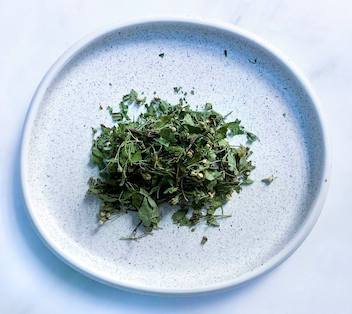 6. Aubépine (Hawthorn)

Olfactory Notes: Woody, earthy
Alternative: Sumac

Aubépine, or Hawthorn, leaves have a similar taste to lima beans: a bit buttery and mildly sour. Hawthorn Tea has many benefits, and one of its soothing qualities is its effectiveness in calming anxiety.

7. Ortie (Stinging Nettle)

Olfactory Notes: Musky, grassy, ocean, fish
Alternative: Dried Shrimp or Seaweed

Long used to calm seasonal allergies, Ortie has immense therapeutic properties. Always present in Gillon's herb library, he uses his innovative recipes to present these wild herbs into dishes across his omakase menu.

JAG is currently serving its autumn menu, with both vegetarian and vegan options available. A seasonal dish that has proved extremely popular makes use of salsify accompanied by the herb achillée millefeuille (yarrow), and is served with egg yolk confit and smoked scallop.

Special thanks to JAG for all the photos in this article.

JAG is located at 76 Duxton Road, Singapore 089535. Make a restaurant booking here, or follow the restaurant on Facebook and on Instagram for updates.