Spring is a time of blooms and hope, and nowhere more so than in Europe, where restaurants and bars have reopened from May 2021 after an extended shutdown since winter. In Singapore, a short season of Spring menu offerings got underway before the city entered a 5-week period of cautionary COVID-19 related restrictions that prevented restaurant dine-in from 16 May to 20 June.
With the gradual easing of restrictions from 21 June, including a two person limit per table, we surveyed these MICHELIN-recommended restaurants to see what exciting offerings are in store for diners eager to patronise their favourite haunts again.
RELATED: Everything You Need To Know About The Mirazur Pop-up In Singapore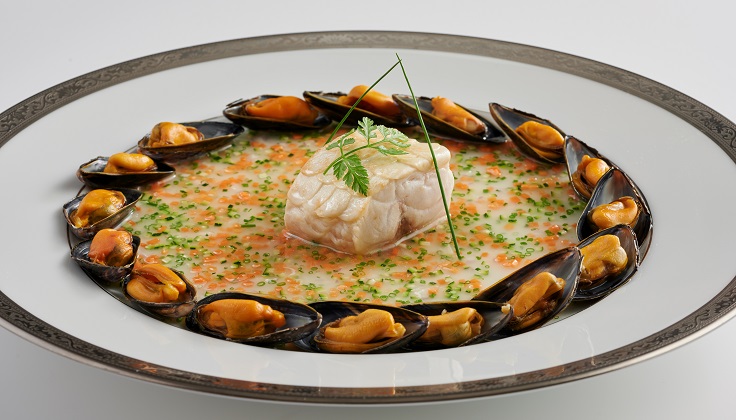 Les Amis' seasonal line-caught French sea bass with sauce printanière, surrounded by Morisseau mussels (image: Les Amis)
Les Amis
Three MICHELIN Stars, MICHELIN Guide Singapore 2019
Les Amis was fortuitously scheduled for renovations over the duration of Phase 2 (Heightened Alert). Chef Sebastien Lepinoy has overseen a light refresh of the dining room area and also a newly outfitted chef's table combined with merchandise room. Guests here are welcomed by luxurious Chelsea chairs by Rodolfo Dordoni complementing an oval table. Celsius, the leading industry company who built Les Amis' complex customised wine storage system, has created a customised refrigerator to house the exclusive products designed by Lepinoy.
Guests who made the Les Amis ice cream a consistent sold out affair during circuit breaker last year will be pleased to know the ice creams are now in stock at the merchandise room. Altogether 11 flavours are available for the ice cream trolley and takeaway, of which six – including the cult Blue Mountain Coffee ice cream – are for retail. Other specialist products include the Les Amis Château d'Estoublon olive oil, Les Amis Reserve caviar, artisan jam, smoked salmon and specialty cheeses selected in collaboration with their Cheese Master.
For guests dining in from 24 June, the Le Jardin de Rabelais tomato from Loire Valley awaits. These plump, juicy gems will be served in a tomato tart canapé. A new signature dish is the poached egg served in a fountain of watercress paired with turnip and special selection of caviar. Lepinoy tested this dish out just before the restaurant closed for renovation, and it was well received. Prized bouchot mussels [main banner image] from House Morisseau in Normandy are also back in season. Cultivated in the Atlantic Ocean with natural tide movement, they are shipped live in jute bags, and go into the cold Mouclade style dish with aromatic vegetables.

Room Service By Saint Pierre (Image: Saint Pierre)
Saint Pierre
Two MICHELIN Stars, MICHELIN Guide Singapore 2019
While Saint Pierre was closed physically, Virtual Saint Pierre, which was first launched during the circuit breaker last year, made a return. The restaurant also launched Room Service By Saint Pierre.

Says chef-owner Emmanuel Stroobant, "The idea behind Room Service By Saint Pierre is really to allow families to indulge in hearty, comforting dishes at home – which explains the main course of wagyu beef with spring vegetables and wasabi jus served in a pot, ideal to share." All the dishes are cooked, prepared and plated on the restaurant's tableware, with a restaurant staff delivering the meal right to the diner's tables and removing the cling film upon arrival. No cooking or reheating is required, and diners do not have to worry about wondering which sauce goes with which dish.

Notes Stroobant, "The response for Room Service is very encouraging. When it was first launched, we saw about two orders a day, but gradually increased to three to four orders with really positive feedback. As such, we decided to continue offering Room Service so that diners can continue to enjoy a fuss-free, luxurious, and personalised dining experience at home."
As for the seasonal menu that started when the restaurant reopened on 22 June, patrons can look forward to trumpeter zucchini, which Stroobant calls his favourite underrated vegetable. It will be served in a new dish with sand carrot and black winter truffle, the season which starts now in Australia. Hokkaido-imported crab and corn are also coming into play, which will be served in the form of a grilled corn extraction with kegani (Hokkaido hairy crab).

Head chef Kazumine Nishida of Shoukouwa (Image: Shoukouwa)
Shoukouwa
Two MICHELIN Star, MICHELIN Guide Singapore 2019
"For Shoukouwa, we rolled out an an 18-course Omakase Bento available for delivery and takeaway, created in collaboration with Saint Pierre. We also launched Shoukouwa At Home, a highly exclusive private home dining experience, where head chef Kazumine Nishida and service staff would bring the two Michelin-starred dining experience to the diner's home," elaborates Emmanuel Stroobant, owner of Shoukouwa Sushi Restaurant.
"To ensure the freshness of the ingredients, we make it a point to place an order for fresh seasonal produce only when we receive an order for the Shoukouwa At Home experience."
Guests dining in after 22 June will be pleased to find aka uni (red sea urchin) in season in June to August, in addition to the existing choice of murasaki and bafun uni. The team is also preparing a new appetiser comprising junsai (water shield), tsubugai (whelk) and uni with a cold vinegar dressing. White fish such as garei (flounder), kanpachi (amberjack) and hirame (halibut) exhibit lighter and more delicate flavours in summer, while blue backed fish like saba (mackerel) and kohada gizzard shard) are rich and fatty. Nishida plans to introduce a steamed nodoguro (black throat seaperch), which was previously served grilled.
WATCH THE VIDEO: Behind The Noren Of Shoukouwa
Waku Ghin
Two MICHELIN Star, MICHELIN Guide Singapore 2019
The wait for a table at Waku Ghin just got a little longer. The restaurant, which reopened in March after extensive renovations, saw a two-month waitlist at the time. Thankfully, fans can now avail of the newly launched Waku Ghin at Home, featuring five new creations by Tetsuya Wakuda. The programme, launched during Phase 2 (Heightened Alert), will continue indefinitely alongside the Gourmet Takeaways Marina Bay Sands-wide programme, with regular seasonal updates.

For now, items to enjoy at home include futomaki sushi, featuring slow-steamed abalone in sake, marinated grilled Ohmi beef from Shiga, served with rice, and Basque cheesecake (image).
Should you manage to snag a coveted seat at the 10-course omakase, a summer dish to savour is the pan-seared ayu with pomelo and tade. Usually found along the shallow river banks where ayu (sweetfish) is harvested, tade (water pepper) is a natural complement to the freshwater fish known for its delicate sweetness. Carefully pan-seared till crisp, the filet is served atop fresh pomelo pulps, diced daikon and fennel, complete with a brush of emerald tade sauce on the side.

Buona Terra
One MICHELIN Star, MICHELIN Guide Singapore 2019

Resident Chef Denis Lucchi kept a positive outlook even as his Spring menu was curtailed after two weeks on 16 May. During the restricted period, the restaurant offered the Chef's Experiential 5-Course Tasting Menu for takeaway and delivery, which turned out to be the most popular option for restaurant supporters. The menu was customised with the best seasonal ingredients of the week that included some of the Spring ingredients.

[Image of summer produce courtesy of Delisari Gourmet Singapore]
Now that the restaurant has reopened, Lucchi is transitioning into the full Summer menu at the end of June or early July. He anticipates produce such as fresh ovuli mushrooms and Tropea IGP red onions from Italy, Manjimup truffles from Australia as well as white eggplant, zucchini flower and trombetta zucchini. When stone fruits are at their peak further into summer, he'll be using peaches, cherries and figs in both savoury and sweet dishes.
Till then, the linguine with watercress, bamboo clams and bottarga that was introduced for Spring will continue for some time, while you may be dining on glazed duck breast with cherries, carrots, fennel and endive over the next couple weeks.

Interiors of Jaan by Kirk Westaway
Jaan by Kirk Westaway
One MICHELIN Star, MICHELIN Guide Singapore 2019
The restaurant was closed from 16 May to 24 June and did not offer takeaways or deliveries during this time. The Spring 2021 menu, with exceptional ingredients like green asparagus and English peas, was served for three weeks before diners missed the opportunity to try it.
Commented chef Kirk Westaway, "Some colleagues from the team have been clearing leave and taking a break while others have been redeployed to other departments to support hotel projects and operations, so that jobs continue to be kept and livelihoods are protected. This period also allowed constructive time off for my culinary team and I to channel our focus on R&D and develop a brand new modern British menu for Summer. We look forward to delighting guests with the culmination of our creative introspection when they visit the restaurant."

Summer's bounty includes a showcase of organic fruits and vegetables sourced from artisans, while highlighted dishes with the continuing Reinventing British flair are the refreshing Summer Tomato starter, Cornwall seabass paired with a medley of tomatoes, artichokes and aromatic herbs, a tender organic chicken cooked in three ways, and a Strawberry Eton Mess not to miss. Over on the restaurant's Instagram, you may have seen this dish (image, right) that contrasts the creaminess of Donegal oysters with the nuttiness of artichokes.⁣