There are a few things we love about a good claypot rice. The smokiness that comes with getting properly cooked over hot coals is one. Forget about the claypot rice we've gotten that's been pre-cooked elsewhere and simply bundled into the pot during service; we know when the char is absent.
And of course, the best part about claypot rice is the little layer of charred, crispy bits of rice stuck to the bottom of the pot that with a little coaxing, will free up and become an integral part of your claypot rice experience. True fans will know what we mean.
For said fans, here are five spots to check out.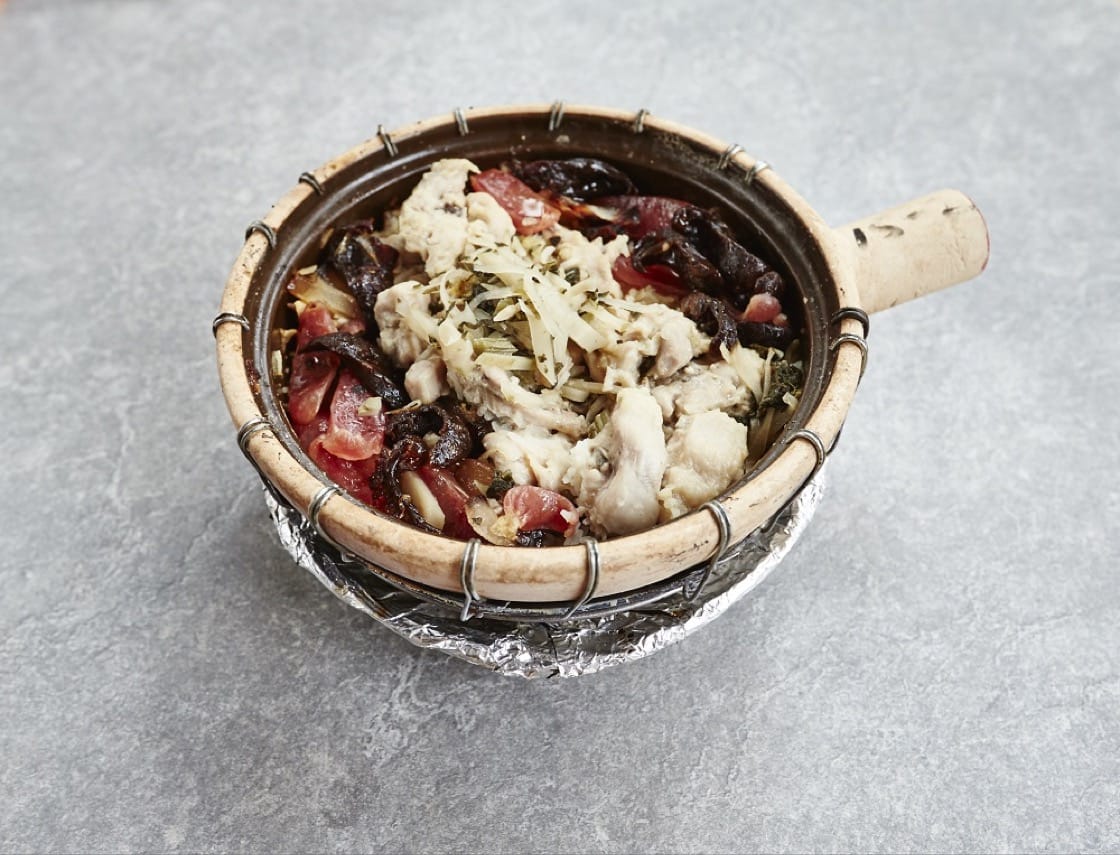 New Lucky Claypot Rice received a Bib Gourmand nod in 2017
New Lucky Claypot Rice
Holland Drive Food Centre, 44 Holland Drive, #02-19
Opening hours: 11am to 1pm for lunch, 5pm to 8pm for dinner, daily. Closed on Wednesdays.
Awarded: Bib Gourmand
A call in advance is highly recommended prior to the visit because each claypot is prepped to order and takes approximately 20 minutes to cook. Customers can choose from three sizes: a portion for two pax ($10), three ($20) and four ($25). The Wu Wei (five flavours) Rice is their signature but there's also a choice of chicken if pork doesn't catch your fancy. Marinated meat cooked with salted fish and a generous serving of lup cheong (read: Chinese sausage) is what you get. We like that they don't skimp on the crucial step of dark sweet soy and oil because the difference is truly vast when every grain rice is lovingly coated in the dark, syrupy sauce.
The best of the MICHELIN Experience in your inbox
Stay on the top of the best restaurants, offers, lifestyle, and events recommended in our guide cities.
Subscribe
Clay pots of rice getting some love on the fire
Geylang Claypot Rice
639 Lorong 33, Geylang
Opening hours: 11.30am to 2.30pm for lunch, 5pm to 11.30pm for dinner, daily. Closed on Mondays.
Our inspectors visited Geyland Claypot Rice this year and here's what they had to say: The location and speciality are both there in the name. This modestly decorated place with its big round tables and plastic chairs is all about rice cooked over charcoal – accompanied by sausage, salted fish, chicken or cured meat. There are other Cantonese dishes to choose from the illuminated menu on the wall; the bean curd 'prawn ball' is good. Call in advance to reserve a table and to ensure your rice will be ready for you when you arrive.
Lian He Ben Ji Claypot Rice

Chinatown Complex, 335 Smith Street, #02-198/199
Opening hours: 4.30pm to 10.30pm, daily. Closed on Thursdays.
It's got a 20-year track record and a loyal following to boot. Lian He Ben Ji occupies two stalls on the second floor of Chinatown Complex Market and Food Centre. Service here is brisk and the wait can stretch any time from 20 to 45 minutes. The comfort is in knowing that each claypot that goes out has been individually prepped and lovingly cooked. And with prices starting at $5 for a small pot to $20 for a large, they're on the lower end of the market rate.
Yew Chuan Claypot Rice
Golden Mile Food Centre, 505 Beach Road, #01-73
Opening hours: 12pm to 10pm, Mon, Tues, Wed & Fri. 4pm to 10pm, Sat & Sun. Closed on Thursdays.

The unassuming stall at Golden Mile Food Centre has amassed a list of regulars who have been patronising it for years. The wait here is a lot more manageable than the others but the food is no less tasty. An average waiting time of 20 minutes is still expected though, for the rice to be cooked on a stove first before getting transferred to the hot coals, a crucial step in ensuring that the rice at the bottom of the claypot doesn't turn black and instead, a glorious toasty brown.
Black truffle shavings over Kamoshita's sea bream claypot rice
Kamoshita
5 Neil Rd
Opening hours: 6pm to midnight, daily. Closed on Saturdays.
And for a claypot rice that's a little more luxe, there's Kamoshita's sea bream claypot rice that's cooked in a fish stock made with fish bones imported from Japan's Tsujiki market. The result is a beautifully fluffy rice infused with the briny flavours that comes from the fish bones. And if that's not enough, chef Koki Miyoshi douses the cooked rice with genuine truffle oil, truffle salsa and shaved black truffles, giving the savoury-sweet dish a delicious earthiness. At $49 a pot, the sea bream truffle rice is ideal for sharing among a group of three to four diners.