Singapore is a melting pot of cultures with Chinese, Indian, Indonesian, Malay, and Peranakan dominating the Lion City's population. This celebration of cultures is precisely what makes Singapore such a delicious destination: its myriad of dishes and iterations of staples, with curry being one of them.

To say that that there is one true version of a Singaporean curry is a misnomer because there is no such thing. However, it is a fact that Singapore's residents and visitors are spoilt for choice, given the plethora of curries to choose from. Thick, fiery, and unctuous, what cannot be denied in Singapore's curries are their rich, spice-laden flavours that awaken the palate, with recipes rooted in tradition and heritage.

According to Tham Niap Tong, founder of MICHELIN-listed Rolina Traditional Hainanese Curry Puff in Tanjong Pagar Food Centre, he learned how to make curry from a Peranakan household, and the foundation of which is the rempah, or spice mix, whose recipe has remained unchanged since the 80-year-old opened his stall over two decades ago.

There is definitely a plethora of curry restaurants and eateries in Singapore specialising in various cultural styles such as curry fish head, biryani, Assam laksa, and masala, to name a few. The eateries below were chosen based on our MICHELIN inspectors' recommendations, specifically for their chicken curry dishes, which have earned them either a Bib Gourmand accolade or a MICHELIN Guide recommendation. Hungry yet? Here are six eateries around Singapore that have curried favour with our MICHELIN inspectors for their chicken curry dishes.
This Bib Gourmand recommended stall at Albert Food Centre along Queen Street is a representation of how curry cultures collide. The curry broth is described by our MICHELIN Guide inspectors as "robust", and it is made with nearly 20 ingredients including Indian spices, curry powder, chicken stock, shrimps, and coconut milk. With the chicken slowly simmered in this curry, the meat yields a delicious and intense flavour. Diners particularly enjoy the tofu puffs that serve as spongy vessels that absorb the curry.
The only curry puff place awarded with a Bib Gourmand accolade,
J2 Famous Crispy Curry Puff
, run by husband-and-wife Lee Meng Li and Wu Jing Hua has been in operation at Amoy Street Food Centre since 2007. The famous and hearty Malay snack is praised for its crispy, flaky crust and generous fillings; and occasionally, tasty versions such as black pepper chicken and yam make an appearance. According to the owners: "Temperature is key to creating that perfect golden crust. The curry puffs also cannot be left in the oil for too long, or the fillings might leak."
Photo: Na Na Curry
While its Bib Gourmand awarded stall at Bukit Merah View is well-known for its Curry Fish Head, another crowd pleaser is its Curry Chicken.
Na Na Curry
's menu boasts eight different types of curry, including pork rib and mutton, with a choice of either bread or white rice to polish the gravy off with. Despite the string of branches it now has, the Bukit Merah View address remains highly praised by our MICHELIN Guide inspectors for its flavourful fare.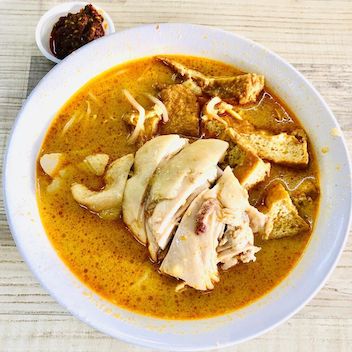 Not to be confused with
laksa
as the curry broth tends to err on the soupier side,
Ah Heng Curry Chicken Bee Hoon Mee
is praised by our MICHELIN Guide inspectors for their signature dish, curry chicken
bee hoon
served with tofu puff and potatoes.
The curry's recipe is known to be several decades old and has been passed down to generations. Apart from thin
bee hoon
, the stall also offers thick
bee hoon
and yellow noodles, with bowls doused in curry upon serving.
Having started out as a pushcart selling curry puffs along Novena,
Rolina Traditional Hainanese Curry Puff
got its name from a customer who pronounced "Novena" as "Rolina". It was then christened as the curry puff stall's name when it opened at Tanjong Pagar Food Centre 20 years ago.
Here, the preparation of the
rempah
(spice mix) is kept top priority, with a recipe that has remained unchanged for generations since the pushcart business started almost 50 years ago. Famous for their bite-sized puffs that pack a punch, the curry recipe is a nod to tradition and heritage. Not surprisingly, our MICHELIN Guide inspectors say that they are too good to miss out on.
With an option of
bee hoon
, yellow noodles, or
kway teow
available, what sets
Hock Hai (Hong Lim) Curry Chicken Noodle
's curry gravy apart is that it leans more on the spicier side. Located at the first floor of the Bedok Interchange Hawker Centre, expect queues during peak lunch and dinner hours.
Also, compared to other curry eateries that tend to stick to tradition,
Hock Hai (Hong Lim) Curry Chicken Noodle
's curry gravy has been tweaked through the years, based on their customers' feedback. According to our inspectors, the
satay bee hoon
is also worth a try.