For 12 years, chef Lee Eng Su was cooking French food around the world, in countries such as the United States, Israel and the United Kingdom, but the 39-year-old Singaporean felt a strange disconnect spending the bulk of his time perfecting dishes that are remote from his heritage.

Then, he attended a nasi lemak convention in Kuala Lumpur in 2014, which fired up his appetite for nasi lemak and curiosity to cook the Malay dish that traditionally comprises coconut rice, fried chicken, ikan bilis, fried egg and sambal.

He says: "I was blown away by nasi lemak in Malaysia. It is like a cuisine, in which the rice is served with so many side dishes from tempeh (fermented soybean) to fermented durian. As a chef, when I come across a good dish, I want to cook it myself."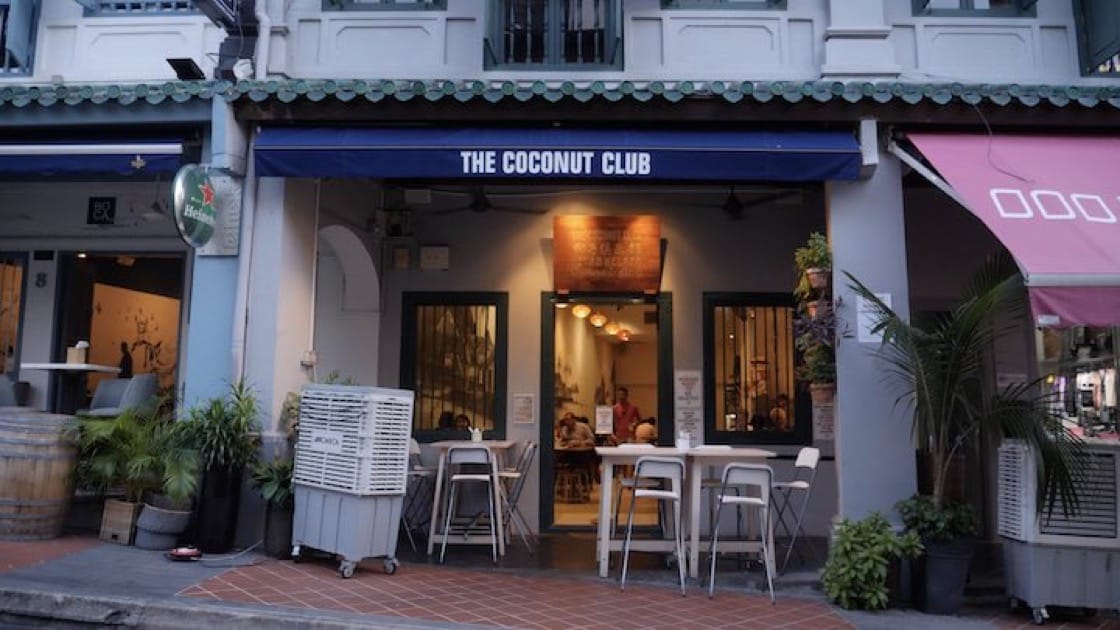 The nasi lemak specialty restaurant is a popular haunt among foodies and tourists. (Michelin Guide Digital)
Over the next two years, he made 15 trips to Malaysia to taste nasi lemak from a vast variety of eateries, from restaurants to hawker stalls. He recalls: "It was a frustrating process to learn how to cook nasi lemak from scratch by reverse engineering." After spending a year to nail the recipe, he and two long-time friends, Lee Chan Wai, 41, and Kamal Samuel, 40, started a nasi lemak speciality restaurant
The Coconut Club
in October 2016.
Their hard work and tenacity paid off when the 65-seat restaurant in Ann Siang Hill was recognised with
Bib Gourmand status in the MICHELIN Guide Singapore 2018
. The coconut-centric restaurant is so well-regarded for its nasi lemak that Singapore Prime Minister Lee Hsien Loong hosted Philippine President Rodrigo Duterte there for a meal in December 2016.
The Coconut Club's nasi lemak features a whole spiced chicken leg (or ayam goreng berempah), ikan bilis, roasted peanuts, sunny-side-up egg, cucumber slices and sambal. (Credit: Michelin Guide Digital)
The Coconut Club
's Malaysia-inspired nasi lemak has a whole spiced chicken leg (or
ayam goreng berempah
) that is marinated with spices such as galangal, lemongrass, ginger and shallots, and studded with crispy batter bits, ikan bilis, roasted peanuts, sunny-side-up egg, cucumber slices and a not-too sweet sambal, and of course, the coconut milk-infused rice that is
lemak
.
One of the biggest challenges that the trio faced was scouring for the right types of coconut. After numerous visits to coconut wholesalers and plantation owners in Malaysia, they narrowed their selection to two types of coconuts: the Malaysian West African (MAWA) hybrid from Selangor, which is known for its high fat content, and kampong coconuts from Johor.
Lee Eng Su notes that the flavour of coconut milk comes from its fat. He uses a blend of these two varieties of coconut so that the resulting milk contains 36% of fat that yields an "optimum flavour".
By importing the coconuts themselves, the conditions and age of the fruit can be carefully monitored. Fresh batches of coconuts are delivered to the shop every other day, where the staff juice the coconuts manually.
Another crowd-favourite Chendol has copious amount of coconut milk. (Michelin Guide Digital)
At $12.80, the price of the nasi lemak has raised some eyebrows among foodies here. The owners explain that the price tag is justified by the huge amount of effort that goes into sourcing the ingredients, cooking and creating a comfortable restaurant ambience with good service.

Besides nasi lemak, The Coconut Club also serves dishes that make use of the aromatic coconut milk, such as chendol, kueh salat (glutinous rice with coconut custard), kueh kosui (steamed gula melaka cake with grated coconut) and savoury dishes like sayur lemak (vegetable stew).
RELATED: Click here for more Bib Gourmand stories.