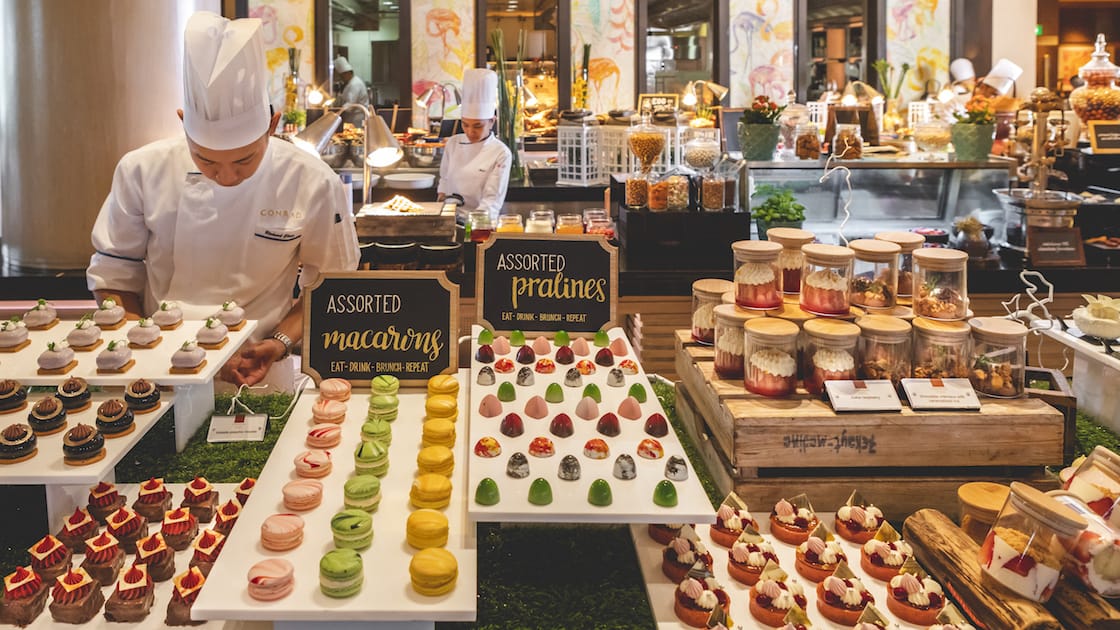 There is more to the MICHELIN Guide than its coveted stars. Other than its restaurant selection, the red guide also has a
hotel reference section
for the cities that the guide is in. In Singapore, these cover the gamut from luxury hotels in the heart of Orchard Road to tranquil retreats on Sentosa. Here are five family-friendly weekend brunch buffets in Michelin-listed hotels where you can spend some quality time with the kids over good food and fun activities.
(Pic and Banner Pic: Conrad Centennial Singapore)
Conrad Centennial
Sundays, 12.30pm to 3.30pm
$108++ per adult
$188 to $208++ with alcohol
$54 per child aged six to 12
Complimentary for children under six
What the MICHELIN Guide Says:
"There's no doubt this hotel will satisfy anyone who is looking for a well-run and comfortable hotel in a good location — one that offers large bedrooms, a good cocktail bar and a relaxing lounge. What really sets this place apart, however, is the vast and impressive collection of paintings and sculptures that are scattered around the building."
Oscar's at Conrad Centennial has updated its brunch menu, bringing in a new
Eat-Drink-Brunch-Repeat Sunday Brunch
. The Gravlax Bar features fresh salmon delicately sliced and cured with a variety of spirits, with unique combinations such as the Beetroot And Gin Gravlax. The carving station has also been revamped, boasting four delectable types of roasts, such as the Moroccan-Spiced Charred Whole Lamb. Oscar's Signature Congee Bar features congees with bold contemporary flavours and authentic traditional ones, such as the Singapore Laksa Congee, Century Egg Congee and Chinese Sausage And Mushrooms Congee. The many options at Oscar's will cater to the dietary preferences of the young and the old, making it an ideal choice for a relaxing weekend brunch.
The best of the MICHELIN Experience in your inbox
Stay on the top of the best restaurants, offers, lifestyle, and events recommended in our guide cities.
Subscribe
(Pic: Pan Pacific Singapore)
Pan Pacific Singapore
Sundays, 12pm to 3.30pm
$128++ per adult
$188 to $208++ with alcohol
$64 per child aged six to 12

What the MICHELIN Guide Says: "Immaculate upkeep ensures that this not-so-new kid on the block still gleams. It's a good option for business travellers and those on longer stays as its location is excellent — it's linked to Marina Square and Millenia Walk, and all the boutiques and food courts you'll ever need. It also has two high-end restaurants of its own, along with a never-ending buffet."

Located within Pan Pacific, The Edge treats diners to a theatrical dining experience, with the live music and the open-concept kitchens providing a relaxing ambience for families to enjoy. Diners will also be spoilt for choice as there are 16 stations of signature premium delights. The Edge also introduces novel yet inviting Asian offerings, such as the Pad Kra Pao (minced pork with Thai basil) from Thailand and the Duck Egg Fried Koay Kak (fried rice cake) from Vietnam. For the children, they can look forward to the Kids' Dessert Corner, featuring the Pierrot Gourmand Gummy Display, a stunning Spiral Chocolate Fountain and a balloon sculpting station, which are sure to entertain.
(Pic: The Fullerton Bay)
The Fullerton Bay
Weekends, 12pm to 3pm
$108++ per adult
$128 to $208++ with alcohol
$49 per child aged six to 11
What the MICHELIN Guide Says:
"Its angled glass façade ensures this waterfront hotel is instantly recognisable but what makes it really stand out is what's inside: four unique restaurants and a rooftop lounge, pool and garden — as well as bedrooms whose contemporary decorative elements manage to respect the past. And then there are the views: from every angle and in every direction…"
The hotel's
La Brasserie
is a quintessential French restaurant that presents a contemporary take on French cuisine, offering French cuisine du soleil (cooking of the sun) classics with light tones of Mediterranean flavours. For its weekend brunch menu, La Brasserie features an array of delights, from the authentic French classics such as Foie Gras Terrine to delights closer to home, such as Braised Ee Fu Noodles With Homemade X.O. Sauce Jumbo Crab Meat And Silver Sprouts. The Kid's Corner also allows the young to enjoy movie screenings and handicrafts, which will definitely keep them occupied.
(Pic: InterContinental Singapore)
InterContinental Singapore
Sundays, 12pm to 3pm
$98++ per adult
$148++ with alcohol
$48 per child aged six to 12

What the MICHELIN Guide Says: "It's not just its location in Bugis that makes this a worthy choice. A steady programme of improvement and refurbishment over the last few years has ensured its high standard of accommodation is maintained. The decoration cleverly blends Peranakan heritage with contemporary styles to create attractive and comfortable bedrooms — ask for one in the original building."

Found within the InterContinental Hotel, Ash & Elm seeks to provide a European-style brasserie experience for all diners. The Sunday Champagne Brunch Menu created by newly appointed chef de cuisine Adrian Chan boasts food platters that honour France's culinary history. The platters are divided into three categories, From the Sea, From the Land and From the Garden, presenting a fresh take on the different proteins and produce offered. Hidden within Ash & Elm is also a Kids' Room, which offers fun and enriching workshops for the young, such as a cupcake decoration workshop, and other arts and crafts activities. Families can dine in peace, knowing that their children are having fun and are also being well taken care of by the friendly staff.
(Pic: Mandarin Oriental Singapore)
Mandarin Oriental
Sundays, 12pm to 3pm
$118++ per adult
$178 to $218++ with alcohol
$78 per child aged 10 to 12
$48 per child aged seven to nine
Children aged six and below dine free

What the MICHELIN Guide says: "The Mandarin Oriental name is synonymous with luxury accommodation and impeccable service, and this 'branch' of the international hotel group doesn't disappoint. Rising up from the fan-shaped courtyard are 21 floors of comfort and sophistication, with breathtaking views of Marina Bay. The colours, silks, linens and carvings all pay tribute to the hotel's unique setting."

At the hotel's Melt Café, you can choose from an extensive selection of international dishes while dining in a modern and stylish ambience. Highlights of the Sunday Brunch Menu include the Oysters & Premium Seafood section as well as the Roasted Wagyu Cuts from the Chef's Station. The handcrafted dessert creations by the restaurant's award-winning pastry chefs are not to be missed, with the latest addition being the Amaretto Sabayon Frozen Lollipop doused in liquid nitrogen, accompanied by various sauces such as Chantilly cream and vanilla sauce. Children can look forward to an interactive room that includes activities such as sugar cookie decorating and Xbox video games.
---
The article was written by Eyu Kai Jie and Ong Yan Deng.