The Mid-Autumn Festival is around the corner. Traditional Cantonese mooncakes with sweet lotus paste and salted egg yolk are always Hong Kong people's favourite. Today, there are quite some changes in mooncakes, Egg Custard mooncakes have become a more popular choice in recent years. Cantonese mooncakes are not the only festive specialty, Shanghai and Chaozhou also got their authentic ones. If you want to try top-notch festive food, the restaurants at these luxury hotels from the official MICHELIN Tablet Hotels selection can no doubt serve you some exceptional joyful treats. This year, celebrate the Mid-Autumn with your loved ones.

Rosewood A Sense of Taste Mooncake Gift Box Limited Edition (HK$988/box) is the limited edition box curated by Chef Li and the talented culinary team at Rosewood.
Chinese executive chef Li Chi-Wai from
The Legacy House
at Rosewood Hong Kong has specially launched Rosewood Traditional White Lotus Seed Paste with Double Egg Yolks and the nostalgic Rosewood Yellow Lotus Seed Paste with Olive Seeds and Double Egg Yolks. The Rosewood Mini Assorted Flavour Mooncakes, a beautiful medley of classic and creative flavours combining the essences of tea and mooncake, offers Jasmine Egg Custard, Lapsang Souchong Lotus and Red Bean Mandarin Peel. Featuring rich taste and melt-in-your-mouth texture, these mooncakes are your unforgettable memories.
READ MOREL: Hong Kong's Best Restaurants with Harbour Views
The most-sought-after Peninsula mooncake is a perennial favourite of Hong Kong people. First launched in 1986 at The Peninsula Hong Kong's one-MICHELIN-starred restaurant Spring Moon, the avant-garde Mini Egg Custard Mooncakes raised the bar for this storied confection and took the Hong Kong moon cake tradition to a new level by blending eastern traditions with western culinary skills.
Inspired by the classic art deco design and stained glass windows of Spring Moon, the colourful round motif on the elegant packaging embodies Mid-Autumn Festival's spirit of joy and heart-warming moments of reunion with your family and loved ones.

The Michelin-starred Summer Palace at Island Shangri-La unveils the Premium Molten Lava Custard Mooncakes collection, featuring Mini Black Sesame Molten Lava Custard Mooncakes made with high-quality black sesame seeds. Following a secret recipe, the aromatic molten lava filling was made by several procedures. The other lava custard mooncakes are infused with fresh and delicious citrus, the refreshing citrus pulp can be easily seen. The refreshing citrus is a great pair with the creamy custard. The Summer Palace Mini Black Truffle Custard Mooncakes could be a more exceptional gift choice. The fragrance of truffle is blended perfectly into the custard, and the natural truffle fragrance balances well with the oil-rich salted egg yolk.
The chef at Michelin-selected Chinese restaurant Above & Beyond follows the traditional culinary art and creates traditional Mini White Lotus Seed Paste Mooncake with Yolk. Joining hands with The Hong Kong Polytechnic University School of Design, the mooncakes are encased in an exquisite designer gift box themed with "Enjoying the moon". The delicious bite-size traditional Mini White Lotus Paste Mooncake with Yolk are filled with silky-smooth paste made from the best selected lotus seeds and loaded with rich savoury flavour of the golden salted egg yolk, a traditional delight that you simply cannot resist while moon-gazing with family and friends.

Tin Lung Heen's mooncakes are best to pair with tea.
Mooncakes from Lung King Heen, Four Season Hotel Hong Kong.
Three-MICHELIN-starred Chinese restaurant Lung King Heen launches the classic Four Seasons White Lotus Seed Paste Mooncakes with Double Salted Egg Yolk and a new flavour: Winter Melon Paste Mooncakes with Black Sesame and Salted Egg Yolk. The black sesame is first toasted to bring out its unique aroma, then mixed with the winter melon paste – a creative and delicious partnership. The restaurant also brings back the popular mooncake creations - White Lotus Seed Paste Mooncakes with Salted Egg Yolk and Black Truffle, as well as the one-of-a-kind Preserved Eggs and Pickled Ginger Mooncakes feature ginger that is pickled in-house.

READ MORE:Michelin-starred Restaurants Share Their Secrets of Making Perfect Shari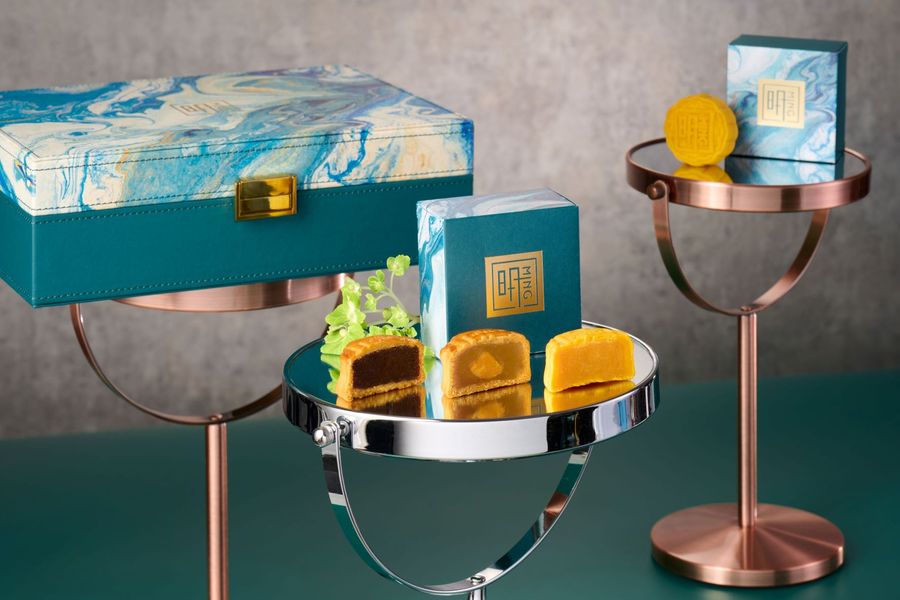 Michelin-starred Cantonese restaurant Ming Court at Cordis Hotel introduces its classic White Lotus Seed Paste with Double Egg Yolks Mooncake.
Michelin-starred Cantonese restaurant Ming Court at Cordis Hotel introduces its classic White Lotus Seed Paste with Double Egg Yolks Mooncake, the Mini Egg Custard with Kumquat Mooncake which blends classic modern flavours with a fresh citrus scent, and the delicate Red Bean Paste with Mandarin Peel Mooncake. This year, the restaurant specially offers its supreme Barbecued Pork Loin Gift Box with the pork wrapped in a vacuum-sealed package. The delicious pork can make a great gift and enjoyed while you are staying home.

READ MORE: Tracing the Origin: Hong Kong's Famous Char Siu Egg Rice
---
Photos courtesy of the interviewees. The main photo is provided by Island Shangri-La, Hong Kong.