Chuseok, or Korean Thanksgiving Day, is one of the biggest and most important holidays in Korea. Many Koreans visit their hometowns to hold ancestral rites and spend time with their family. From near and far, they come together to share stories and to give thanks to their ancestors. This tradition started as a way of appreciating the harvest of the year. People celebrate this season by making food with newly harvested ingredients, drinking rice wines made with newly harvested rice, and making songpyeon (rice cakes) with newly harvested grains. It is customary for people to offer food to their ancestors so that the spirits can taste it first, and later share the food with the whole family after holding a memorial service.

Chuseok literally means 'Autumn eve', and it is also referred to as hangawi – han means 'big' and gawi means 'the ides of the 8th lunar month or autumn.' According to the lunar calendar, the harvest moon, the largest full moon of the year, appears on the 15th day of the eighth month. This season is widely considered as the best for living: the crops are abundant and it is not as hot as in the summer nor as cold as in the winter. There's even a Korean saying that "it is perfectly good - no more, no less - just as much as hangawi."

This holiday provides a good opportunity to experience traditional Korean culture throughout the country. On Chuseok, when the moon rises, everyone shares delicious food and stories with their loved ones. Although 2020 has been a difficult year for many people due to Covid-19, for many, it is an opportunity to prepare delicious and plentiful food to compensate for the year's hard work. In this spirit, we ask the country's Michelin chefs to introduce their favorite foods to enjoy during this holiday.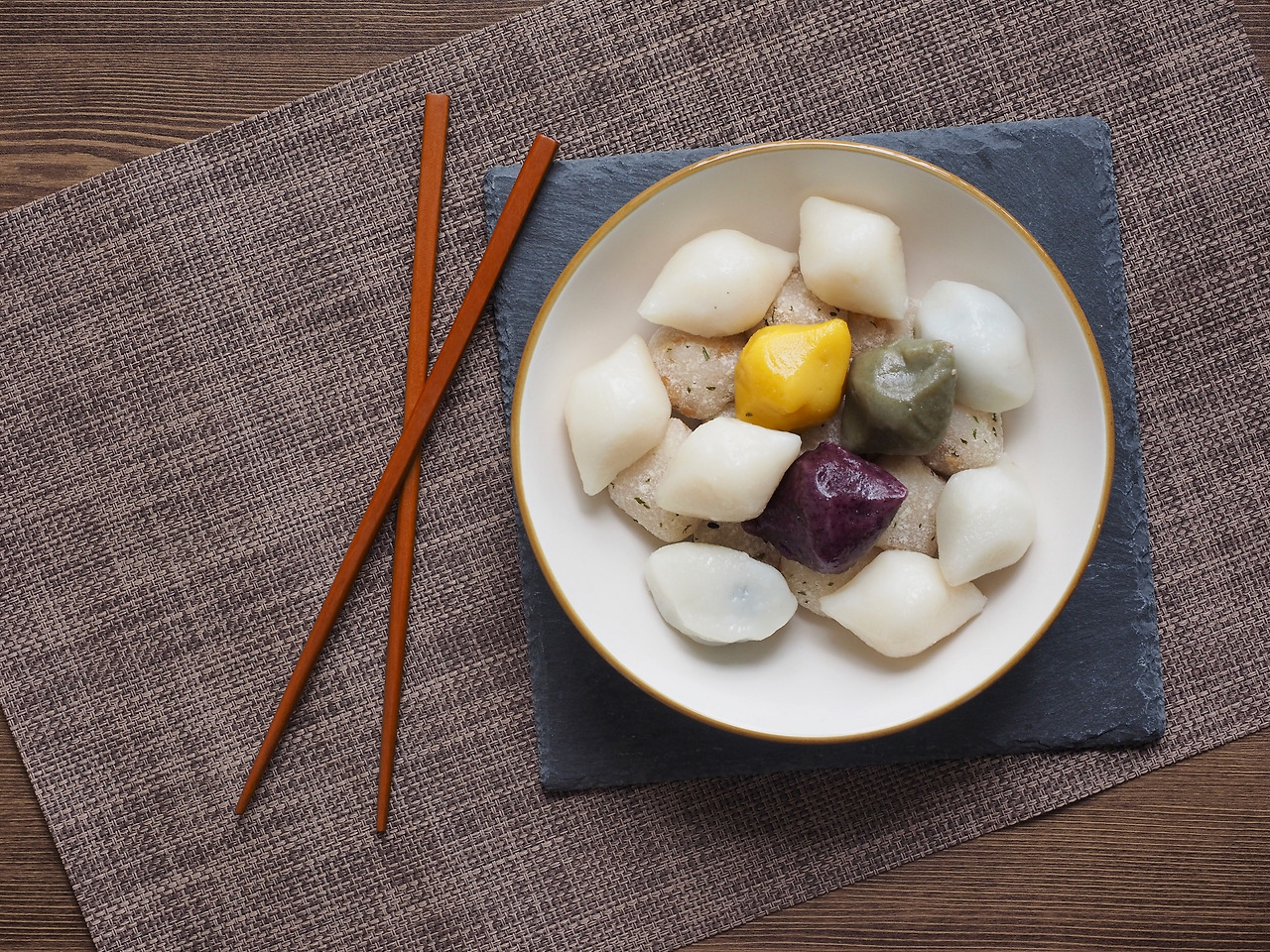 Songpyeon stuffed with sweet fillings
EVETT l Chef Joseph Lidgerwood
1 Star, MICHELIN Guide Seoul 2020
I think songpyeon is a must-have Chuseok delicacy. It is made with newly harvested rice flour to celebrate the year's harvest and give thanks to the ancestors. These little rice cakes are stuffed with sweet fillings such as sweetened sesame seeds and mung bean paste, and traditionally steamed on a bed of pine needles. Their half-moon shape and delicate taste make them very attractive. The texture is especially interesting for me. Koreans are used to this chewy and sticky texture of rice cakes, but I remember being surprised when I first ate one because this texture was quite unfamiliar to me. I quickly became fascinated by this delicious food.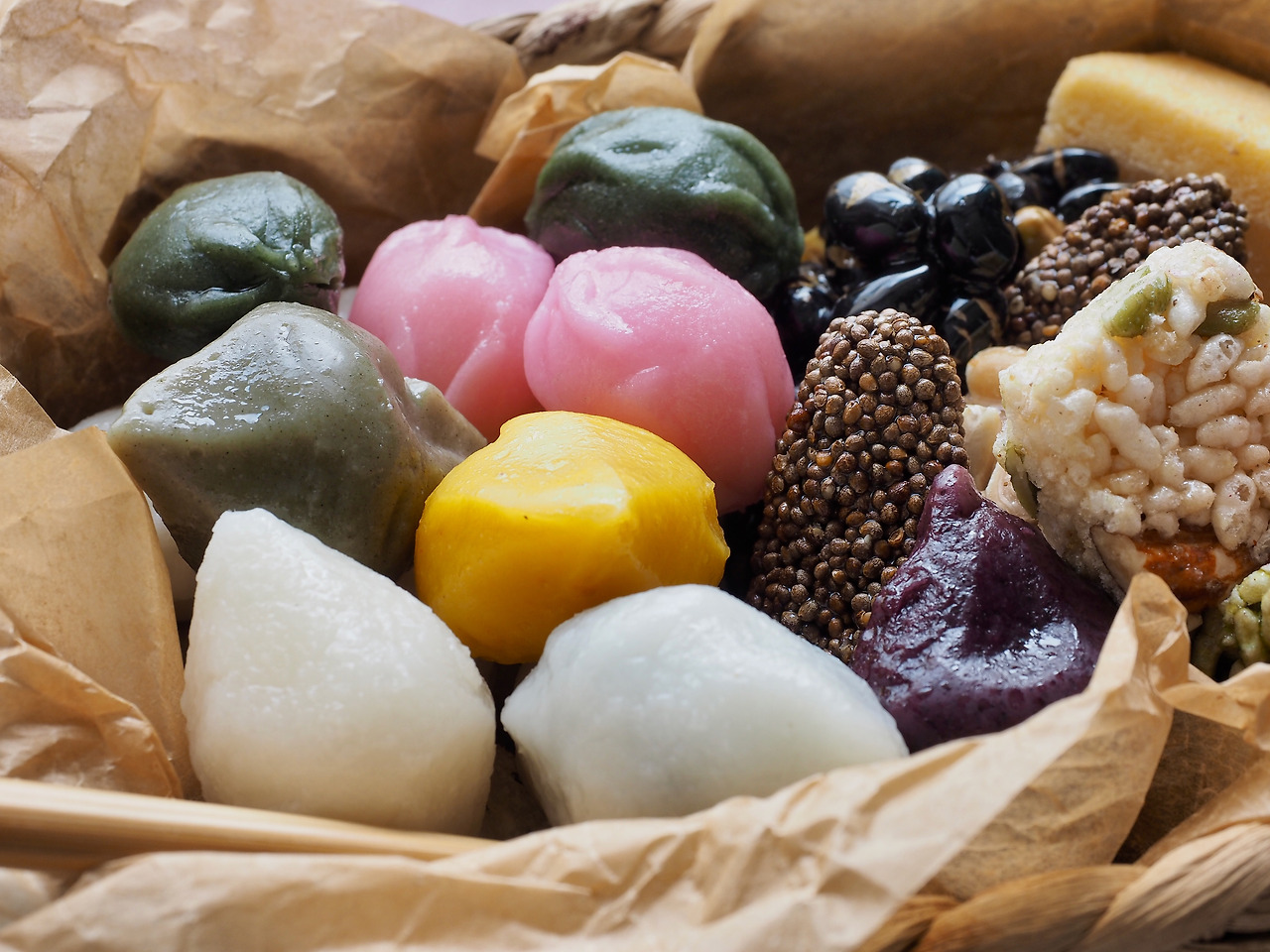 Chewy and sticky songpyeon
Also, I think the practice of making songpyeon with newly harvested rice and sharing it with family members embodies the meaning of Chuseok. The tradition of making a lot of songpyeon with your family to share affection and pray for good things is wonderful.

Since I moved to Korea, I usually spend the Chuseok holidays with my wife, and I value it because it is a good chance for us to give each other strength and retreat from our busy lives. This Chuseok, I want to spend one day just on myself. Owning my restaurant is hard work. So, even a day when I don't have to think about it is precious, even if it's just one day! It is a valuable time to look back on how we've been doing and think about how to finish the rest of the year.


Assorted jeon, pan-fried battered food
Goryori Ken l Chef Kim Geon
MICHELIN Plate, MICHELIN Guide Seoul 2020
Among the various Chuseok foods, fish pancakes and taro soup are dishes I definitely must have. Along with other savory Korean pancakes, jeon or fish pancake, is one of my favorite foods even when it's not a traditional holiday. I like it even more than Japanese fries, though the latter is one of my specialities!

Various fish can be used as ingredients for jeon; among them, I like ones made with sliced cod fillet best. The cod fillets are first coated in flour and then in beaten egg. The fish is then fried in a bit of oil until it is lightly golden and crispy. The thin coating of egg and flour makes it easy to prepare, and the small portions of the fish fillets make it easy to eat. Also, cod offal, known as 'iri' in Korean, is in season in autumn. Cod offal can be also made into jeon. If you taste this, you will be surprised by its amazing and creamy richness and its soft and savory flavor.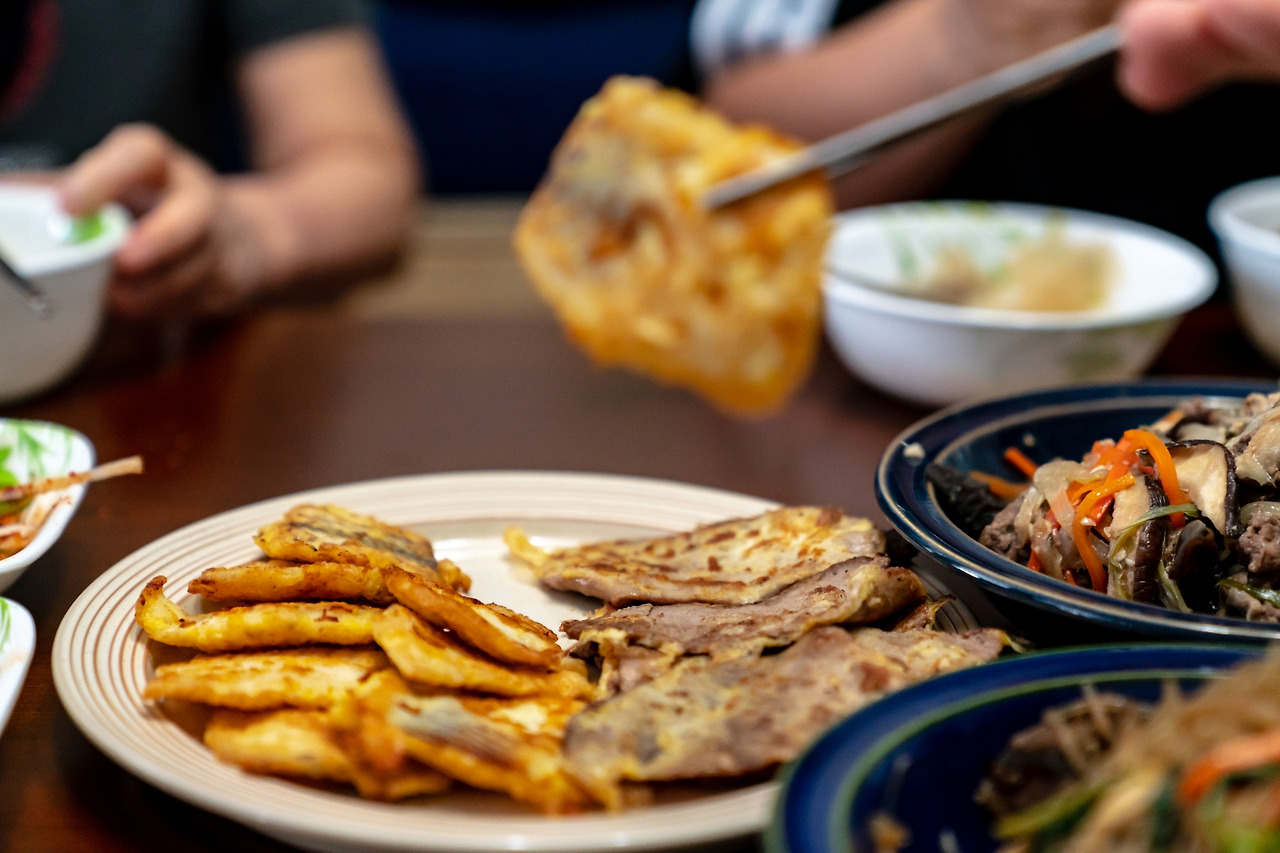 Cod jeon (left) and Beef jeon (right)
We don't usually make jeon with more fatty fish such as mackerel, Pacific saury, or herring. However, if you mince these fish, mix them with other vegetables and fry them well in oil, their rich taste is very unique and fascinating and different from the plain white fish pancakes.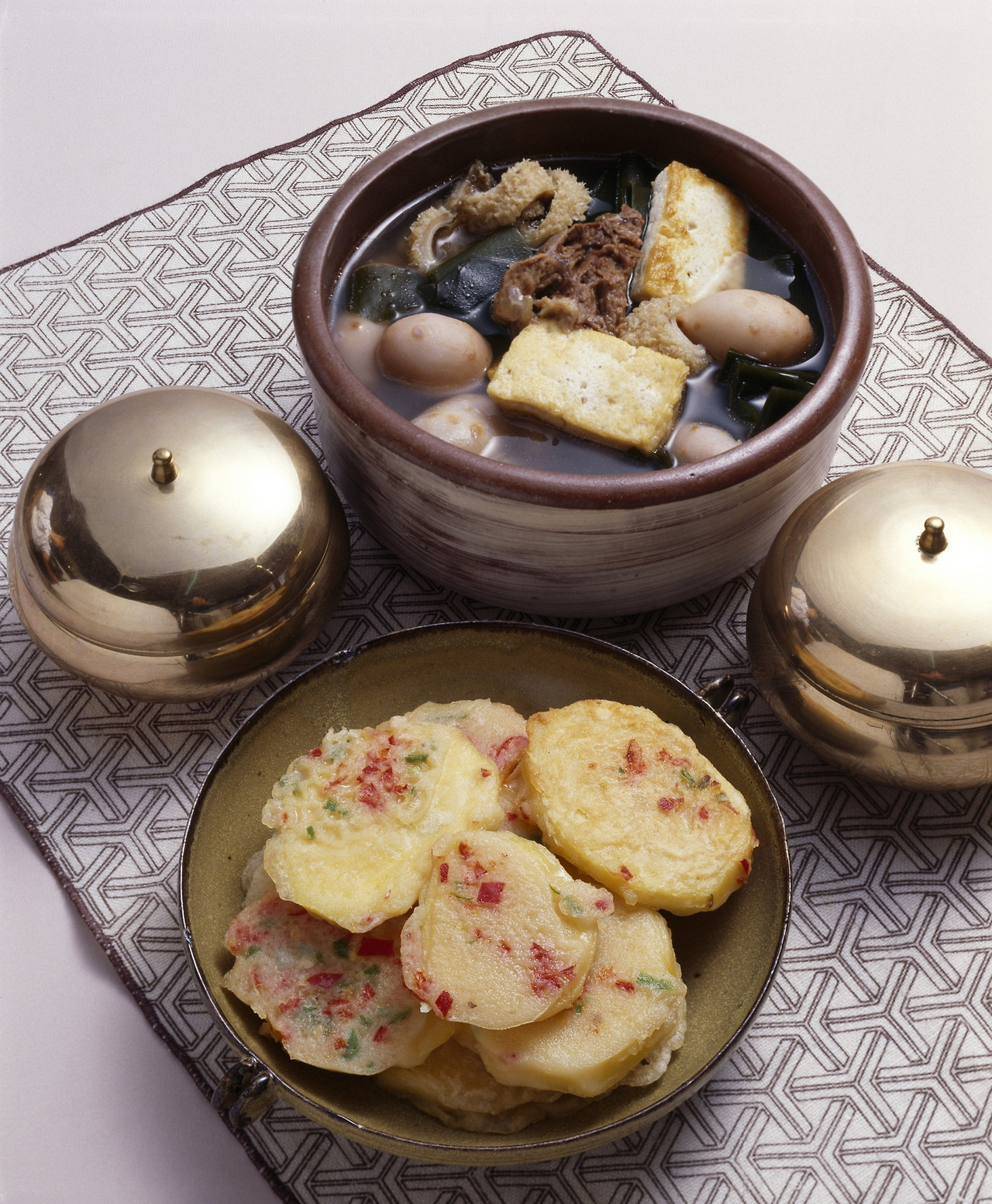 Finally, I can't leave out mention of toran soup. Toran - or taro - literally means 'egg from the earth', and is the main ingredient of the soup. In Korea, the season for taro peaks in fall, between September to October.

I really like root vegetables because of their unique, soft and hearty texture. Toran soup is a representative food for Chuseok and it is even healthy! This hearty bowl of taro soup in rich beef broth, topped with perilla seeds is very delicious.


Tuk Tuk Noodle Thai l Chef Santhorng Opas
Bib Gourmand, MICHELIN Guide Seoul 2020
When I think of the generous table setting of Korean holidays, I am always impressed by the colorful dishes that range from various namul, pancakes, grilled fish and boiled meat, as well as rice and soup. All these holiday foods are delicious, but if I have to pick just one, my choice is sanjeok, which is made of seasoned slices of meat and colorful vegetables on a skewer. It is served after grilling or pan-frying. Its colorful appearance is visually attractive and you can enjoy a contrast of flavors on one skewer.

The first time I ate sanjeok was last year's Chuseok. My Korean colleague who has a Thai wife invited me to his family dinner. At that time, his mother cooked a lot of delicious dishes, and I was impressed with the skewers filled with various ingredients.


sanjeok in the middle
There is no Chuseok holiday in Thailand, but when I see Koreans spending time with their families during this celebration, I miss my family in my own country. So, I try to travel to other regions in Korea like Gangwon-do with other Thai employees that I live with in Korea. We organize a family meal among ourselves and have a good time. Although many people are having a very hard time because if Covid-19 this year, I wish that everyone can have a relaxing time sharing delicious food with each other during Chuseok.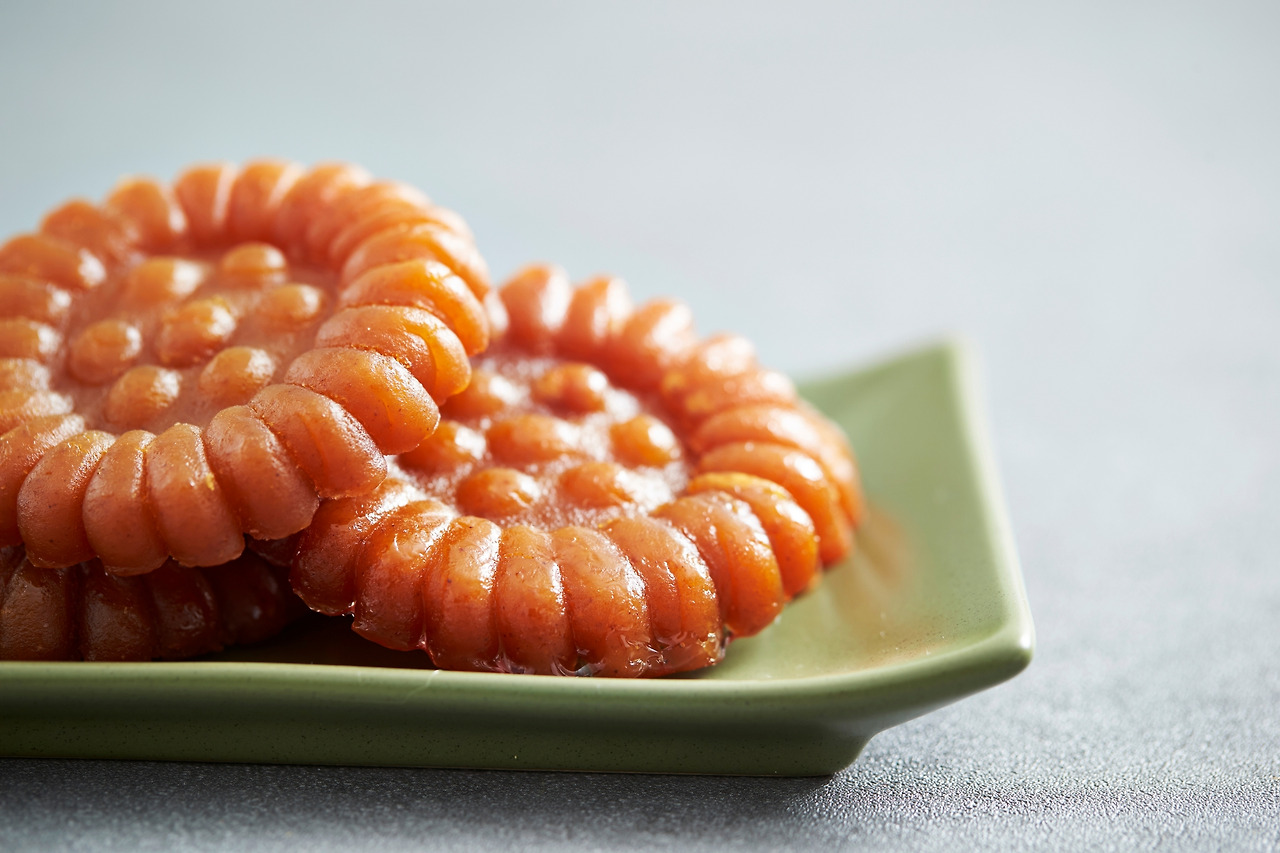 Yakgwa made with honey, sesame oil, cinnamon powder and ginger juice
Yu Yuan l Chef Koo Kwok Fai
1 Star, MICHELIN Guide Seoul 2020
I like yakgwa the most among the traditional Chuseok foods. Yakgwa is a traditional Korean snack which is a deep-fried, wheat-based Korean cookie made with honey, cheongju (rice wine), sesame oil, cinnamon powder and ginger juice. These ingredients are mixed together and pressed into flower-shaped wooden molds, and then fried in oil. It's beautiful to see its golden color and it's simply delicious.

Yakgwa has a delicate ginger and cinnamon scent that complements its savory and sweet taste. It's not difficult to make, but it has complex flavors. The outside is crispy thanks to the use of honey and flour, and the inside is moist. How can one resist this tasty offer?

In the past, when I was in Hong Kong, I used to eat delicious meals with my family during the Thanksgiving holidays, and pray to the full moon for my family's health, peace and well-being. It's a traditional way to celebrate the holiday. Now that I am living in Korea, I wish all my colleagues and their family members will have an abundance of good things. And after finishing that day's service, we will try to enjoy delicious meals together. I think this is the spirit of Chuseok.


This article was originally written in Korean by Julia Lee and sub-edited in English by Debbie Yong.