Since its introduction, the MICHELIN Guide Seoul has expanded dining options by constantly uncovering the gourmet gems of Seoul, even despite the two-year-long crisis of COVID-19. Marking its sixth anniversary, MICHELIN Guide Seoul 2022 introduces one newly promoted 2 star restaurant, seven new 1 star restaurants, four new Bib Gourmands and eight MICHELIN selected restaurants. These restaurants in various categories are an indicator of Seoul's dynamic gastronomic scene.

Is there a drink that goes better with celebration and joy than Champagne? Taittinger, a partner of the MICHELIN Guide Seoul, is considered one of the most loved Champagne by gourmets, with its delicate bubbles, finessed complex aromas and elegant long finish. Thanks to its complex taste, Champagne Taittinger matches a wide range of dishes with different characters, presented by a variety of restaurants in the MICHELIN Guide Seoul 2022. Founded in 1932 and building a long-standing reputation for its consistent taste and quality, Champagne Taittinger continues its tradition by ranking in the world's top 10 best-selling Champagne every year.

It has not been an easy time, but everyone has done their best to overcome the two-year long Covid-19 crisis; now, people are gathering to share year-end sentiments and hopes for the new year. To celebrate the end of 2021, chefs from three newly selected restaurants in the MICHELIN Guide Seoul 2022 offer unique dishes that go well with Champagne. Check out our chefs' creations when you next visit HANE, Kojacha and Restaurant OY.


Chef Choi Ju-yong of HANE ⓒYuchan Jung
HANE, Chef Choi Ju-yong
New 1 Star, MICHELIN Guide Seoul 2022
HANE, which presents a sushi omakase course in line with the chef's passion for simplicity, has been newly minted as a 1 star restaurant in the MICHELIN Guide Seoul 2022. Chef Choi Ju-yong of HANE emphasizes that deep flavors and textures are derived when utilizing natural seasonal ingredients to the fullest. He expresses, "The effort to find and provide the best ingredients, and sincere consistency to follow the exact process should always be present. There are people who call me a 'natural ingredient hunter', as I would like to show you the freshness, vitality, and clean taste of natural ingredients."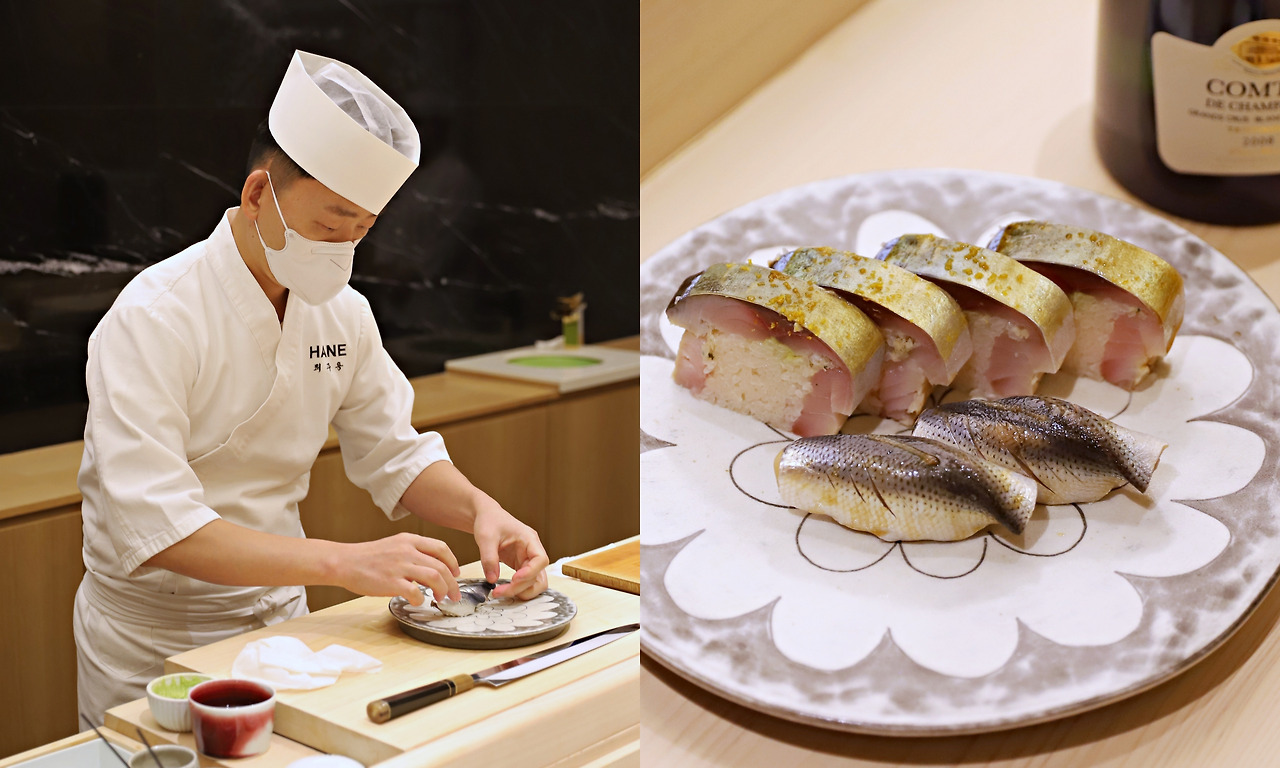 (Left) Chef Choi of HANE (Right) Kohada and shime saba sushi ⓒDMA
He explains that a "pleasant mind and a sound body" is needed to consistently adhere to basic principles. "On my days off, I visit restaurants, get enough rest and exercise by riding my bicycle. These activities give me the power to focus on my work; I'd like to make a relaxing time for our guests with great food."

HANE's Kohada Sushi with Taittinger Comtes de Champagne Blanc de Blancs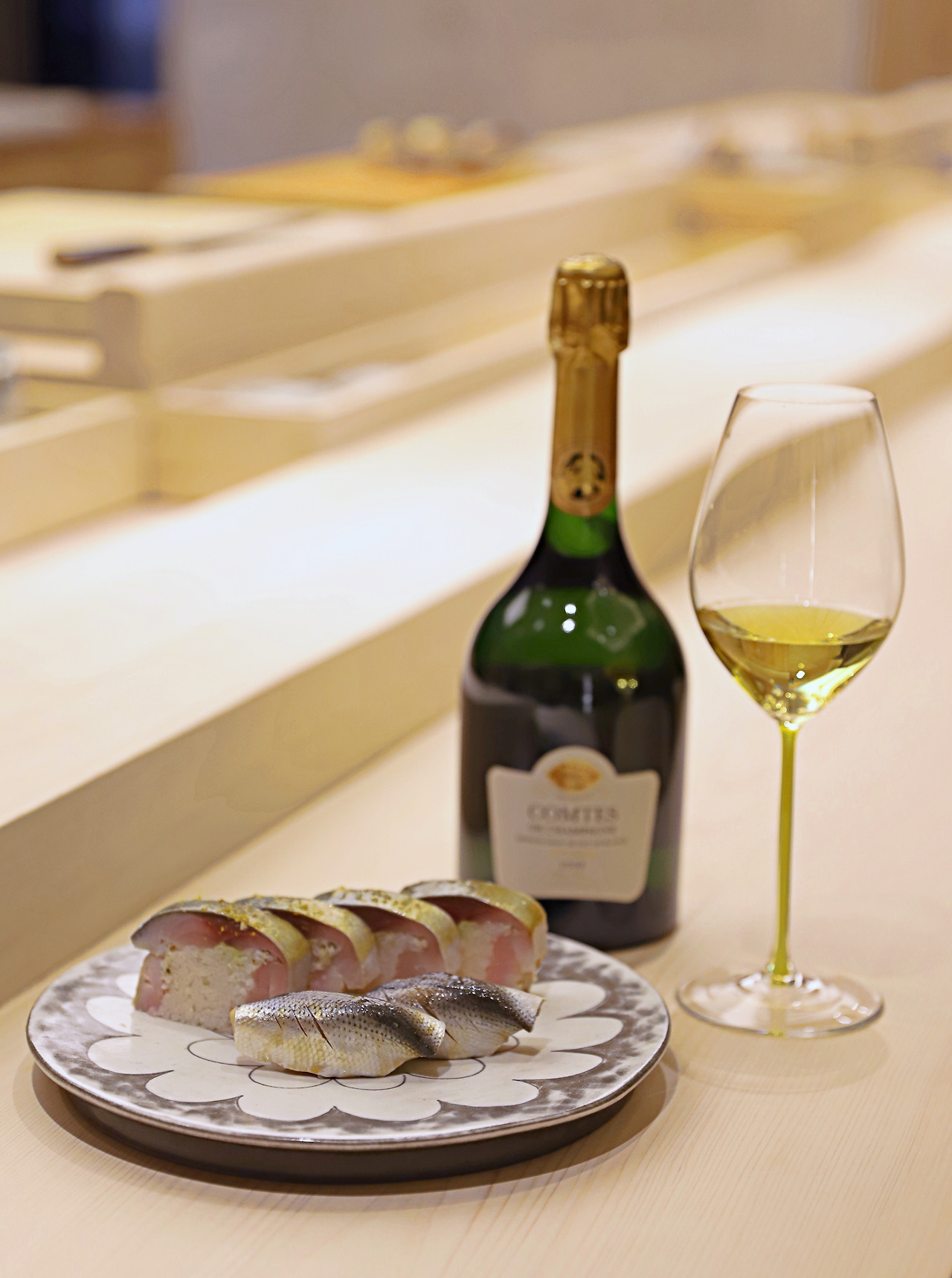 Chef Choi Ju-yong picks Champagne as the best wine pairing for sushi. He notes that kohada sushi shows an interestingly changing flavor through aging day by day just as Comtes de Champagne shows a deeper taste and aroma through aging for more than 10 years.

"Just as excellent Champagne shows a variety of aromas as it's aged for more than a decade, the main ingredient of sushi can be dynamically changed through the aging process. Among them, kohada is a sushi fish that requires the longest aging. The taste of well-aged kohada is very attractive, so some enthusiasts look for aged kohada from 3 days to 3 weeks. The natural umami of well-aged kohada matches greatly with this champagne." chef Choi explains.


Taittinger Comtes de Champagne Blanc de Blancs is a highlight of the Taittinger range, and made in select vintages. This Champagne is made with the best vines of Chardonnay grapes from the Côte des Blancs, and aged for a decade or more to develop its purity and strength. The fresh citrus flavors, subtle white flower scents and savory taste of freshly baked brioche create a lingerie impression and further boosts the pleasures of the meal. Its richness and power achieves harmony with the natural, pure and deep flavors found in HANE's perfected sushi.


Kojacha, Chef Choi Yu-gang
New 1 Star, MICHELIN Guide Seoul 2022
Under the motto of "Let's Express Korean Soul Food in Extreme," Kojacha creates an impressive dining experience that is familiar yet exciting; it has been named a new 1 star restaurant in MICHELIN Guide Seoul 2022. Chef Choi Yu-gang explains his cuisine, saying, "Rather than making dishes that don't exist, I find the best version that already exists, and I value the delicate harmony between courses."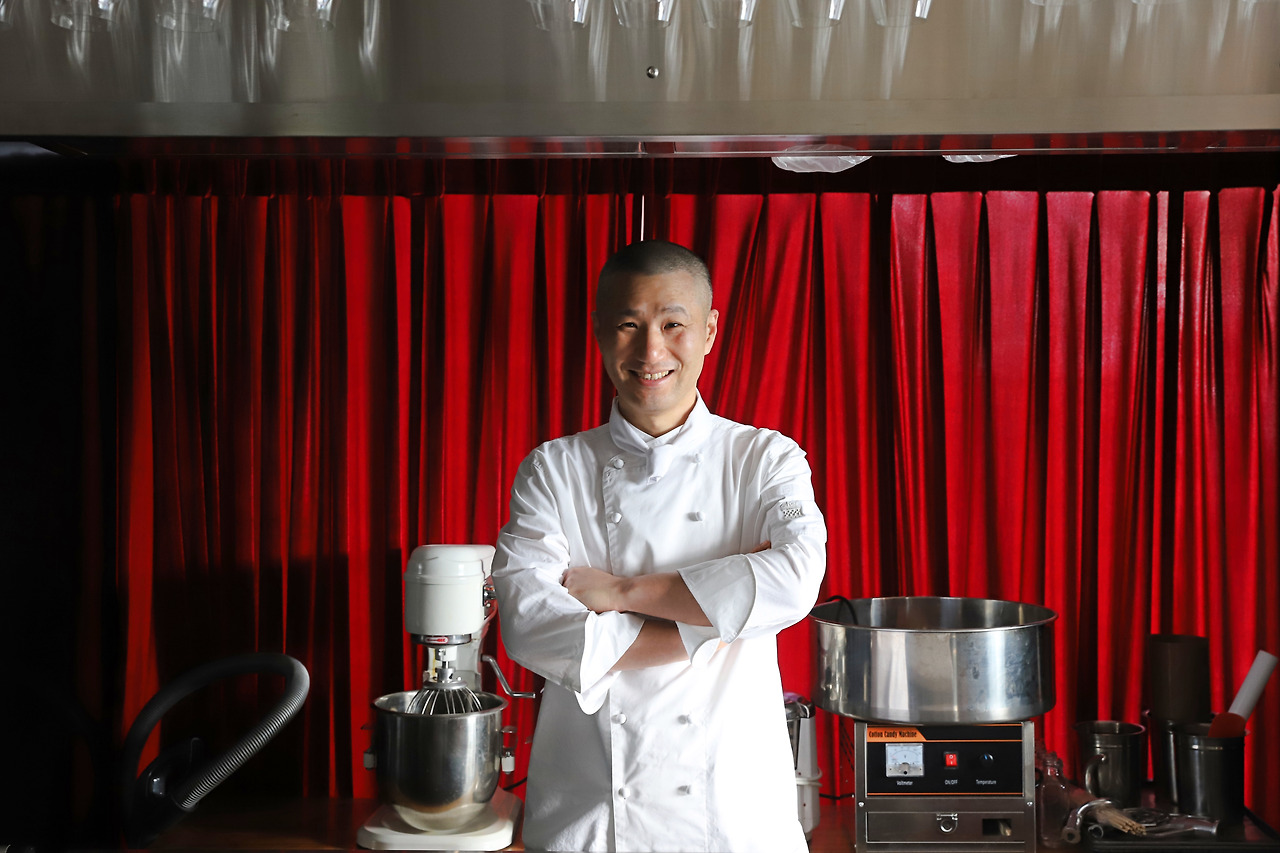 Chef Choi Yu-gang of Kojacha ⓒDMA
Chef Choi strives to create the "most special experience" for diners. "To make it special, we prepare and practice storytelling and performances together with the menu. Only when I feel satisfaction from the guests' point of view can it become a regular dish at Kojacha. I consider the plateware to be really important, and I especially like Korean white porcelain from the Joseon dynasty. My hobby is to source for antiques and old ceramics on my day off. We're trying to make dishes that go well with the most oriental ceramics."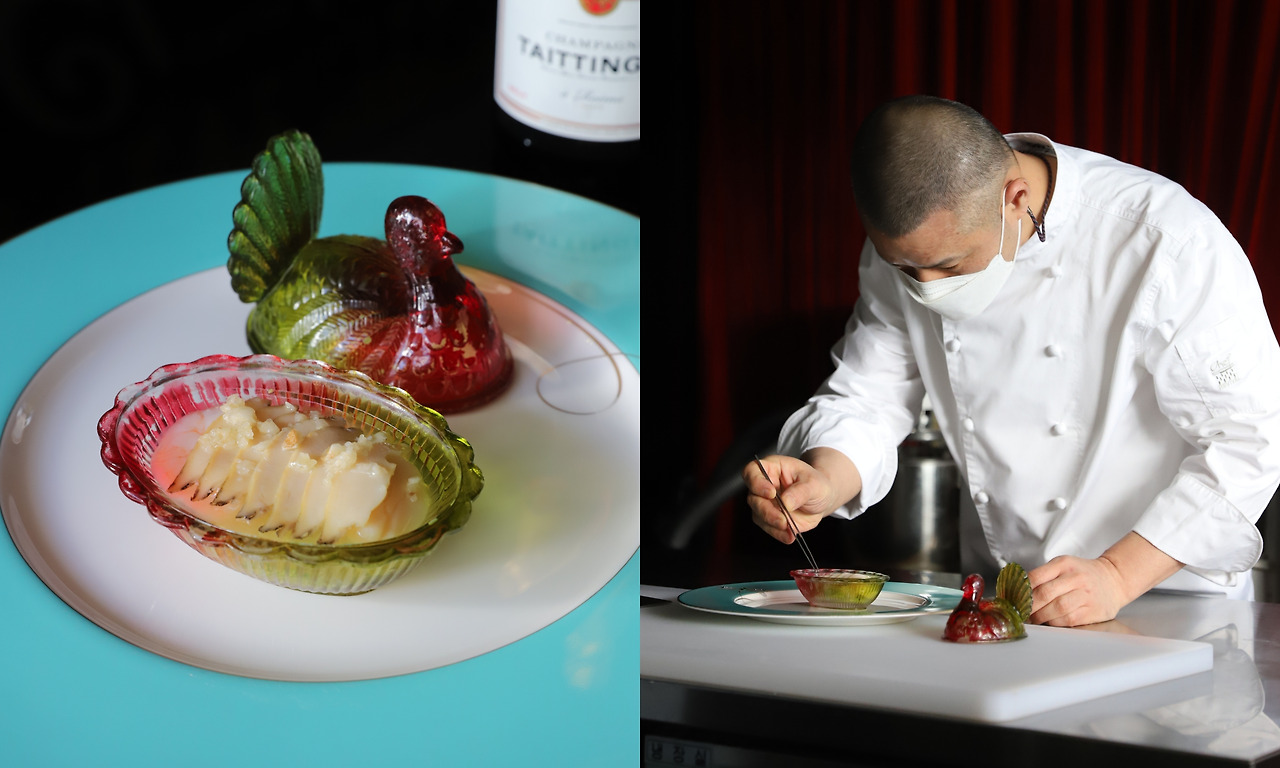 (Left) Kojacha's "The Empress's Soap Case" (Richt) Chef Choi Yu-gang ⓒDMA
Kojacha's "The Empress's Soap Case" with Taittinger Brut Reserve

The Chinese-style cold appetizer of Kojacha, which is served in an eye-catching dish, incorporates the philosophy of Kojacha. This beautiful glass swan vessel is a modern antique from the Qing Dynasty of China, during the time when soap was first introduced and treated as a very precious object.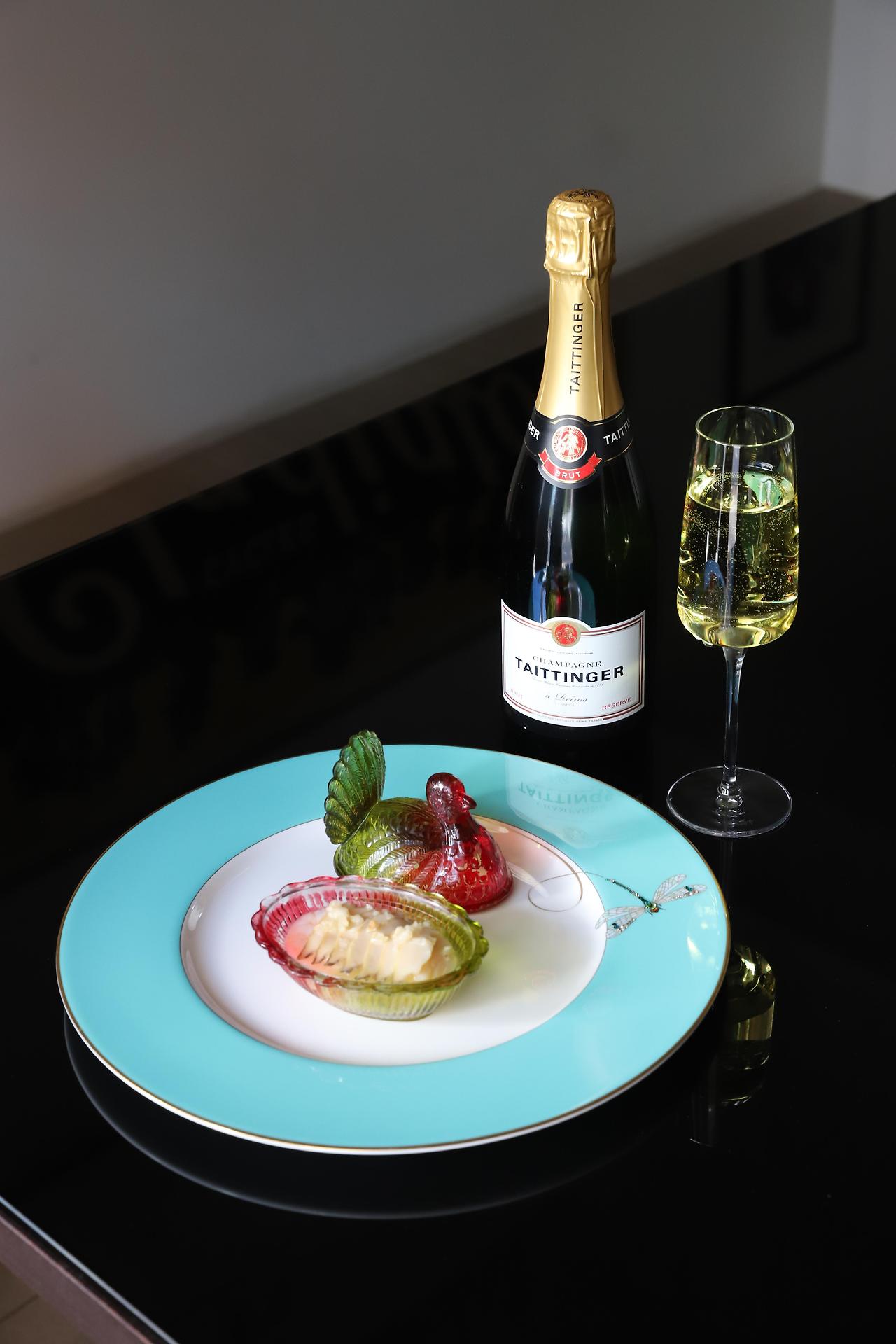 The chef created a cold seafood appetizer with jellyfish and abalone as a dish that goes well with Champagne. "The sweet, sour and savory taste of this complex sauce goes well with the diverse flavor of champagne Taittinger. "There is a saying in Korea that if you marry someone like you, you will be a great couple. Similarly, both food and wine show complex aromas with purity, so I suggest this food and wine marriage," he says.

Taittinger Brut Reserve stands out for the delicacy of its brilliant gold bubbles, and combines fresh citrus, almonds and a long finish with white flower aromas in a fantastic harmony with Kojacha's eye-catching appetizer. It makes a perfect opening for a special meal.


Restaurant OY, Chefs Oh Se-hun and Yoon Ah-young
Newly Selected Restaurant, MICHELIN Guide Seoul 2022
Named after chef Oh Se-hun and chef Yoon Ah-young's initials "O" and "Y," this cozy restaurant offers a warm, welcoming atmosphere. The two chefs met while building their careers in France and came back to Seoul with the same dream – showcasing creative French cuisine with the highest standards.

Chef Oh says he wants to convey his love and passion for food to guests who visit the restaurant. "I want to create a fun and memorable meal. I believe that cooking is putting nature on a plate. In order to do so, we need to understand and carefully draw out the nature of the ingredients together with the chef's voice to create a story."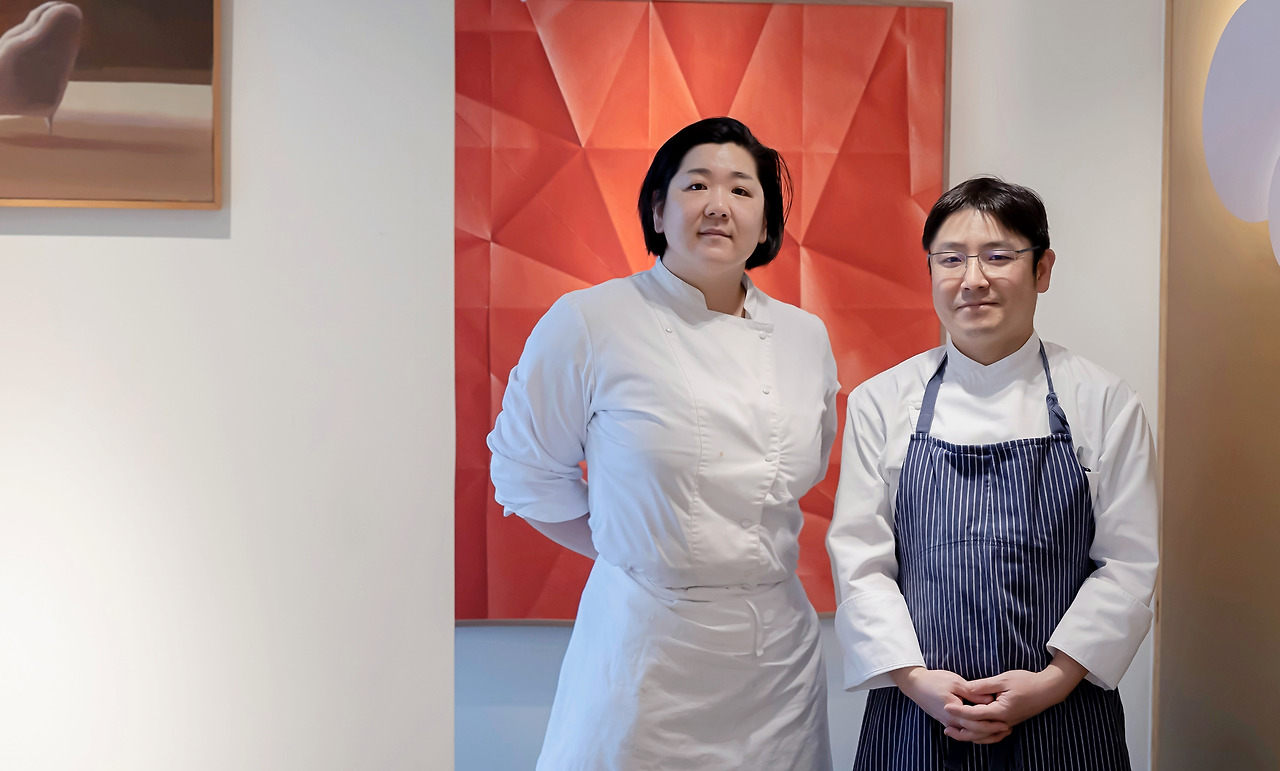 Chefs Oh Se-hun and Yoon Ah-young ⓒYuchan Jung
Restaurant OY's Three Lobster Dishes with Taittinger Brut Reserve
Chef Oh Se-hun and chef Yoon Ah-young suggest lobster in three ways that pairs well with Champagne. "We serve a tasting menu, but you can also enjoy this additional item that you can share with your party. In these three lobster dishes, we utilize everything from the lobster's head to its tail and even shell."


Three Lobster Dishes with Champagne Taittinger ⓒDMA
The menu starts with a refreshing lobster salad with coconut, fennel and apple. Second, the roasted lobster tail is served with a rich sabayon sauce. Finally, soft-baked lobster souffle with a thick and flavorful bisque sauce follows; the sauce minimizes food waste by using lobster shells.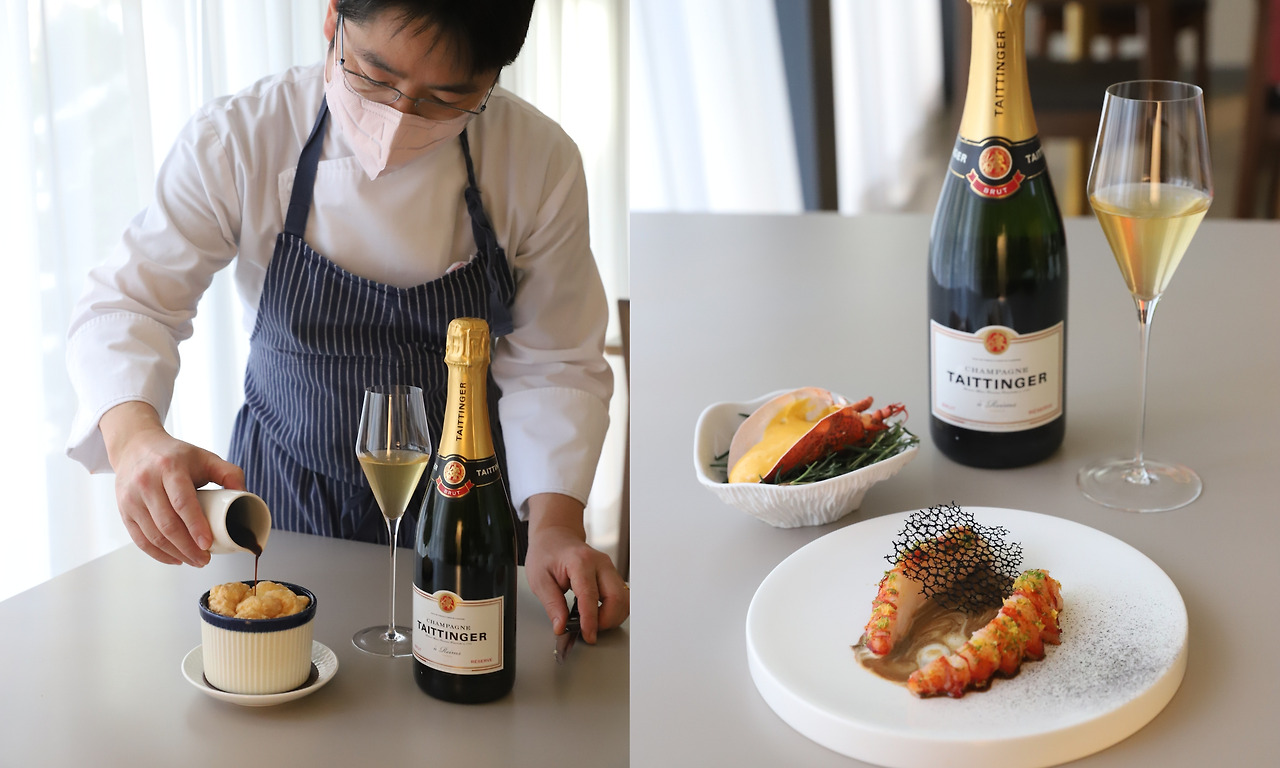 (Left) Lobster Soufflé (Right) Roasted lobster tail with sabayon sauce ⓒDMA
Champagne Taittinger pairs refreshingly well with chilled lobster salad, while showing its nuttier notes when paired with the roasted lobster tail and sabayon sauce. Lobster soufflé, the highlight of the menu, soaks up the thick, rich bisque sauce – the appealing umami notes are echoed in the long finish of the Taittinger Reserve Brut.

---
To celebrate the year-end holidays of 2021, gather with your loved ones to enjoy a special meal using MICHELIN Guide Seoul as a faithful gourmet guide. A variety of cuisines featured in the newly selected restaurants of the 2022 edition – from sushi and French, to contemporary Asian dining – presents a unique food and wine marriage with Champagne Taittinger. While enjoying these pairings, your gatherings will be even more delightful. We hope you have a heartwarming end of the year with happy memories in your heart, while sharing the memories created by wonderful food and delicious wine.
This Article is written in Korean and English by Julia Lee and sub-edited by June Lee in English.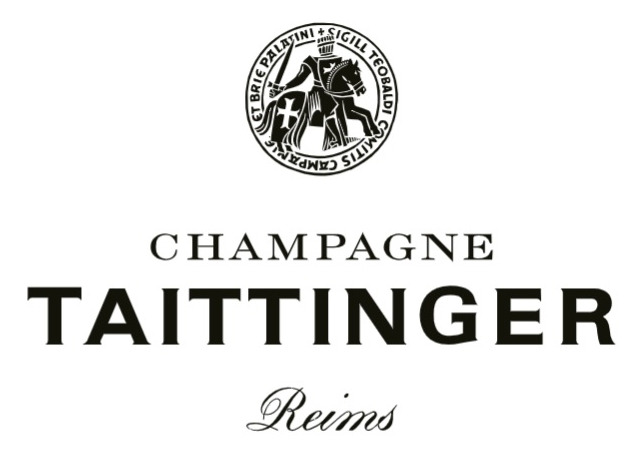 This post is brought to you in partnership with Taittinger