A salad can be a light, healthy meal, a cold appetizer as part of an extravagant feast with multiple courses or even as a refreshing side for a heavy main dish. Most gastronomes, however, still do not pay as much attention to a salad as they would a perfect, juicy tenderloin or a crispy-skinned branzino.

Chef Kim Dae-Chun of Toc Toc, a MICHELIN Plate restaurant in the 2020 edition of the
MICHELIN guide Seoul, has always dreamed of changing this prejudice. His Signature Salad shows that a dish of vegetables can be as luxurious an experience as eating meat. With this goal in mind, he opened his restaurant in 2013 to explore the hitherto undiscovered potential of salads.


Chef Kim Dae-Chun of Toc Toc (MICHELIN Guide Seoul 2020, the Plate) (Photo: Toc Toc)
In many Korean restaurants today, vegetables are still not widely used as main dishes. Unless they are sourced carefully or restaurants make requests directly with farms, there are only a limited number of vegetables available on the market. "As a chef who serves Western food, I've always wanted to promote and develop a variety of vegetable menus that can be on par with meat-centric ones.", Kim explains.

"When we first opened our restaurant, our team had a goal to make a beautiful vegetable menu that will be constantly evolving, reflecting seasonal changes or the weather," Kim said. Classic salads like Caesar salads or Caprese salads that can be served year-round were not an option for him, as according to Kim, "diners should feel the energy of our soil and nature with this menu".


(Photo: Toc Toc)
Kim's belief is that plants have the strongest vitality among any living creatures, and that a salad is the best way to showcase this to diners. He only uses the best ingredients, which can include up to 20 different organic crops he sources from local farms. Sometimes, he even grows his own vegetables for the restaurant.

Seven years ago, Kim found a farm that could grow a variety of colored radish from Europe that he wanted to use in his menu. For several years, the harvests failed due to the differences in weather and soil. Thankfully, all that hard work came to fruition at the end of 2016 after numerous tries. This is now one of Kim's favorite ingredients.

"Making good food starts with good ingredients," Kim said. "From each ingredient, a chef can compose a harmonious flavor profile. This can't be done with low-quality ones. Never."

"Be it sweetness, saltiness or spiciness, each element should be extracted from nature's best crops, and a chef can put them together to make delicious food. At first glance, it just looks like a simple salad, but our vegetables are more expensive than the best grade Korean beef we use for a steak," he explained. Kim further stated that he believes vegetables will be "the core element" in future gastronomic trends.

Experience Kim's passion for salads for yourself by making his Signature Salad recipe at home, which expresses the full flavors of a garden.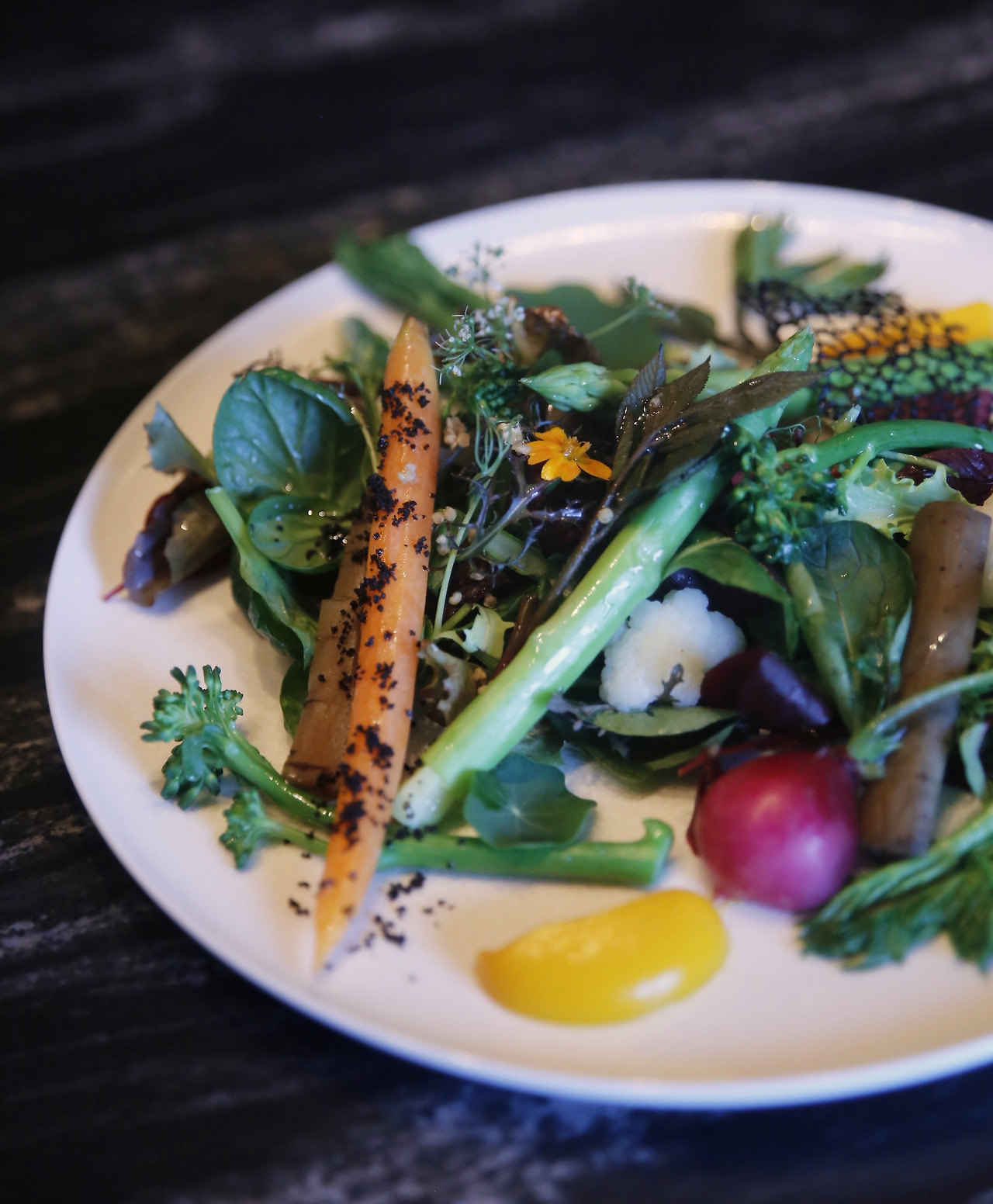 Toc Toc's Signature Salad (Photo: Julia Lee)
Recipe

Organic Vegetables
<Ingredients>
Approximately 10 varieties of seasonal organic leafy vegetables and herbs
(Beet leaves, Ezabel or multi-leaf lettuce, butter lettuce, bean leaves, mustard greens, red mustard greens, baby lettuce, baby bok choy, baby sorrel etc.)

<Method>
1. Prepare a variety of seasonal organic vegetables. Soak them in cold water for 20 minutes to keep them alive, remove moisture, and store them in a wooden box.
2. Each portion size should be about 40g.


Deep-fried Burdock Roots
<Ingredients>
500g burdock roots
1L chicken stock
1 teaspoon soy sauce
A pinch of salt
Cooking oil
Chicken Stock

<Method>
1. Peel and trim the burdock roots and boil them in boiling water for 40 minutes until soft.
2. Boil the burdock roots in the chicken stock and season with soy sauce and salt; continue to simmer until most of the liquid evaporates.
3. Dry the burdock roots in a food dehydrator for 6 hours and fry them in oil before plating.


Pickled Daejeo Tomatoes
<Ingredients >
Brine
Daejeo tomatoes*
(*Daejeo tomatoes are the most sugary variety among the tomatoes produced in Korea; Daejeo is the name of a region in Busan city, in the southern part of Korea)

<Method>
1. Make the brine with water, sugar and plain vinegar in a 2:1:1 ratio
2. Place the Daejeo tomatoes in the prepared brine and refrigerate for at least 3 hours before serving.


Oven-baked Kadaif Chips and Black Olive Powder
<Ingredients>
12g Kadaif noodles
15g black olives

<Method>
1. Cut the Kadaif noodles into small pieces and spread them thinly, separating them into 4 portions.
2. Bake the noodles for 10 minutes in an oven preheated to 180°C for 10 minutes, or until crisp.
3. Finely chop the black olives and dry them in a food dehydrator for 12 hours.


Carrot Puree
<Ingredients>
1kg carrots
70g butter
A pinch of coriander seeds
A pinch of salt
40ml milk
50ml fresh cream

<Method>
1. Melt butter in a pot over low heat and stir-fry the carrots and coriander seeds.
2. Cover the pot and cook for 25 minutes. Add the salt, milk, and fresh cream and mix them in a blender for 20 minutes.


Soil Powder
<Ingredients>
3g garam masala
100g almond powder
30g brown sugar
10g cacao powder

<Method>
1. Put all ingredients in a bowl and mix well.


Salad Dressing
<Ingredients>
1g calamansi vinegar
3g olive oil
4g white sesame oil
20g French dressing*
(* French dressing: Mix the following ingredients in a blender – 300g canola oil, 50g sherry vinegar, 5g thinly chopped shallot, 1g salt, 1g white pepper)

<Method>
1. Make French dressing first.
2. Mix and prepare all the ingredients measured to make salad dressing.

Baby Carrots and Asparagus
<Ingredients>
40g baby carrots
40g green asparagus
A pinch of salt
Butter

<Method>
1. Put salt in boiling water and cook the carrots for 2 minutes; then cook the asparagus for 40 seconds.
2. Poach the carrots and asparagus in butter.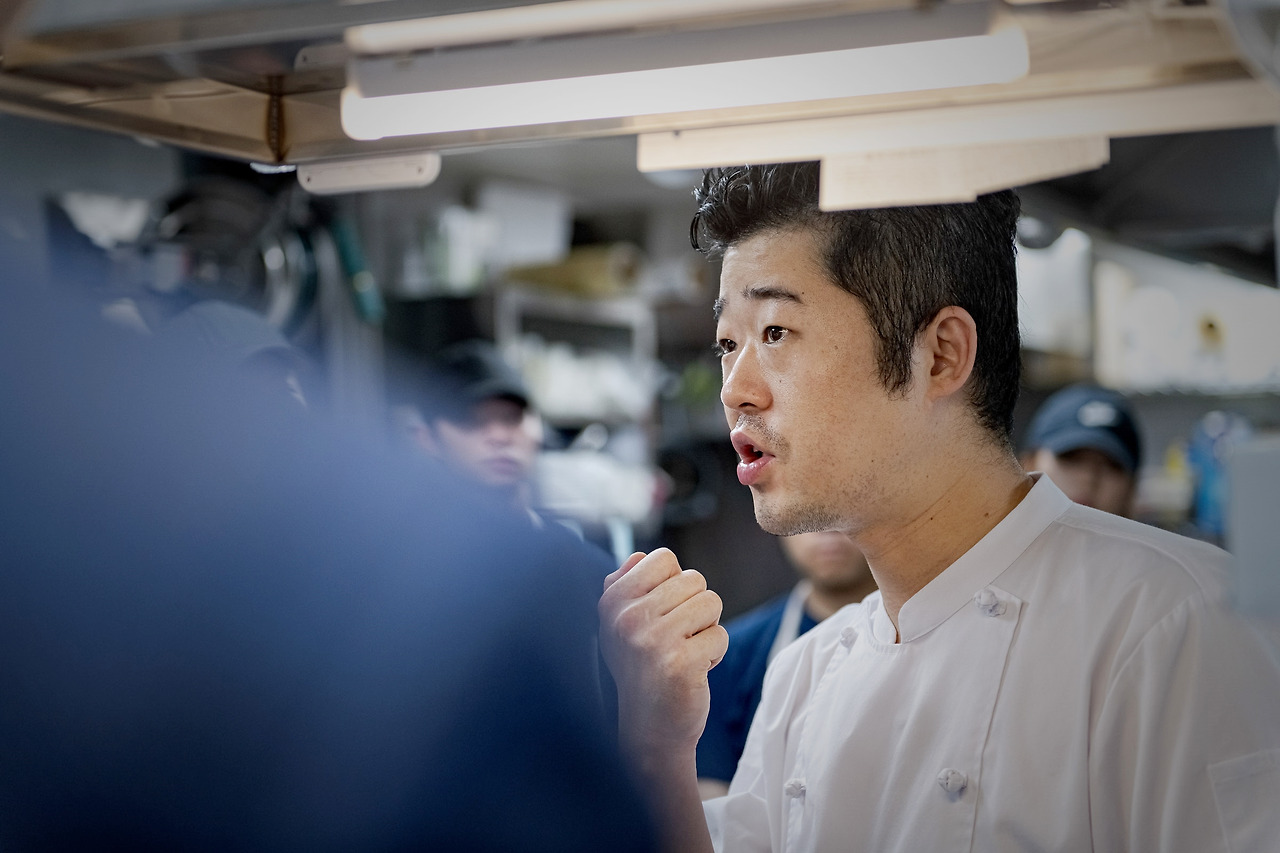 (Photo: Toc Toc)
Plating

1. Put 40g of leafy vegetables in a bowl. Mix with a pinch of kelp powder and 18g of salad dressing.
2. Place the dressed leafy vegetables on a plate and put baby carrots, asparagus, pickled Daejeo tomatoes and deep-fried Kadaif chips in a proper amount.
3. Sprinkle the black olive powder, then place 2 spoons of carrot puree. Add the deep-fried burdock roots and finish by sprinkling the soil powder over the plate.



This article was originally written in Korean by Julia Lee and edited in English by Wong Jia Min.