Antitrust pursues the philosophy of providing a good gourmet experience at a reasonable price. Antitrust's cuisine, which blurs the boundaries of delicate fine dining and familiar everyday dishes, clearly reveals the original characteristics of talented Chef Jang Jinmo. "We want our guests enjoy fine food at reasonable prices," he elaborates. "The food at Antitrust is intuitively pleasing when put into the mouth; however, I try to give the diners the uniqueness of a very special meal, something that you can expect from a fancy restaurant."

He sees the advantages of both fine dining and daily meals – the former is special and different from the usual, while the latter is instinctively familiar and delicious. He brings the two ends closer together through various ways such as cooking techniques, form and texture of a food, and the way of eating. "It's important to feel the uniqueness at first sight, then to taste the familiar and delicious when you take a bite, and finally to discover the fun and inspiration when you keep eating. Rather than simply pursuing casual food, we are trying to provide a form of food that coexists with familiarity and a form of speciality that is not too difficult to understand," he asserts.

For those who are cooking more at home during this period, Chef Jang introduces a special recipe that will elevate your homecooked meal to the next level.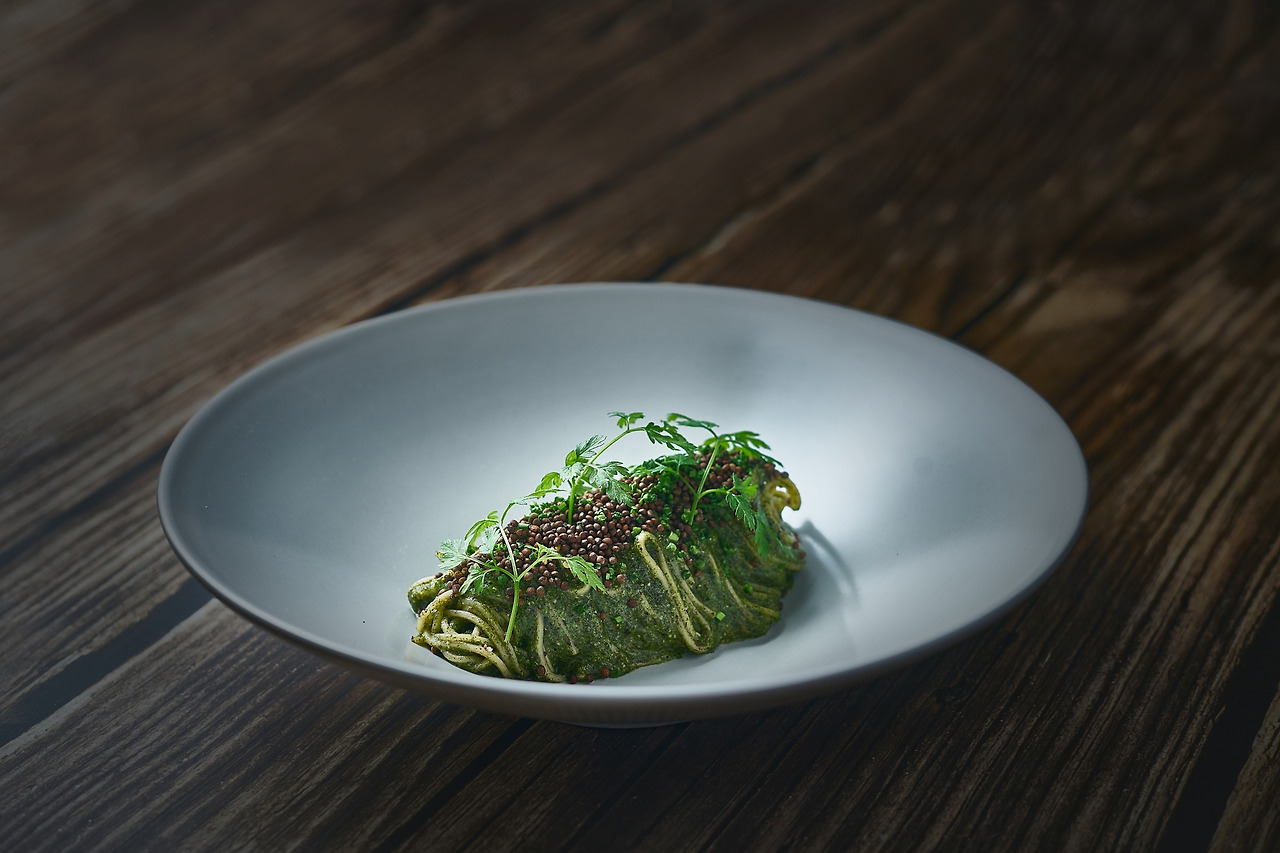 Antitrust's Seaweed Noodle (Pic: Antitrust)
Antitrust's Seaweed Noodle (serves 2)

Seaweed Paste
30g gamtae seaweed
20g gim seaweed
50g truffle oil
80g roasted sesame oil
15g dried anchovy stock
80g roasted peanuts
4g soy sauce
30g wild sesame
4g salt

1. To make the seaweed paste, place all the ingredients in a blender and grind finely to a rich consistency.
2. Store any leftover paste in an airtight jar or container in the fridge.

Seaweed noodles
150g buckwheat noodle
5g wild sesame, whole
3g chives
chervil (optional)
roasted wild sesame oil

1. Boil the noodles for 5 minutes, remove from pan and quickly rinse in cold water. Drain to remove excess moisture. (Refer to the brand instructions as different brands may have differing boiling time.)
2. Toss the cooked noodles with 60g of seaweed paste until well mixed.
3. Plate noodles and garnish with wild sesame, chopped chives and chervil herbs, and finish with wild sesame oil.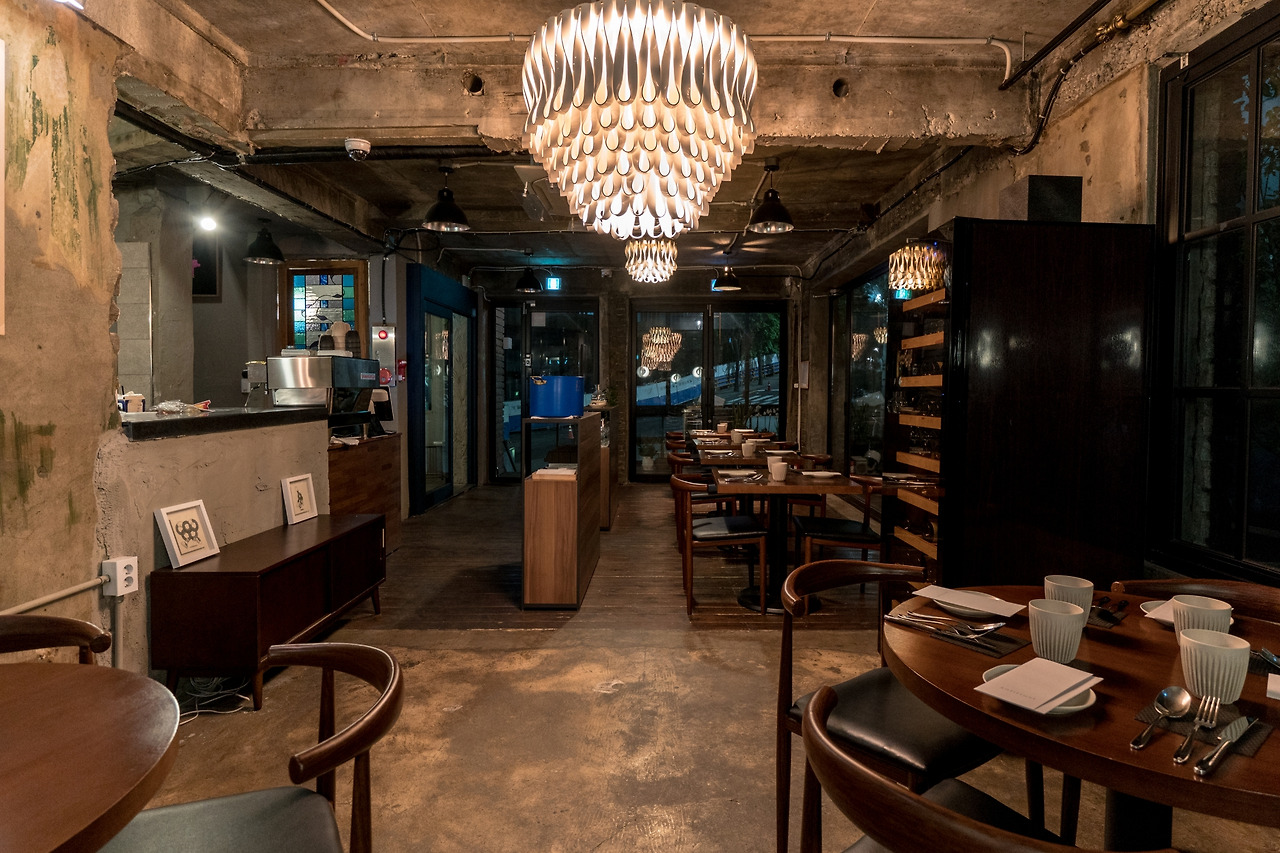 Dining Hall of Antitrust (Pic: Antitrust)
What should guests expect from visiting Antitrust?
The kind of experience a restaurant offers to customers is the most important aspect of dining out. Here at Antitrust, we want to be an introduction to the fine dining scene of Seoul. There are many potential customers who wish to experience fine dining, but some may wonder if the high prices are worth it. For this group of people, I want to do my best to show and give an experience of what's different and special about eating at a fine restaurant like this.

I hope people experience the difference and be more interested in food that's different from the norm. If they genuinely enjoyed the unique and fun experience, they will be more curious about other fine restaurants, opening the doors to other amazing and special experiences waiting for them at such places.


Amuse bouche (Pic: Antitrust)
The name of your restaurant, 'Antitrust', is interesting.
Originally, my partner and the CEO of our restaurant proposed the name, Antitrust. He is a lawyer who mainly deals with issues such as anti-trust and fair trade in his area of expertise. I thought it could be an interesting name in conjunction with the concept of providing good food at a reasonable price at our restaurant.

Also, it has an intended ambiguous meaning to Korean people. This English word "anti-trust" is not so well-known in Korea; so, at first glance, one can also think of it as the opposite (anti) meaning of trust. I had led several fine dining restaurants with extensive tasting course menus before I opened this place and my guests might expect something similar before visiting here. Breaking the 'trust' that they expected, people will encounter semi-casual dining here. I think it can be used to mean that our restaurant breaks expectations and gives new value to our guests.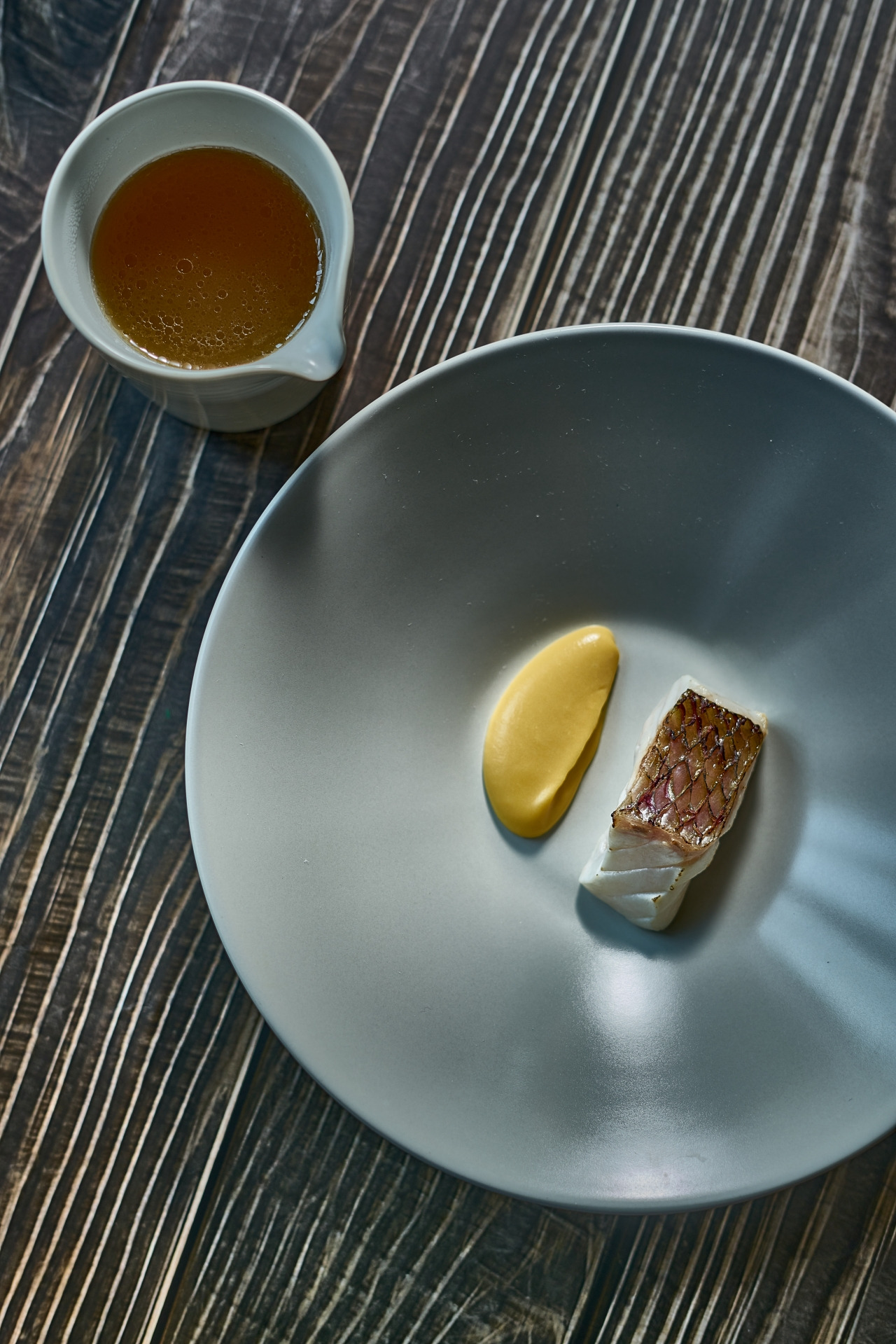 How did you become passionate about cooking?
I didn't have any special momentum, but I happened to be a cook. I first started in a city in Canada where a world-famous ski resort is. People came to work during the ski season, and after the winter they do what they want to do – head back to their hometowns, work somewhere else or travel. With these people, the job offered the opportunity to live freely and travel a lot. I wanted to be a good chef who will always be welcomed, so I worked hard.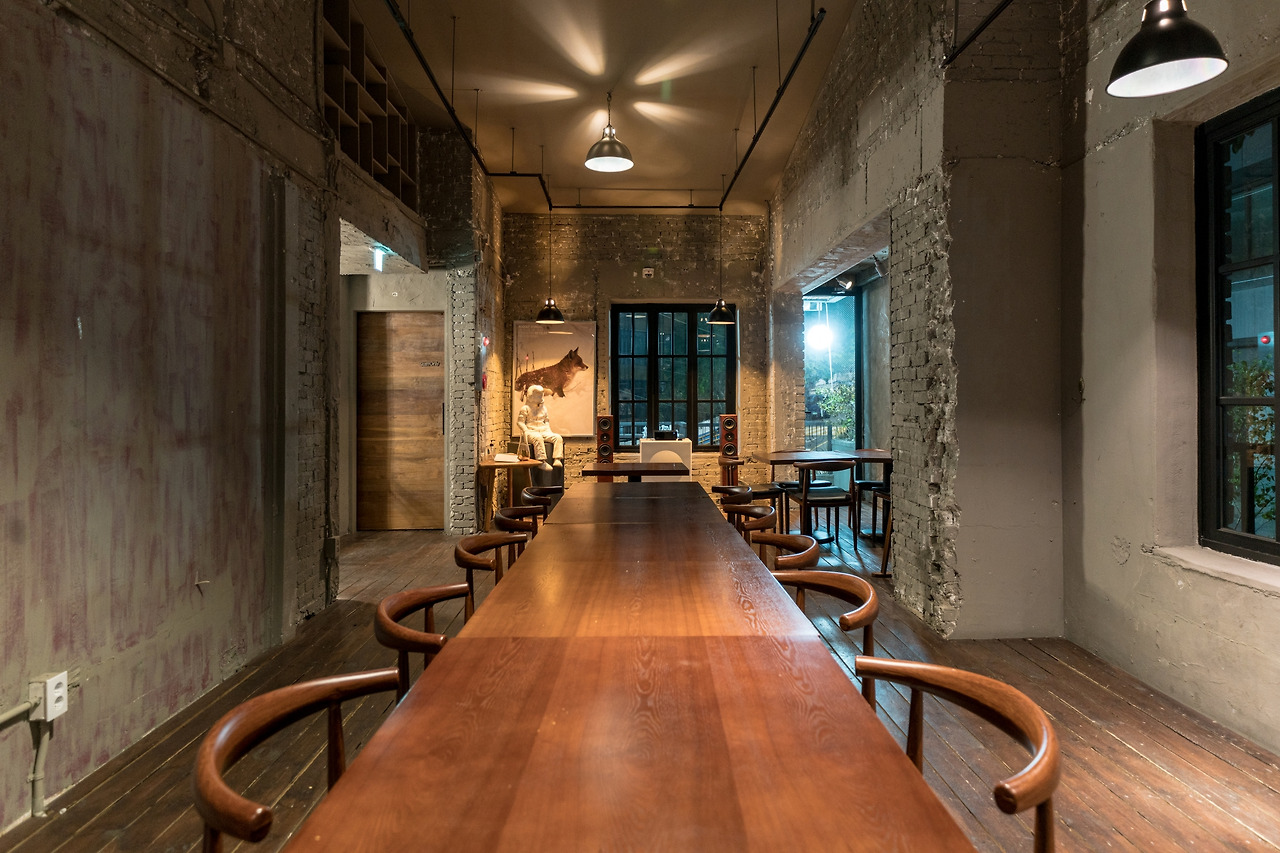 Private dining hall at the 2nd floor (Pic: Antitrust)
Who has influenced you the most?
I'm influenced by the various chefs I meet. It's hard to call someone a role model now, but I learn a lot from my colleagues, seniors and juniors who lead the Korean dining scene and run various restaurants in Seoul.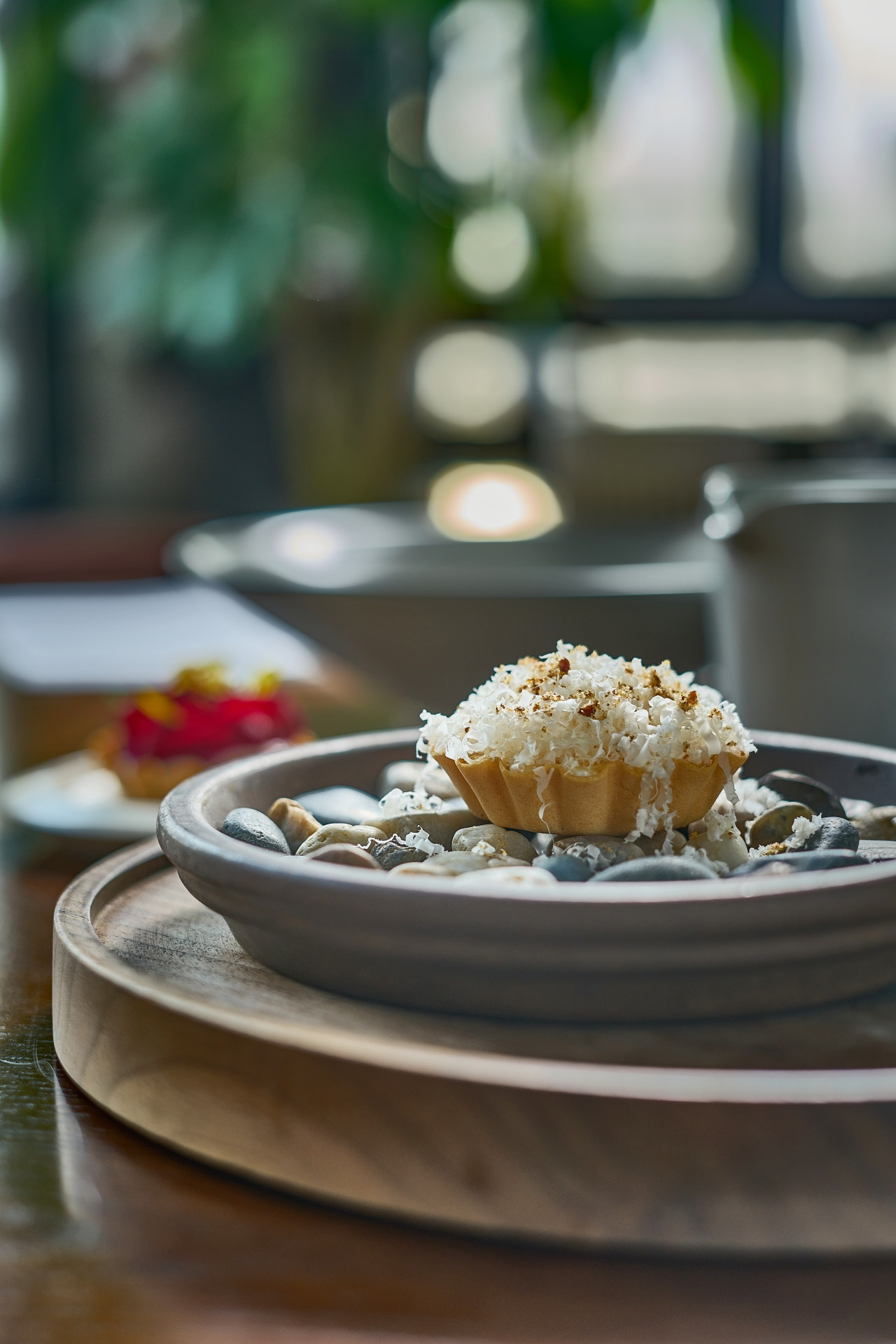 What are the ups and downs of a chef's life?
Lack of personal time is the hardest part. We have long working hours, and life after work is not clearly separated. However, this shortcoming can also be an advantage. Cooking is something more than just a job to earn money, and more like epitomizing the chef's life all the time. It's great to have live as a chef!


Can you share some wisdom to the younger generation?
Achieving a high technical standard as a chef is of course important, but finding your own color is the most fundamental thing. The key is to think about and decide which food to serve to your guests who expect something different from other chefs. So far, I've worked with numerous junior chefs in various restaurants, and I've seen many of them wanting to set up their own restaurants, but they don't have enough thought about what kind of food they're going to do. It is important to decide and discover your originality and authenticity so that you can show your own color. And beyond that, treat the work in a sincere and sincere manner.

This article was written in Korean and English by Julia Lee and edited in English by June Lee.