It all started back in 2010, when lauded American chef Dan Barber (of one-MICHELIN-starred Blue Hill and Blue Hill at Stone Barns fame) challenged Michael Mazourek, Associate Professor of Plant Breeding and Genetics at Cornell University, to make a butternut squash that had more flavour. Years later, Mazourek would debut the cute mini-version — the Honeynut squash — that would become a kitchen darling for chefs near and wide.

Row 7 Seed founders, from left: Matthew Goldfarb, Michael Mazourek and Dan Barber.
After such success, Barber tapped into Matthew Goldfarb, an organic seed grower in New York's Finger Lakes region, and began years of experimentation with breeders, farmers and chefs. The end result: the launch of Row 7, a seed company that's determined to put flavour first.

"Chefs are taught that a recipe begins on the cutting board and roasting pan," says Barber. "But what if we begin thinking about a recipe from the ground up? Can we curate flavours, textures and colours from the moment a breeder conceptualises the seed? And what if we're on the front lines of selecting regional varieties that withstand and thrive in today's changing climate?"

Row 7's mission is to change the food system by field and kitchen co-selection, breeding for flavour, breeding organically (which makes for tastier plants), and taking an open approach to evolution for future generations.

"Farmers and breeders are directed by the marketplace — the large agribusiness companies that value yield and uniformity over everything else," continues Barber. "The idea behind Row 7 is to upend that calculus by giving chefs a voice from the beginning of the conversation, empowering breeders and farmers to grow diverse, nutritious and delicious crops."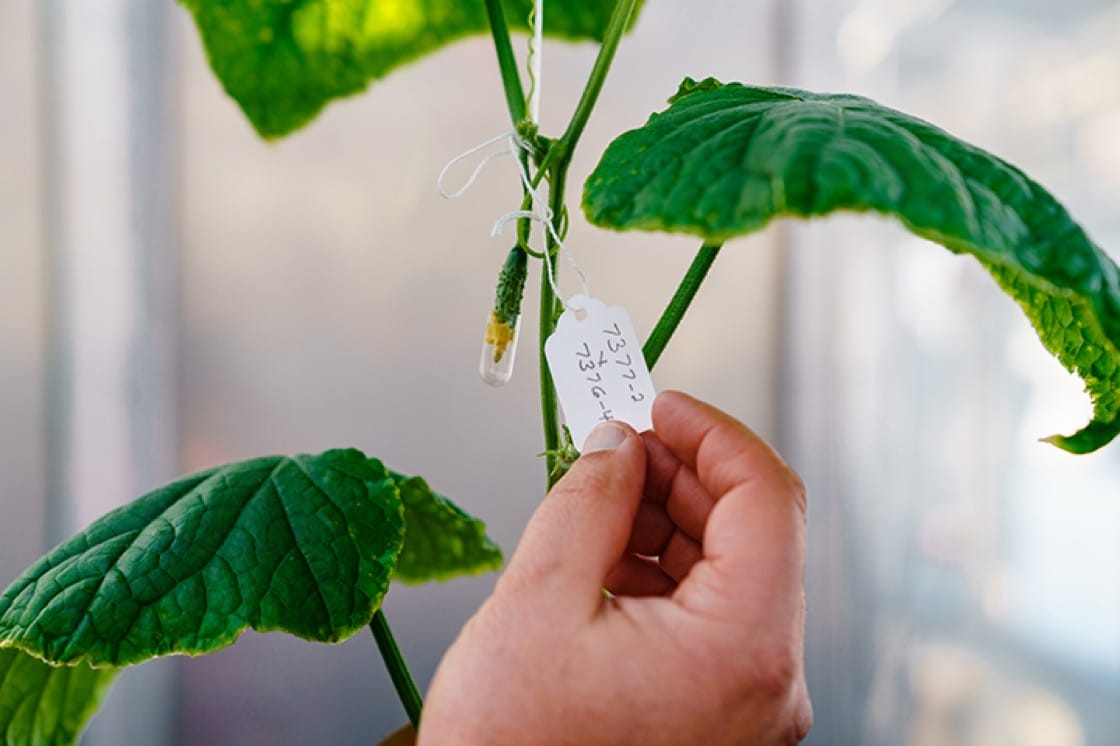 Experimenting with cucumbers.
Seeds have been cross-bred for thousands of years; Moravian monk Gregor Mendel paved the way for the forthcoming laws of inheritance by conducting a series of experiments with pea plants. At Row 7, the team continues the tradition, but with a modern twist. "We use classic techniques of cross-pollination combined with field and kitchen selection," says Mazourek. "Tools such as flavour and nutrient characterisation instruments and genomic selection help inform and accelerate our decisions in the field while being fully compatible with organic agriculture."
Plant breeders and chefs are encouraged to communicate and participate to develop new varieties. Current varieties available via the online shop include the Badger Flame beet ("so good it can be eaten raw"), the Upstate Abundance potato ("buttery, even without the butter") and the heatless Habanada pepper. Earlier in 2019, Row 7 introduced a purple snow pea that kept its vibrant colour even after being cooked. Rich in anthocyanin, a natural pigment found in blueberries and raspberries, the nutrient-dense pea is able to retain the pigments that improves its look, taste, and nutritional value.
A collection of recipes, as well as growing guides, are also available on the company's website. Some seeds in the market are listed as "available to trial" — a method of engagement that didn't exist in the plant breeding world before.

Robin's Koginut squash — named in memory of friend Robin Ostfeld—ripens on the vine, indicating when to be picked for peak flavor and nutrition.
"By giving early access to seeds that are still in development, growers are engaged and benefit from the new genetics earlier, and we have access to their harvests sooner," explains Mazourek. "Plant breeding is by no means a static process — Row 7 varieties undergo extensive trialling before release, and sometimes, even then, they aren't considered 'finished.' Why not include more voices to be part of the experimentation? Our experimental trials invite everyone to participate in this process, soliciting feedback from the field and kitchen."

Take the aforementioned Honeynut squash, for example: though exceedingly proud of the product, Barber and Mazourek saw room for improvement. Thus came the 898 variety, offering longer storage. "Now, consumers can enjoy the sweetness of the Honeynut for a few months longer," says Mazourek. "The breeding process isn't done, but this is a huge milestone.

The sky is the limit for Row 7; Barber hopes to see their seeds sold in Walmart stores within the next decade. "The goal is to democratise the seed, to enable home cooks to enjoy the kind of flavours chefs get to work with every night," he says. "Why should great ingredients be the domain of white tablecloth restaurants?"

All photos courtesy of Row 7.
An earlier version of this article first appeared here.