For diners who don't want to booze it up, there's an emerging alternative to wine pairings to enjoy with your meal. A growing number of restaurants are offering zero-proof cocktails pairings largely based around fruit and vegetable juices with their tasting menus, including Copenhagen's two-MICHELIN-starred noma, which is credited with igniting the movement a decade ago, as well as three-MICHELIN-starred Maaemo in Oslo, Norway and New York City's two-MICHELIN-starred Atera.

One of the vanguards of the movement is one-MICHELIN-starred Dialogue in Santa Monica, California, which employs a full-time non-alcoholic beverage mixologist, Hansuk Cho, who previously worked in a similar position at the three-MICHELIN-starred SingleThread further north in Healdsburg in California. Cho estimates that at least 30 percent of the restaurant's guests opt for her pairings for a variety of reasons, ranging from overall lifestyle changes to wanting to avoid a hangover. "Others are pregnant; some are going through recovery; some are underage; some have religious reasons; and some are just choosing not to drink alcohol that night," she says.

Cho creates five different drinks to go with the roughly 20-course tasting menu. Currently, the evening begins with a riff on Cherry Coke — made by infusing sparkling cherry juice with orange blossom, lavender and other spices — that has to play nicely with four disparate dishes: one featuring celery root and cherries, another that is fennel forward, the third composed of oyster mushrooms and dandelion leaves and the fourth showcasing broccoli and mushrooms. "It's very challenging matching with all those different flavours, but it makes my job very fun," says Cho.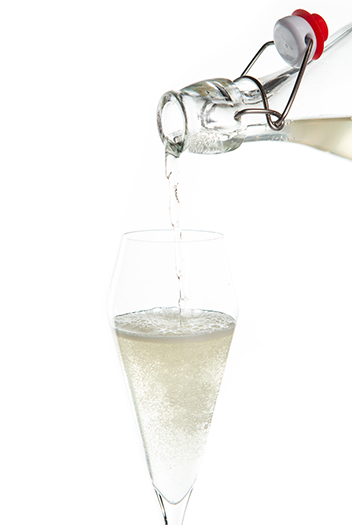 For the dessert course, she serves clarified apple and pear juice infused with peach leaves and cardamom, which is intended to evoke the flavor profile of a Sauternes. "The leaves give it almond-y, nutty flavors," she says. "And it's slightly spicy."

When she's creating non-alcoholic pairings, Cho always works to minimize the sugar content and maximize the fragrance, so her drinks are pleasant on the nose and not too heavy on the stomach. "I always put in at least one floral component and one baking spice," she says. "Those add nice aromatic qualities."

Cho's position is admittedly unique. Though not every restaurant can afford to have a staffer devoted to its non-alcoholic beverage pairings like at Dialogue, that doesn't mean it isn't a priority elsewhere.

At José Andrés's two-MICHELIN-starred restaurant
minibar
in Washington, D.C.,
head chef Jorge Hernandez
oversees the Virtue pairings — nine house-made non-alcoholic beverages coursed out with the meal's approximately 28 dishes. The restaurant began offering the option several years ago and it has grown in popularity; now five to 10 diners out of 26 order it every night.
In addition to fresh fruit juices, other components with more complex flavour profiles — such as teas, brines, tisanes and ferments, as well as preserves, spices and syrups — are often incorporated. "If it was just juice, it'd just be flavoured sugar water," says Hernandez. "We're influenced by the way people build [alcoholic] cocktails. It's about building bases and then playing with ratios until the drink pops with the dish."
Creating the drinks is "very much a team sport," says Hernandez. The chefs do a majority of the R&D, taking into account input from the sommelier and service teams. Ultimately, it's the job of the chef de partie to create the final products.
The concoctions are paced with the meal, starting with lighter and brighter drinks and finishing with fermented, funkier drinks. Right now the opening drink, which is served with a flurry of small snacks, is made with celery juice, apple water, chamomile tea, white pepper and lemon. Later courses are paired with a sage tepache, a fermented beverage made from pineapple scraps. To complement the dessert course, guests enjoy a mix of pu'er tea, koji, preserved bergamot brine and goat's milk cajeta served over ice.
To remind the drinkers of the deep complexity of the non-alcoholic beverages, they're served from wine bottles adorned with custom labels. Some are even finished tableside. This summer, a mixture of pea pod juice and
Seedlip
Garden, a distilled non-alcoholic spirit, was finished off with almond milk air and grated tonka bean. "After all, we're not just giving you a juice," says Hernandez. "We're giving you something on par with the wine offerings and the dish."
Inline image courtesy of Dialogue. Photo by Christian Steel.