Stretching from the eighth to tenth months of the lunar calendar (or mostly in September to December), hairy crab season is when Chinese mitten crabs' meats are tender and sweet, their roe sumptuous and buttery.
"Compared to other breeds of crabs, hairy crabs have a much stronger umami flavour and a more pillowy texture. When you steam a hairy crab – even if you don't chop it into half first, the fragrance would fill the entire kitchen. That's why hairy crabs are so addictive," chef Siu Hin Chi of Ying Jee Club tells MICHELIN the reason behind the craze for the furry-clawed crabs.
Restaurants often switch between using female and male hairy crabs throughout the months.
Liu Zhen of Yong Fu explains, "Female crabs are better in the early period of the season. We will then use male crabs when they are of better quality in the later season."
The most classic way to enjoy these hairy Chinese mitten crabs is by steaming them and dipping them in vinegar. But we invite five MICHELIN chefs to share with us the best alternative ways to savour the crustaceans this year.


"The qualities of hairy crabs differ from year to year. This year's hairy crabs are better than last year's," says chef Siu, passionately sharing insights and anecdotes of the much sought-after ingredient.
This year, Ying Jee Club's hairy crabs are hailed from Hongze Lake in Jiangsu Province.
The Cantonese restaurant celebrates both the crabs' alluring qualities as well as the chef's technique with a new eight-course tasting menu and more a la carte dishes.
"Amongst all the hairy crab dishes I've created, I am most proud of Steamed Seafood Dumplings with Hairy Crab Coral and Caviar," says Siu.
For those who aren't familiar with the term, hair crab coral refers to xie fen, a mixture of crab roe and meat with a golden orange hue.
To create the dish, scallops, prawns and grouper are diced and cooked separately. Xie fen is stir-fry with ginger before mixing with cilantro and the cooked seafood mixture as dumpling fillings.
The dumpling is then plated on a generous amount of xie fen and topped with caviar before serving.
Each dish is made with about three hairy crabs.
"There are so many different steps and parts of the dish -- the timing has to be perfect. Xie fen has to be fried at the same time when the dumplings are steamed and the caviar is ready to be added. Otherwise, the dish will get cold when served," Ying Jee Club's head chef says.
"It's such a photogenic dish, too," he adds.
READ MORE:Restaurant Secrets: How To Get The Most Out Of Your Hairy Crab
This year, Ying Jee Club's hairy crabs are hailed from Hongze Lake in Jiangsu Province. (Photo: Ying Jee Club)
An expert in elevating Ningbo cuisine, Yong Fu's hairy crab dishes aren't shy to showcase the eastern Chinese city's love for bold flavours – most notably the salty, umami and sticky tastes.
The restaurant chooses Chinese mitten crabs of 200 grams to 250 grams from the famed Yangcheng Lake in Jiangsu Province.
"You never choose hairy crabs that are too big," chef Liu shares a tip. "Meat from crabs that are too big aren't as fine as those from smaller crabs."
In Ningbo, locals would traditionally steam hairy crabs on top of a blanket of doubanjiang (or broad bean chilli paste). The head chef says that Yong Fu's Baked Minced Pork Hairy Crab is inspired by the traditional Ningbo dish.
"The saltiness of the doubanjiang could overshadow the delicate flavours of the crabs. That's why we add minced pork into the doubanjiang to make a 'meatloaf' and stew it with the crab in low heat. The tenderness of the crab meat, the umami crab and the savoury pork all blend in together. The jus from the dish is so jampacked with flavours and the fragrance is irresistible," says Liu.
Sorghum Liquor Marinated Hairy Crab and Grilled Hairy Crab with Taro are two other must-trys from this year's menu.
Sorghum Liquor Marinated Hairy Crab and Grilled Hairy Crab with Taro are two other must-trys from Yong Fu's menu. (Photo: Yong Fu)
After sampling various mitten crabs from different provinces, chef Li Yuet Faat of Cordis Hong Kong's Ming Court decided on the ones from Jiangsu Province for their balanced flavours and textures.
Ming Court's six-course Hairy Crab Degustation Menu presents seasonal ingredient in various forms.
"My pick from this year's set menu is the Lobster, Crab Roe, Egg White, Rice Crisp, Stir-Fried. This dish brings diners a symphony of textures, from silky egg white to flavourful creamy hairy crab roe, from bouncy lobster meat to crispy rice cracker. These well-balanced ingredients come together and will make you linger for more.
"It's inspired by an authentic Cantonese recipe - Steamed Egg White with Lobster. By adding a precise portion of crab roe on top, it further highlights the umami flavour, while the crispy rice cracker at the bottom absorbs all the freshness from the seafood ingredients," says Ming Court's head chef.
For those who prefer steamed hairy crabs, Chef Li suggests using Perilla leaves when cooking, which could ward off the excessive fishy smell in the process.
According to traditional Chinese medical theories, the leaf has a "warming" effect on one's body, which balance the "cooling" hairy crabs.
"So traditionally, crabs are enjoyed with sips of yellow wine in between and a warming ginger tea at the end for balancing the whole meal," says Li.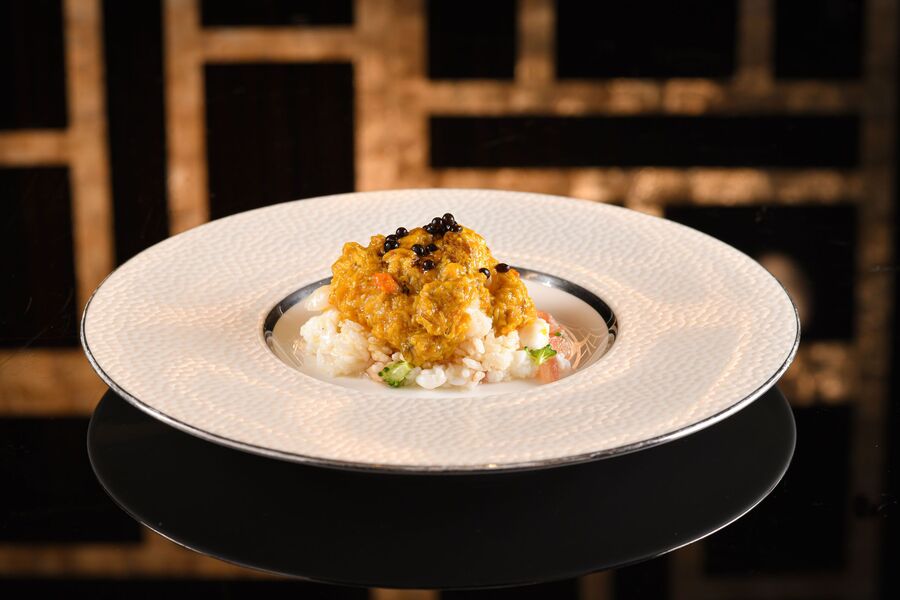 Stir fried lobster with hairy crab roe and egg white from Ming Court. (Photo: Ming Court)
Drawing inspiration from age-old Cantonese culinary techniques and recipes, chef Li Chi Wai of the Legacy House in Rosewood Hong Kong fills this year's hairy crab menu with familiar flavours in innovative ways.
"The must-try dishes are Braised Green Bean Noodles with Hairy Crab Paste and Braised Rice, Fish Maw, Hairy Crab Cream. Because the texture of the fish maw and green bean noodles -- the two accompanying stars of the dishes -- can easily help absorb the sauce from hairy crab. Guests can fully savour the creamiest and umami flavours of the fresh hairy crab paste.
"It's important to pair with ingredients that don't overshine the main hero of the dish - hairy crab, but to elevate the dish to its fullest potential and flavour," says Li.
If you're looking for an extra touch of extravagance, you can opt to garnish your hairy crab order with seasonal Alba white truffle shavings.
The Legacy House's hairy crabs are from Taihu Lake in the Yangtze Delta, famous for their fragrant and generous crab roe.
The restaurant recommends pairing the crustacean dishes with a bottle of vin jaune, French yellow wine.
The must-try dish from The Legacy House is braised rice with fish maw and hairy crab. (Photo: The Legacy House)
"We are using hairy crabs from Hokkaido this year. The hairy crabs are even sweeter thanks to the clean water at Hokkaido," says chef Yip Kar On of Duddell's.
Whenever he thinks of hairy crabs, the experienced executive chef's mind goes to some of his first-ever taste of hairy crabs about 15 years ago.
"Hong Kong just began importing hairy crabs from China's Taihu, Jiangsu, then. Both the crab roe and meat were extremely sweet and flavourful. I was lucky to try three of those crabs then. Whenever I think of hairy crabs, I could almost savour the taste again in my mind," says Yip.
With that in mind, Yip has crafted eight hairy crab dishes for this year. You can sample five of them in the restaurant's special hairy crab tasting menu.
"In addition to the hairy crab classics like hairy crab coral xiaolongbao, I hope the customers can have a taste of a special dish I create for this year's menu – pan-fried scallop stuffed with shrimp paste with hairy crab roe. Both [the scallops and the crabs] are fresh produce from Hokkaido. They accentuate the umaminess of the dish," says Yip.
---
Hero image: Hairy crabs from Duddell's (Photo: Duddell's)
This article is written by Maggie Hiufu Wong for MICHELIN Guide Hong Kong.