When temperature drops, it's a cue to dig into heart-warming guilty pleasures. After all, nothing beats the cold—well, as cold as Hong Kong can get—like Hong Kong's beloved winter warmers.
Whether you find comfort in sizzling claypot rice or gooey melted cheese, here are our MICHELIN inspectors' go-tos to warm you up this season.
Claypot Rice
Few things beat Hong Kong winter blues like claypot rice, and each local joint has their own take on this Cantonese classic.
Over in Sai Ying Pun, Kwan Kee is a local favourite for charcoal-cooked clay pot rice made with a three-rice blend, which adds chewiness and goes perfectly with umami-packed toppings such as white eel, preserved Chinese sausage and chicken. While the clay pot rice is what draws the crowd, don't miss the pork bone soup with vegetables and stewed lamb with dried bean curd sheets—both served in a piping hot pot.
On the Kowloon side, Hing Kee spans the Temple street with five shopfronts and a central kitchen where roughly 40 claypot rice can be cooked at the same time. With over 60 varieties of claypot rice toppings—including mala flavours—on offer, the menu features popular choices like octopus and diced chicken, white eel, and frog leg specialties.
RELEVANT: What Makes The Perfect Claypot Rice, According To Hong Kong's Top Chefs
Cheese Fondue
Cheese fondue may be a winter favourite in the Alps, but that doesn't mean we can't indulge in melted cheese, bread cubes and comforting sides during a Hong Kong cold snap.
For an authentic Swiss dining experience, head over to The Swiss Chalet, a no-frills fondue hotspot tucked away in Tsim Sha Tsui. Outfitted with wood furniture and beam, the restaurant oozes traditional alpine charm and serves up sizzling pots of warm gooey cheese infused with dry white wine.
Choose between the regular fondue and fondue with black truffle, both made with a base of five cheeses and kirsch and best paired with their extensive selection of Swiss wines. Each order comes with bread cubes, while side dishes such as new potato, mushroom, french fries and veal sausage are available as add-ons.


Hotpot
What better way to warm up than over a bubbling pot of delicious broth filled with your favourite ingredients? While there's no lack of hot pot options in the city, from shabu shabu to Sichuan hotpot, MICHELIN-recommended Dong Lai Shun is a classic choice for authentic Beijing-style hotpot.
An outpost of the original branch in Beijing, Dong Lai Shun specialises in Mongolian mutton hotpot, or "shua yang rou," served with paper-thin mutton rolls flown in from Northern China.
Dumpling specialties and handmade meatballs are crowd-pleasers, but what's more impressive is their hotpot soup base specialties, ranging from Guiyang-style fish soup with pickles, deer sinew to drunken chicken soup with Chinese herbs. If you ever feel overwhelmed by the a la carte menu, ask the knowledgeable staff for recommendations or set menus.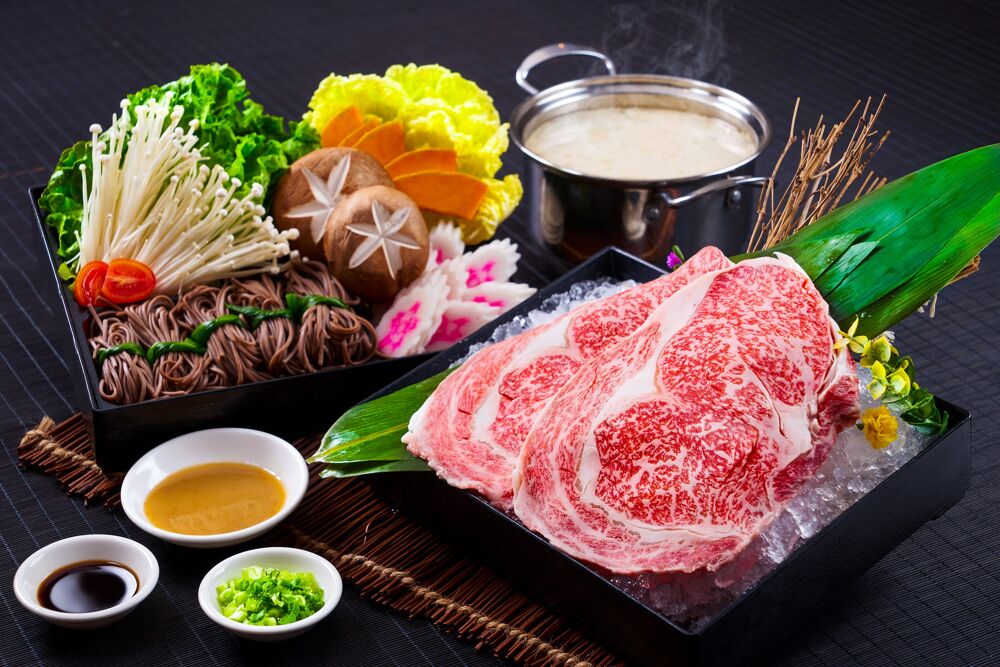 Over in Wan Chai, Megan's Kitchen is a premium hotpot spot for creative soup bases—think Vietnamese-style superior beef broth, fresh lobster borsch soup and tom yum cappuccino—and high-quality ingredients. With the option to choose three soup bases (for the price of one), the flavour combinations are endless.
For meat lovers, a selection of Japanese wagyu with highlights such as A5 Saga rib eye, A5 Satsuma sirloin, A4 Kagoshima rib eye and A5 Miyazaki shoulder chuck tenderloin are carefully selected and hand-cut.

Those who are more adventurous are treated to an assortment of creative dumpling flavours, from Thai-style red curry roasted duck with lychee, beef tongue with cheese to Malaysian satay chicken with peanuts. Vegetarians will enjoy the restaurant's abundant vegetable offerings including assorted mushrooms, tofu platter as well as plant-based meat dumplings and meatballs from OmniPork and Beyond Meat.
RELEVANT: The Best Plant-Based Dishes from MICHELIN Restaurants
Snack soup
Snake soup may not sound like the most appealing winter warmer, but this Cantonese delicacy is steeped in history and tradition. Founded in Guangdong province two thousand years ago, snake soup was considered a high-end dish accessible only to the upper class due to its high nutritional value and complicated preparation but later gained popularity across China.
Usually served in specialised stores known as "she wong," or "king of snakes," snake soup contains shredded meats of at least two types of snakes, along with chicken meat, pork bone and lean meat to neutralise the gaminess of the snake. The meats are simmered with herbs and spices for six hours to give a thick consistency. To finish, thinly-sliced lemon leaves and chrysanthemum are added to dilute the saltiness.
While snake soup is lauded in Chinese culture for its medicinal benefits, the number of snake soup shops have dropped down in recent years due to the lack of interest in the younger generation to learn the trade.
Among these long-standing snake specialty shops is She Wong Leung, a family-run business that has been around for over two decades. Rather than selling snake soup as a seasonal dish, the restaurant makes snake soup a year-round offering by creating healthy tonics using different herbal bases for every season. For the winter season, the snack soup is best enjoyed with the restaurant's glutinous rice with preserved sausages or lamb stew.
CONTINUE READING: Top Secret Off-Menu Dishes Only Regulars Know At These Cantonese Restaurants