Following the launch of the MICHELIN Guide Great Britain and Ireland 2022 in February, our Inspectors went straight back out on the road searching for more new restaurants worthy of a place in the MICHELIN Guide.

As always, the Stars, Bib Gourmands and Green Stars will be unveiled at an annual launch ceremony but, once a month, from now until then, the Michelin Inspectors will reveal some of their favourite new additions to the Guide.

These newly recommended restaurants feature both on the website and the app, and they're easy to spot as they're highlighted by a 'New' symbol. Some of them may go on to earn distinctions at the Michelin Star Revelation ceremony, so why not give them a try and see which ones would be on your shortlist?

For May, we are pleased to share five of the inspectors' favourite new additions...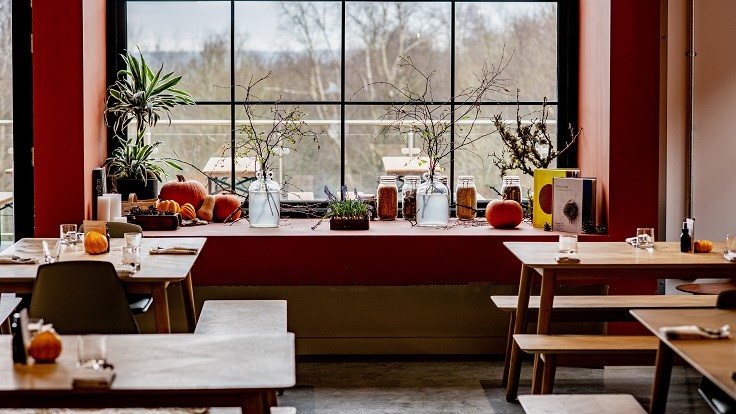 Birchwood
The third restaurant from Will Devlin is a bistro set in a sustainably built and run business park in 46 acres of woodland. Diners are seated at communal tables and the terrace has a lovely outlook over the trees. They are open for breakfast and lunch and the daily changing menu is informed by the owners' sustainable ethos, the seasons and the surroundings. The resulting dishes – perhaps crisp Paley Farm lamb belly with pickled carrots and mint sauce, or roasted stone bass with crushed potatoes, broccoli and aioli – are super-fresh and full of flavour.
Richoux
At over 100 years old, Richoux is something of a Piccadilly institution. It reopened after lockdown under new management – with chefs Jamie Butler and Lewis Spencer at the helm – and, while they have certainly given it a new lease of life, it also honours its past as a patisserie, with its window chock-full of delectable pastries, cakes and tarts. The interior is befitting of its prime St James's location, while the modern brasserie menu keeps things simple and satisfying – and at prices that won't break the bank. Alongside their signature French onion soup and croque monsieur, you'll find unfussy Mediterranean dishes… and desserts are not to be missed!
Rokestsu
As with many of the 2022 intake of new restaurants, Roketsu's opening was long delayed by the pandemic, but it has now slotted neatly into the assembly of small, discreet Japanese restaurants in London offering the full kaiseki experience. Whether you're a seasoned Japanophile or a relative late-comer to the thrills of Japanese cuisine, you'll find yourself being very well looked after as you progress your way through 10 courses of delicate, seasonal creations.


The words 'cover', 'book' and 'judging' come to mind when you arrive at this somewhat modest looking pub in rural Kent – although you won't fail to notice the blue plaque commemorating the fact that Ian Fleming wrote 'You Only Live Twice' here. Once through the doors, you'll find yourself in a very charming space, made even warmer by a delightful service team. The chef knows his way around a barbeque, and the main courses are as big in flavour as they are in size.


Sister to The Poet at Matfield, this roadside pub offers something a little different to the norm: chef Oscar hails from South America and influences from his home country are legion, but there are plenty of Mediterranean and Asian flavours to be found on the menu too, with much use made of the open fire. The pub combines vintage charm with contemporary cool, while the enthusiastic team make everyone feel welcome. If there's two of you, you can't go wrong with the rib of beef to share.