It's a perfect Provençal day in the tiny commune Gargas—hot, dry, the sky so blue and cloudless it looks dyed. Chefs Thierry Enderlin and Benjamin Higgins are in garden of Coquillade, an 11th-century Provençal village turned boutique hotel. The pair are pointing out everything that's growing across the 5,000m², fertilized by macerated nettles: along neat rows are a cool 49 varieties of mint, 40 varieties of tomatoes, peppers, cucumbers, butternut squash, all manner of herbs, flowers, currants, raspberries, strawberries, kiwi, and artichokes—they planted 120 this year and harvest them every two days. It's a big, beautiful garden, and everything that grows here goes to Coquillade's three restaurants, including Avelan (currently closed) and Les Vignes et son Jardin, as well as to the bar, which utilizes herbs in its cocktails.
The garden has already been expanded once to support the restaurants, which rely so heavily on local, seasonal ingredients that the hotel needs to buy 30-40% of the vegetables for Les Vignes and their Italian restaurant, Cipressa; in the four months of summer alone, they spend €150-175,000 on vegetables from local farmers. Coquillade has a 300-year-old olive grove and last year harvested 700kg; this nets just 100L of olive oil, so they use Italian olive oil in the Italian restaurant and their own olive oil in the others. The honey also comes from the hotel. They have 20 beehives in the forest and, in a good year, they can get 400kg of honey. When they can't, they buy from local apiaries (guests can do so, too, at the huge Saturday market in nearby Apt).

Coquillade is trying to get the greenhouse built by spring 2023 so they can extend the growing season. And climate change isn't helping their harvest. "Last year, we planted the entire garden, but then it was very hot. Then wild boar got into the garden, running in packs at night and tearing it up. The boar even got to the grass in front of the pool." This year so far it's barely rained and it's been terribly hot. Chefs Enderlin and Higgins say tomatoes, for example, grow well, but if the ongoing heat and drought situation continues, they'll have to do something. And there are restrictions on how much and when they can irrigate.
Vegetable gardens of Coquillade - Provence Village © Gilles TRILLARD/Coquillade - Provence Village
Despite the challenges, nearly every day dawns beautifully in the Luberon Valley in central Provence. Coquillade, an hour's drive from Avignon, looks very much like the 11th-century village it once was, secluded behind alleys of cypress trees and stone walls. The tiny hamlet, founded by Cistercian monks of the Sénanque Abbey (you can still visit), is now 63 rooms and suites and one six-bedroom villa. There are two sizeable pools, comfortably heated, a spa with indoor pool and hammam, two MICHELIN Guide farm-to-table restaurants, tennis and petanque courts, and rustic hiking trails that start at the back of the hotel's estate.
Guests are drawn to this corner of the Luberon for the truly picturesque ancient villages and for its cycling paths. Most of the cyclists are domestic tourists, Germans, Dutch, and Belgians; they hitch bikes to campervans or take them on the train, setting out on day rides or bike-packing. North American tourists tend to avail themselves of Coquillade's cycling center where bikes for racing, road, mountain, and kids are for rent, alongside Swiss imports BMC and Stromer, the Rolls-Royce of e-bikes.
Cycling with a view to Lacoste © Alain Hocquel/Vaucluse Provence Attractivité
Although the bike paths around the Luberon are entirely flat, those quaint hilltop villages are up steep ascents (the better to fend off marauding invaders). To reach a big stone windmill from 1750—the Moulin de Jerusalem—in tiny, charming Goult is to cycle up 300m (nearly 1,000ft), the last stretch seemingly a 45-degree angle. Cycling is the nicest way to get around, even better with a little e-boost.
Goult is just one of dozens of postcard-perfect villages around the Luberon. Stone houses dripping with purple and white wisteria, shutters painted turquoise, sky blue, sage, and lilac, hug the narrow, curved streets. During the many months of warm weather, cafe tables sit beneath striped awnings and umbrellas. Some of the villages are tiny and beckon for lunch; others, like Lacoste and Bonnieux, are larger and have galleries, shops, and multiple places to eat and drink.

Goult © Alain Hocquel/Vaucluse Provence Attractivité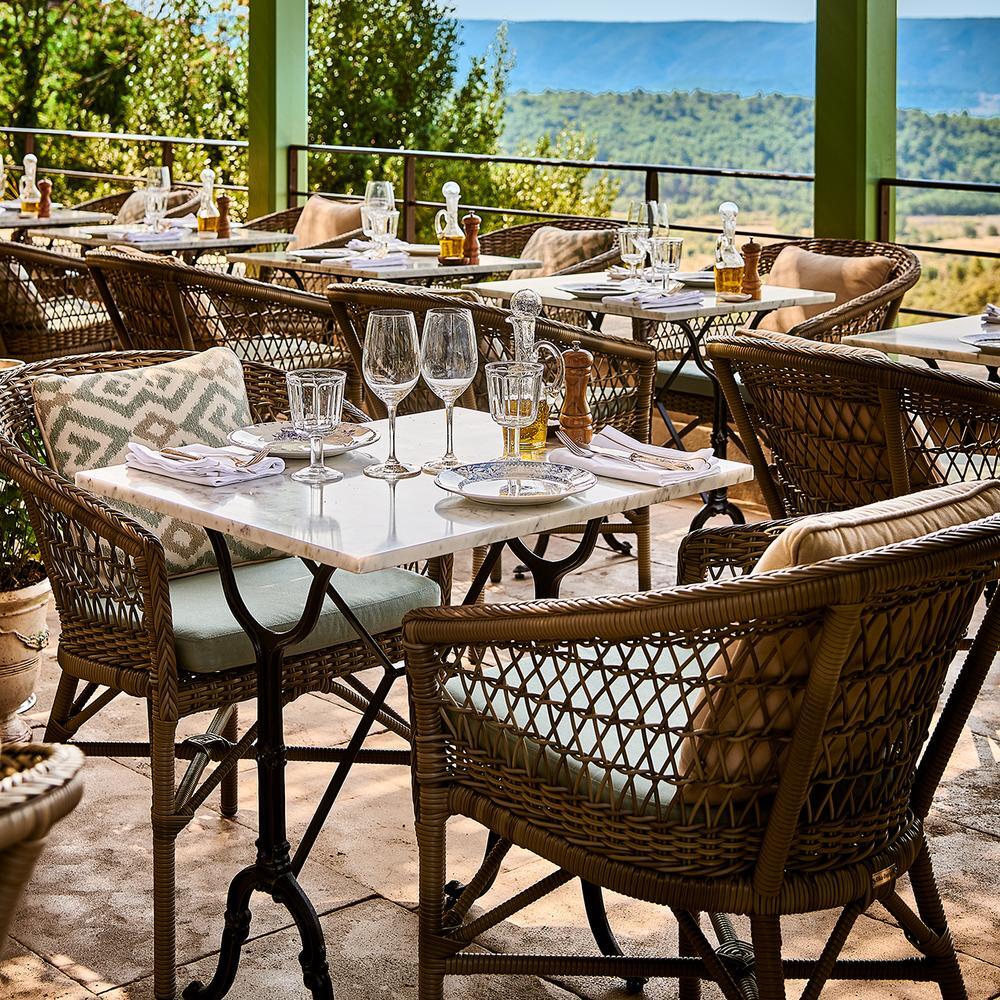 Clover Gordes © Nicolas Lobbestael/Clover Gordes
Avignon is the closest train station to the Luberon, and there are 15 MICHELIN Guide restaurants within the city.
L'Agape — Bib Gourmand: A block from the tourism office is chef Julien Gleize's restaurant, where he composes hearty, cleverly devised dishes in which seasonal products are nicely showcased.
Sevin: Right next to the Palais des Papes, this medieval residence is steeped in history. Inside, cooking up a storm with the support of a motivated young team, chef Guilhem Sevin has devised a modern culinary repertoire that revolves around three set menus.
Au Jardin des Carmes: Uncomplicated provençal cuisine: courgettes served with goat's cheese in lemon confit and a syrup of sweet peppers; slow - cooked lamb, local tomato crumble, pistou and olives. Tree-lined inner courtyard. Seating for some 30 diners only.


Au Jardin des Carmes © Justine/Au Jardin des Carmes
---
---
Aureto wine tasting © Jerome MONDIERE/Coquillade - Provence Village
Wine in the Luberon Valley
The Rhône Valley wine region is well known, but just next door is the Luberon AOC (Appellation d'Origine Contrôlée, a French designation that says an agricultural product—wine, cheese, butter—was produced entirely in a defined geographical area). Grapes in the Luberon AOC are grown at an altitude of 200-450 meters (650-1,475 ft) and at varying temperatures. The higher you go, the stronger the sun, which means thicker skins and stronger tannins. Grapes growing in the Luberon AOC include Grenache blanc and noir, Clairette blanche, Vermentino, Syrah, Mourvèdre, and Carignan.
Where to taste wines
Goult
Aureto Winery: Coquillade's winery is 10 minutes' bike ride from the hotel. On 30 hectares the grow organic grapes, among them syrah, roussanne, and grenache. The winery uses biodynamic practices, like infusing compost with water and spraying it on the soil to help micro-organisms develop, and is seriously cutting its carbon footprint, halving the weight of its bottles and using carbon offsets for deliveries. Aureto runs tours cellar tours (€10), vineyard tours (€15), and 2-hour guided tastings (€25), or you can stop by for a glass and a local charcuterie and cheese platter in their garden.
Bonnieux
Château Isolette: 11 varieties of grapes are grown here on 45 hectares, including clairette, cinsault, and mourvèdre. The vineyard has the highest level of environmental certification in France. They're open weekdays for cellar tastings and tours.

Vineyards of Bonnieux © Alain Hocquel/Vaucluse Provence Attractivité
Things to do in the Luberon Valley
Beyond cycling and wine tastings:
Markets
There are markets every single day. The Saturday morning market in Apt is the largest, winding its way through the town with dozens upon dozens of vendors selling everything—tablecloths and bedspreads, sachets of lavender, cheese, spring rolls, wicker baskets, Turkish cookies. Market wraps up around 12:30pm. The Tuesday morning market in Gordes, set up around an ancient castle, is particularly picturesque. The usual food and wine is available here, plus linens, lavender, soaps, etc. For more non-edible souvenirs, go to the Friday morning market in Lourmarin, where you can fill your suitcase with jewelry, linen, soaps, and dishware.
Villages
The historic villages around the Luberon are extremely charming. Gordes, Goult, Bonnieux, and Lacoste top the list. Expect pretty town squares, Roman ruins, 16th century houses, and plenty of cafes and restaurants. Lacoste has a small museum, part of Savannah College of Art and Design's campus there.
Lavender stall at a market © Alain Hocquel/Vaucluse Provence Attractivité
---
---
Gordes © Alain Hocquel/Vaucluse Provence Attractivité
Hero image: Coquillade - Provence Village
© Coquillade - Provence Village