Where
73A Ayer Rajar Crescent
139957 Singapore
9800 5036
Who's behind it
Douglas Ng never thought he would end up among the vanguard of the hawker trade rejuvenation - he never even thought he would be a hawker.
"I've been in love with everything culinary since I was 14, but I wanted to be a chef," says the engineering-trained 25 year old, who had cooking stints in hotels and casual cafes around town before opening a Chinese restaurant in Tanjong Pagar with some friends.
Douglas Ng in front of his stall in Timbre+. Photo: Nicholas Ee for Michelin Guide Singapore
In 2013, he ventured out on his own with a stall in Golden Mile Food Centre specialising in fishball noodles made with a hand-me-down recipe he picked up from his grandmother. He relocated the stall to its current Timbre+ gastropark location in Buona Vista in April, and also owns a stall in a cafeteria within the National University of Singapore, the latter of which doubles as a production kitchen for large corporate orders.
But despite being an oft-fronted face for young hawkers, Ng wants to be known for more than his young age.
"I want to create awareness that our hawker culture is dying, and something has to be done to protect this culture," he states. "The media has been showing the public what the public wants to see - they are always celebrating the same few young hawkers, but they forget so many older hawkers who are retiring. For every new young hawker that enters the scene, there are many more who are retiring."
Even with spurts of fresh blood entering the industry, few end up staying the distance, for the journey of a hawker is a long one fraught with obstacles, Ng laments. Few experienced hawkers are willing to impart what they've learnt, and customers remain extremely price sensitive, even in the face of ever increasing business costs, he says.
"When we raised our prices by 50 cents at Golden Mile Food Centre, which is in an elderly heartland, our business dropped by 30 per cent," he recalls. "Salary, rents and labour costs have increased, but food prices haven't increased. Profit margins have gotten thinner, so hawkers must go for quantity to survive, but this often means a reduction in quality," he admits.
"Consumers must accept that prices for hawker food will eventually increase - that is the only way for hawkers to survive."
Then there is the danger among young hawkers of getting caught up with the latest food fads, to the neglect of offering what consumers really want and are willing to pay for. "All young hawkers should work for someone in a hawker centre to experience the hours and the work before deciding if this is something they really want to do. And they have to make sure they sell something that people will accept."
"We have to remember that [a hawker stall] is not a cafe. People have so many other options in a hawker centre, so the question is: how do you get them to try yours?"
How it got its name
The second character in the stall's Chinese name, 鱼缘, means "fate" and was chosen for "all the little things that have happened that have brought us here, and the fate that brings my customers and us together."
Fishball Story, meanwhile, "is a journey of how we started, from the time I spent learning the recipe from my grandma till now," explains Ng, who spent dedicated four months, armed with a video camera, under her close tutelage.
"Let's hope this story can continue to write on."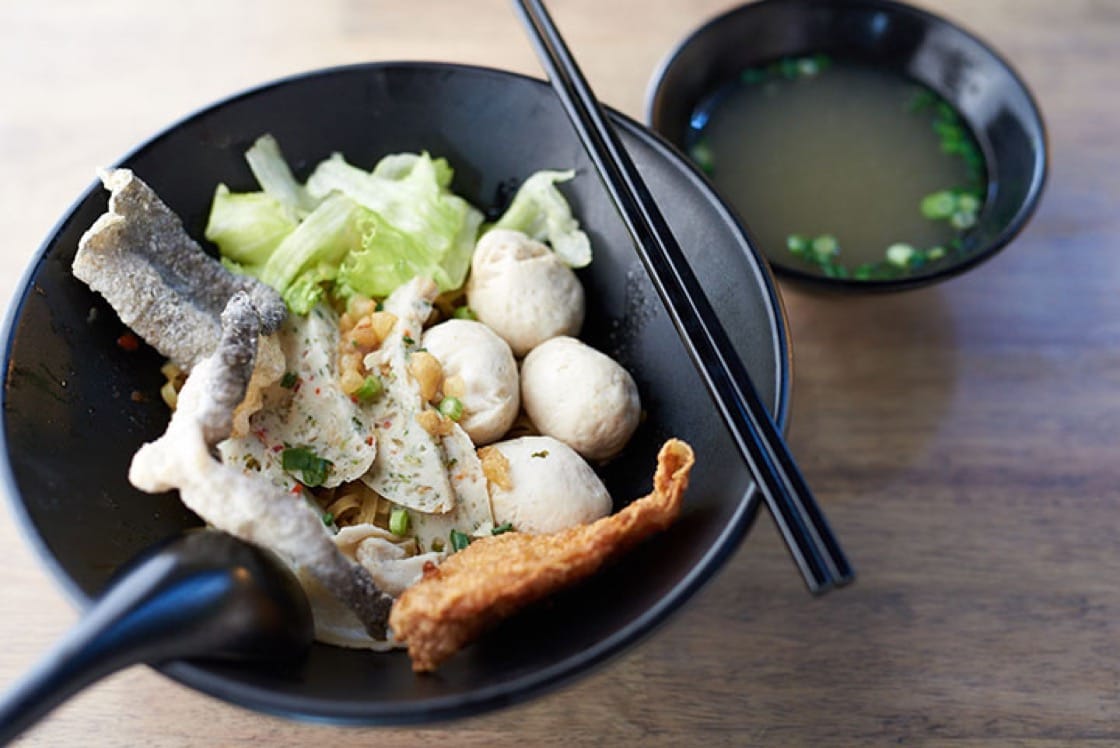 Photo: Nicholas Ee for Michelin Guide Singapore
What to order
You only have to pick from five easy-to-understand set menus at Fishball Story - a boon for the uninitiated diner, and tourists visiting for the first time. The sets start from $4.50 for a basic bowl of noodles with handmade fishballs, fishcake and fish dumplings, to $6.50 for the premium set that comes with freshly squeezed lime juice and an extra serve of "jin shan" or beancurd skin-encased fishpaste fried to a golden crisp, and a stick of fried fish skin. For the health-conscious, there's also a healthy set meal ($5), which comes with soup noodles, taupok (tofu puffs) and enoki mushrooms.
The handmade fishballs - made in the Teochew-style according to Ng's grandmother's recipe - are visibly chunkier and more dense than commercially produced variants, as they are made with 100 per cent yellowtail meat, with no flour added. The fishcakes are speckled with green and red parsley and chilli flakes, making them as flavourful as they are attractive, while the spice level of his homemade chilli has been intentionally toned down "so diners can taste the fragrance of the fried shrimps, shallots and garlic coming together", Ng explains.
His dream, he says, is to achieve a Michelin star next year and attract larger business partners to help him to expand on the food production side of the business.
"I want to produce fishballs and fishcakes that people can have at home so they can say, 'that's like what my grandma used to make'".
Save for the trendy addition of fried fish skin, flavours at Fishball Story are kept very traditional, with recipe innovations - such as a green curry fishball noodles he's currently working on - reserved for one-day events or chef collaborations. With one catch: they are all first sent for grandma's approval.
"If the old can accept it, then it's nothing that the young can complain about," he laughs.