MICHELIN-recommended restaurants have sommeliers to curate their wine menus, and now you do, too. We're adding five restaurants to Wine Access' MICHELIN subscription program—four bottles, five times per year, curated by restaurants like Three Star Per Se, Three Star Quince, and Two Star minibar.
A single door manned by a suited host marks the entrance to the culinary haven that is minibar, and which extends well beyond its diminutive name. The lounge is ideal for a bit of bubbly, after which guests may settle in to a perch at the counter, set around the chefs' stainless steel workspace that literally makes their world a stage.

The team is unabashedly passionate, turning out a menu that's complete with whimsy. "Ramen en papillote" showcases how much fun they are having, but one may also look to the chalkboard for such specials as soy chicharrón with wakasabi (think guacamole sparked by wasabi); or Wagyu topped with pearls of caviar and petals of sunflower. Desserts, like a fried hojicha donut and cherry pâte de fruit atop miso "sable," make for an unorthodox finale.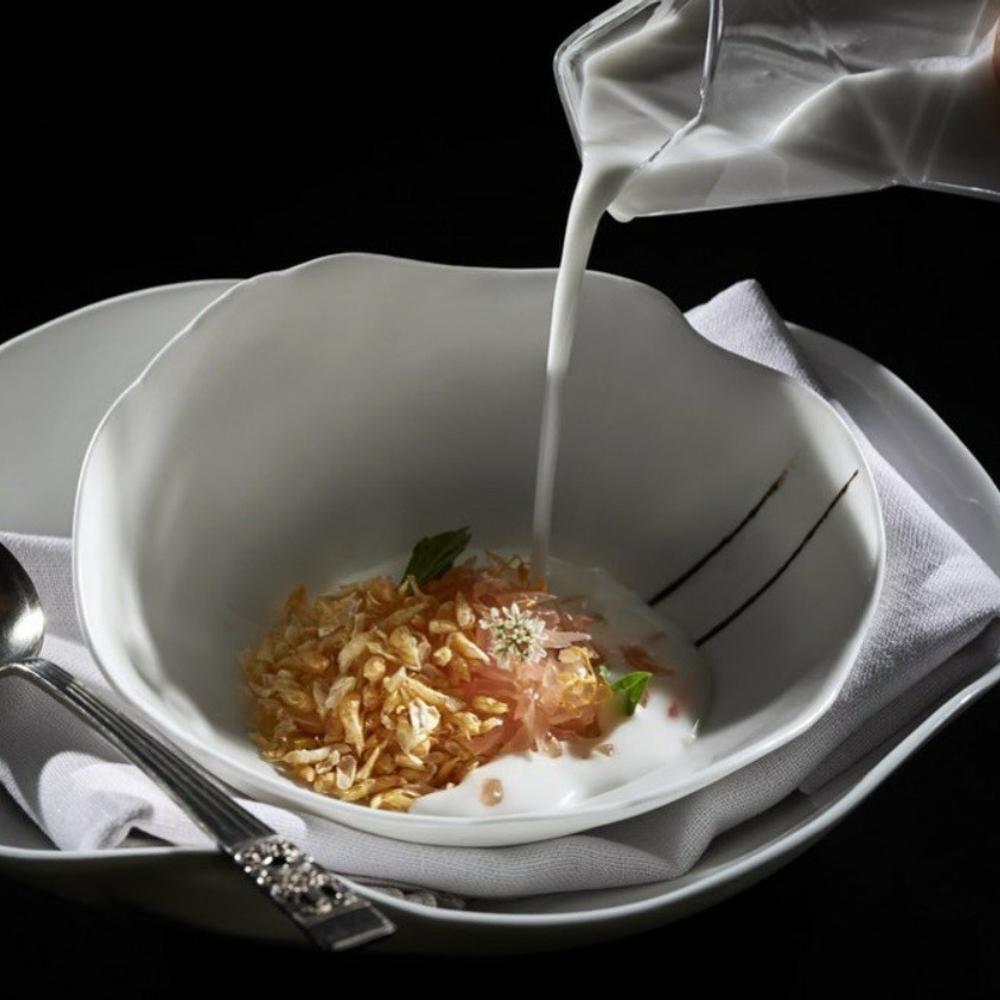 minibar's "Pomelo Cereal" © Greg Powers/minibar
With two decades of sommelier experience behind him, minibar's wine director Jordi Paronella brings a wealth of knowledge to his role. Studying and working across Spain's fine dining scene has made him a tastemaker in Spanish wine, yet his highly selective list at minibar shows a discerning eye for unique bottles from around the world, with spot-on pairings for chef Andrés' array of inventive dishes. Read on for tasting and pairing notes from Paronella.

2020 Ornellaia Le Volte dell'Ornellaia Tuscany
Pairing: Pasta al ragù

A beautiful Tuscan wine with straightforward red-fruit notes, dry herbs, and a touch of smokiness. Pair it with any type of pasta you love the most, alongside pork, beef, or wild boar, with tomato sauce and fresh herbs. Serve the wine slightly chilled. Its fruitiness and herbal component will enhance the tomato and herbs, and the smokiness and balanced structure will accompany the ragù.
2020 Ornellaia Le Volte dell'Ornellaia Tuscany
2018 Ramey Pinot Noir Russian River Valley
Pairing: Grilled cod with samfaina

Delicate and fragrant Pinot Noir from the Russian River Valley normally offers wild strawberry, blackberries, and rose petals on the nose, with a hint of black tea minerality at the end. There's no doubt that Pinot Noir pairs beautifully with salmon, but it also goes with grilled cod fish with samfaina (stewed vegetables)—a traditional Catalan dish. The mineral component of the wine pairs fantastically with the stewed vegetables, and the ripeness of the fruit will balance the saltiness of the cod.
2018 Ramey Pinot Noir Russian River Valley
2017 Eden Rift Vineyards Chardonnay Estate Cienega Valley
Pairing: Carbonara or fish à la meunière

A classic Chardonnay from the oldest continually producing vineyard in California, it shows lemon peel and pineapple notes, with brioche and hazelnuts. When it comes to a traditional Napa Chardonnay, carbonara sauce always comes to mind—the egg yolk, butter, bacon, and Parmigiano-Reggiano cheese complements the Chardonnay's aroma. Or, think about doing à la meunière sauce with lemon, parsley, butter, capers and white wine. Preferably with fish, specifically trout. A fresher sauce will enhance the fruit of the wine, as well as the creamy texture in the wine and the sauce.
2017 Eden Rift Vineyards Chardonnay Estate Cienega Valley
2020 Arietta Quartet Red Wine Napa Valley
Pairing: Grilled aged tomahawk ribeye with tomato salad

A savory red blend with dense black and blueberry, chocolate, florals, spices, and cedar. Protein and protein, why not? Pick your best piece of meat—like a grilled, aged tomahawk ribeye—next to a farmer's market tomato salad with fresh herbs. It's a win-win. The meat and the wine will melt on your palate, while the salad refreshes and cleans it.
2020 Arietta Quartet Red Wine Napa Valley
All photos © Robert McClenahan/Wine Access