Every one loves a good, cheap meal—even top chefs. In the MICHELIN Guide, a Bib Gourmand distinction is handed out to eateries that offer a quality three-course set menu for a maximum of HKD400 ($50). From the 73 restaurants in Hong Kong that made the list, some of these are chefs' favorite haunts for good food. If you're making plans to go to Hong Kong, check out these Bib Gourmand recommendations from these four culinary luminaries in the area.

Yoshiharu Kakinuma
Executive Chef of Three-Michelin-Starred Sushi Shikon

Sushi Shikon, the first international branch of Sushi Yoshitake founded by master chef Masahiro Yoshitake in Ginza, Japan, is the proud recipient of three Michelin stars in the Hong Kong & Macau MICHELIN Guide for four consecutive years, and is known for masterfully recreating the Ginza sushi experience outside of Japan.

Helming this Hong Kong outpost is executive chef Yoshiharu Kakinuma. The 42-year-old Tokyo native's love for cooking and good food led him to the doorstep of chef Yoshitake, who believed in the young man's passion. Chef Kakinuma then moved to the U.S. to hone his craft in restaurants in both New York City and Atlanta for 10 years before Yoshitake contacted him to helm his first restaurant in Hong Kong. With such a sensitive palate, we speak to Kakinuma to find out his Bib Gourmand picks.

"My favorite shop is Sang Kee. Each time my mentor Masahiro Yoshitake is in town, I will definitely take him to Sang Kee to enjoy a casual yet authentic Hong Kong meal.

"I first got to know of Sang Kee thanks to the recommendations of my restaurant guests. I fell in love with the place immediately, the first time I ever went. My favorite dish there is the sautéed chicken with black bean—I admire the techniques they use to cook it and the amount of labour that goes into preparing the dish.

"Besides my mentor, I also make it a point to take my friends to Sang Kee when they visit Hong Kong from Tokyo. To me, Sang Kee is a place for gatherings with friends, and I go there about once a month."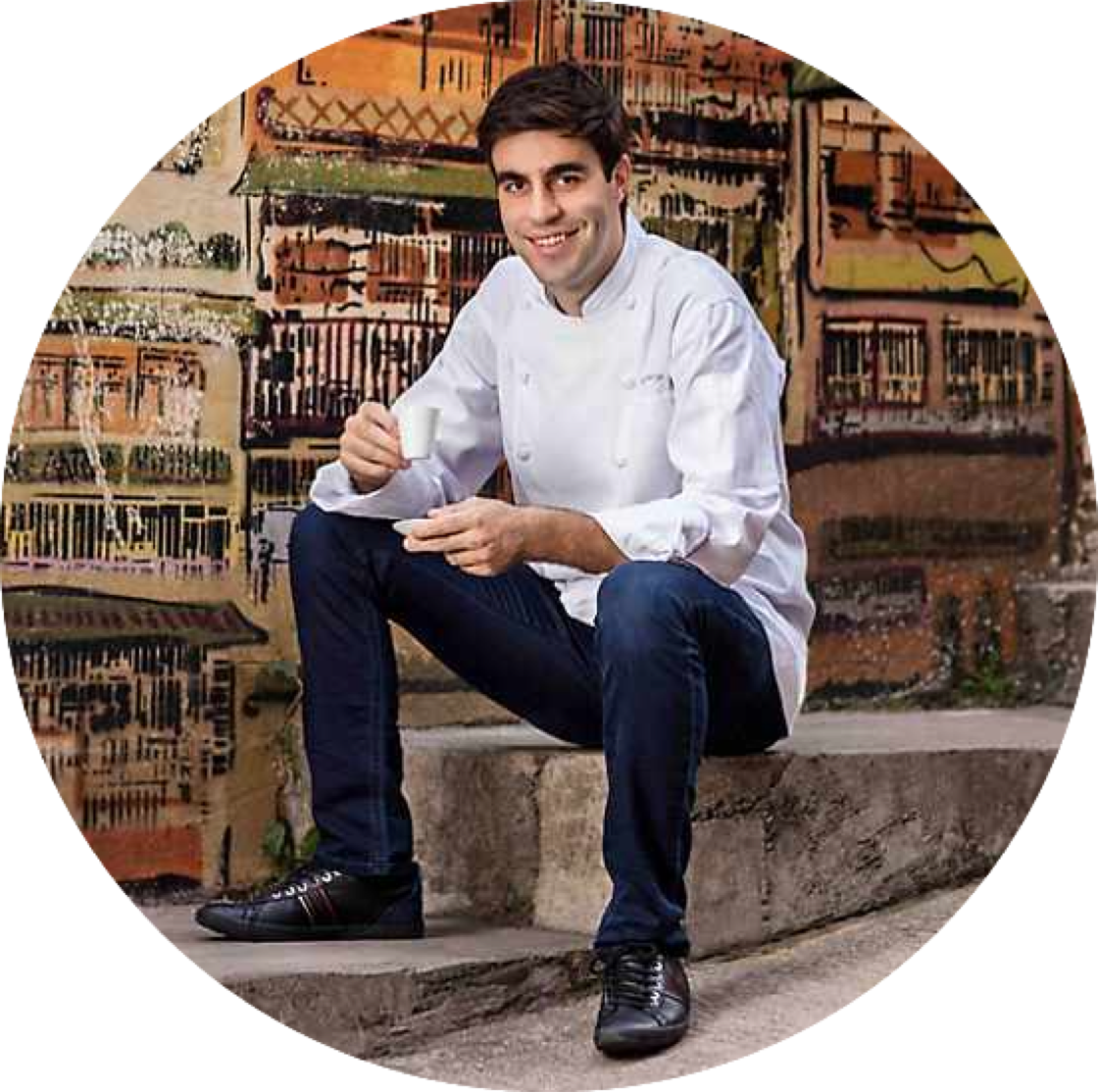 Jacky Tauvry
Chef de Cuisine of Two-Michelin-Starred Pierre

Born in La Guerche-de-Bretagne, a small town in Brittany (Western France), Jacky Tauvry made his first foray into the restaurant industry at the tender age of 14, where he discovered the pleasure of cooking for others and seeing their enjoyment of the dishes he cooked. Fine dining became a route he knew he would embark on while doing an internship at L'Arpège, the three-Michelin-starred restaurant of Alain Passard in Paris.

He then went on to work at Guy Savoy's restaurant for two years where he honed the basics of French cooking before he landing a spot in the Paris kitchen of one of his idols, chef Pierre Gagnaire.

His favorite Bib Gourmand restaurants are Din Tai Fung and Brass Spoon. "The first time I went to Din Tai Fung was because of a recommendation by a friend who lives in Singapore. He told me that the place serves delicious dim sum, which is one of my favorite [styles of food]. I was impressed by the staff's ability to cook and entertain a large volume of guests at the same time, while still keeping the standards high!

"Each time I go to Din Tai Fung, I will order the xiao long bao (soup dumplings). Made à la minute, the delicious combination of juicy meat and savory hot soup, packed in a paper-thin dumpling skin, is full of flavor.

"Brass Spoon is where my girlfriend usually goes for lunch," he adds. "The pho here reminds me of the authentic flavors I had in Vietnam, and the beef and the flavorful soup go really well together to make for a well-balanced bowl. To me, their pho is the best in Hong Kong!

"The two restaurants I picked might not be fine dining, but their standards are always high and the food is consistent—I have never been disappointed going there."

Din Tai Fung is one of chef Jacky Tauvry's top Bib Gourmand picks.
Nicolas Boutin
Executive Chef of One-Michelin-starred Épure

Boutin began his culinary career at 14 years old, and has since worked at three-Michelin-starred restaurants such as Lameloise and Troisgros, among other top restaurants and hotels around the world. In 2013, Boutin opened Épure in Hong Kong, a French restaurant that emphasizes the origins of ingredients, respects the French seasons and the terroir, complemented by Boutin's concise and refined cooking method. It received a Michelin star in 2017.

His favorite Bib Gourmand restaurants are Liu Yuan Pavilion, Lin Heung Kui and Cafe Hunan (Western District).

"If I wanted to eat authentic Shanghai food, I would go to Liu Yuan Pavilion. I really like their xiao long bao, salted duck, drunken chicken, sautéed pork with pepper and chile, deep-fried Mandarin fish with sweet-and-sour sauce, and pork knuckle in red braising sauce. The portions are all good for sharing with friends and family. They also do a very value-for-money set lunch, though dishes tend to take a while to be served when it is busy.

"When I crave for tea, I will head to Lin Heung Kui," he adds. "They do a dim-sum trolley service where you can pick what you want when it comes by your table, a special experience for both tourists and locals. There's a great variety of dim sum, from prawn dumpling to egg tart and barbecue pork bun. It is my go-to place to bring friends who are visiting Hong Kong.

"And it might be surprising to know, but I really enjoy spicy food! The dishes at Cafe Hunan are spicy but not overwhelming. Each time I go I will order the fish heads in spicy oil because the fish head is really fresh! Sautéed celtuce and barrel of sizzling beef with cumin is also memorable. Prices here are very reasonable, and I know I will be guaranteed a spicy journey."

Man-Ip Fung
Executive chef of Two-Michelin-Starred Duddell's

With over 35 years of experience, this Hong Kong native became a chef thanks to his love for discovering great eats tucked away in the winding streets of the city. Since joining Duddell's in March this year, the restaurant has become even more known thanks to his signature dish—sautéed lobster with salted egg yolk. His favorite Bib Gourmand eatery is also as local as it gets.

"My top Bib Gourmand pick is Good Hope Noodle. It was a pure coincidence that I got to know of this stall. I was shopping around Mong Kok and was feeling a little hungry. It so happened that Good Hope Noodle was nearby, and the clean, tidy interior drew me in. I ordered the fishball soup noodle. The fishball had a good bite to it, the soup base was very flavorful. For food that only costs HKD20 to 30 to have such high standards, I feel this is very impressive."

---
This story was originally written by Mandy Li and translated by Meryl Koh. Click here to read the original version of this story.