This is Part 5 of the MICHELIN x Starward G*Astronomy Series and profiles Maydān, a One MICHELIN Star restaurant from Sicilian-Lebanese restaurateur, Rose Previte.

Tucked away in an alley in DC's U Street neighborhood, walking into Maydān is like stumbling upon a hidden town square. The roaring hearth is the centerpiece of the restaurant and around it, the sensory draw and spirit of a Moroccan souk brings guests together for a nightly celebration.

Rose, executive chef Darnell Thomas, and beverage director Drew Hairston discuss the inspiration behind Maydān, which was conceived on a three-week journey through Morocco, Tunisia, Turkey, Georgia, and Lebanon. Watch to learn how to make grilled butterflied bronzini and hearth-roasted cabbage and two Starward Whisky cocktails for pairing—sumac lemonade and The Ottoman Old Fashioned.
Sumac Lemonade
1.5 oz Starward Twofold Australian malt whiskey
.75 oz Clarified lemon juice
.50 oz Sumac syrup
.50oz Chareau aloe liqueur
Clarified lemon juice
Measure 750ml of fresh-squeezed lemon juice. Allow the juice to come to room temperature. In a large stock pot, combine 250ml of fresh water at room temperature or cooler with 2 grams of agar agar. Adding the agar to hot water will cause it to clump, so be sure your water is cold. Whisk the agar well to disperse into the liquid. Bring this mixture to a boil while your pot is covered. Hold at a boil for 3-5 minutes.
After boiling for a few minutes, remove the agar water from heat and gently whisk in your lemon juice. Pour this mixture into a clean hotel pan set in an ice bath, or directly in the freezer. Let the juice set for at least 2 hours until a firm gel is set; do not disturb this mixture. Once set, gently break apart the gel with a whisk and filter through a superbag or very fine mesh sieve. Allow the clear lemon juice to strain off the gel without applying pressure, for risk of clouding your juice.
Sumac simple syrup
In a pot, whisk together 100ml water and 100ml white sugar and bring to a boil. Once boiling, add 15 grams of sumac and hold at a boil for 5 minutes. Remove from heat and allow to cool. Strain your syrup through a fine sieve or coffee filter.
Instructions
Combine all ingredients in a cold iSi canister, seal and shale well. Charge your canister with CO2 and shake gently to incorporate the gas. Pour your mixture into a chilled Collins glass and top with ice. Garnish with a dehydrated lemon wheel and verjus soaked barberries.
Grilled butterflied bronzini.
Grilled Butterflied Bronzini
1 ea bronzini filet, skin on (or meaty white fish)
1/2 tbsp shatta ( hot pepper paste)
1 tbsp cumin, ground
1 tbsp sumac, ground
1 1/2 orange slices
1 sprig dill, picked
1 sprig mint, picked
1/8 bunch parsley, picked
2 oz sumac onions
lemon wedges

salt to taste
Shatta

2 Fresno peppers, or any hot pepper, deseeded
Salt
Sugar
Apple cider vinegar
Mix peppers and weigh in grams. Multiply the weight by .03 (3%) and that is the amount of salt you need. Mix the salt with the peppers, and place in a plastic bag. Write down the weight of the peppers to be able to acidulate. Using the weight to calculate, add 2% sugar and 5% apple cider vinegar. Let sit in the fridge for 2-3 days. Using a food processor, blend into a smooth paste.
Sumac onions

1 1/2 red onions, peeled, and thinly sliced
2 oz distilled white vinegar
1/2 tbsp sumac
Heat the vinegar until hot. Toss onions with sumac and put in plastic bag with vinegar. Store in fridge.
Instructions
Heat Grill to medium high heat. Pat the bronzini with a dry towel on the flesh and skin. Spread the shatta thoroughly on the flesh side. In a bowl, mix the cumin and sumac. Season the flesh and the skin with the spices and salt. Place the orange slices on top of the flesh side. Secure the fish in a grill cage, flat with the flesh exposed. Grill on each side for about 4-6 minutes until there is a golden brown color on both sides, the skin is crispy and flesh is firm. Place the fish, skin side down on a plate. In a bowl, mix the sumac onions, and all the herbs. Garnish with the sumac onion and herbs, with lemon wedges on on the side.

Ottoman Old Fashioned
2.25 oz Starward Twofold Australian Whiskey
.5 oz Smoked date molasses
2 dashes Fee Brothers Cardamom Bitters
2 dashes Fee Brothers Plum Bitters
Instructions
In a yarai or mixing glass, add all ingredients and stir well with ice. Strain your mixture into a rocks glass and top with ice. Garnish with a dehydrated orange slice, and lemon twist.

Smoked date molasses instructions
In a perforated cast iron pan, gently toast 1 pound of Medjool dates over a fire of uncured oak with mesquite or hickory wood for flavor , being sure not to heavily char the outsides of your dates. Toast the dates on the fire using indirect heat to slowly infuse the woods flavor, about 15-20 minutes per batch.
In a large pot bring 1 pound of smoked medjool dates and 2 liters of water to a rolling boil. Boil for about 15-20 minutes. To your boiling water, add a sachet with the following spices: 3 toasted cinnamon sticks; 5 cloves; 1 star anise pod; 2 knobs of fresh ginger, grated; zest of 2 lemons; 1 orange.
Once your dates have softened, remove your spice sachet and use a potato masher to pulverize your dates. Allow to boil for 20 more minutes, then puree the mixture with an immersion blender until smooth. Strain this mixture through a mesh sieve and allow to cool.

Maydān's beverage director, Drew Hairston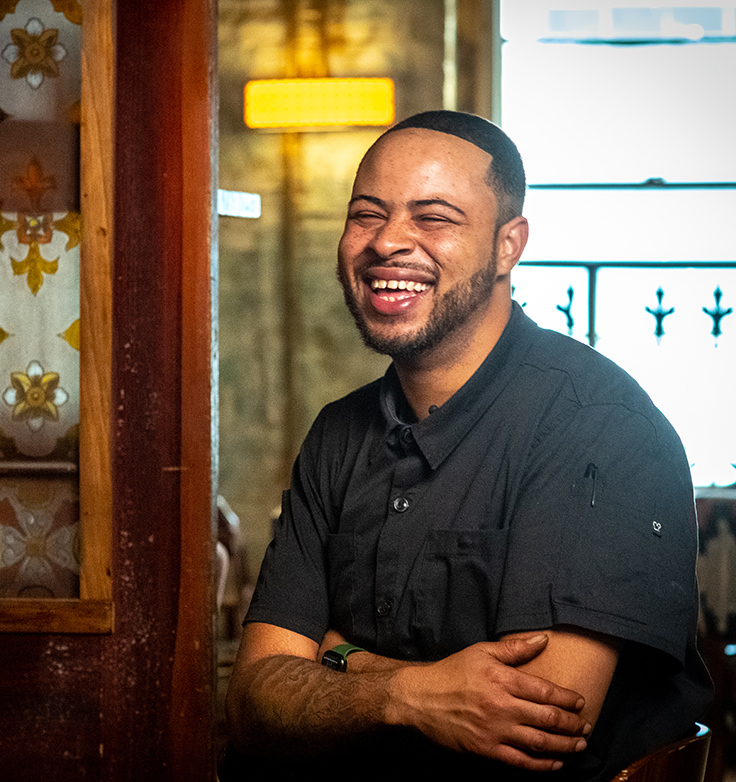 Hearth-Roasted Cabbage
1/2 head green cabbage
1 tbsp neutral oil (grapeseed, canola, etc.)
1/4 tbsp baharat seasoning (see below)
1/2 tbsp zhough (see below)
1 tbsp turmeric

1 Tbsp barberries (or small dried fruit)
Sea Salt
Heat grill to medium high heat. Cut 1/2 head cabbage into 2 wedges. Drizzle with oil and season liberally with the baharat seasoning. Place cabbage on the grill for about 2-3 minutes each side or until nicely charred. Place onto a sheet tray and continue to cook until tender, turning occasionally so it doesn't burn. Place Cabbage onto a plate and garnish with zhough and sea salt. Top with barberries.

Maydān's executive chef, Darnell Thomas

Zhough
6 serrano peppers
1 bunch parsley
1 bunch cilantro
1 3/4 cups blended oil
1 tbsp cumin, ground
5 cloves garlic
Salt to taste
Blend everything until smooth.
Baharat

1/2 cup paprika
1/2 cup cumin, ground
1/4 cup black pepper, ground
1/4 cup coriander, ground
2 ounces nutmeg, ground
2 ounces cinnamon, ground
1 tbsp cardamom, ground
1 tbsp clove, ground
Mix all ingredients together and store in airtight container.

Maydān's owner, Rose Previte

Presented in partnership with Starward