The Berlin neighborhood of Neukölln is not where you might expect to find a Two MICHELIN Star restaurant. The area is known for its edgy artist communities and working class immigrant history. It's a district full of grassroots storefronts, club kids with overgrown mullets, and a lush range of Turkish bridal and kebab shops. And while more gentrified than in the past, Neukölln can still be rough around the edges. It may be the ideal place—and possibly the only place—that René Frank's visionary restaurant CODA could exist.
Founded in 2016 as a then-casual dessert bar, CODA is the first ever MICHELIN-Starred dessert restaurant in the world. It earned a second Star in February 2020, just two weeks shy of Germany's lockdown. Since reopening, it's become an increasingly influential voice in the culinary world, challenging many unquestioned conventions of pastry and planting seeds of experimentation in how we approach the final course.
For our Inspectors take, click here, and below, prepare to tantalize your tastebuds with a story that is nothing short of sweet perfection.
---
For the uninitiated, CODA is more than a unique dining experience. The concept is simple enough: a dessert only restaurant in which what is often an afterthought becomes the focus. The execution, however, is something else entirely. Think a mix of whimsical fantasy, brilliant adaptations of long pigeonholed ingredients, and technical and contemporary fine dining finesse raising the bar on a concept often reduced to refined sugar and carbs. In its current iteration, CODA is a seven course experience, where 26 guests work their way through progressive, avant-garde interpretations of pastry and dessert. No industrialized products are used. Sweet is not the goal or dominant flavor profile. In the world of dessert - even at the highest levels - these simple codes are revolutionary.
"I always had the dream of my own restaurant," says Chef Frank from a wooden bench outside CODA's graffiti-scrawled block. The journey to CODA involved two decades of training and work in Two and Three MICHELIN Starred restaurants throughout Europe and Japan, including San Sebastian's Akelaré and Tokyo's Kondo. ("They had never had a foreigner in their kitchen," he says of Kondo.). Growing up in the south of Germany near the Swiss border, Frank admits he was obsessed with cooking and baking from the start. But it was his post as head pastry chef at La Vie in Osnabrück that allowed him to grow into his voice.
"This was the best job I ever had because I had the freedom to develop my own style," Frank muses. "[Chef and owner Thomas Buhner] said pastry is my thing, and 'we want to get the Third MICHELIN Star in the next two years, so you know what to do.' At that point, I was really focused on the restaurant's desserts. And after six years, I thought, what's next? I don't want to continue working in the last corner of the kitchen."

Claudia Goedke/CODA
CODA was the dream that spun from Frank's passion. How can we move pastry from the course that no one finishes to the center of the conversation? What assumptions aren't being questioned? How do natural sweeteners enhance and change flavor profile? What isn't being done to elevate the space?
A chance meeting with interior designer and CODA co-founder Oliver Biscoff brought the vision into reality. "It was a coincidence that we met," muses Frank. "We thought, okay, we're not going to find anybody in the whole world who will want to realize a concept like that."
CODA opened six months later, then a laid-back, a la carte establishment in which the chefs also served the tables, dishes ran for €6, and Frank mixed the cocktails.
"Nobody understood," sighs Frank of the first few months. "I said, how can we make people understand it? The easiest way is to get a MICHELIN star. I thought, in Japan, if you eat in a two Michelin star tempura restaurant everything is fried. If you go to a sushi restaurant, everything is about lukewarm rice and raw fish. If you can make the best possible food with a frying technique, then you can make it with desserts."

Claudia Goedke/CODA
---
---
The next period was spent crafting a dinner experience– incorporating the full range of flavor profiles and balance into the abstract dessert tasting– and zeroing in on quality of ingredients and concept.
"A lot of pastry chefs work with the same chocolate, with the same silicone mold, with the same frozen fruit puree, with the same stabilizers, with the same recipes… And I just think, imagine if all the chefs would work with the same meat? Let's say there's one wagyu beef which is frozen, it gets delivered all over the world, and everyone works with the same. Pastry is like this," explains Frank. "I like to have a relation to pastry and dessert [at Coda], but otherwise I want to feel free. If I'm working with an eggplant, I just say, 'Let's just forget everything and treat the eggplant like it's a strawberry. Don't think about eggplant with garlic and olive oil and herbs, just start from scratch.' Something completely different comes out."
Claudia Goedke/CODA
So, what is dining at Coda today actually like? Well, my introduction came with a race from the UBahn, running in heels after I opted for the train over a car in the balmy Berlin summer heat. There is just one seating at Coda a night, and the entrance to the restaurant is decidedly discreet. The door isn't marked, there is no noticeable branding or foyer. There's simply a doorbell which once rang, opens to reveal a minimal, industrial space with an open format kitchen and bar. The room itself is dark and brutalist. Only the food is lit up. There is no art on the walls. You barely notice the other diners. The service is laid back, joyfully warm, and more than anything, thoughtful.
But let's talk about the main event. The food itself is intensely surprising and deeply layered with shades of Willy Wonka mischief but none of the circus. As I mentioned, the meal is not designed to be overly saturated or sweet; rather, all the notes of a full flavor profile are hit, leaving you full but not at risk of a sugar crash upon exit. This might mean a crispy lettuce palette cleanser with a cream cheese center and dehydrated gherkin powder, or an airy paper light waffle, filled with the thinnest, gooiest Raclette cheese imaginable. A pecan and Jerusalem artichoke popsicle coated in Sturia Oscietra caviar is a rich intensely creamy add-on, as indulgent as it is subtly salty and umami. Grapefruit is served in a mascarpone base with thyme and liquid nitrogen mascarpone mixed with savoy cabbage; a fresh, sublime few bites. Chocolate nibbles are handmade in the back of the restaurant from specially sourced Ecuadorian beans. Local ingredients from Bradenburg and the surrounding areas are a considered focus.
Miniature cocktails, crafted to complement and bring out the flavors in the dishes, accompany each course. We also enjoy the wine tasting, which is made up of champagne, sake and German Rieslings - a crisper and fresher alternative to classic dessert wines. Visually, these were some of the most beautiful and playfully intoxicating dishes I've experienced. I left the meal on cloud nine. It's hard not to smile after giving into such a magically creative and intricate moment.

Claudia Goedke/CODA
---
---
Frank says the days of confusion amongst diners are largely in the past. "Sometimes we have guests, especially journalists, who really try to judge every dish, why something is a dessert or is this really a dessert?" he says. "I say, come here and feel free. Forget everything, what a dessert needs to be, what you think about dessert, and just go for the experience."
I ask him what he thinks of the future of the space and he's quick to acknowledge a movement towards plant-based ingredients and balance. "But nobody talks about good ingredients. Nobody," says Frank. "This is something I see changing and it needs to change even more. And be creative. Because creativity in pastry is mostly about the visual or the colors or the design. Instead of the ingredients or the taste and reducing sugar through natural sweeteners."
Young ambitious pastry chefs have begun applying for stages at Coda. "You want to put it in a box," he says. "But this is what I like about Berlin. We had the chance to do what we wanted. Berlin is very diverse and multicultural. This is why Coda needs to be here and why it is so accepted."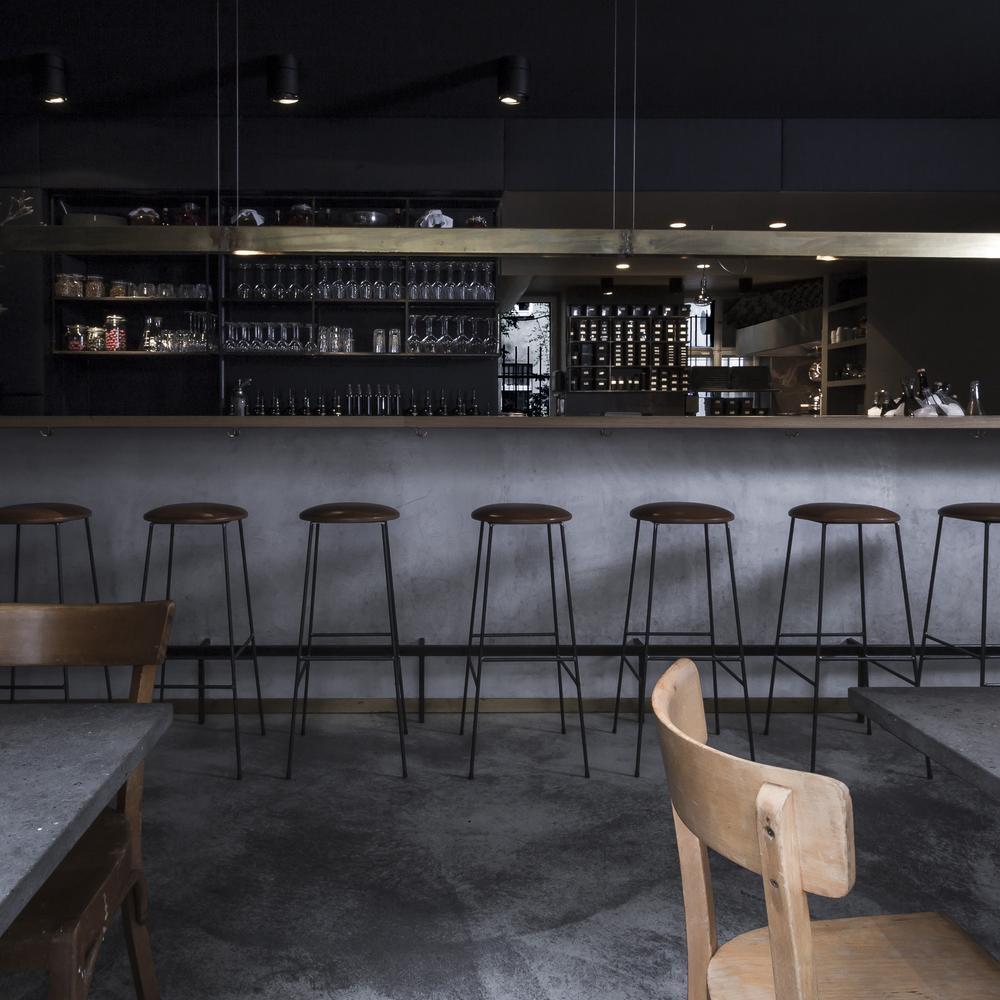 White kitchen Berlin/?CODA dessert dining
---
Hero image: Claudia Goedke/CODA
---