On Tuesdays, there's only one answer to what's for dinner? Tacos. Traditional or fusion, corn tortilla or flour, doused in hot sauce or salsa, tacos always go down a treat. Here's where to eat tacos in New York, Chicago, Washington, DC, the Bay Area, and LA.
Kie-Gol-Lanee
Chicago, IL
If you think you know what to order from this kitchen because you've been to Oaxaca, just wait a minute and listen to your fellow diners. They too have made the journey and their knowledge could probably draw a map of the city. Located in the heart of Little Saigon, this quiet restaurant has been thriving thanks to a clientele who knows quality when they taste it. The likes of soft, just-steamed pork tamales with a delicately spiced green mole; tacos al pastor or arrachera, and wide, crackly tlayudas piled high with chorizo are presented to your table with the utmost care.

La Josie. Photo by Michelin North America
La Josie
Chicago, IL
You don't want to miss a morsel at this spiffy Mexican charmer, which has its own Taco Tuesday menu. Tucked into a hip space that's both stylish and comfortable, the dining room is flooded with light thanks to floor-to-ceiling windows, and the bar buzzes with energy as bartenders whip up colorful handcrafted cocktails. La Josie is modern enough where you might expect to find fusion, but this family-run kitchen leans traditional—imagine comforting dishes crafted with pristine ingredients and careful technique. Chef/owner Jose Luis Barajas (AKA Pepe) shows a particularly deft hand in his picture-perfect tacos stuffed with delicious pairings like shredded achiote pork, pickled red onions, and fiery salsa habanero; or tender Amish chicken with crumbled queso fresco and grilled corn kernel salad.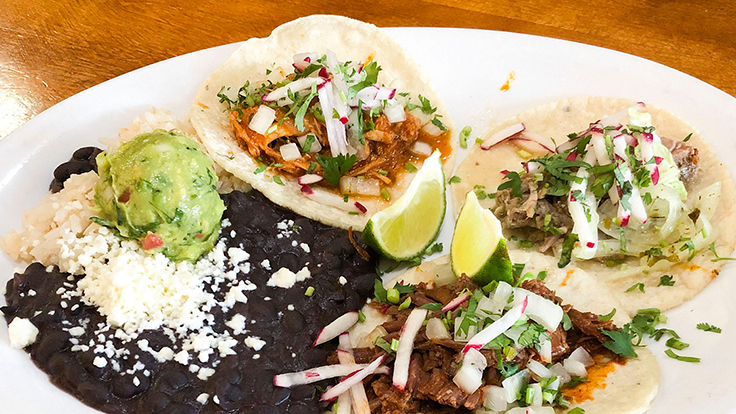 5 Rabanitos. Photo by Michelin North America
5 Rabanitos
Chicago, IL
Located just a stone's throw from the National Museum of Mexican Art, this fresh south-of-the-border charmer boasts a colorful dining room peppered with bright artwork, thumping cumbia music, and a chill neighborhood vibe that makes you want to linger forever.The delicious authentic food just brings it all home. Chef Alfonso Sotelo worked for Rick Bayless at both Topolobampo and Xoco, and his accomplished resume comes to life in this kitchen. Warm tortillas crafted from heirloom Oaxacan masa are folded around goat adobo barbacoa, savory carnitas, or tender mole enchiladas. Save room for the chocolate tamal—a piping hot chocolate cake served in a corn husk, drizzled with decadent sauce and cajeta, then finished with a creamy scoop of vanilla ice cream.
Taqueria Habanero
Washington, DC
Walk by the kitchen at this Columbia Heights Puebla-inspired restaurant and you'll see a chef forming corn masa into tortillas and cooking them on the griddle. It's the attention to detail that makes this Mexican spot a neighborhood favorite. The menu may be concise, but every dish is made fresh and with great care. Even the green salsa that hits the table as soon as you take your seat is a standout. Start with the tacos—lighter than traditional tortillas—typically layered with crispy-edged, juicy barbacoa and red chili oil-flavored chorizo. Follow that up with the regional specialty—mole poblano with tender chicken and a slightly sweet, slightly kicky Puebla-style sauce. Good news for suburban dwellers—there is a sister location in Maryland.
Oyamel
Washington, DC
Patience is a virtue at this fun, festive and ultra-popular Mexican destination. Can they help it if they're packed most nights? Chef José Andrés knows his food and the loyal crowds here bear testament. Snag a seat at the entertaining ceviche bar and guzzle thirst-quenching drinks while snacking on small plates. The kitchen's dedication to technique and ingredients is clear, with a particular penchant for south-of-the-border cuisine like huevos enfrijoladas, crispy chilaquiles and gorditas topped with Hudson Valley duck confit. There are six tacos on the menu, including cochinita pibil, wild mushrooms with poblano peppers, and tempura fish.
Los Carnalitos. Photo by Michelin North America
Los Carnalitos
Hayward, CA
From the symphonic blend of top-quality flavors in the kitchen to the brightly hued dining room walls decked with Aztec-inspired figures, this family-run spot delivers a taste of Mexico City. The two brothers behind this operation, which started as a wildly popular food truck, present delicacies like huaraches and quesadilla de huitlacoche that rarely appear on other menus in town. The $2 tacos in house-made tortillas featuring tender suadero and al pastor are a delightful surprise, not unlike their selection of agua frescas. Try the quesadilla filled with squash blossom, queso fresco and tomatillo salsa. Tortas are a draw at lunch, while the pambazo—with bread dipped in guajillo sauce and then seared—is divine at all times.


Mi Lindo Nayrit Mariscos
Los Angeles, CA
This colorful, welcoming spot is the ideal respite for simple Mexican fare, focusing on the small region of Nayarit, located between the forested mountains of the Sierra Madre and Pacific Ocean. The name also hints at their focus on straightforward seafood. The semi-enclosed dining room is well appointed and cheerful, with a clear eye on regional traditions. Go for shrimp or fish tacos, hard shell or soft. Ceviche de pescado is a zesty, textural feat, stocked with octopus and shrimp, set atop a tostada for delicious crunch. The caldo de siete mares is a deeply flavored and brothy feast of abalone, langoustine and much more.

El Buen Comer
San Francisco, CA
"Good eats" are promised right in the name of this homey restaurant on the outskirts of the Mission, and La Cocina alum Isabel Caudillo delivers. Her menu centers on guisados, the luscious slow-cooked stews of her native Mexico City. Whether you opt for piquant meatballs in chipotle sauce or tender pork with green mole, you'll receive plenty of warm, handmade corn tortillas to mop up every last drop of her delectable blends. The tightly edited menu is rounded out with other Mexican classics, including tacos, of course, like chorizo and potato, summer squash with corn and tomato, and shrimp. Chase them with an ice-cold Mexican Coca-Cola, but remember to save room for Caudillo's creamy, caramelized flan—it's one of the best renditions in the city.
Chavela's. Photo by Michelin North America
Chavela's
Brooklyn, NY
Ordering guacamole may be a reflex for many, but at Chavela's, what lands on the table is far from the norm. Mexico City native, Chef Arturo Leonar, is the brains behind this exceptional riff, which mixes smoked trout, pico de gallo, and morita chile salsa to thrilling effect. For tacos you've got 10 to choose from—think nopales with avocado and queso fresco, chicken tinga, and roasted pork. Featuring a wrought-iron entrance door, the décor here is an absolute riot of color thanks to vibrant Mexican tiles surrounding the bar and artistic touches like that wall of ceramic butterflies.
El Molcajete
Bronx, NY
This bright, cheerful Mexican gem can be found in the Soundview section of the Bronx, which was once upon a time lined with Italian flags, bakeries and butchers. Today, you'll find a global collection of restaurants, including south-of-the-border hot spots, pan-African grocery stores, Puerto Rican lechoneras and Dominican diners.
Breakfast at El Molcajete kicks off with delicious egg sandwiches, with a Mexican twist. Lunch brings mouthwatering tortas, cemitas—served with smoky red and spicy green sauces on the side, and tacos (don't miss the pollo asado or the barbacoa).

Alta Calidad. Photo by Michelin North America
Alta Calidad
Brooklyn, NY
The name of Akhtar Nawab's stylish Mexican restaurant, Alta Calidad, means "high quality"—and this talented chef certainly puts his money where his mouth is. Even something as basic as the "six tacos" special with charred steak, shrimp, cauliflower, fish, and chicken tinga is deliciousness embodied. And if on offer, feast on their unique take on shrimp tempura tacos with salsa Ortega and chorizo powder, not to mention such sumptuous salsas as guajillo and salsa verde. The restaurant's design is bright, airy, and modern, with light-flooded windows and and tables tucked into comfy banquettes.

Hero image by Kevin Liang on Unsplash