Dirt Candy first debuted in a 420-square-foot storefront at 430 East 9th Street in New York City's East Village on October 29, 2008. With only 18 seats, a tiny kitchen running on electricity until the gas was turned on and a healthy dose of fear, Amanda Cohen was able to cook her food for the first time and show people a new way to think about vegetables.

Cohen was born in Ottawa, Canada, and grew up in Toronto, but has known New York City was the place for her ever since a family trip as a young child. "My family came here on a trip when I was six, and instantly I knew this was where I was going to spend the rest of my life. The noise, the lights, the energy—all of it blew six-year-old Amanda's mind," she shares. "From then on, no matter what I did, or where I went, I knew New York City was my final destination.
"

She made her way to the Big Apple for college and studied cultural anthropology at New York University. After graduation, she followed the stereotypical path of a young adult without a sense of direction: travel. Cohen moved to Hong Kong for a couple of years and had what she calls a life-changing experience. "I was already a vegetarian but in North America vegetarian food was very sincere and very bland and smelled like hippies. Hong Kong had dozens of vegetarian restaurants where the food was bright, playful and fun. It totally opened my eyes to what you could do with vegetables."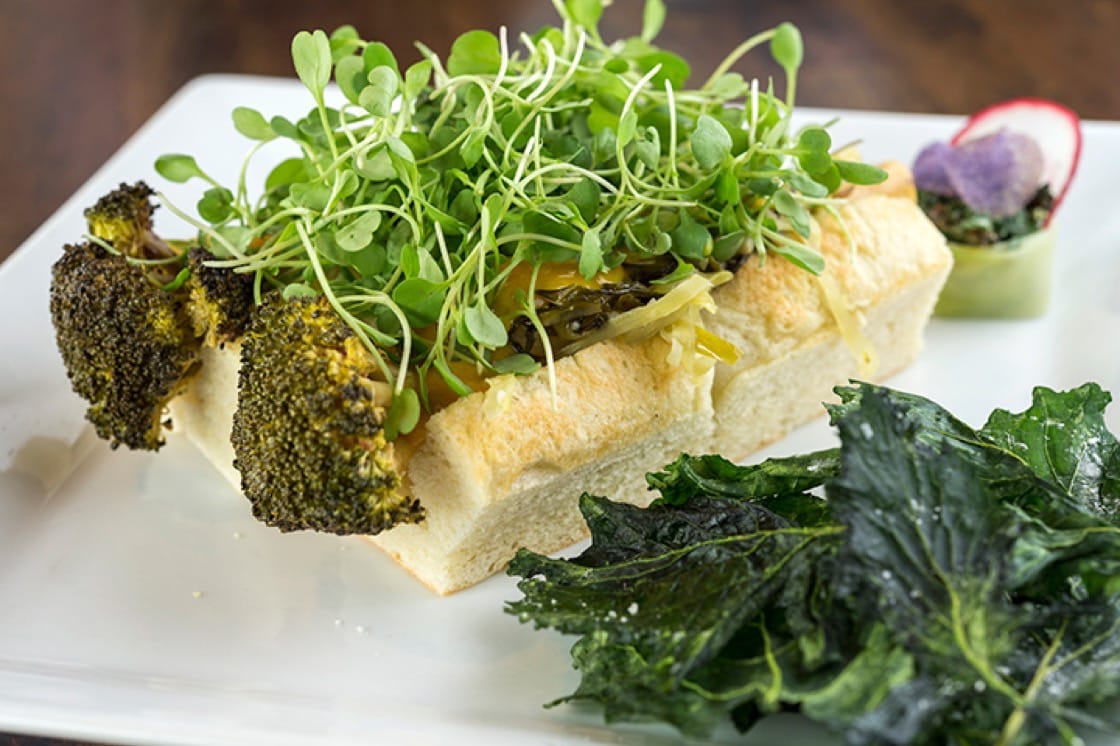 Grilled and smoked broccoli dogs with broccoli kraut and mustard barbecue sauce. (Photo by Evan Sung.)
Cohen made her way back to the U.S. for a stint in Los Angeles—"I was an extra in movies, and you can see me shush Jada Pinkett Smith at the beginning of Scream 2 and run away from a giant monkey in Mighty Joe Young"—where she came to grips with her calling. "L.A. was ... where I realized I needed to do something for the rest of my life, and cooking for my friends was the only thing I'd ever really cared about, so I decided to enroll [at] the Natural Gourmet Institute.
"

She moved back to New York City for round two of school and from there worked at a number of respected vegetarian restaurants across town, such as Angelica Kitchen and Pure Food and Wine. But like most cooks that have worked for other people for a number of years, Cohen decided it was time for her to go out on her own and be her own boss. "I'd been working for other people for about ten years and I was dying to do something new with vegetarian food. I was tired of working really, really hard for people who didn't work really, really hard," she shared in a blog post.

It took approximately one year since her meeting with the block association (a first step in getting a liquor license) until the doors swung open on the once abandoned storefront that one might describe as a rundown dump at best.

The first location before and after renovations. (Photos courtesy of Dirt Candy.)
The opening menu included dishes like mixed greens with grilled cheese croutons, roasted garlic vinaigrette and candied grapefruit pops; kimchi doughnuts with watermelon radish kimchi and almond hoisin sauce; and grits with pickled shiitakes and a tempura poached egg. "I look at that menu and I am so proud of how far Dirt Candy has come—and then I can smell my fear. Even after all these years, that first menu reminds me of how scared I was when we opened because it was the first time I'd ever put my food on the plate, in front of customers, with my name on it. That menu gave me nowhere to hide."

New York City's—and North America's—dining scenes are the better for it.

"Amanda is one of a few original gangsters who helped popularize the vegetable-centric culinary movement of the last decade, leading the pack here in New York," says chef Anita Lo. "Her cooking has shown us all that vegetarian food can be smart, detailed, whimsical and, most importantly, deeply satisfying."

Dirt Candy was, and isn't, your typical "vegetarian" restaurant—which is why Cohen prefers to refer to it as a "vegetable restaurant" to highlight the distinction between her cooking and the bland, hippie and uber health-conscious dishes we tend to associate with "vegetarian" cuisine.

"I remember when it first opened ... trying to explain to people why it was so special: It was an all-vegetarian restaurant but it wasn't hippie food, it wasn't health-conscious, it wasn't preachy or religious," shares Helen Rosner, a roving food correspondent for The New Yorker. "It was just a place where suddenly, magically, you started to realize that you'd been thinking about vegetables all wrong."

Cohen's not looking for the best organic vegetables you can only get from a handful of farmers once a week at the greenmarket—instead, she's using everyday ingredients like carrots, onions and broccoli to build her masterpieces. Cohen pushes vegetables to the extreme by searching for all of the flavors, textures and nuances that she can coax out of them when putting together plates.

Though there have been plenty of dishes that have graced Dirt Candy's menus over the years, a personal favorite for Cohen "has to be the portobello mousse because that dish has been with me from the beginning and will probably be with me until the end. It won me money that bailed me out when I had to replace my HVAC system, and it's gotten me into so many events. I'm Thelma to portobello mousse's Louise.
"

The portobello mousse then and now. (Photo on right by Evan Sung.)
Cohen's ethos for cooking and life is all about having fun. "Dirt Candy's menu is best described as a bounty of creativity," according to Michelin inspectors. Cohen echoes, "There are more famous restaurants in this city, there are fancier restaurants in this city, there are more serious restaurants in this city, but I guarantee there is not a single more creative restaurant in this city."

In keeping pace with Cohen's imagination, the time came for Dirt Candy to find a bigger home, more suitable for its owner's culinary ambitions.

The original location closed on August 30, 2014, and along with it Cohen's beloved blog where she candidly chronicled the life of a chef and restaurateur, from a fondness for ginger ("I love ginger, but sometimes it tastes a bit like mace—the personal defense product, not the spice.") to a squirrel invasion ("I think of Dirt Candy as my home, and I think of my customers as family, but if you crawl under my burners and refuse to come out, I'm going to poke you with a broom.").

Dirt Candy found a new home at 86 Allen Street in Manhattan's Lower East Side, just a few blocks south of the original iteration. Dirt Candy 2.0 opened to the public February 3, 2015, boasting 60 seats and 2,100 square feet.

The interior of Dirty Candy at its Allen Street location. (Photo by Evan Sung.)
Those first few months were markedly tough for Cohen. "I thought opening a new restaurant would be easier because I'd already done it once," she shares. "Opening big Dirt Candy almost killed me because it turned out to be so much harder than I ever could have imagined." But eventually she and her team found their footing.

One impetus for the turnaround was a switch from à la carte dining to a tasting menu-only format in August 2017. Since then, "We've become a better, happier restaurant." (She also shares, "I still think I might not make it!," with what I get a sense to be her characteristic combination of sarcasm intertwined with brutal honesty.)

Dirt Candy now offers two tiers of tasting menus for diners to choose from based on the number of courses desired and how much they want the meal to be led by the whimsy and experimentation of Cohen and her team. "The Vegetable Patch" averages five courses composed of dishes the restaurant has become known for, such as grilled and smoked broccoli dogs with broccoli kraut and mustard barbecue sauce, Brussels sprout tacos, or the aforementioned portobello mousse. "The Vegetable Garden" features nine or 10 courses that change more frequently according to "our chef's mood" and is "recommended for those who want a vegetable party at their table," according to the restaurant's website.

The Brussels sprouts tacos features Brussels sprouts on a sizzling stone with lettuce wrappers and accompaniments. (Photo by Evan Sung.)
"I'm finally cooking the food I've always wanted to make, putting fire on the tables, and grills, and using insane plates that are so much fun, and swapping recipes all the time, and tweaking recipes all the time and taking way more chances," say Cohen. "I know a tasting menu scares some people, but even our customers seem happier. These days, coming to Dirt Candy is exactly what I want it to be: like going to a Broadway show."

"I'm finally cooking the food I've always wanted to make, putting fire on the tables, and grills and using insane plates that are so much fun," says Cohen. (Photo by Evan Sung.)
Though some may conflate Dirty Candy and Amanda Cohen, it's important to recognize that there are a number of other people that have been integral to the restaurant's success. "Jackie Carson-Aponte is my general manager and she's saved my life more times than I can count," says Cohen. "If a customer exploded in the middle of my dining room, she wouldn't bat an eye, she'd just get a mop and a bucket and start slopping them up." Cohen also credits Maurilio, who "has been the king of my dish room since little Dirt Candy," Sarah Hermalyn, the new location's former publicist that has "become a good friend both to me and to this restaurant" and Karen Page and Andrew Dornenburg of The Flavor Bible, who "haven't just inspired me with their writing, they have [also] been so kind and generous to this place that I'll never be able to repay them."

And when it comes to writing, Cohen is one of the best and boldest voices in the restaurant industry today. "I wish everyone in this business spoke up more often, and louder, and were more honest about the things that excite them and the things that scare them. I think too many restaurants keep their heads down and play it safe when it comes to their public profiles. I want this city to be a giant conversation between all of us."

She is not one to mince words, but still often finds ways to intersperse wit, sarcasm and, of course, fun into topics such as the lack of gender parity in food media and sexual harassment. "Cohen as a chef, as a restaurateur and as a bold writer has undoubtedly shifted tides, showing how necessary it is—for a female chef, especially—to speak for yourself," shares Alicia Kennedy, food writer and host of "Meatless, a Podcast About Eating." Rosner adds, "She's unflinching and brave, but never reckless, which is something we need more of."

"Desserts are every bit as inspired, like a chocolate tart peppered with caramelized onions," state inspectors. (Photo by Evan Sung.)
In addition, Cohen was at the forefront of the no-tipping movement that Danny Meyer's Union Square Hospitality Group has become popular for with its "Hospitality Included" branding. "[Dirt Candy] was the first restaurant in the city to eliminate tipping and share profits with its employees," per its website. "I think part of what makes me a Canadian is my desire to leave this business in better shape than I found it. That's why I eliminated tipping and speak out so much about the things that matter to me," she adds. "This business is dying because we're not talking about how we need to raise menu prices, we're not talking about the staffing crisis, we're not talking about the things that matter."

So, what's next?

"When I look at that first Dirt Candy menu from a decade ago, I remember the girl who wrote it. She had no idea of the people she was about to meet, the horrors she would encounter, the friends she'd make, the unconscious customers she'd drag out of her bathrooms, the emergencies she'd endure, the food she'd cook, the chances she'd get, the risks she'd take, the mistakes she'd pay for, the life she'd lead. I want that again, for another ten years."

Hero photo by Evan Sung.