At mealtimes, the one-MICHELIN-star Golden Formosa is packed to the rafters. Take a closer look and you'll notice that out of close to 200 dishes on the restaurant's menu, its signature deep-fried pork ribs makes an appearance on almost every table.

"Come on! Dig in with your hands while it's hot," urge siblings Eric Chen and Lillie Chen with a smile. This brother and sister duo are the third-generation owners and chefs of Golden Formosa. One bite of those pork ribs and you'll also taste a 75-year legacy of experiences, emotions, memories, as well as the relentless dedication of the current generation.
READ MORE: The new stars in the MICHELIN Guide Taipei & Taichung 2020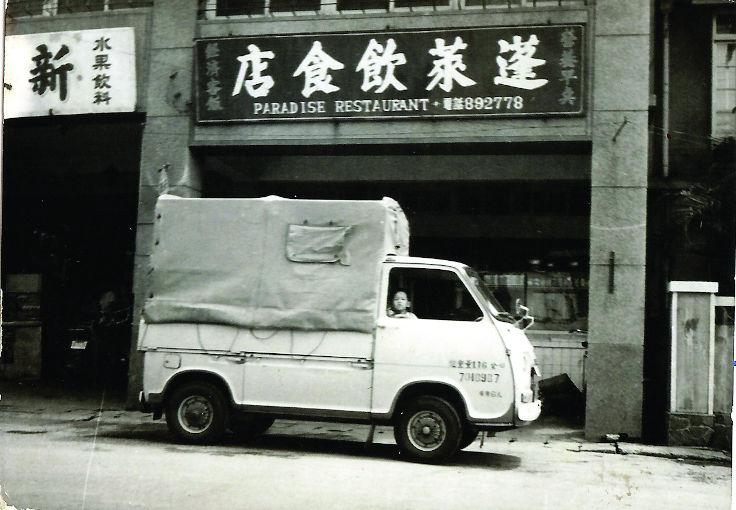 Golden Formosa Restaurant in the year 1950. The boy in the vehicle is Eric Chen. (Photo: Golden Formosa)
The family story
When speaking about the origins of their deep-fried pork ribs, Eric turns the clock back to the year 1954. That's when his grandfather, Chen Lian-Zhi, founded Paradise Restaurant in Beitou. Back then, there were many restaurants in Beitou and they served as key social venues. Many popular banquet dishes today are passed down from the restaurant dining culture of that era.

"We used to have a dish called braised pork ribs with rice, where the ribs were deep-fried and then braised," Eric recalls. "The ribs were marinated before they were fried in a wok. They tasted amazing and paired well with alcohol. However, my grandfather felt that those pork rib pieces didn't have what it took to be made into a dish of its own. Most deep-fried pork ribs which were brewed into soups or which were used in sweet and sour pork dishes were too tiny as well."
In order to transform this dish to suit a banquet, he had to seriously consider how the pork tasted after it was deep-fried. This was how he ended up using what was then very expensive pork belly ribs as the main ingredient to make the deep-fried pork ribs that we enjoy today.
Every step of the process — from selecting and preparing the ingredients to trimming, marinating and then deep-frying, requires manual labour
Handcrafted works of art

Every step of making deep-fried pork ribs — from selecting and preparing the ingredients, to trimming, marinating, and then deep frying — requires manual labour. Just like works of handicraft that have been meticulously sculpted by the chef, there are no shortcuts when it comes to producing them.
It starts with the pork belly ribs. They're among the few parts of the pig that are rarely exercised, which is why the meat is tender and fatty, and produces an excellent texture after it's deep-fried. However, processing them takes up a lot of time and is labour-intensive.
Every rib is trimmed by hand. Because each pig differs in physique, so every rib is spaced apart differently from one another. "During my father's time, ribs were expensive and were often left untrimmed. Once my brother (Eric Chen) took over, he wanted to make sure all the ribs could be fried evenly, so he spent more time trimming them," says Lillie.
Eric standardises the length of each rib and trims them down to between 6.5 to 9 centimetres. In addition to that, he removes pieces of cartilage that are too lean or too thick to ensure the best in taste and consistency. "We process over 200 kilograms each time and it takes us at least four hours each evening just chopping them up this way," he explains.
RELATED: VIDEO: GOLDEN FORMOSA'S OLD SOUL, NEW LIFE
Not only that, marinating the ribs is a science in itself. Golden Formosa uses more than 15 different spices including pepper, ginger and garlic to create a secret recipe that is passed down like a heirloom, which involves soaking the ribs to maturity for at least a day.
Eric says that given the calibre of head chefs today, the marinade recipe should be easy to suss out. The key, however, lies in the brand and quality of the spices or marinade chosen.

The first thing that strikes you when you bite into the deep-fried pork ribs at Golden Formosa is its crispy crust. Eric uses a semi-wet powder to make the batter for the pork ribs, so that the batter is not only highly adhesive, its crust is also crispy and of the right thickness without overpowering the meat. It is important to use different oil temperatures to fry the ribs so that they are crispy on the outside and juicy on the inside.

Eric Chen, the third-generation owner and chef of Golden Formosa Restaurant wants the family's story to be known. (Photo: Golden Formosa)
Uncompromising in details

We wondered, to the third generation owners in charge of a brand with a 70-year history, whether they considered it a boon or burden? After Eric took over, were the creations and adjustments of the dishes noticeable to the restaurant's regulars?
"I want (the dish) to have more layers, but its flavour doesn't change," he replies with a smile to our concerns. "These efforts we're making are very subtle," says Eric. "You won't notice the changes I'm making, but when you eat it, you will know a difference. I think it has improved."

Behind every deep-fried pork rib lies the hidden and unknown secrets of painstaking craftsmanship of a chef to create what appears to be a simple dish, but which is full of flavours with a long, lingering aftertaste. It's the taste of heritage combined with innovation.

Banner image courtesy of Golden Formosa.

This article is written by Lucy Zhao and translated by Tang Pin-ji. Click here to read the original story.
RELATED: READ MORE ABOUT "MY SIGNATURE DISH"